Since the start of the summer, I've been experimenting with a couple of sunscreens. Although I like to use chemical-free natural sunscreens throughout the year, when it's summer, I resort to effective chemical sunscreens with a minimum SPF of 50. I got this newly launched Ponds Non Oily Sunscreen a few weeks ago. It comes in two variants SPF 30 and 50. I got the one with SPF 50. Read on to know how this sunscreen worked for me.
Product Description
The Ponds Non Oily Sunscreen claims to provide a breakthrough solution to fight off five major skin problems such as uneven patches, fine lines, dark circles, dark spots, and redness caused by sun damage. Its lightweight, non-oily formulation is perfect for the hot and humid Indian summers. This non-comedogenic and dermatologist-tested sunscreen with SPF 50 PA+++ provides broad-spectrum coverage from both UVA and UVB rays.
How to use the Ponds Non Oily Sunscreen?
After cleansing your skin, apply it liberally on clean skin. If you follow a multiple-step skincare routine, the sunscreen goes as the last step of your routine. You can apply makeup on top of it.
The sunscreen should be applied 15-20 minutes prior to direct sun exposure. Reapply it every 3 hours.
If you are sweating or swimming, re-apply after every 90 minutes for better protection.
Ponds Non Oily Sunscreen Ingredients: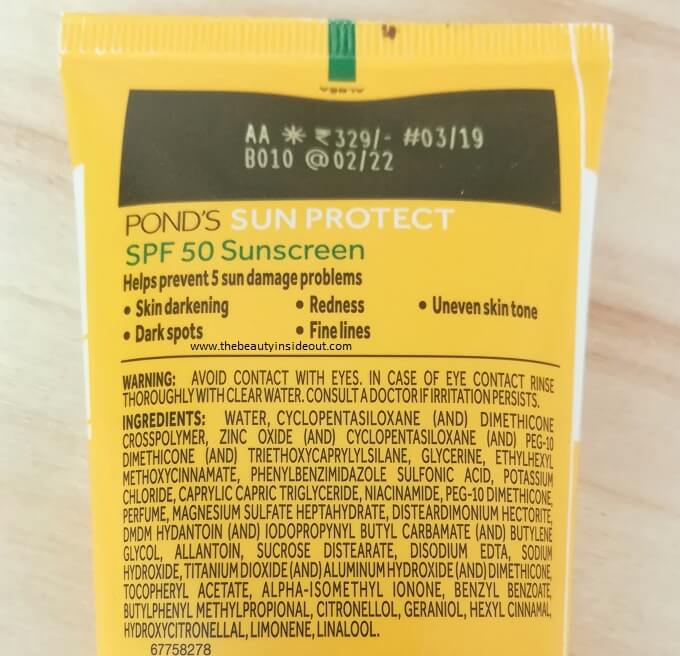 Ponds Non Oily Sunscreen Price:
Ponds Non Oily Sunscreen Review

Packaging: Do I even have to say how striking it looks. The yellow-colored tube is sure to attract anyone's eye. It stands out in my entire stash of skincare junk. The tube has a tightly closed flip cap which is travel-friendly. It does not open up by itself so throwing in your handbag won't create a mess. The tube has necessary information such as its claims, ingredient list, manufacture & expiry dates.
Color & Texture: The Ponds Non Oily Sunscreen is a fairly thick and creamy product. It looks like a fairness cream with its milky white color.
Fragrance: Like most Ponds Products, this has a synthetic floral fragrance. It smells nice and is not too over the top post-application. But some people may have an aversion to the scent. Personally, I don't mind this particular scent.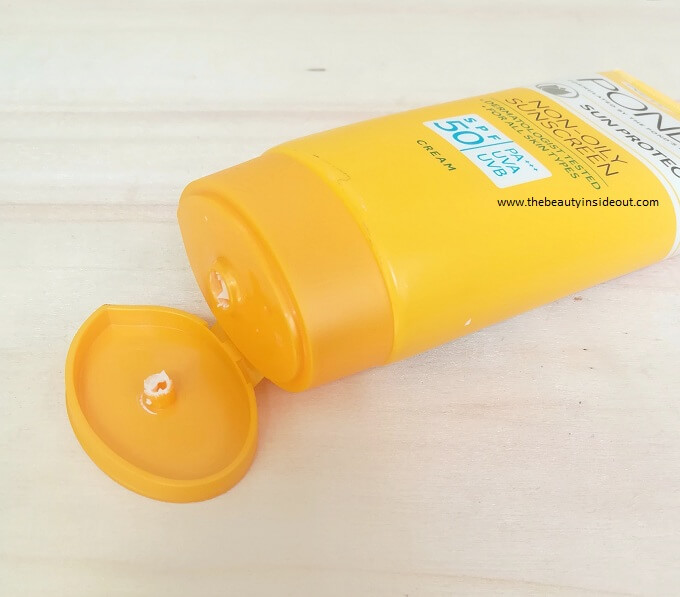 Experience: Upon seeing the texture of the product, I was sure that this sunscreen is going to be super heavy and white on my face. Because usually, such white thick creamy sunscreens tend to be like that. But surprisingly this wasn't like that. It's pretty lightweight and after a few minutes, it totally feels skin-like. I take a small coin-sized amount of product, apply it in dots section-wise and blend it quickly. I have oily skin during the summers and with this sunscreen, I can skip my moisturizer; but then I use a really hydrating toner (Klairs Supple Preparation Toner) before. The sunscreen as such is moisturizing enough for oily skin but wouldn't be enough for dry skin. I like the finish of this sunscreen, it is non-oily and non-greasy as claimed. The sunscreen doesn't make me perspire unnecessarily, unlike my previous Klairs UV Essence SPF 50 that made my skin perspire and moist with just a bit of direct sun exposure.
Coming to its most important factor 'white cast'. The Ponds Non Oily Sunscreen leaves a white cast on my fair to medium skin tone. But that does settle down after a couple of minutes. However, the cast may be visible on deep and darker skin tones. It didn't make my skin look dull like few other sunscreens that I've tried. As for sun protection, this does a perfect job. I didn't burn or tan. The SPF 50 blocks 98% of UVB rays and PA+++ in it offers the best protection against UVA rays. I have acne-prone sensitive skin and this hasn't caused me new pimples nor it has irritated or sensitized my skin.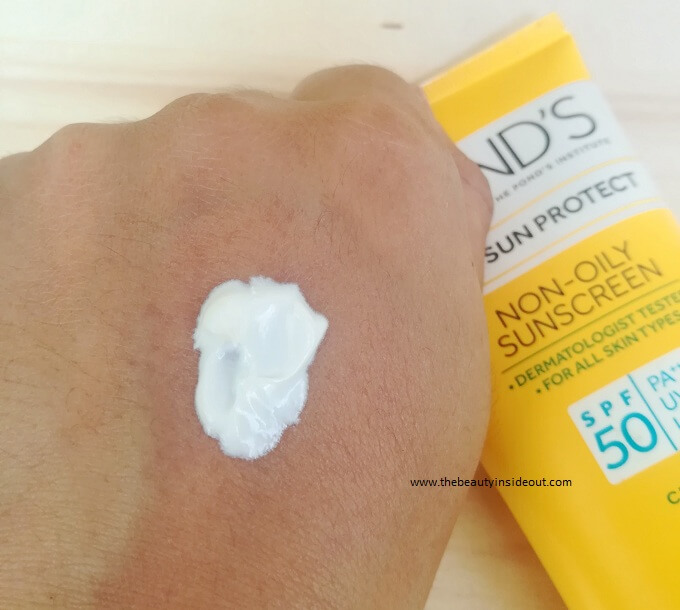 The Ponds Non Oily Sunscreen is a hybrid sunscreen with physical filter Zinc Oxide and chemical UV filters like Octinoxate, Octocrylene, both of which have a moderate to hazardous safety rating. The sunscreen has got quite a lot of questionable fragrances and preservative ingredients as well like parabens, phenoxyethanol, BHT, Linalool, etc. In terms of the ingredient lists, they don't have the best and safest ones.
Overall, I do like everything about this sunscreen (affordable price, skin feel, blend-ability, finish) except the ingredients that go inside it. Most sunscreens in this price range have similar ingredients, so if you are on a budget, I recommend getting this mainly because of the lightweight feel and no dominant cast. If you can splurge, then get one that has safe UV filters.
Pros:
Budget-Friendly.
Comes in various sizes.
Has SPF 50 and PA+++.
Attractive and Travel-Friendly packaging.
Blends well without being patchy.
Non-greasy yet mildly hydrating.
Lightweight on the skin.
It is water-resistant.
Suitable for all skin types including acne-prone.
Cons:
Does not have the best ingredients.
Rating: 4.5/5
Would I recommend it? Yes, its an affordable and a good sunscreen overall.