Palmer's is a really good brand for body care products. Their body butter and lotions are the best for anyone with dry skin types. They definitely tackle all dry skin problems showing visible results. That's why I like this brand. Palmer's Cocoa Butter Body Lotion was my HG Body Lotion and I had used multiple bottles of them throughout my pregnancy. I was glad when I received Palmer's Skin Therapy Oil on one of the subscription boxes. Let me put out my thoughts on this dry skin savior.
Product Description: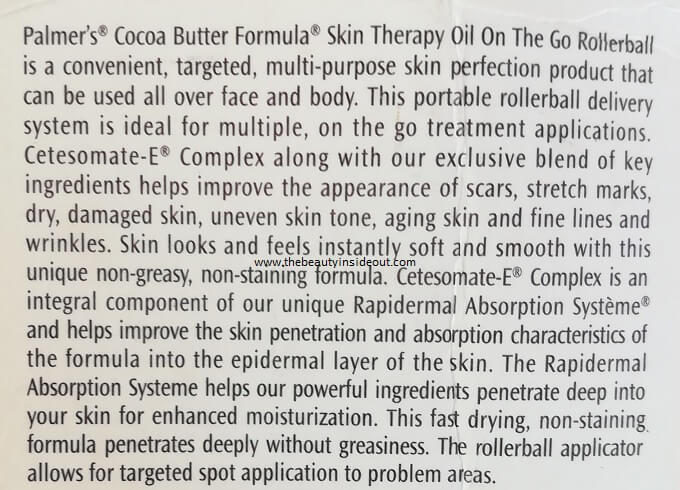 Palmer's Skin Therapy Oil Ingredients: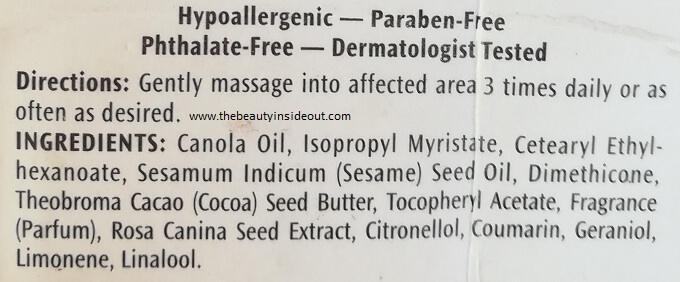 Uses of Palmer's Skin Therapy Oil: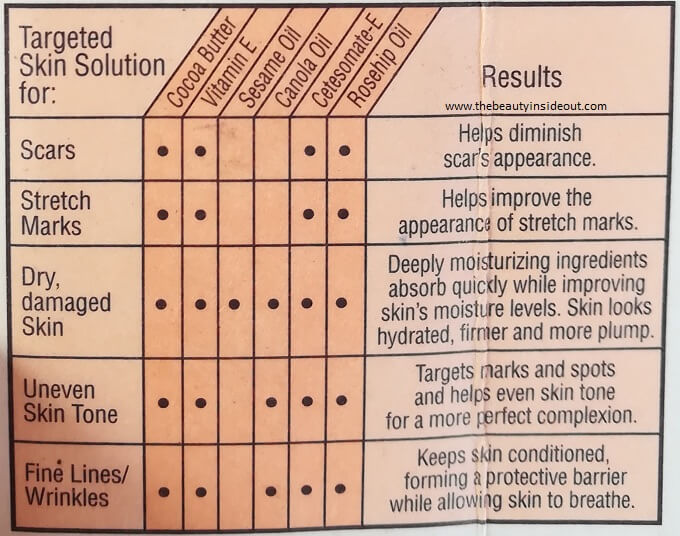 Palmer's Skin Therapy Oil Price & Variants:
1.Original
60 ml- 525 INR
150ml- 925 INR
2. Rosehip Fragrance
3. Face
The first two are body oils & the last one is for the face.
Palmer's Skin Therapy Oil Review

Packaging: Since this is a deluxe-sized sample, this comes in a roll-on type packaging. It is convenient to use on the face but for the body parts, I find rolling over each and every time very time-consuming. Nevertheless, the full-sized product comes in a bottle, so the packaging is not really a big con actually. Even this sample version had various details about the product mentioned on its outer cover. Also, since the packaging is translucent, I can easily see the amount of product left inside the roll-on tube/bottle.
Fragrance: It has a nice rosehip fragrance. It's faint and completely non-bothering on the nose.
Color & Texture: This is a very light yellow-colored oil with a semi-runny consistency. It's not at all thick and spreads with ease. As claimed, the Skin Therapy Oil is non-greasy, non-staining, lightweight, and gets absorbed into the skin easily with a minimal massage.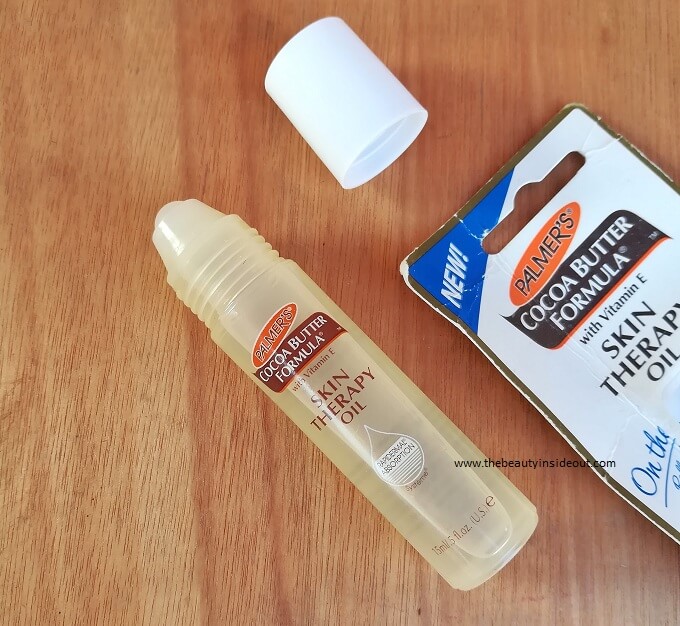 My Experience: At first, due to the convenient packaging, I thought to use the oil on my face. But after analyzing the ingredient list, I decided not to. The Skin Therapy Oil is comedogenic, i.e. it contains acne-causing ingredients. I didn't want to take a risk so this rollerball had to lie on my stash unused for long. Sometime later, I started using this on my feet as somehow I wanted to put this product into use. Also, my feet had become rougher and drier due to my negligence at that time.
So I started using it every night before heading to bed and within a week I could see great results. My tanned feet were back to normal, which means it brightened them up. Dryness and Roughness were completely gone by the second day and my feet were nourished with no white flakes at all. It also faded my shoe marks to a great extent.
Sometimes I swiped the rollerball on my abrasive elbows and this Skin Therapy Oil very much helped to keep them softer and smoother. I haven't tested on stretch marks, so apart from that, the oil is true to its claims of working on dry, damaged, uneven skin tone and aging skin. If I had the big bottle, I would have slathered the oil generously on my body, as I do with the Palmer's Cocoa Butter Body Lotion. Anyways, you would require only a little of the oil to keep the skin nourished for long, so the product is long-lasting.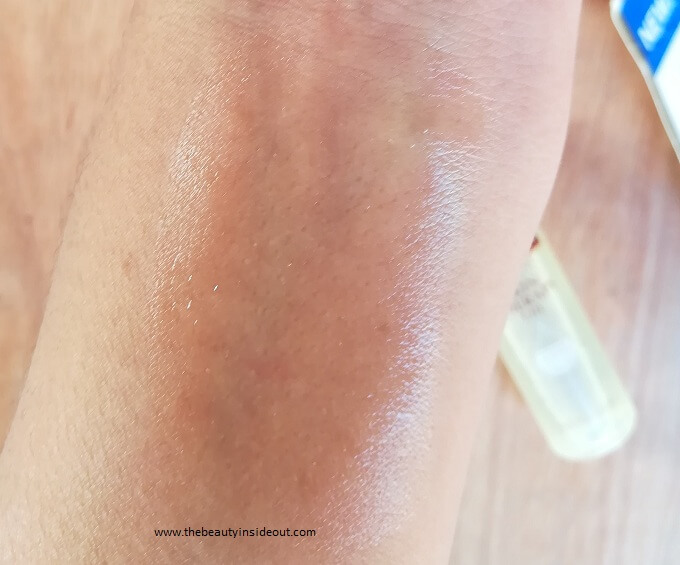 Palmer's Skin Therapy Oil VS Bio-Oil



The Palmer's Skin Therapy Oil is often compared with the infamous Bio Oil for stretch marks. Having tried both (Read Bio-Oil Review), I am more inclined towards Palmer's Skin Therapy Oil when it comes to formula, ingredients, and skin nourishment. Both the products are fast-absorbing, lightweight, and contain their fair share of chemicals. But Palmer's one is a lot better and safer with lesser chemicals, unlike Bio-Oil which has Mineral Oil as its first ingredient. Also, the Bio-Oil didn't really work on stretch marks for me, whereas I'm impressed with this sample version of Palmer's Skin Therapy Oil.
Summarizing the pros and cons,
Pros:
Comes in rollerball packaging as well as bottle packaging.
Little goes a long way.
Non-greasy, non-staining, fast-absorbing lightweight oil.
Nourishes skin and keeps it supple.
Even out skin tone with regular usage.
Great for dry, damaged, dull, and sensitive skin.
Can be used all over, on the face, body, feet, elbows, etc.
Cons:
Not free of chemicals.
Can break out on acne-prone skin.
Rating: 4.4/5
Would I recommend it? If you are a dry skin beauty and a Palmer's Fan, there is no doubt you will love this Skin Therapy Oil. Not only for its light, fast-absorbing formula but for its effective results. Although I ain't going to purchase the full-sized bottle (my stash is already loaded with body lotions & butter), I would recommend this as a body oil for someone with dry damaged skin. If you want something for the face, Palmer's has a Skin Therapy Oil specifically meant for the face, you can try that.
Looking for other skin nourishing oils?