Since the day I became conscious of choosing natural products for my skincare, I started having my eyes on Khadi Natural since it is not only said to be a natural brand but also an affordable brand. After checking out few reviews, I had a little hesitation as I noticed they mention only the key ingredients on the label. Then this super budget-friendly travel kit caught my attention and without any second thoughts, I bought it. This kit contains 6 Khadi Natural Products, all of which are deluxe sized which is more than enough to decide if I want to get the full size. Let's see how these products fared for me.
Khadi Natural
Khadi Natural is an Indian Cosmetics Brand that claims to use natural herbal extracts in their products and follow authentic ayurvedic formulations. Khadi Natural Products are said to be free of harmful chemicals and are dermatologically verified. The brand does not test its products on animals, hence Cruelty-Free. It is associated with KVIC, ISO, WHO,  GMP and is certified by the department of Ayush as well.
Over the years, Khadi Natural has reformulated and revamped its products. Khadi Natural was not a Paraben Free brand but now you can notice an increase of Paraben & Sulphate Free Products in their range. In fact, Khadi Natural has a set of products that are Sulphate and Paraben Free and a different set of products that aren't free of them. You can easily find them mentioned on the packaging.
Khadi Natural Products Review
1. Khadi Natural Amla & Bhringraj Hair Cleanser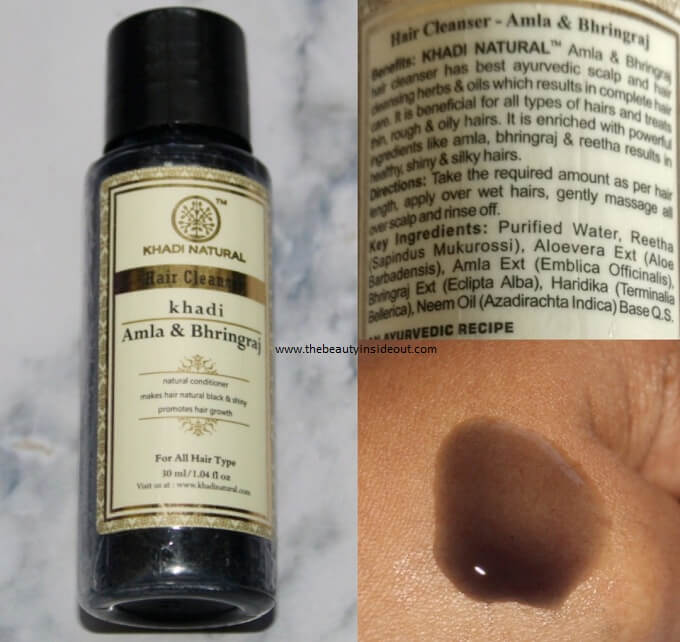 Of all Khadi Natural Products, this is the one product that I wanted to try out desperately. Amla and Bhringraj in a shampoo. I'm in. Both are excellent ingredients for every hair problem.
Before I talk about how this works, this shampoo smells yum; it has a sweet smell that is unexplainable but can be overpowering for those with sensitive noses. This is a black colored shampoo and has a slightly running consistency. Since I have the one that contains SLS, it lathered up really well. It does the perfect job of shampoo, to clean the scalp. I usually never expect other properties like hair fall control, hair growth from shampoo so I don't really bother about those aspects. I really liked using the shampoo, especially after a DIY hair mask. For some (who shampoo on dry hair without oiling or pre-conditioning) this can be slightly drying as it strips off oil completely. If there is an SLS and Paraben Free version of this shampoo, I would have recommended that. But if you are comfortable with sulphates, then this is a good shampoo to try. It does not induce hair fall and serves its purpose of cleansing the scalp of dirt.
(Update 2021: Yes, they do have an SLS & Paraben Free version now).
Rating: 4/5
Where to buy? Amazon.in
2. Khadi Natural Green Tea & Aloe vera Conditioner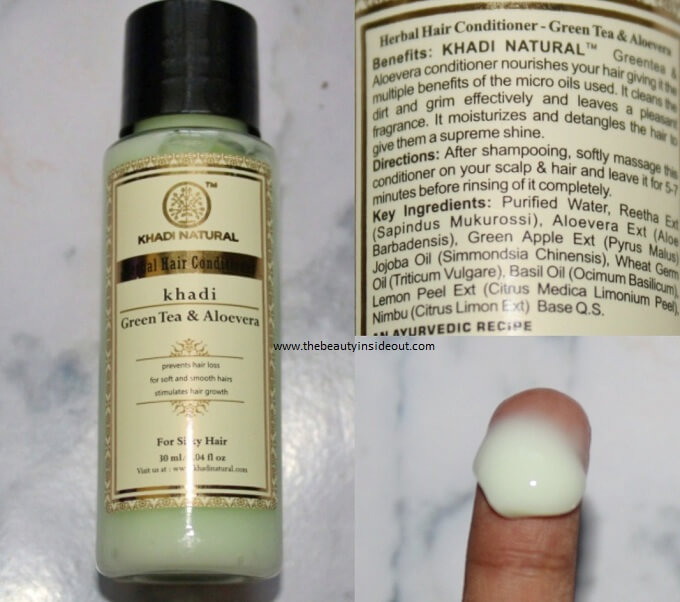 This is a pretty decent conditioner. It comes in a unique pastel green color and has the most common thick creamy conditioner consistency. It has a strong herbal fragrance that is more of Reetha and a mix of other herbs. It lingers on my hair until the next day. Performance-wise, the product definitely conditions my hair but it doesn't have the slip to detangle my hair easily, which I assume is because of the lack of silicones. Once my hair dries after shampooing and conditioning, my hair did look well defined, smooth, and soft to touch. Since this is a mild one, it did not weigh down my hair too. Overall, if you like mild conditioners, you can try The Khadi Aloe Vera Conditioner once.
Rating: 3.8/5
Where to buy? Amazon.in
3. Khadi Natural Herbal Face Wash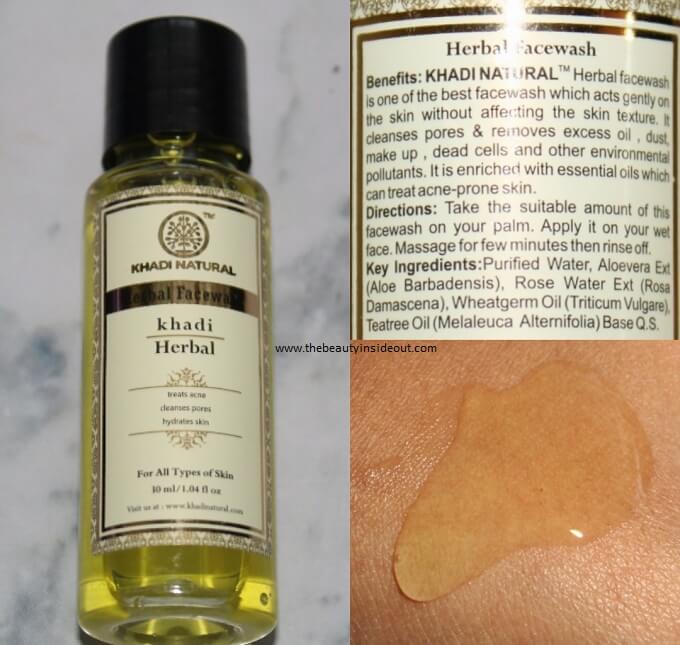 This face wash reminds me of my Patanjali Neem and Tulsi Face Wash. Obviously, this is a yellow-colored gel-based face wash that is more suitable for oily and combination skin types. The product has a fruity smell that completely fades away once you wash it off. The face wash foams up well which leads to a super nice cleaning effect. This face wash can feel a bit stretchy on the skin, especially with normal and dry skin types. There is nothing special about this face wash. It suited well on my skin and didn't cause me any breakouts. So I am pretty satisfied using this.
Rating: 3.5/5
Where to buy? Amazon.in
4. Khadi Natural Rose & Honey Moisturizer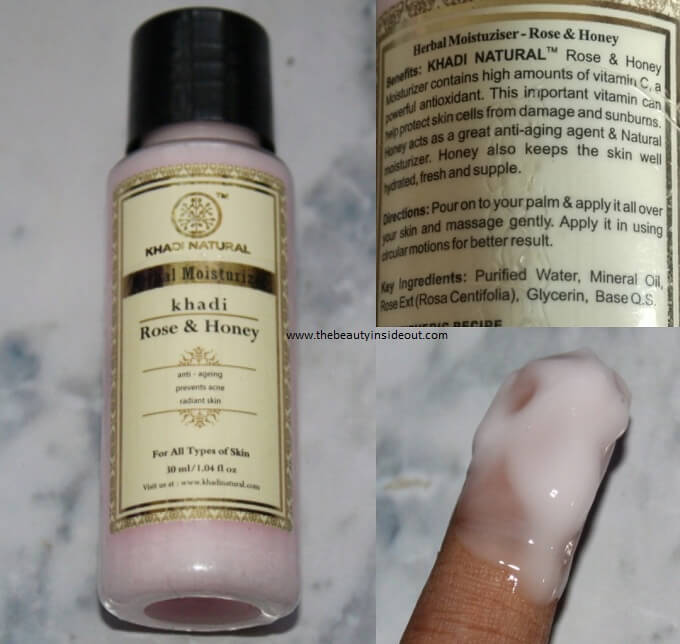 It is not that easy for any moisturizer to suit my skin. In fact, when I saw this kit had one, I was sure that I will be using it for my body. And I was right. This was a super thick creamy moisturizer that would never suit my oily facial skin. But again this was perfect for my dry body skin, especially for the winter season. This again has a fruity fragrance which disappears sometime after application. The moisturizer gets absorbed easily into the skin and is super moisturizing and hydrating. I love how this makes my skin soft and supple for long hours without re-application. I highly recommend this for all those dry skin beauties.
Rating: 4/5
Where to buy? Amazon.in
5. Khadi Natural Aloe vera Soap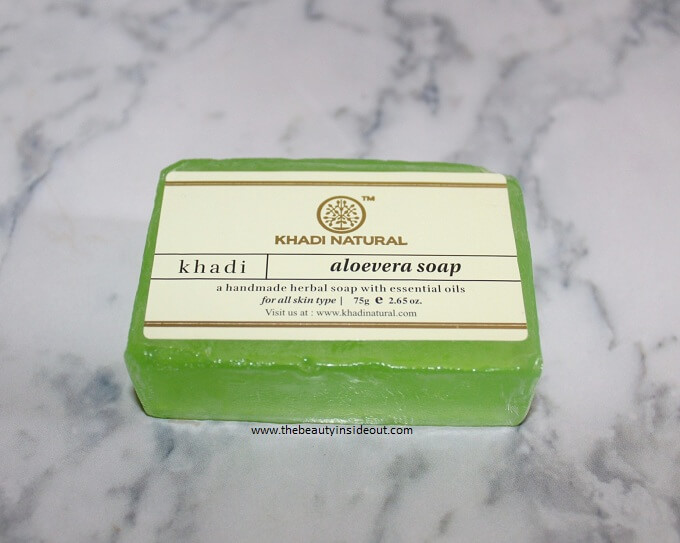 The Khadi Natural Aloe vera soap is a translucent glycerine-based soap just like pears. The soap comes in a plastic-wrapped cover packaging with all the details at the backside of the soap packaging. This is supposedly a handmade soap made with Aloe vera, Neem, Lemon, Manjistha, Tulsi, Ratan Joth, and Vegetable Oil Bar Base. This soap has a very good herbal fragrance which lasts for a little while after a bath. The soap does lather well but doesn't dry out or make the skin stretchy. Rather, it gives a smooth slippery feel of using a rich moisturizing soap. Overall, I liked using it, this was a good handmade soap with a very good fragrance.
Rating: 4.3/5
Where to buy? Amazon.in
6. Khadi Natural Rose Water Soap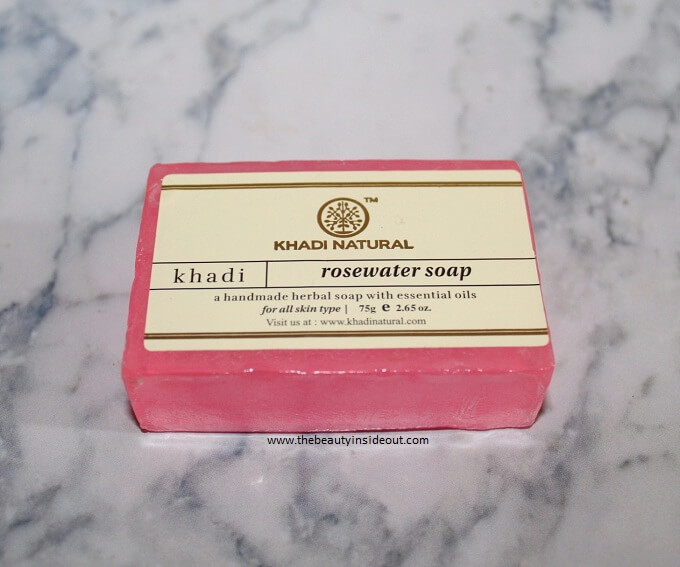 The Khadi Natural Rosewater Soap is similar to the Aloe vera soap in its texture and performance. Only the fragrance differed. This Soap is made of Rosewater, Rose Oil, Glycerine, Geranium Oil, Chandan Oil, and Bar Base (Vegetable Oil). This soap has the smell of roses, absolutely very pleasing to my senses. Just like Aloe Vera soap, this lathers well and gives a very smooth skin at the end of the bath, but that doesn't mean one can skip a moisturizer. This variant doesn't impart that slippery and great moisturizing feel. This soap claims to impart mild antiseptic properties while keeping skin smooth and velvety and as claimed it leaves the skin soft.
Rating: 4.3/5
Where to buy? Amazon.in
7. Khadi Natural Neem Tulsi Face Pack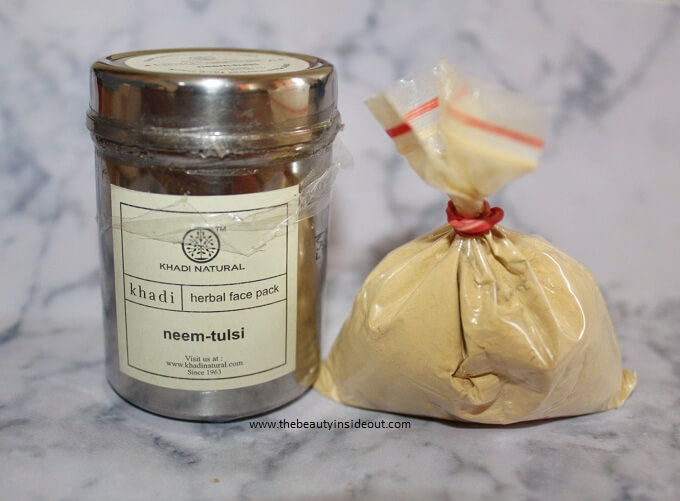 This was not a part of the travel kit and I had bought it separately as I wanted a dry powder face pack. Khadi Natural has a variety of such face packs. I chose this Neem and Tulsi as it would make a good combination for my oily acne-prone skin. The powder pack comes in a small zip pouch placed inside a small steel container. The powder is finely milled and mixes easily with water. It has an amazing herbal smell that is not long-lasting. I use this face pack on clean, damp skin. It spreads easily and immediately has a tingling sensation which disappears in few minutes. Before it completely dries, I massage the slightly wet pack giving a scrubbing effect. It washes off easily too. The results are quite satisfying. It feels refreshing and makes my face look brighter and glowing instantly. This Neem Tulsi Face Pack is worth giving a try.
Rating: 4.5/5
Where to buy? Amazon.in
Final Thoughts on Khadi Natural Products
Overall, I wasn't floored with their products but at the same time wasn't disappointed too. They are good in performance and for this price, I wouldn't ask for more. The only major concern is the incomplete ingredient list which they should be transparent about in order to gain the trust of consumers. Summarizing the Pros and Cons.
Pros:
Khadi Natural Products are super affordable.
Available in smaller kits which helps to zero in on the product that would work for one.
They have separate SLS and non-SLS versions of most of their products especially shampoos.
The products are effective and are able to provide the claimed results to a great extent.
Cons:
All Khadi Natural Products are strongly scented which is bothering at times.
Poor packaging. All the bottle products, be it travel size or full size, come with a stopper that has to removed leading to a bigger hole and chance of getting more product out.
The complete ingredient list is not mentioned.
The products do not give a natural product vibe, with all sorts of fragrances and colors.
Overall it's a herbal brand that natural skincare lovers can give a try. Do share your experience with Khadi Natural Products in the comments section below. Don't forget to check out similar brand reviews in this series.