Which girl on earth wouldn't like to have a tamed, soft, smooth hair that obeys her and help her to style in a way that she likes !!! You would have guessed my hair type as I mention the word 'tame'. Though I love my semi curly hair, the dryness and frizziness which is in friendship with my curly hair doesn't let me flaunt my hair loose or style up in the way I like. So after a long time, I decided to take up hair care seriously and pamper my hair every weekend when I get time .Yes ! I am a working women and get time only on weekends as many of you . As part of the new pledge I have taken to myself, I managed to try out hair masks at home every week that moisturizes my hair and give a soft shiny look .
Off late, I am obsessed with hair packs. So here the are the DIY Homemade Hair Masks for Dry Frizzy Hair that I have tried.
1.DIY Hair Mask using Biotique Hair Pack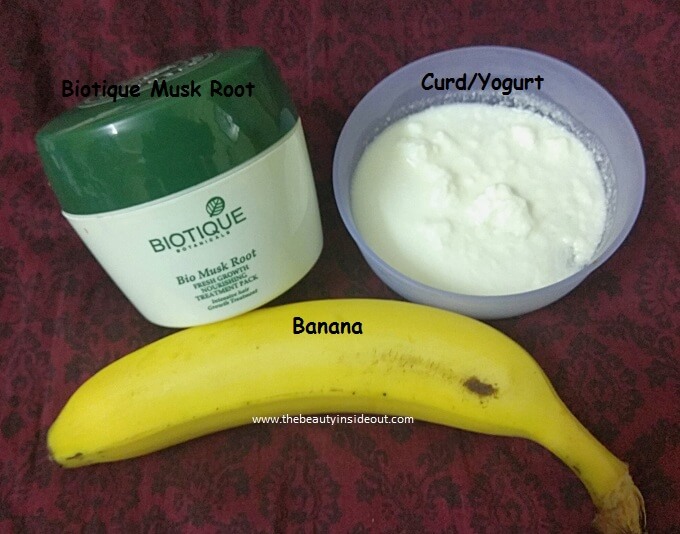 Ingredients :
Curd
Banana
Biotique Bio Musk Root Fresh Hair Growth Nourishing Treatment Pack (Buy HERE)
Preparation : Take 1 or 2  banana depending on your hair length (here I have taken one) . Take a mixer and Add the sliced bananas , 1 cup of curd and about 2 tsp of the Biotique mask and blend it well. Once it's ready add about 2 tsp of coconut oil (optional). The mask is ready to be applied .
Also as a bonus, the mask had a super fruity smell either because of biotique mask or the banana, which I liked thoroughly. Don't worry, the smell is not that strong and will fade away with shampoo wash.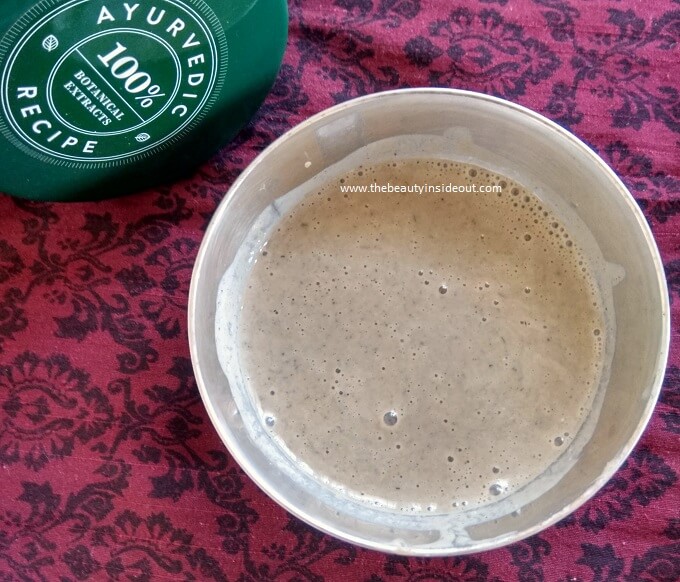 How to Use : Apply the mask on scalp and along the length of the hair and leave it about 1 hour. As I get head cold , I just left it for about 30 minutes and washed off my hair with a mild shampoo .I didn't use any conditioner after. I had just let my hair air dry .
My Experience:  I couldn't believe myself, my hair became super soft and my scalp felt very much moisturized. It didn't even weigh down as any conditioner would do on my hair. As well, there was no much frizz and tangles after drying my hair. I even had the effect for about two days after hair wash.
The mask is a super recommendation for all those who has dry scalp and dry ends and are looking for super nourishing and moisturizing hair pack .
2.DIY Hair Mask with Banjaras Amla Powder :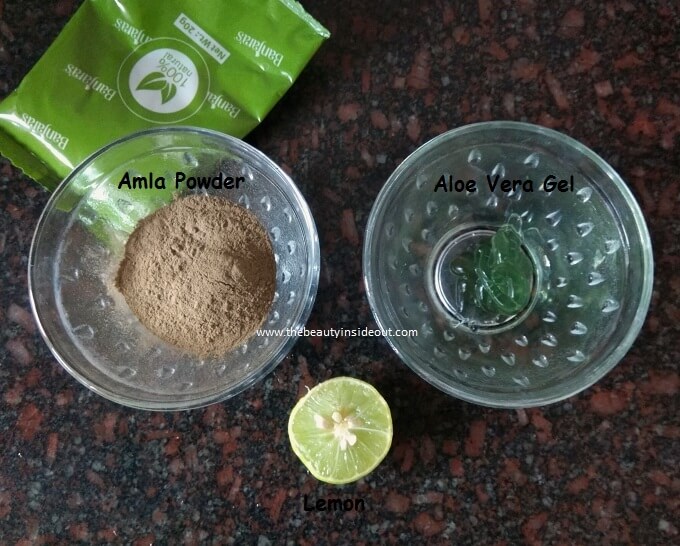 Ingredients :
Banjaras Amla powder -1 pack (Buy HERE)
Aloe Vera gel -4 tsp
Lemon -2 tsp of juice
As known, Amla , Aloe Vera are amazing ingredients to improve hair health and texture. Lemon is super ingredient for dry flaky scalp .
Preparation: Mix all the three ingredient till it gets a smooth paste consistency .Add few drops of castor oil / coconut oil to the paste (if you hair feels very dry or you haven't oiled your hair ) and mix well.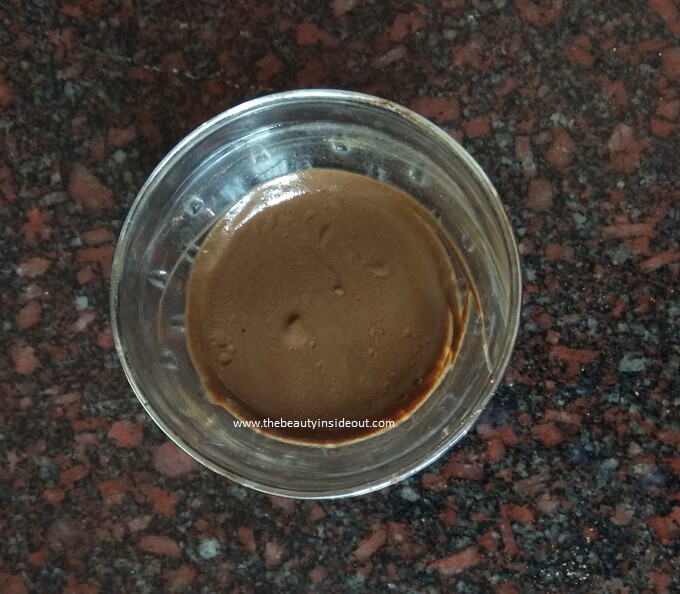 How to use: partition your hair and apply the paste on your scalps and along the length of your hair till the ends. Leave it for about 30 -45 minutes and shampoo your hair as you regularly do. Use a mild shampoo that is  free of harmful chemicals.
My Experience: I just felt that my hair is nourished and it appeared that my hair got some life :P. True indeed ,I could evidently see the shine of my hair and my scalp felt squeaky clean and refreshing .
I have been trying these two masks on alternate weekends for about a month .It did give results .Do try this out and pamper your tresses .Definitely I see a lot of difference in my hair texture and hair health .
P.S: Due to my obsession for hair care and masks off late, I would be trying different hair masks and will try to come up with a post of the same as a continuation to this .
Looking for other simple and effective DIY's?
Guest Author: Abirami Gunasekar