It has been a while since I sat down to write something for the blog. Things got busy on the personal front. So now that I am back I am going to continue with some of my pending posts, beginning with the unboxing of my February 2018 Fab Bag. I wanted to skip this post, but then I thought let me do it.
Starting off with the bag, it's made with one of the usual Fab Bags materials, only the printing and colors differ. But still, the quality is good and the bag is usable, unlike their weird textured clutch Bags. I like these pouch bags. I got the white pouch with pink heart-ins whereas some of the subscribers got the black one. This is the Valentine Edition hence the hearts, very typical! The overall look of the bag is okayish and not that attractive to me, it was even a little dusty when it arrived. But since the bag is durable I am letting this go.
Coming to the products of The XOXO February 2018 Fab Bag
I got 5 products, with 3 full sized and 2 deluxe sized. And yeah some sachets as well.
NELF USA HD Foundation – 01 HD Natural (Full Size: Rs.800/-)
Major Crush by Ayushi Pure Matte Nail Lacquer (Full Size: Rs.199/-)
Purple Essentionaturals Bath Salt (Full Size: Rs.450/-)
Tvakh White Tea Rose Deep Pore Cleansing Exfoliating Scrub (Rs.172/- for 50gm)
Best Seller Bonus: Kronokare City Detox Face Wash
Acnes Whitening Clarifying Face Wash (2 sachets Rs.5/- each)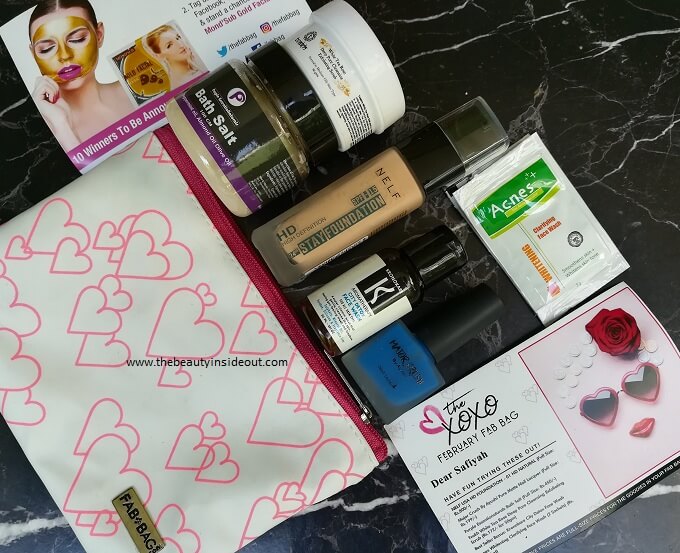 NELF USA HD Foundation – 01 HD Natural
Most of you would have known that Fab Bag always let us choose the makeup for the month. Most of the time it's from Sugar Cosmetics, but this time they have come with a new brand NELF Cosmetics. This would be my first product from the brand. I had options to pick between the HD primer and this HD Foundation and I chose to pick the latter in shade 01 Natural. The packaging reminds me of the L'Oreal Infallible 24Hr Foundation with its long cuboidal cylindrical shape and similar pump dispenser. The cap of the bottle is quite loose that it keeps falling off often, making it non travel friendly. As for its performance, I am yet to try this on my face. From hand swatches, I noticed the shade to have subtle yellow undertones which should suit medium skin tones. The formula is medium thick and mattifying. I wonder if this foundation is a dupe of the L'Oreal infallible Foundation. Will let you know after trying it out.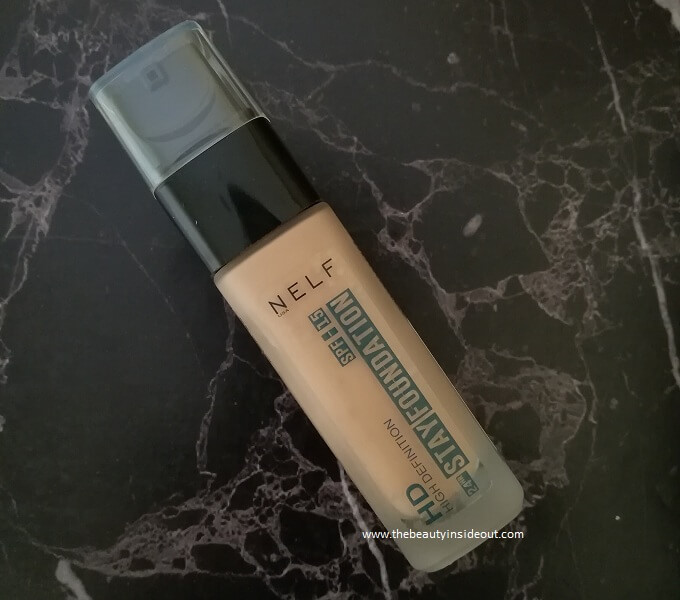 Major Crush by Ayushi Pure Matte Nail Lacquer
This is a new Nail Polish brand. Everyone attributes this Nail paint to the Nykaa Nail paints due to the similarity in its packaging. I do not know if the formula and finish are similar as I haven't tried it and don't intend to use it too. I received a navy blue shade which has no particular name. The nail paint does not come with an outer packaging and the bottle itself does not hold much information about the product except the quantity, manufacture date and best before. I would probably gift this to someone else.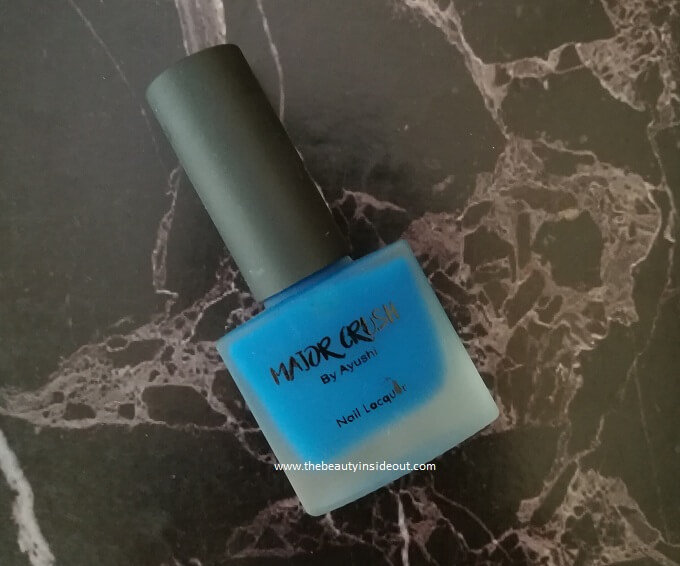 Tvakh White Tea Rose Deep Pore Cleansing Exfoliating Scrub
This is my first product from Tvakh but I've heard good reviews of the brand's Vitamin C Glow Booster. So I was expecting this to be a great product. Tvakh is a cruelty free brand and does not test their products on animals. This exfoliating face scrub is enriched with Rose Hydrosol, Sunflower Seed Oil, Shea Butter, Rose Oil, Wheat Germ Oil, Walnut Shell Powder and few other ingredients. The scrub is also free of parabens, mineral oil and GMO ingredients.
The scrub is mild on the skin with sparsely packed tiny granules. People who love some good scrubbing effect might be disappointed as it hardly feels anything on the skin. Also, the scrub is lotion type and gives an oily feel while massaging on the skin. It washed off easily and left my skin smooth and soft sans oiliness. The scrub is meant for normal to medium oily skin type. But it would very well suit dry and combination skin types due to its hydrating and moisturizing properties. As for me, I am not particularly impressed with this scrub as it's too mild for me and I do not like the texture of it. But that's just me. You might like it!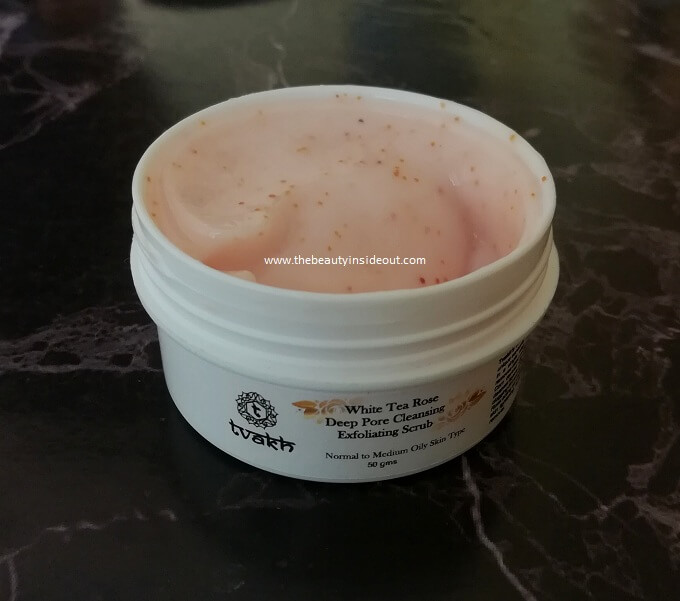 Purple Essentionaturals Bath Salt
Purple EssentioNaturals is yet another new brand that I've come to known through Fab Bag. I received a 100 gm tub of bath salt which is made with Peppermint Oil, Almond Oil, Olive Oil, Epsom Salt and Baking Soda. The fragrance is that of Peppermint oil, it's very refreshing and imparts a coolness. This would make a great foot soak as well.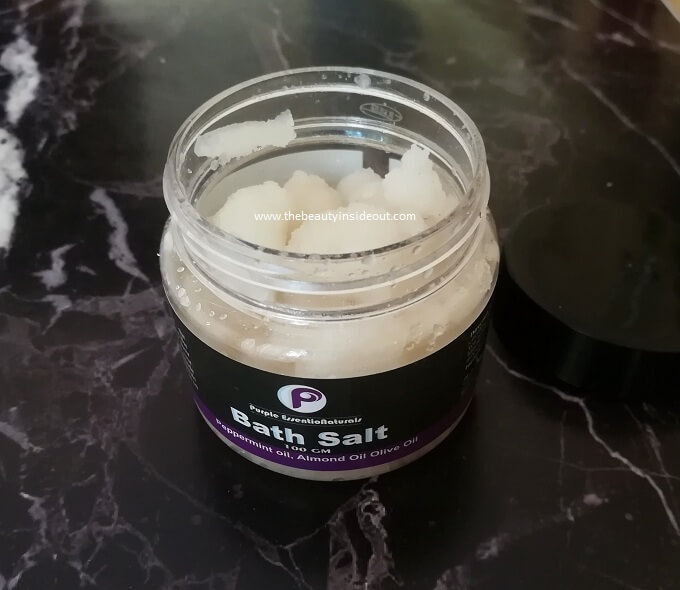 Kronokare City Detox Face Wash
Most of them received the body wash from Purple EssentioNaturals and some of them received random best seller products. I'm glad that I received the Kronokare Detox Face Wash as I didn't want two products from the same brand. That's kind of boring. The Kronokare Face Wash is sulphate, parabens, mineral oil, silicone and fragrance free. It is a mild face wash that would make a perfect morning cleanser. The smell of lavender essential oil is also really nice and refreshing to my senses.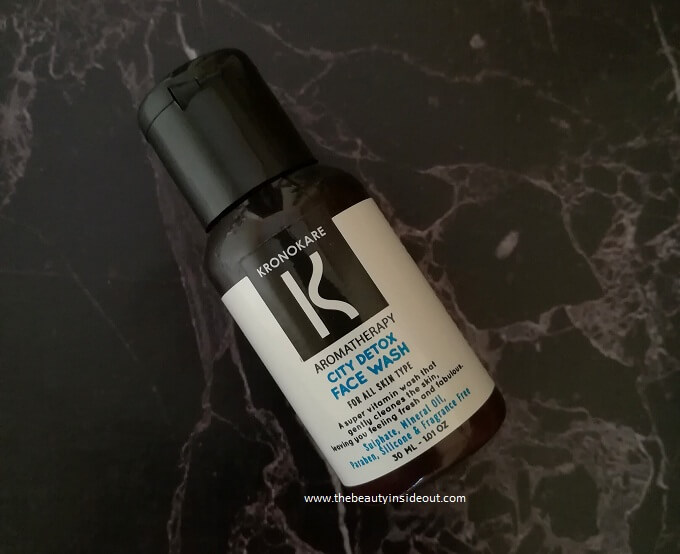 Acnes Whitening Clarifying Face Wash
Like last month, we received two face wash sachets from Acnes. But this time it's the Whitening variant that claims to smoothen skin and whiten skin tone. I will probably throw this in my hand bag.
Overall, the February 2018 Fab Bag was not really impressive. I am not happy with the choice of products that I received and I would have skipped this bag if I had an option to skip a month. That's it for today. I'm awaiting for the arrival of the March 2018 Fab Bag which has some amazing products as far as I've seen from previews. Let us see. I will unbox it as soon as I receive it.