Miss Claire is one of the popular Drugstore brands that has an entire range of products. The brand is famous for the colors they introduce in their products and I really loved their soft matte lip cream for the same reason. I decided to try their color kohl pencils which are also called as "Glimmerstick for Eyes". I have been itching to buy colored eye pencils from long time and as soon as I saw the shade range they had, I had to scratch that itch out! 😛 ? The Miss Claire Glimmersticks For Eyes are available in 20 vibrant shades and I bought two shades; Divine Blue E-05 and Emerald E-15. Let's Review and swatch them.
Product Description:
Choose this Miss Claire Glimmersticks eye pencil powerhouse that packs a mean punch! Its smooth texture, Easy application and impressive staying power all make it a winner. Available in a range of shades, the sticks complement every eye colour, and are an easy addition to your makeup bag.
Ingredients: Not mentioned. Hence I will say do use the product first on your inner side of the wrist or pit of the neck to watch out for any allergic reaction.
Price: 65 INR for 1.8 g product.
My take on Miss Claire Glimmersticks For Eyes:
Packaging: Packaging is a standard affair; the pencil comes in a small box. The pencil body is color coded so you don't need to check the name before applying. It has silver metallic cap which is not very durable if not extremely flimsy. You need to recap your pencil with low pressure, if you will push it may crack or destroy the tip of your pencil. You don't get a pencil sharpener with this product, so you need to buy one or use a sharpener of other pencils you have. The pencil is easy to hold without any slip.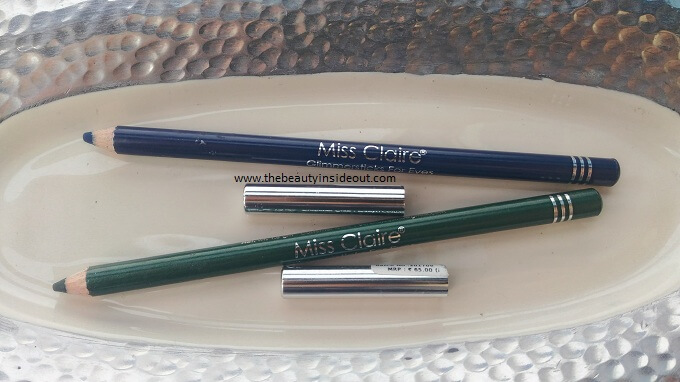 Fragrance: It has a crayon like greasy smell, but you won't smell a thing after application. Honestly the smell didn't bother me.
Texture: It has a smooth creamy texture as the brand claims and yes, the product doesn't tug at your eyes. On the other hand, the product is so smooth you need to put a bit of pressure to get optimum color. The tip gets used quickly since the product is soft, you may need to sharpen it after one use if you want a sharp line. As for the product wastage after sharpening, you can store the product that sticks to the wood shavings by the help of small brush and use it to line your eyes or as an eyeshadow.
Pigmentation: Color pay-off is mediocre and not intensely pigmented as the brand claims, you need to put a slight pressure and swipe it multiple times for color to come off. But the colors are hands down amazing!!! The shade Divine Blue especially looks so pretty that you may want to just dress according to this pencil. Emerald green is one of those elegant hue that you can use for an office party or team it with an ethnic outfit. If you have a green silk saree or a green anarkali, just go for this shade girl! You will thank me for it later.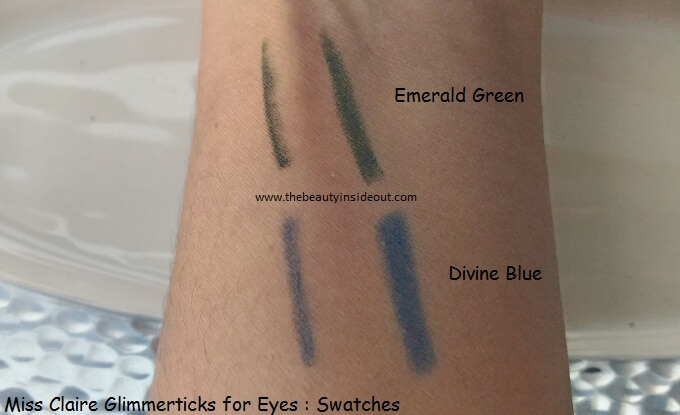 Finish: The pencils have a matte finish, but you need to apply primer or a light layer of foundation to make it smudge-proof. It fails on the claim of precision since you need to keep it sharpening for a precise line because of its extremely smooth texture.
Staying Power: The brand claims that this product has long-staying power, which it falls short of. Staying power is mediocre, it will get smudged within 4 hours, so if you just need to attend an event for 2-3 hours then you don't have to worry, otherwise you will need to reapply. If you have oily eyelids like me that tend to sweat out in hot weather, you need primer for lids otherwise it will get smudged. It is extremely comfortable on eyes though and you won't feel a thing unlike some pencils like Chambor Eye pencils that tug at eyelids. But if you want a long staying eye pencil you may want to look someplace else and skip this product. The pencils didn't irritate my eyes when I applied them on my inner lash line.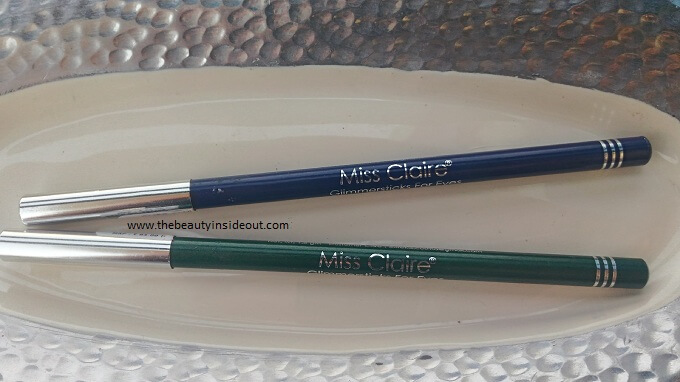 Pros:
Variety of shades
Creamy texture
Doesn't tug at your eyes
Affordable
Vibrant hues
Cons:
Staying power is mediocre
Multiple swipes needed to build up the color
Need to sharpen it frequently for a precise pointy line
No sharpener of its own
No ingredient list
Rating: 3/5
Now, there is one thing that can make the smudging of these pencils work for us is that using these pencils to create a smoky eye look. Of course, you shall need an eyeshadow primer before using these pencils.
Would I recommend this product? I have mixed feeling about this product: it is affordable and has an excellent color range, but the frequent sharpening may become cumbersome for many (it is for me). You also need to swipe it multiple times which makes the usage tiresome. So, if you can afford higher range products for longer staying power then skip these, otherwise just for fun colors these products provide, you may want to buy them.
Looking for other eyeliner and eye pencils?
Guest Author: Sneha Goley