The previous summer was awful, and my skin rebelled against me in a crazy way. I sought out a dermatologist's assistance, and she suggested IPCA Acne UV Gel Sunscreen, which is when I realized using sunscreen could be simple and enjoyable! This one offers powerful sun protection without having a white cast or being hard to blend in. Impressive right? Read on to know what more this best sunscreen has to offer us.
But wait, what's sunscreen?
Sunscreen is basically your skin's raincoat from the sun's annoying UV rays. It contains certain ingredients that set it apart from your other skin care products, like Zinc Oxide, Titanium Dioxide, Avobenzone, Salicylates, etc. that protects the skin against harmful UV rays.
Are sunscreens necessary? Unquestionably if you're outside!
I'd view it as optional if you were planning to stay inside and out of any direct sunlight (although people swear by using it every day, everywhere, I prefer not to use it indoors)
In addition, if you utilize actives in your routine, be sure to use them. Actives include chemical exfoliators such as AHA, Salicylic Acid and Retinol, Vitamin C, and such.
Coming to the product, here is what the brand claims.
Product Description:
IPCA Acne UV Gel Sunscreen is a silicone-based chemical and mineral sunscreen that offers broad spectrum protection against UVA, UVB, and Visible Light. Its features include
Non-irritant.
Alcohol-Free, Paraben Free, Dye Free.
Free of additives and preservatives.
Oil Free and Non-comedogenic.
Very water resistant.
Acne UV Gel Ingredients: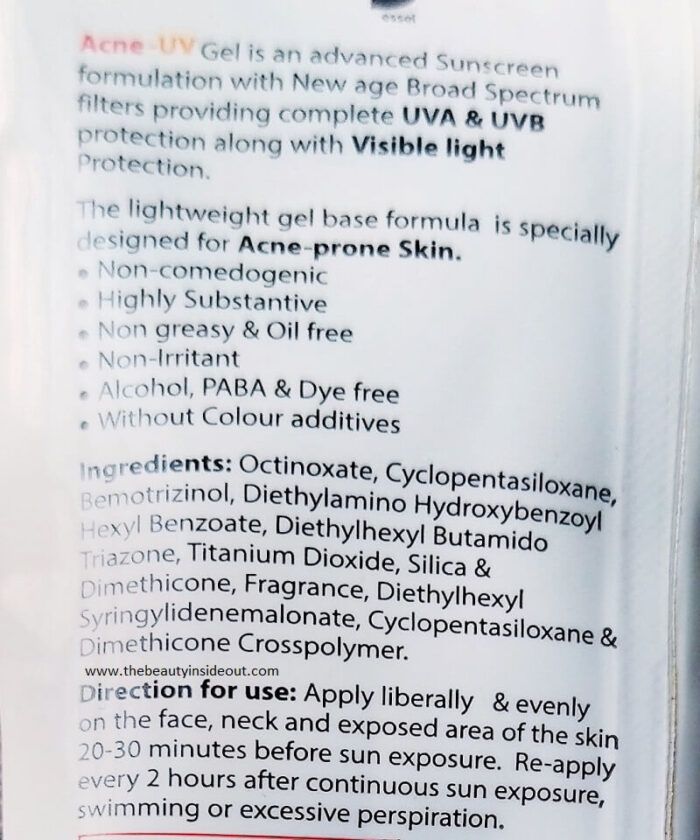 How to use it?
Use it 20 mins before stepping into the sun
We use the three-finger rule while applying it, i.e. take it out generously on your three fingers.
Spread evenly on your face, and neck, and don't forget any other exposed area. Reapply after 4 hours.
How to remove?
Use a good cleansing balm or cleansing oil, as this is a silicone-based water-resistant sunscreen.
I don't advise removing sunscreen with a gentle cleanser because my Cetaphil did a poor job of it.
IPCA Acne UV Gel Sunscreen Review
Packaging:
The Acne UV Gel comes in a box along with an educative leaflet inside. It has 50g of product that costs ₹875, but you get a discount if you buy it online, and if your pharmacist is kind, they probably offer a discount as well.
The tube is fairly accessible as they dispense a good amount of product without making a mess.
Color, Texture & Fragrance:
The texture is exquisite! It has a delicately yellow hue and a soft, fluffy texture. It has a slight fragrance. It leaves your skin with a gloss but has no trace of whiteness. This tube of 50g will last for less than a month.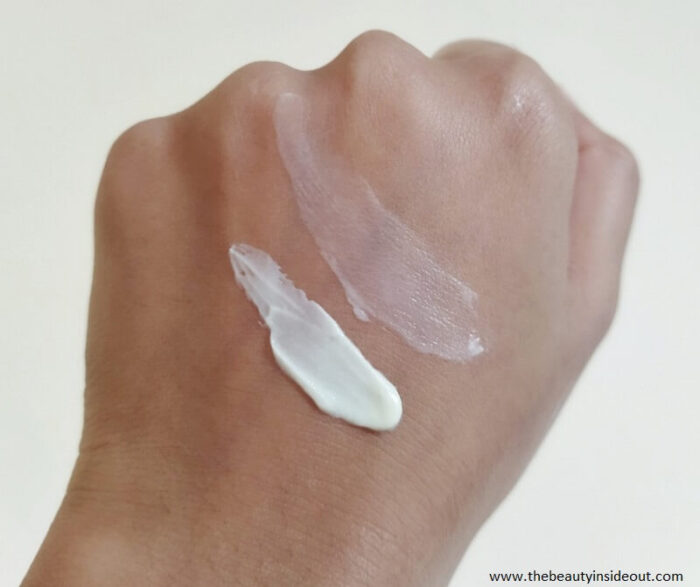 What makes Acne UV Gel special?
The fact that it's actually like a cream but is called a gel!
It works well whether or not you aren't wearing a moisturizer. It's a fun no fuss sunscreen, it blends incredibly well and I love how it makes my skin glow afterward. The silicone present gives your skin a plum look!
Since it has a broad spectrum, you won't need to be concerned about sun damage after applying it. It has both mineral filters (such as titanium dioxide) and chemical filters (like Diethylamino Hydroxybenzoyl Hexyl Benzoate).
It has a PA rating of +++and an SPF (skin protection factor) of 50. Also, Ipca laboratories are selling it as a medical-grade sunscreen and this is one of the best sunscreens in India according to dermatologists.
It didn't make me sweat or feel oily at all. It is water resistant and non-comedogenic (does not clog pores or cause acne) and also free from any skin irritants.
I did enjoy using it, however, the price for 50g of sunscreen is a bit high , so it's hard to keep buying over and over.
Pros:
No white cast.
Waterproof.
Smooth finish.
Visible light filter.
Nice fragrance.
Easy to blend.
Non-comedegonic.
Has both, chemical and mineral filters.
Cons:
Pricing.
Some people may not like the silicone finish.
Larger size not available.
Do I recommend Acne UV Gel?
Highly! It works well on almost all skin types and definitely doesn't cause acne.
Written By Sejal