Acne is one of the most common skin problems that a majority of people encounter in their life. While there are a lot of great ingredients to tackle acne, Salicylic Acid is one of the best over-the-counter ingredients that are highly effective and highly recommended by dermatologists for acne. Facial acne is given all the attention since it's the first thing that one notices. But acne can occur anywhere on a person. Body acne especially on the back, chest, and thigh is quite common too. In fact, it is also very common to have scalp acne. In this post, I will share my experience with Deconstruct's AHA & Salicylic Acid Body Wash. If you are suffering from back acne, be sure to read this.
Before moving on to the review, let's see a little about acne on the body and, its causes.
Types of Body Acne
Just like facial acne, there are six types of body acne.
Blackheads: Also called open comedones. These occur when the open pores are clogged with excess oil and dead skin cells to give a black spec-like look. Salicylic Acid is one of the best ingredients to tackle blackheads.
Whiteheads: Also called closed comedones. These are closed pores that are plugged with excess oil and dead skin cells. Contrary to their name, they do not have white pus. They appear as small bumps and remain within the skin.
Papules: papules are the most common form of acne. These are solid, red bumps that are inflamed.
Pustules: Pustules are nothing but papules that are filled with pus. A papule gets inflamed and becomes a pustule. It's best to get it treated before it becomes a pustule to avoid scarring.
Nodules: These are large, solid pimples that are deep-rooted within the skin. These are usually red and painful.
Cysts: Cystic Acne is a severe form of acne. These are similar to nodules, and are deep within, swollen, painful lumps that are filled with pus. It is best that they are treated with medication after consulting a dermatologist.
While acne can occur for various reasons, it can be very well controlled if we are aware of the causes and know its preventive measures.
Major Causes of Body Acne
Hormonal Fluctuations: A majority of acne occurs due to fluctuating hormones. Women in particular are susceptible to breakouts during the onset of a period.
Hereditary: In some cases, acne can be due to inherited genetics that causes overactive oil glands and excessive dead skin cells that block the pores and form acne.
Acne Mechanica: Acne can occur due to friction and pressure on the skin when you work out, wear tight clothing, and are prone to excess sweat. Sweating also irritates existing acne.
Environmental factors: Weather and pollution also play a role in causing acne. High humidity might make you sweat more and trap dirt and oils on the skin causing acne. Likewise, air pollution aggravates acne and is known to fasten skin aging.
Cosmetics: Acne can occur due to the wrong choice of skincare and haircare products too. Some ingredients are meant to clog the pores and cause acne. It is best to find out your triggers and choose products accordingly. Or look for products that are labeled Non-Comedogenic.
Stress: Stress affects your hormones and causes acne flare-ups. Leading a stress-free life is not only ideal for preventing acne, but it is also good for your overall health.
Picking acne: This is one of the worst human-made causes of acne. Picking your acne, especially the pus- filled pimples can spread acne-causing bacteria leading to more breakouts.
Food: Certain foods such as dairy, and sugar are said to cause acne in some people. Aim for a nutritious diet and remove any triggers that might cause you acne.
While there are a lot of causes of body acne, it is very much possible to control acne if you identify the root of your acne and take measures to control them.
Why one should choose a body wash that has Salicylic Acid & AHA?
In most cases, body acne can be controlled by using good body care products with targeted ingredients.
Salicylic Acid and AHA are two of the best ingredients to help with acne and using them in the form of a body wash makes everything easier.
Salicylic Acid is a BHA that is oil soluble. It unclogs pores by deeply exfoliating the skin and treats the body's acne effectively.
AHA is a chemical exfoliator that provides gentle surface-level exfoliation for smoother and firmer skin.
The combination of both Salicylic Acid and AHA makes an excellent body exfoliant for treating acne on the body. One such product is the Deconstruct AHA & Salicylic Acid Body Wash.
Deconstruct AHA & Salicylic Acid Body Wash Review
What does it claim?
Deconstruct Exfoliating Body Wash is an everyday, gentle, acne-fighting body wash that helps in reducing acne on the body. Formulated with 11% AHA (Glycolic Acid & Lactic Acid) and 2% Salicylic Acid, it deeply cleanses the skin to give smoother skin.
What are the ingredients?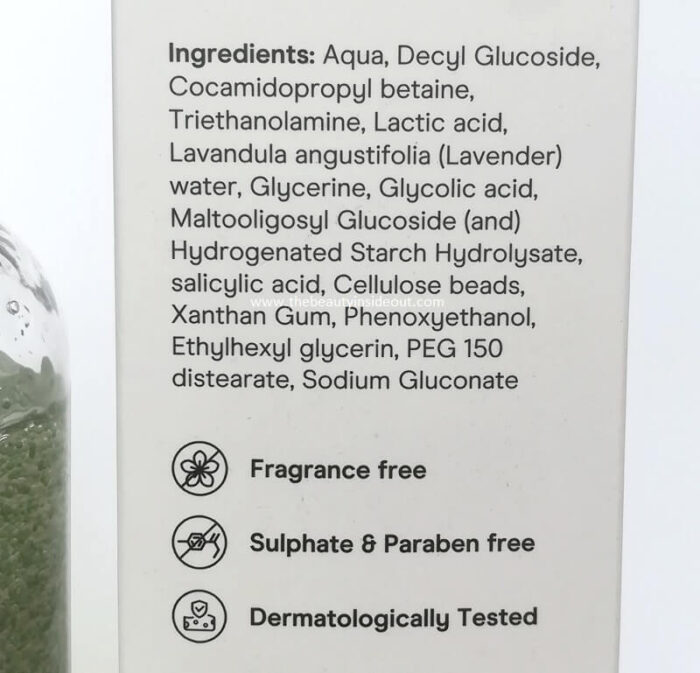 How is the packaging?
The packaging of this salicylic acid body wash is simple and user-friendly. The product comes in a sleek, see-through plastic bottle with a press-on opening which is very convenient to use. The bottle itself comes securely packed in a white carton box. Both the bottle and outer box have all the relevant details of the product.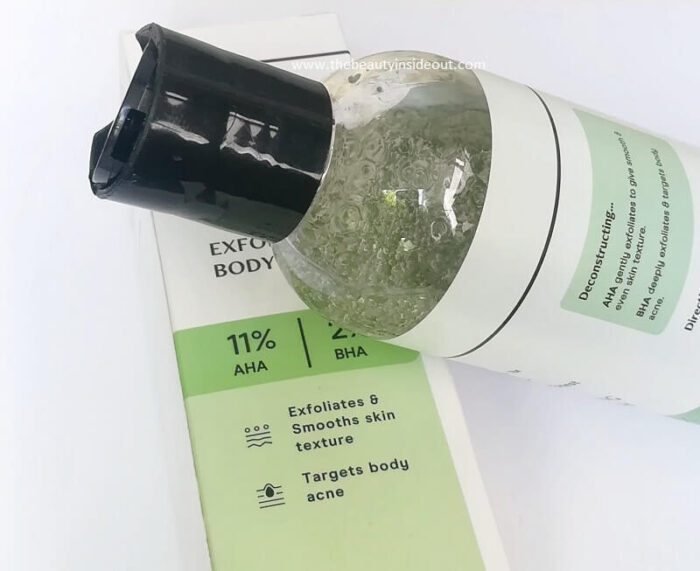 How is the texture & scent?
It is a clear gel-based body wash with green-colored cellulose beads. The beads are sparse & gentle on the skin and dissolves upon lathering.
The body wash is free from added fragrance. Personally, I like scented body washes and this has a subtle fragrance that's very invigorating and calming at the same time. I suppose the scent comes from the lavender water used in it.
The scent is gender neutral and can be used by anyone above 18 years of age.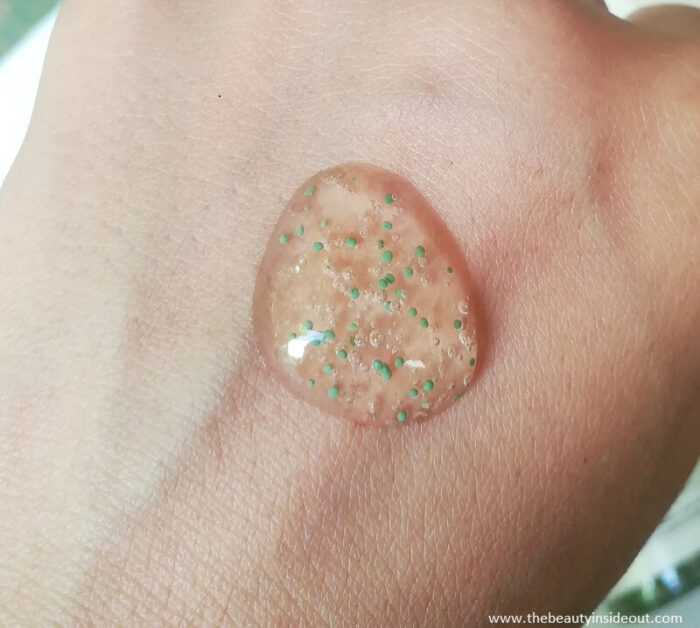 How to use the body wash?
I use just a coin-sized quantity of the gel for the whole body. Note that I like to use a loofah with my body wash so this produces a rich foam despite being a sulfate-free body wash. The body wash is formulated with gentle surfactants. If you use it with your hands without a loofah, it's going to form a gentle lather. In either case, it cleans the skin really well and washes off easily.
What are the effects of using this salicylic acid body wash?
For being an exfoliating body wash, I thought this would be stripping. Surprisingly it's not at all drying. In fact, it leaves the skin hydrated and soft to touch. This is because the body wash is loaded with humectants like Glycerin to provide intense hydration. Lavender Water has antiseptic and antibacterial properties to soothe and hydrate the skin.
Initially, I started using this on alternate days. But due to its soothing and gentle formulation, I could comfortably use it every day. Needless to say, the hot and humid weather in my place calls for a good refreshing body wash to beat the sweat and heat.
The brand recommends using a Moisturizer with Ceramides, Squalane, or Hyaluronic acid to keep the skin barrier intact for healthy skin. I follow it up with a Body Lotion with SPF, since this is a body wash with chemical exfoliants.
The brand recommends not use to it on the face as facial skin is much more sensitive than body skin.
Why do you need Deconstruct Salicylic Acid Body Wash?
In addition to being sulphate-free and fragrance-free, the Deconstruct Body Wash is free of silicones, phthalates, and parabens. The product is Vegan and Cruelty-Free as well.
This Salicylic Acid Body Wash is highly recommended for body acne, rough and textured skin, and Keratosis Polaris (strawberry legs). And it can be used by all skin types – be it oily, combination, or dry.
Apart from reducing acne, this Salicylic Acid Body Wash is highly efficient in reducing underarm odor and lightening sun tan.
Bottom Line
Using a Salicylic Acid Body Wash is one of the best solutions to treat body acne and other body skin concerns. And this Deconstruct Exfoliating Body Wash is one of the Best Salicylic Acid Body Wash in India that deeply cleanses the skin while reducing acne on the body. And it does that without drying out the skin and leaving it soft and supple for younger-looking skin.