Finally, I've found a long-staying foundation that survived my oily skin and did not meltdown despite all the year-round humid weather in the place I live. I've been using the L'oreal Infallible Foundation for more than a year now and I can't wait to share my thoughts on it. Let's get started with the product details.
Product claims: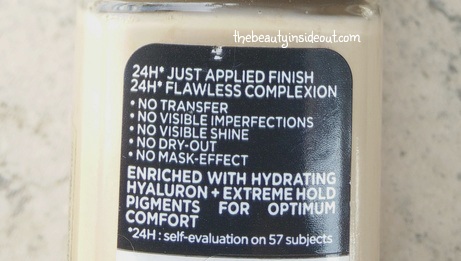 L'oreal Infallible Foundation Shades
120 Vanilla
125 Natural Rose
140 Golden Beige
145 Rose Beige
150 Radiant Beige
200 Golden Sand
235 Honey
250 Radiant Sand
300 Amber
320 Caramel Toffee
Priced at Rs 1325.
L'oreal Infallible Foundation Review
Packaging: The foundation comes in a tall cylindrical glass bottle which I find heavy for traveling purposes. It comes with an easy-to-use pump dispenser that dispenses the right amount of product and the cap shuts properly with no issues. The product details, expiry date, and ingredients, are all mentioned on the bottle packaging. Also, the glass bottle is a transparent one so I could see the shade and quantity of product left over.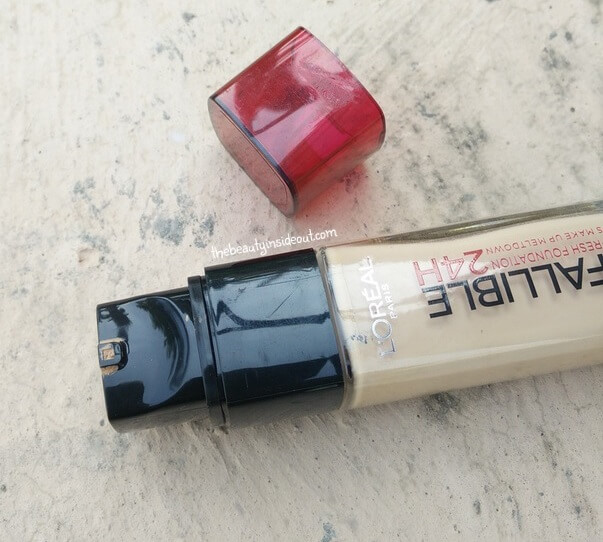 Shade: I chose the shade 140 Golden Beige for my fair-wheatish skin tone and I'm more than happy to find a shade that has yellow undertones. Most drugstores foundations have pink undertones that never suit my strong yellow skin but this range has a good number of shades with yellow undertones.
The only thing I found tricky is that this foundation tends to oxidize after application so you need to test it out at the counter before buying, no online purchases unless it's a repurchase, keep in mind that this is a mid-range foundation, and not a budget-friendly one, so don't take a risk.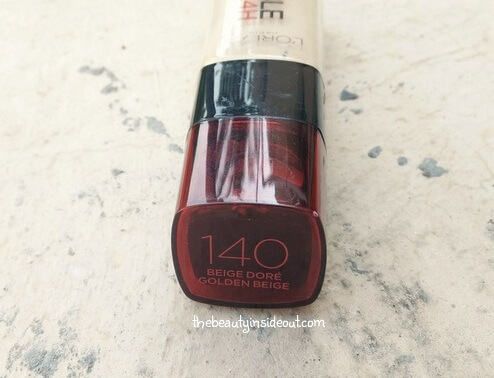 Texture: L'oreal Infallible Foundation is a liquid foundation that is slightly on the thicker side and does not go runny. It dries quickly so I prefer using it in sections. It goes well on well-moisturized skin giving a powdery matte finish. This foundation is a boon for oily skin and survives moderate sweat and water, so it's great for summers too.
For dry skin, you need a good ceramide moisturizer beforehand otherwise it's going to cling to every dry patch on your skin accentuating fine lines. Even on my oily-combination skin, I couldn't skip a moisturizer with this foundation.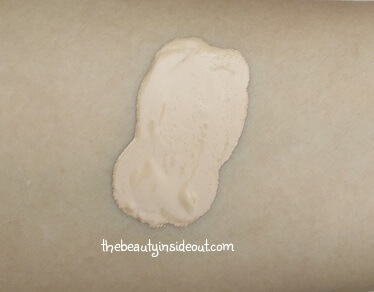 Finish: The finish is outright powdery matte. It does not show a single sign of dewiness. I like to mix this foundation with a drop of liquid highlighter to give that glowy effect. The foundation goes well with RT Miracle Sponge giving a second-skin-like finish. For heavier coverage, I use an RT buffing brush. I personally didn't like the finish with fingers.
Coverage:  It gives medium-high coverage. A singer layer of foundation easily covers redness, and dark circles and I could easily skip a concealer with this foundation. I do set it with a compact but dry skin type won't need one. I find this foundation to be a little heavy for everyday use and I reserve it only for certain days.
Longevity: Though it does not look as fresh as when it was applied, it does stay for really long hours, almost a whole day even with perspiration. Just one or two blotting sheets would do for oily skin types. It's somewhat transfer-proof that it did not come off when I blotted. Though it contains SPF, it does not leave a white cast and does not flashback in photographs making it a great bridal foundation.
Pros:
Easy to use pump dispenser packaging.
Good shade selection.
Hardly noticeable mild fragrance.
Widely available everywhere.
Matte finish.
With a moisturizer underneath, it blends easily to give a flawless finish.
Buildable high coverage, one can easily skip concealer.
Long staying foundation.
Would suit all skin types with proper prepping.
No white cast or flashbacks in the photographs.
Cons:
Expensive for a drugstore foundation.
You need to work fast as it dries quickly.
Can be heavy for daily wear.
Rating: 4.6/5
Overall, L'oreal Infallible Foundation is an excellent drugstore foundation. The formula, finish, high coverage, and longevity, everything is fabulous that one could not resist especially if you have oily skin. I would highly recommend this despite its expensive price tag.
That was all about the L'oreal Infallible Foundation. Have you tried this? Share your thoughts in the comments section below.