I did not use Talcum powders when I was a teenager or more so even when I was a kid. On rare occasions when I used them I always felt that they made me look ashy or too white. But recently when I came to know about the Spinz BB Powder through an ad, I found it really interesting; but at the same time I had thoughts like will a talcum powder be able to perform like a BB cream. So I picked up the Spinz BB Talc on one of my casual outings and have been testing it out since then. Do continue to read if you want to know if it replaced my everyday BB cream.
Product Description:
Stop using the ordinary white body talc on your face, and switch to a revolutionary new product that will make you look extraordinary. Spinz Beauty & Brightening Talc is the World's first BB Talc, specially formulated for the face. Spinz BB Powder comes in natural skin color, and blends evenly, giving the skin an instant glow & a smooth feel. More Importantly, The Spinz BB Talc covers spots and blemishes, making your skin look even-toned and radiant.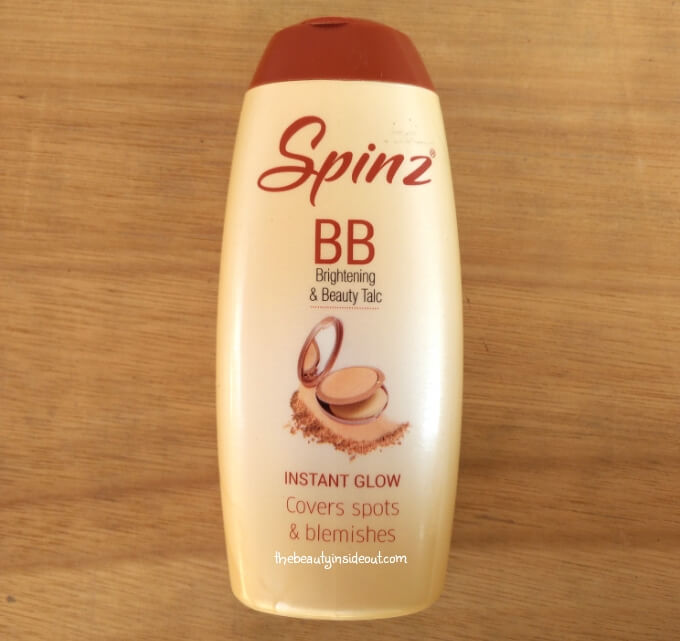 You'll get,
Even toned brightness
Instant Glow
Covers spots and blemishes
Spinz BB Powder contains minerals and is made with microparticles, to deliver a superfine texture to the skin. When applied to your face, it blends evenly covering spots and blemishes, imparting smoothness with an instant glow. Spinz BB Talc also absorbs excess oil & sweat, keeping your skin look fresh.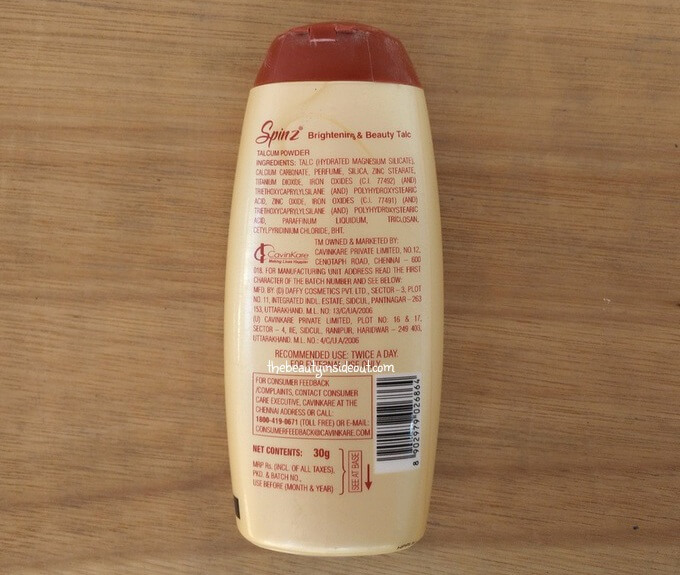 Spinz BB Powder Ingredients: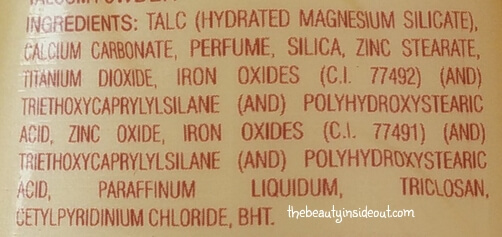 It comes in various sizes and has a shelf life of 2 years.
Price: Rs.20 for 30 gm, Rs.40 for 60 gm
Available in leading department stores or you can buy online.
Spinz BB Powder Review
This is basically a talcum powder with Talc forming the majority of its base ingredient. The packaging is similar to any other talcum powders; tall and sleek with a rotate-able top wherein you can get the product out. The whole packaging is beige in color and it is easily noticeable and unique among a rack of various powders.
Check out the Spinz BB Cream Review
The Spinz BB Powder is a very finely milled powder that flies away easily once it's dispensed out of the bottle. It has a strong feminine floral fragrance that subsides soon after application, but still, it might be a bother for people with sensitive noses. The powder itself is light beige in color and would suit medium to fair skin tones.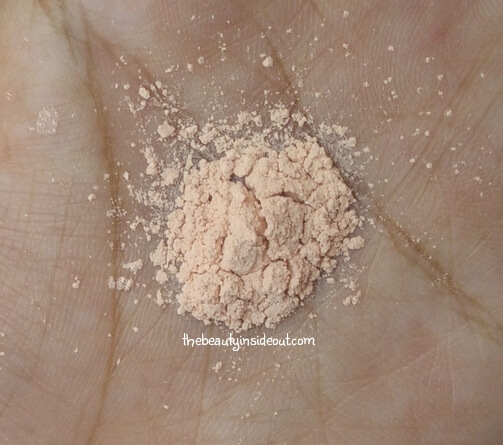 Though it does not cover spots and blemishes much, it evens out my skin tone and gives a nice polished look. The BB Talc goes well on moisturized skin and I like to use it with a fluffy powder brush or sponge. When applied directly on dry skin without moisturizing, it does accentuate fine lines and laugh lines. This did not make me look too white or ashy as compared to other white talcum powders I have tried.
Spinz BB Powder is good for the skin. It makes my skin radiant, soft, and smooth and keeps it oil-free for about 2-3 hours in normal weather conditions. I also loved using this as a setting powder on top of my normal BB cream or makeup. Overall, if you are into talcum powders and want to have a quick polished look, you can get this. This is reasonably affordable and a nice product except that, don't expect it to cover your acne marks or blemishes.
Pros:
Neat packaging.
Affordable price.
Quick and easy to use.
Very finely milled powder.
Makes your skin soft, smooth, and radiant.
Evens out skin tone.
Controls oil to a certain extent.
Suitable for fair to medium skin tone.
Cons:
Does not cover spots or blemishes as claimed.
Might look ashy on dark skin toned ladies.
Rating: 4/5
Have you tried the Spinz BB Powder? Share your experience with us.