This is the twin sister of the most famous Patanjali Aloe Vera Gel which was ruling all the skin care posts, blogs and video. It was a part in every other DIY's I came across. After the earlier one was a super hit, this Patanjali Saundarya Aloe Vera Gel was launched with just a slight twist having Kesar and Chandan in it for the sake of skin glow. Is it better than the original version? Keep reading.
Product Description:
A unique blend of Chandan & Kesar with Aloe Vera gel provides antioxidant & nourishment properties which makes the complexion free from roughness & dullness. Also helps to remove sunburn, tanning, dark spots & pigmentation.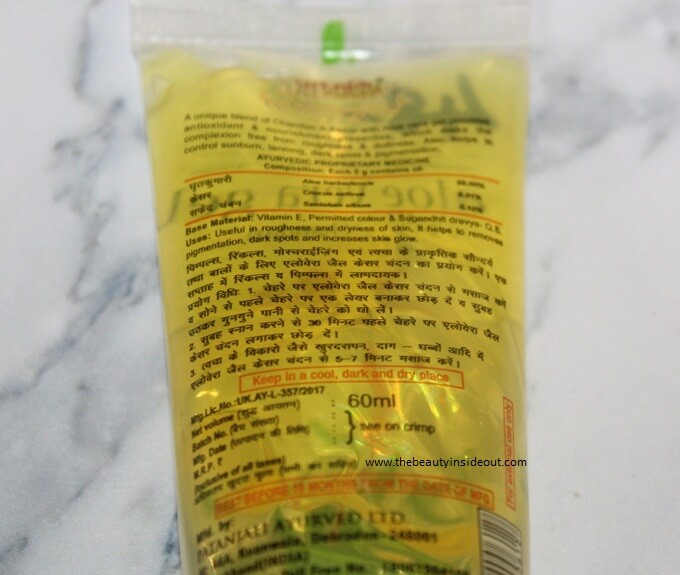 Ingredients:
Aloe Barbadensis (Aloe Vera) – 89.00%
Crocus Sativus (Saffron) – 0.01 %
Santalum Album (Sandalwood) – 0.10 %
Base Material: Vitamin E, Permitted Color & Sugandhit Dravya Q.S
How to use Patanjali Saundarya Aloe Vera Gel?
As a standalone facial moisturizer. After cleansing your skin, apply a little of the gel and massage well. Can be used during both day and night time.
Mixed with your night serum/oil. Add one or two drops of your serum into the gel and apply it to your skin to boost performance.
Mixed in your face packs. You can add a teaspoon of this gel to any of your DIY Face Mask for a glowing skin.
As a sleeping pack. Apply a thick layer of this gel and leave it on overnight and wash off the next morning. This will soothe sunburnt and irritated skin.
After shaving. This will calm your skin, in case of razor bumps and cuts.
As an under eye pack. Apply a thick layer, leave it on for 20 mins and wipe off with a cotton ball. This will cool down your under eye area with its cooling properties.
Price: Rs 50 for 60 ml. Easily available online and offline.
Shelf Life: 48 months
My take on Patanjali Saundarya Aloe Vera Gel:
Packaging: Patanjali Saundarya Aloe Vera Gel comes in a basic tube packaging with flip open cap. The packaging has all the details at the back side and it's travel friendly. The flip cap is good enough to get the product out of the tube and the transparent tube makes it easy to know the content level inside.
Fragrance: It smells artificial with a mix of Kesar and Chandan fragrance. It's a bit strong but wasn't completely overpowering. The scent just wanes away within minutes of application, so it wasn't really a problem for me.
Colour & Texture: Patanjali Saundarya Aloe Vera Gel is a very pale yellow color gel which gets absorbed into skin completely leaving the skin well moisturized.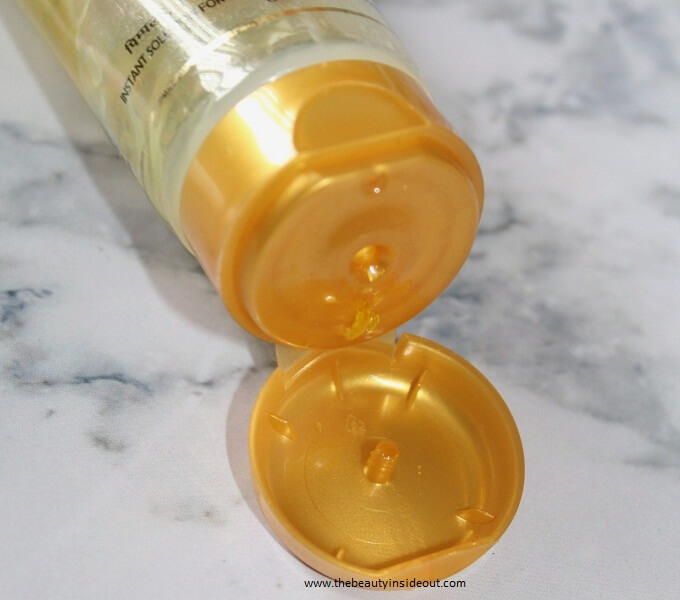 My experience: I purchased this purely to try out as a moisturizer, nothing much based on the claims of the product.
It works great as moisturizer for my combination skin during summers and now during monsoon as well. But this might not suit very dry skin types. I have been using this continuously for months now as a moisturizer, but I didn't see visible results on pigmentation, tanning, dark spots.
Often I slip this in my bag and use it as my hand cream. I also use it as a after shave /wax gel to soothe my skin.
Keeping things short, this can be used as facial moisturizer for combination to oily skin and in my opinion it has nothing special in comparison to Patanjali Aloe Vera Gel. I would still prefer the Patanjali Aloe Vera Gel over this.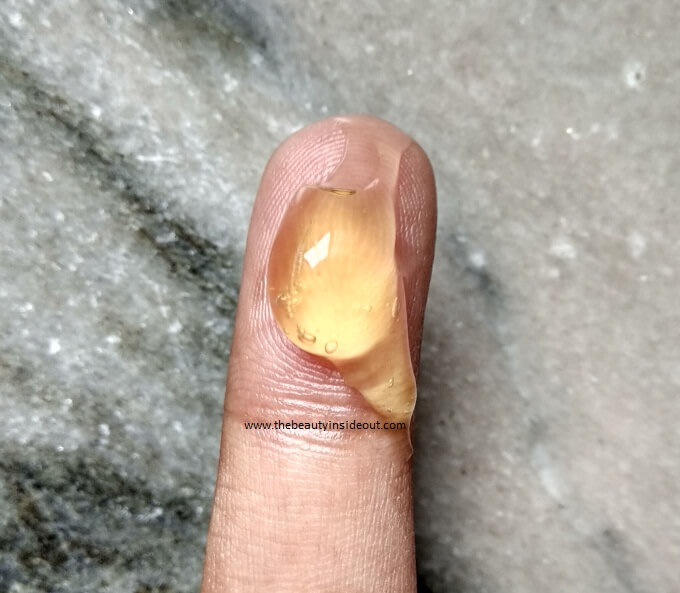 Pros :
Budget Friendly.
Useful as a gel based moisturizer for oily skin.
Can be used to soothe burnt and irritated skin.
Combats the dryness of the skin.
Travel friendly packaging.
Cons :
Doesn't live upto it's claims of treating pigmentation, dark spots and increase in skin glow.
No full ingredient list.
Doesn't feel the presence of Kesar and Chandan in it except for its color.
Rating: 2/5
Would I recommend? Not really. If you are looking for Aloe Vera Gel based Moisturizer, I would recommend Patanjali Aloe Vera Gel over this one.