For the past two months, I have been a little busy with too many family weddings. So I couldn't write much for the blog. A hearty thanks to all my wonderful writers for keeping it live and going. Now that I am back, I am going to work on all the pending posts. In the last two months I got to try a couple of products from new Indian Brands, of which some were good and some weren't. So I am starting off this series, #NewBeautyFinds wherein you can get to know about new and unfamiliar Indian brands in the market. I have added already reviewed brands Ecoberry and Cucumber Organics under this category as I feel they are hardly known and are worth the recognition. So don't forget to check them out. For today, it's going to be about Roop Mantra, an ayurvedic skincare line. You must have seen Preity Zinta endorsing the brand in your television. I got a couple of products from the brand as PR a long while ago and honestly I was a bit hesitating to try out as I am not much into ayurvedic skincare that doesn't put up full ingredient list. Anyways, as a blogger I did test them out.
Please note that this is not a chemical free brand. The products do contain parabens, preservatives, base Q.S and other chemicals which we may not know as they mention only the active ingredients in point percentages, making us wonder what the remaining fillers are used! Anyways, the following reviews will be based on the performance of the product and I'll try not to rant about not disclosing the full ingredient list. Let's begin with a little about the brand.
About Roop Mantra
With the goodness of natural herbs, Roop Mantra products are formulated to solve the skin problems & provide healthy skin. From the knowledge of ancient Vedas, Roop Mantra Skin Care Products have been formulated after a deep research on the various factors leading to various skin conditions. Regular use of Roop Mantra skin care products gives amazing results. These products are enriched with the goodness of natural ingredients which provide beneficial effect to the skin.
1. Roop Mantra Ayurvedic Medicinal Cream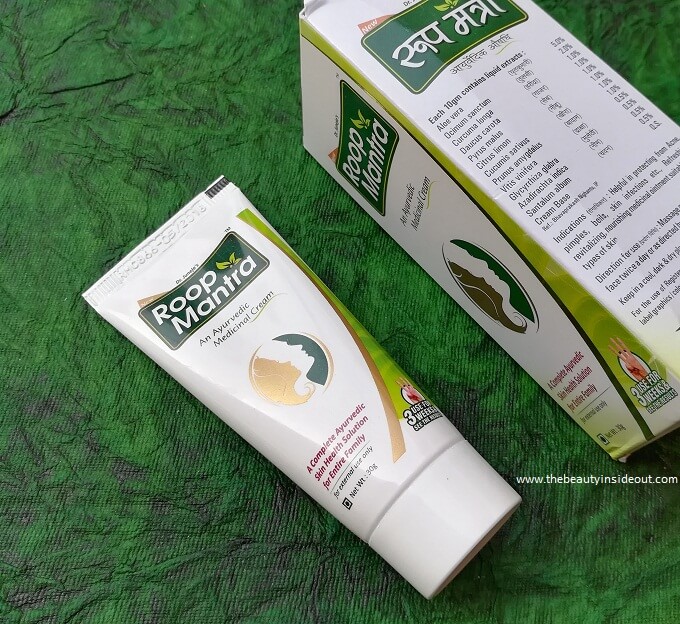 Product Description: Roop Mantra Ayurvedic Medicinal Cream is a unique formulation with the goodness of twelve highly effective herbs and fruits which work synergistic-ally and encompass all barriers to make skin radiant and glowing. Helpful in protecting from acne, pimples, boils, skin infections. Refreshing, revitalizing, nourishing medicinal ointment suitable for all skin types.
Active Ingredients: Aloevera, Turmeric, Draksha, Apple, Sandal, Cucumber, Basil, Carrot, Mulethi, Lemon, Almond, Neem
How to use? Massage gently all over the face after cleansing. Apply twice a day.
Price: Rs.93 for 30 gms.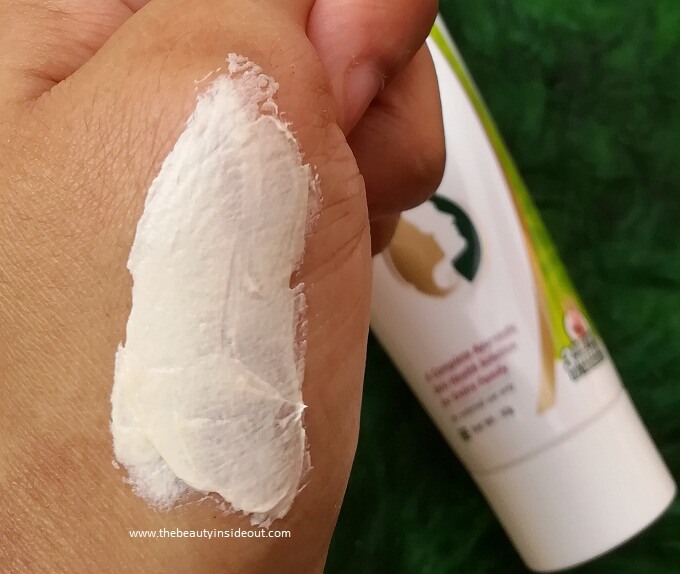 My Experience: I didn't know what to expect from this medicinal cream, though it makes a lot of claims. I thought let me just use it as a day cream and after days of using it I felt that it wasn't a bad decision. Every morning and night, after cleansing and toning, I applied a little of this cream all over my face in sections and massaged it well. Despite being a thick creamy cream, this gets absorbed completely and gives a matte skin. It has a slight brightening effect on my skin, giving a 'my skin but better' looks. The brightening is nothing like ashy/white cast rather my skin looks natural. It does not make my skin dry, stretchy or sweaty after applying. The cream is nicely hydrating and does not cling on to dry patches too, if used after toning. The cream will majorly suit oily skin types as it will be a bit drying for dry and very dry skin types. It doesn't have an annoying fragrance, it smells herbal and mild, hardly noticeable on skin. I did not see this working on acne (atleast it didn't cause new acne) or providing any long lasting effect. But still I did not dislike using this cream as I liked the oil free mattifying formula. This cream will serve as a nice herbal day cream for someone who is on budget and has oily/very oily skin. I would recommend this product.
Rating: 4/5
2. Roop Mantra Zero Pimple Gel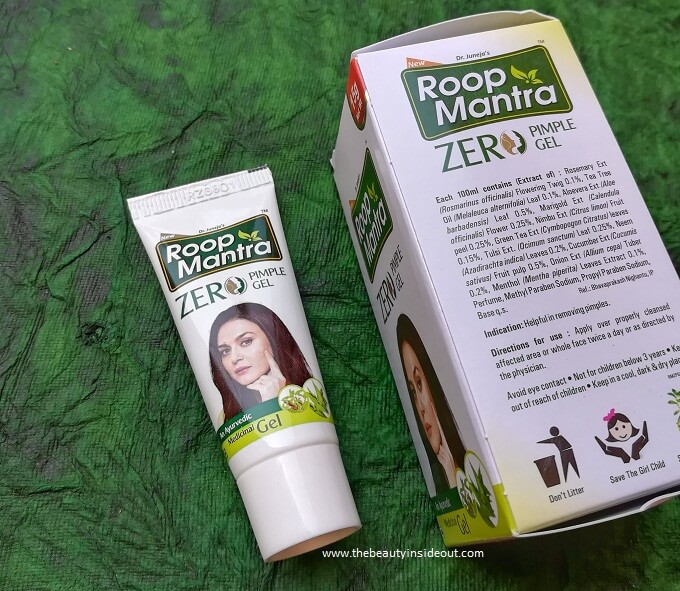 Product Description: Roop Mantra Zero Pimple Gel helps in removing pimples, acne and other skin infections. It also helps in removing excess oil and opens clogged pores from the skin which are the prime cause of pimple problem. This Gel is beneficial for both male and female.
Active Ingredients: Rosemary, Tea Tree oil, Aloe Vera, Marigold, Nimbu, Green Tea, Tulsi, Neem, Cucumber, Onion, Mentha
How to use? After cleansing, apply a thin layer to entire face or on pimples and pmple marks. Repeat twice a day.
Price: Rs.136 for 15 gms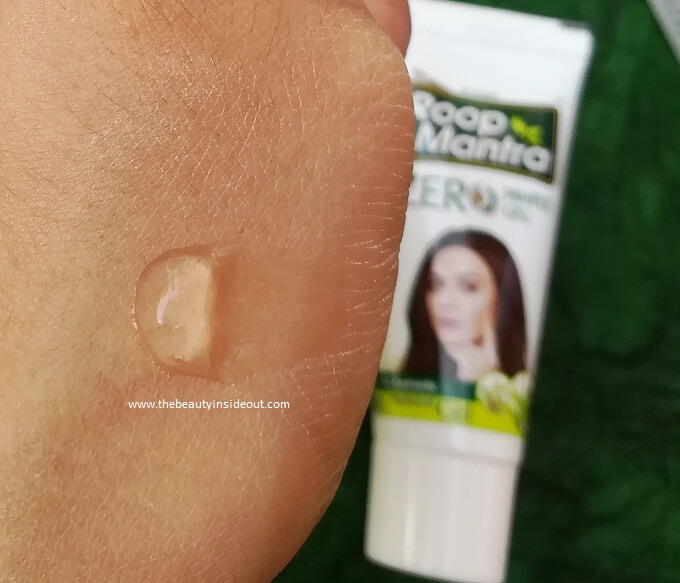 My Experience: Not many acne products work on my skin. This one being a gel, I was intrigued to try out. Gels work better than creams for me! The zero pimple gel is a clear, colorless, transparent gel with a medium consistency. It's not very thick and vanishes into the skin quickly. It has a prominent medicinal scent to it, like some over the counter acne medications. I used this gel only as a spot treatment. After the onset of the pimple, I applied it multiple times a day and also during the night. From what I can see, it works on tiny pimples and whiteheads really well. Cystic acne and huge pimples? No it will not eradicate them. But it helps to calm the redness. This gel gives an instant cooling effect upon application which feels soothing on painful pimples. This product works better than the Ponds Pimple Clear Leave On Expert Clearing Gel and Himalaya Wellness Acne n Pimple Cream. But every since I got my hands on the Cosrx Acne Pimple Master Patch, I am not getting any other on-the-go acne products. In short, if you are prone to angry breakouts, you can give this product a try. This may work for you without putting a hole in your pocket.
Rating: 3.5/5
3. Roop Mantra Ayurvedic Medicinal Face Washes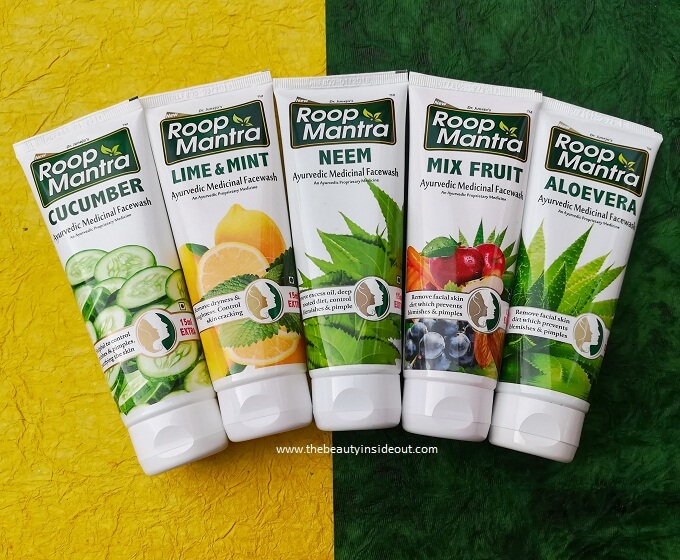 Product Description:
| | | | | | |
| --- | --- | --- | --- | --- | --- |
| Product Name | Roop Mantra Cucumber Face Wash | Roop Mantra Lime & Mint Face Wash | Roop Mantra Neem Face Wash | Roop Mantra Mix Fruit Face Wash | Roop Mantra Aloevera Face Wash |
| Claims | Helpful to control blemishes & pimples, purifying skin | Remove dryness & roughness. Control skin cracking | Remove excess oil, deep rooted dirt, control blemishes & pimples | Remove facial skin dirt which prevents blemishes & pimples?? | Remove facial skin dirt which prevents blemishes & pimples?? |
| Active Ingredients | Cucumber, Manjishta, Neem, Haridra, Kustha, Lodhra, Aloevera and Pudina | Lemon Fruit Peel, Tulsi Leaf, Pudina Leaf And Aloe Vera Leaf Extracts | Neem, Turmeric, Tulsi | Apple, Grape seed, Carrot, AloeVera and Almond Extracts | Aloe vera, Tulsi, Neem |
| Color | Pale green with soft beads | Bright yellow | Light green | Pale pink | Light green |
| Fragrance | Cucumber Gel | Citrusy lemon | Synthetic mix of neem & tulsi | Candy fruity scent | Mix of Fresh Tulsi & Aloevera |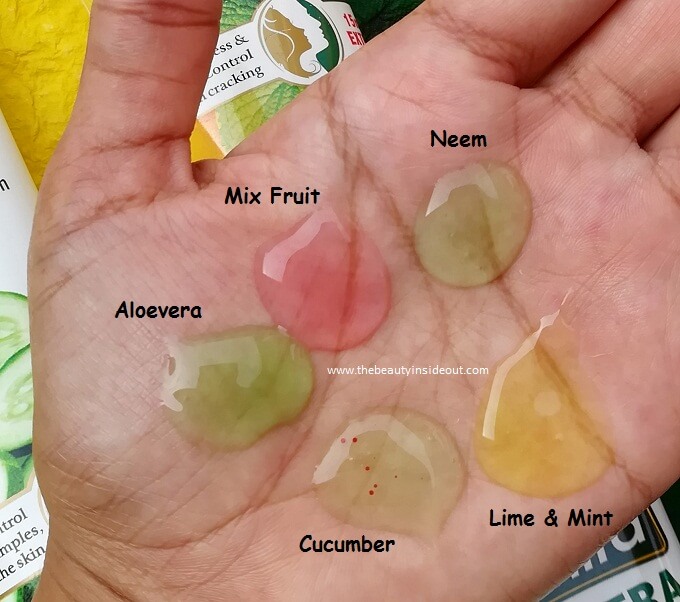 How to use? Just like any other face wash!
Price: Rs.83 for 115 ml
My Experience: Testing out these face washes was the most hardest part for me. I had a major aversion to the strong scents of these. I suppose the base of all the variants to be the same gel formula and only the active ingredients vary. Each variant is catered for different skin concern and has unique color, fragrance and end result. From my overall assessment, all of them are strongly scented, artificially colored, foams up moderately, have a slipperiness if not rinsed properly and do not dry out the skin too much, while they do the job of cleansing the skin thoroughly giving a refreshed skin each time. As a budget friendly face wash, they do justice. If you are into gel face washes, give it a try otherwise skip it. My only favourite is the lime & mint variant as it had a temporary cooling effect.
Rating: 3/5
There we come to the end of this post. If there is one product that I would recommend from this brand, that will be the ayurvedic cream. It is a truly wonderful cream for oily skin types as it keeps skin oil free and hydrated at the same time. I hope you found this post helpful. Don't forget to share your take on this brand Roop Mantra.