Today let me introduce to you a fairly new brand in the Indian market – Organic Affaire. Organic Affaire is a premium personal care and baby care brand whose vision is to provide safe and toxic free products. They strive to use only USDA Organic and India Organic Certified ingredients in their products. Not only that, they are Vegan and Cruelty Free too. They have some nice range of products including face wash, shampoos and even baby products. About a month and a half ago, I received 3 products from the brand and I was impressed when they said they wanted an honest review. I love their trust and confidence of their products and here I am after testing them for enough of time.
I couldn't help but notice that they are from the manufacturers of Bio Organic & Natural and that was also a boosting factor for me which made me have high expectations on the products. Stay tuned to know more about their performance.  Let's get started.
1.Organic Affaire Lavende Face Wash
Product Description: Handmade organic face hygiene formula, crafted with certified organic & natural ingredients not only cleanses dirt but also soothes your mind, body & soul with goodness of French Lavender, Aloe, Olive & Jojoba.
Ingredients: Pure Essential Oil Of French Lavender, Organic Jojoba Oil, Saponified Organic Olive Oil, Organic Corn Oil, Organic Castor Oil, Organic Pungama Oil, Organic Coconut Oil, Vitamin E, Vegetable Glycerin, Shea Butter, Extract Of Organic Lemon, Aloe Vera Gel, Demineralized Water, & Salinatural Tcls Natural Preservative.
Usage Directions: Apply required quantity on face & rinse. Natural soap may turn flaky in cold temperatures. Kindly put the bottle in warm water to retrieve consistency. Avoid contact with eyes. Patch test recommended before use. Store in a cool & dark place.
Price: Rs.499 for 100 ml.
Shelf Life: 24 months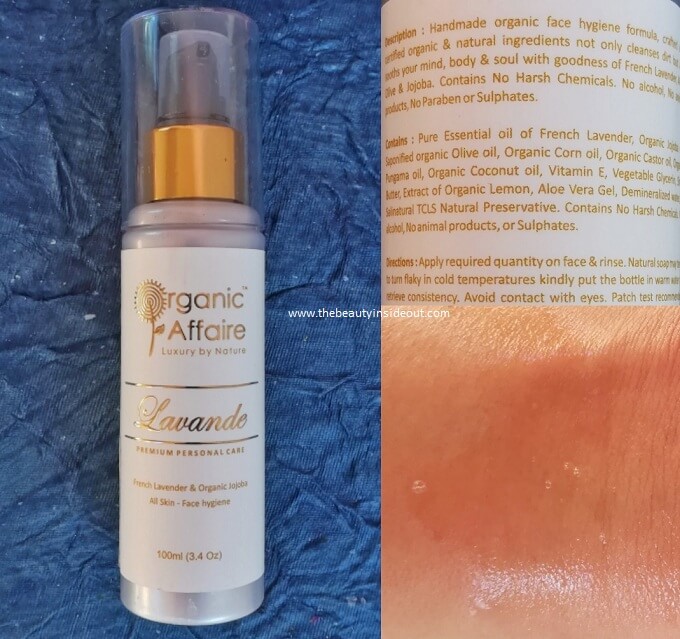 My Experience: Looking at the packaging, I thought this was a foam cleanser. The product build is classy in white with every little detail about the product mentioned on it. It's not a very bulky 100 ml bottle and comes with double cap, so it's spill-proof and travel friendly as well. It also comes with a convenient to use pump dispenser.
Coming to its texture, it is neither a gel nor a cream! It's not a foam too! It's actually a liquid with a very flowy, watery consistency. You will have carefully hold it in your palm, otherwise it's going to run down. The face wash has the fragrance of Lavender Essential Oil and reminds me of the fragrance of Aroma Essentials Lavender Face Wash.
I usually take 2 or 3 pumps, rub in between my palms. The face wash does not foam up as such. It forms a creamy lather. I then massage that onto my damp face and finally rinse it off. It washes off easily and does not have any slippery residue. The face wash is able to clear off dirt, oils, light makeup from my skin efficiently. It is a bit hydrating and never made my skin dry or stretchy afterwards. After every use of this face wash, my skin is left brighter and soft to touch. Regular usage, twice a day, helped my skin to be in a better condition with improved skin texture, reduced breakouts and balanced sebum production.
In short, Organic Affaire Lavende Face Wash is a very gentle face cleanser that I would gladly recommend to all skin types.
Rating: 4/5
2. Organic Affaire Silka Shampoo
Product Description: Handmade organic hair hygiene & nourishing formulation crafted with certified organic & natural ingredients, for beautiful, shiny, bouncy and healthy hair.
Ingredients: Organic Aloe Vera, Organic Essential Oils Of Tea Tree, Safe Surfocants Revitalized With Vitamin E, Ocimum, Natural Conditioner & Salinatural Tcls Natural Preservative.
Usage Directions: Form lather on your palm by taking required quantity, apply gently on your scalp & hair and rinse thoroughly. Avoid contact with eyes. Patch test recommended before use. Store in a cool & dark place.
Price: Rs.599 for 200 ml.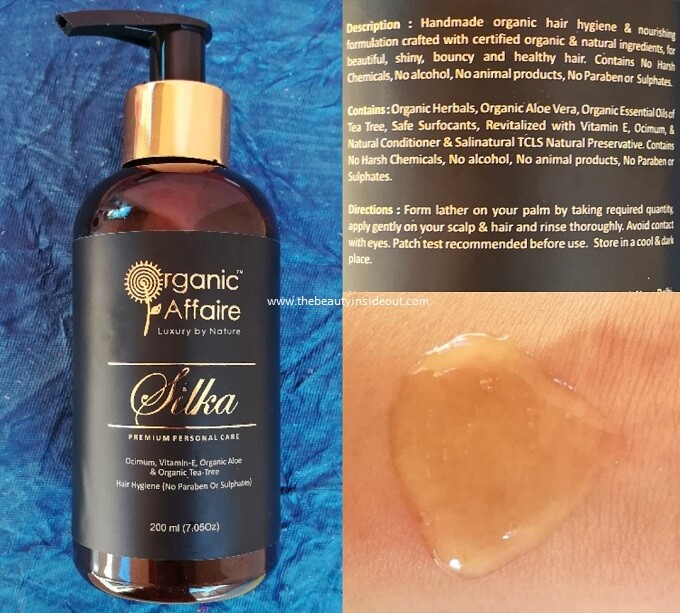 My Experience: Somehow this shampoo reminds me of my BON Organics Aloe Vera Shampoo. It has the same fresh fragrance, which is that of essential oils and similar clear gel formula with a medium consistency. This Silka Shampoo foams up well and is the most lathering one among all the sulphate free shampoos that I have used. I'm not really sure of the safe surfocant used in this shampoo though.
Performance wise, this did a great job. It cleanses my scalp and hair thoroughly, even if I had oiled my hair. This gives a squeaky clean effect in the first wash itself which some natural shampoos fail to give.
I directly use 3 pumps of the product on my wet hair but at times if I am diluting it in a cup of water, one and half pumps is enough for my mid waist length hair. I personally recommend diluting this shampoo as that works and saves up product too. The shampoo can be easily rinsed off and leaves a soft, silky smooth and nourished hair. It does not dry out my hair and I mostly didn't require a separate conditioner. Occasionally I used a little of The Moms Co Natural Protein Conditioner at my ends for extra nourishment to avoid split ends. I have fine hair and this shampoo wasn't able to keep up the bounce it gave my hair post cleansing for more than a day, despite staying away from sweat. On the other hand thick, curly hair ladies will love this shampoo, especially those with dry and frizz prone hair. This is for you.
The brand doesn't make tall claims like Hairfall prevention, Hair growth, what not. So I'm happy with the performance of this. It is very easy to adapt to this shampoo as you don't need multiple washes to get used to it. The shampoo worked as a great nourishing shampoo for me.
Oh! And the packaging, its great like the face wash. It comes with a pump dispenser which has a lock mechanism and classic overall look. I love it
Rating: 4.4/5
3. Organic Affaire Plushy Pout Lip Butter
Product Description: PINK STAIN – Organic lip nourishing & moisturizing formulation hand crafted with certified organic & natural ingredients, for supple, soft & kissable lips.
Ingredients: Essential Oils Of Organic Roses, Organic Shea Butter, Organic Cocoa Butter, Pure Organic Aloe Vera Gel, Organic Coconut Oil, Organic Sweet Almond Oil, Cruelty Free Bees- Wax (Certified), Organic Essential Oil Of Vanilla Blended With Dried Beetroot Powder & Saffron For Colour.
Usage Directions: Apply required quantity with clean finger or with gloss brush. For a Matte finish, dab with a tissue. Patch test recommended before use. Store in a cool & dark place.
Price: Rs.549 for 10 gm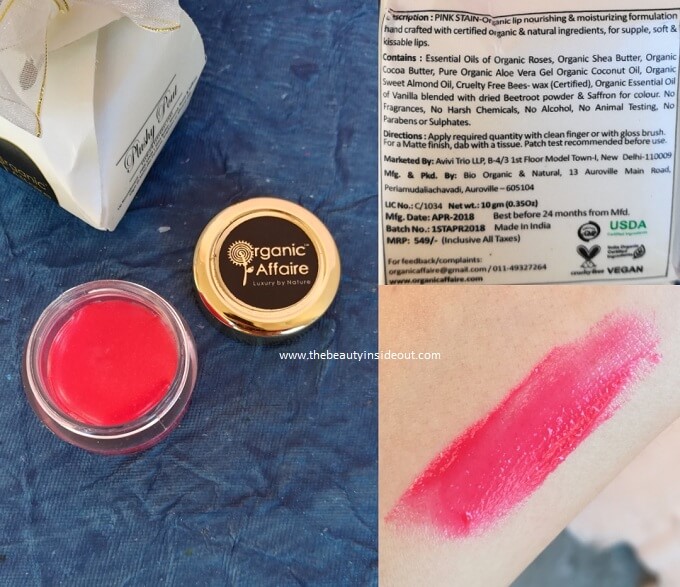 My Experience: My lips are prone to dryness and cracks quite often, so I always have some nourishing lip products with me. This product is a 2 in 1 lip butter and lip stain. It is available in two colors and the one I have is a beautiful pink. A little of the product gives a nice natural looking color to my lips. Although it does not cover pigmented lips even when layered upon. But I wouldn't recommend to layer upon as well, as using too much product leads to the product getting deposited in the inner of the lips. Other than that, the lip butter is extremely smooth and glides on effortlessly giving a glossy finish. It does not feel waxy at all and does not have any weird taste. It tastes a bit sweet if licked accidentally. Since it's a stain, the color is long lasting. Even after having meals, I still have a bit of color on my lips. So using an oil or makeup remover at the end of the day is necessary. The lip stain feels nourishing immediately upon application but after about 3 or 4 hours, I felt they make my lips drier. So re-application or keeping a lip balm handy is a must.
Overall, this will be a good vegan friendly lip stain for those who have non-pigmented lips. The color is beautiful and long lasting but the formula tend to dry out the lips and settle in the inner of the lips, if not used cautiously.
Rating: 3/5
So that was all about various Organic Affaire Products. I hope you found this post helpful. Don't forget to share your thoughts on this brand and do check out other brand reviews in this NewBeautyFinds Series.