Streax is an Indian expert hair brand, developed in 2005. Originally, Streax is a brand known for their amazing range and quality of hair colors, quickly enhanced their product range to include serums, shampoos, and hair masks. It enjoys popularity amongst hair stylists and professionals. Haircare is a crucial part of everyone's routine irrespective of your gender. When your hair is healthy and manageable you can rock any hairstyle – which is an outlet for expression for many, the way you style your hair gives an idea to the world about you. But hairstyles don't come easy. I have often noticed that just shampoo and conditioners don't work for me anymore. My hair regardless of different lengths have always needed something extra to tame it and that's where Streax Professional Vitariche Gloss Hair Serum has been my savior.
Product Description:
The Streax Vitariche Gloss Hair Serum is enriched with vitamin-rich Macadamia Oil and Vitamin E to give you that gorgeous, salon-fresh look. It nourishes, smoothens, and transforms your hair strands making it frizz-free, shiny, and sleek.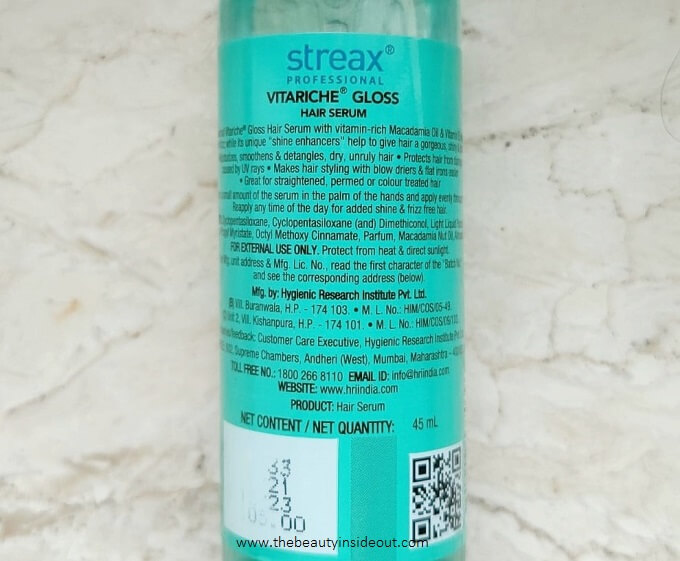 Streax Hair Serum Ingredients:
Cyclopentasiloxane (and) Dimethiconol, Light Liquid Paraffin, Iso Propyl Myristate, Octyl Methoxy Cinnamate, Parfum, Macadamia Nut Oil, Almond Oil, and Vitamin E.
Price of

Streax Hair Serum:
45ml – Rs.110
100ml – Rs.230
200ml – Rs.375
Where to buy it? It's available on various online portals.
Streax Professional Vitariche Gloss Hair Serum Review
Packaging: The Streax Hair Serum comes in a plastic bottle with has a pump mechanism and a nice tight cap. It is travel-friendly and won't drip or spill. The smallest size makes it easy to carry when going for a short trip. It is also a good choice if you want to try it before you actually invest in it and make it a regular in your hair care and style routine.
Texture: The serum is a transparent liquid, which is not as heavy as oil. It is pretty light. Once you pump it in your palm it won't be super sticky and you will be able apply it on your hair with ease. After you have completed applying it, you may feel your palm is sticky for a minute or two, but after that it goes away. The serum does not leave a sticky residue on your palm.
Fragrance: This serum has a mild pleasant fragrance. It's not too strong but if you have a sensitive nose, you might dislike it.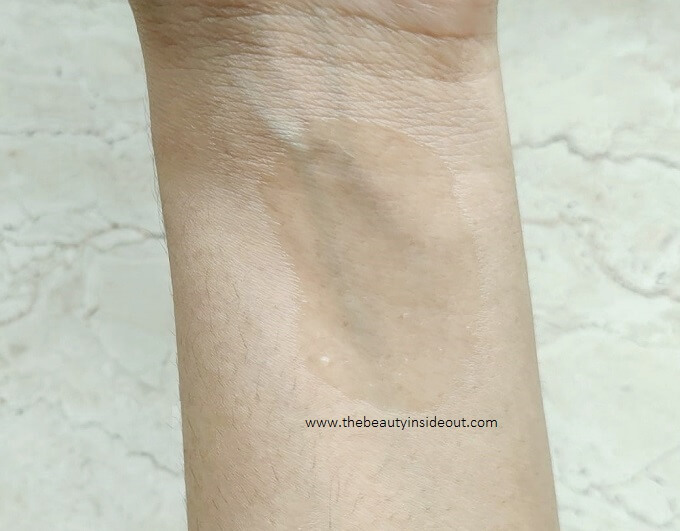 My Experience:



For me, my hair has been an important part of me, from having a bob to having my hair reach my waist, from my hair being different shades of blue and red and naturally black, straightened for occasions and leaving the waves to air dry on normal days. Such extensive range requires a proper hair care routine too.
Apart from oiling my hair, using a shampoo and conditioner, I would still find something missing. This gap was filled by the Streax Hair Serum. It has Macadamia oil and Vitamin E which makes your hair shiny and healthy. The main goal of this serum is to give you frizz-free hair; however, it also hydrates your hair. The serum helps to smoothen and soften your hair. The product also has a sister product, Streax Hair Serum with Walnut Oil, which is a translucent golden bottle.
For a hair length of six to seven inches, a full pump is enough to give it a shiny frizz-free look. Remember: The serum should only be applied to the mid and the lower sections of your hair. Applying the serum to your scalp or top portion can make your hair weigh down and also give it an oily, and flat look.
For shorter hair, use half a pump. And if you have a pixie cut, use three drops. I apply this serum not only after washing my hair but also before using a flat iron or a curler to style my hair. It gives an extra layer of protection and shine.
Related:
Pros:
Gives a smooth and shiny look.
Hair looks healthier.
Makes your hair manageable.
Can double as a heat protectant spray if hair is subjected to mild heat.
Travel friendly.
Decent price.
Cons:
You might dislike the fragrance if you have a sensitive nose.
Rating: 4/5
Would I recommend it? It's been one of my favorites and go-to serum almost ever since I have started applying serums. Go for it if you are a newbie or just want to experiment with something safe.
Guest Author: Saloni