Ayush is a decades old ayurvedic skincare and wellness brand. However it was relaunched as Lever Ayush in 2015 by Hindustan Unilever (HUL), gaining a huge popularity. Isn't it quite evident with all the promotions and advertisement that you see both in the offline and online media? Lever Ayush is often compared with the Bama Ramdev's Patanjali, since they are the only commercially marketed Ayurveda Brand. I have tried products from both the brands. Today we'll be looking into Lever Ayush Products in detail.
About Lever Ayush
Lever Ayush formulates their products with 5000 years of Ayurvedic wisdom to solve modern day beauty and lifestyle problems. Lever Ayush works with one of the world's premier Ayurvedic institutes, Arya Vaidya Pharmacy (AVP) to make their products which uses the right ingredients in right proportions to make them unique and incredibly effective.
Lever Ayush Skincare Products are categorized into 4 Ranges
Turmeric: Targeted towards Oily and Acne Prone Skin.
Cow Ghee: Targeted towards Dry Skin
Saffron: Targeted for skin lightening and brightening.
Aloe Vera: Targeted towards Irritated Skin.
The following are the products that I have tried and reviewed below:
Lever Ayush Turmeric Face Wash
Lever Ayush Aloe Vera Cooling Face Gel
Lever Ayush Anti Marks Turmeric Face Cream
Lever Ayush Moisturizing Cow Ghee Soap
Lever Ayush Anti Hairfall Bhringaraj Shampoo
Lever Ayush Anti Dandruff Neem Shampoo
Lever Ayush Products Review
1. Lever Ayush Pimple Clear Turmeric Face Wash
Lever Ayush Turmeric Face Wash claims to contain the goodness of Turmeric and Nalpamradi Tailam, which is nothing but a herbal infusion with turmeric, to naturally purify skin, cure infections and rashes to attain clean and pimple free skin.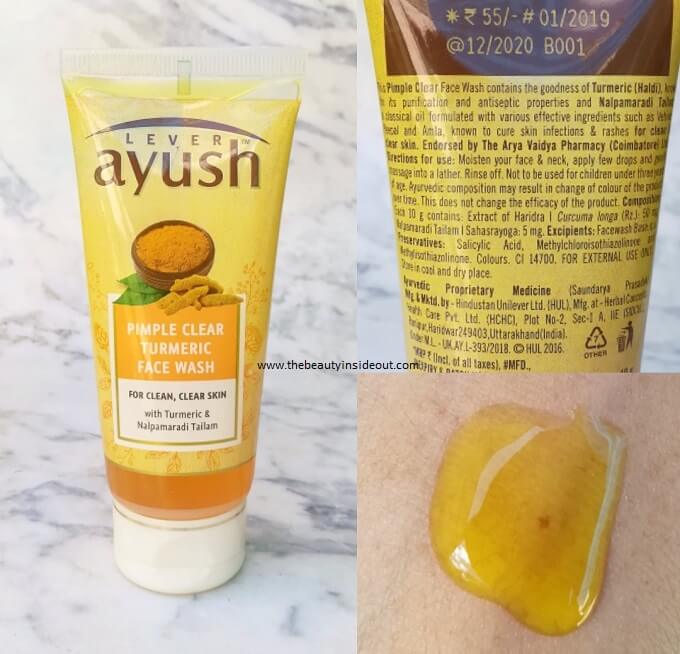 Lever Ayush Turmeric Face Wash is a yellow coloured gel with a medium consistency. It has a strong artificial fragrance, nothing like turmeric at all. I'm not a fan of its scent and it also tend to linger on the skin. The face wash lathers well and rinses off easily without leaving any slippery residue behind. The face wash wipes out oils, skin impurities thoroughly giving a squeaky clean skin. It also leaves the skin dry and taut. Not something that I like. The face wash would not help with acne issues as well.
Overall, Lever Ayush Turmeric Face Wash is an affordable, strongly scented, clarifying face wash best suited for oily skin types. Personally I would recommend the Himalaya Neem Face Wash if you are looking for an affordable face wash. I would skip this Lever Ayush Turmeric Face Wash.
2. Lever Ayush Aloe Vera Cooling Face Gel
Lever Ayush Aloe Vera Cooling Face Gel is a multipurpose beauty product that soothes, heals and nourishes the skin and hair. Along with Aloe Vera, it contains Pudina(Mint) and Panchavalkadi Thailam, a herb infused concoction.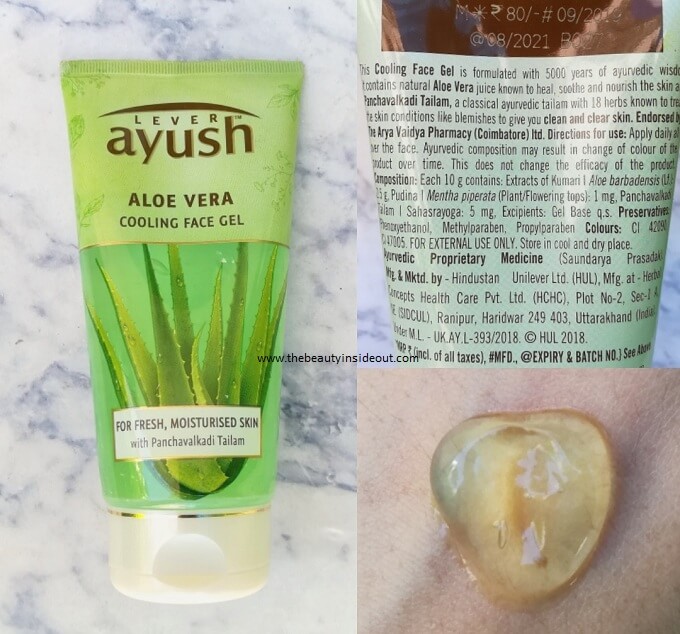 The Lever Ayush Aloe Vera Cooling Face Gel is a pale green colored gel. The gel is pretty thick making it easy to control the amount of the product that comes out of the tube. The gel gives an intense cooling sensation upon contact with skin, which is due to the presence of Mint. The gel feels moist on the skin once applied but dries down to a matte finish in less than 10 seconds. I use just a pea sized amount for my face, otherwise it tends to leave a filmy residue. The gel works well under makeup acting as a primer giving a smooth canvas for makeup application. I also loved using this gel mixed in my DIY Hair & Face Masks. Although this compares to the ever popular Patanjali Aloe Vera Gel, this aloe vera gel from Lever Ayush has a pleasant fragrance, which is that of a cucumber gel and also the reason why I love it more than the Patanjali one.
Overall, if you are an fan of Patanjali Aloe Vera Gel, I am sure you will love this as well.
Lever Ayush Anti Marks Turmeric Face Cream claims to give you a spotless fair skin. Along with turmeric, the face cream contains Kumkumadi Thailam which is a herbal infusion of 14 herbs widely known to lighten skin complexion.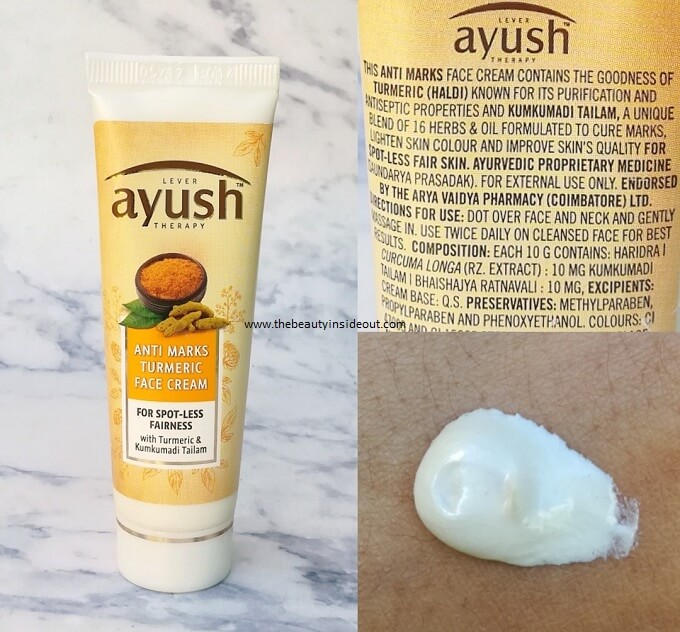 Lever Ayush Anti Marks Turmeric Face Cream is an off white, thick cream with a sheen to it. It is one of those fairness creams that has to be blended quickly since it dries down super quickly. It leaves the skin tight with its powdery matte finish. It controls oil and keeps the skin oil free for good 3 to 4 hours. It also leaves a whiteness/white cast on the skin which looks obvious that you have applied a fairness cream. Since it didn't work for me as an all over face cream, I mostly used this as a spot treatment for acne. The cream did help to dry out the active acne and aid in its healing process. Lever Ayush Anti Marks Turmeric Face Cream reminds me of the Vicco Turmeric Cream in every aspect.
Generally, I don't enjoy such typical fairness cream formulations.But I did like its effect as a spot treatment cream. As an all over face cream, I suggest trying out the Garnier Serum Cream.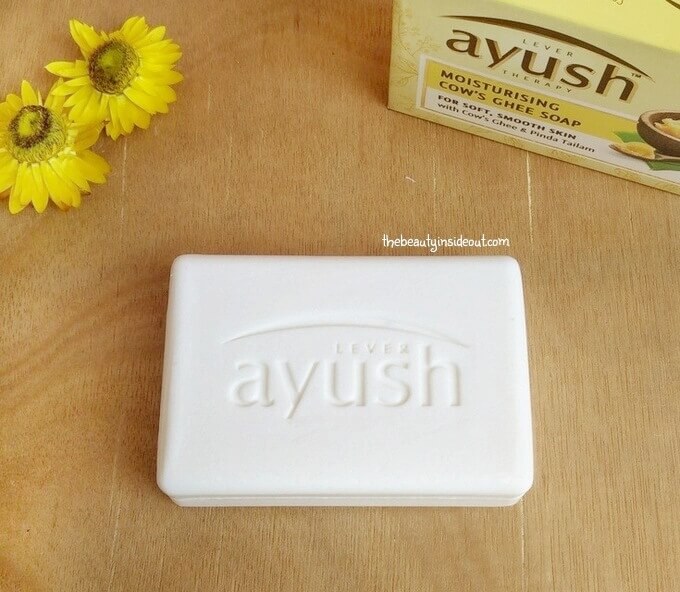 Lever Ayush Moisturizing Cow Ghee Soap claims to give you a soft and smooth skin. This is your usual machine cut commerical soap. It is a white colored soap that produces a rich creamy lather. It has the tendency to melt away faster if not stored properly in a dry place after usage. The soap cleans the skin nicely without drying out the skin. It neither leaves a slippery film behind. Performance wise it does a great job. The soap smells like soap which is kind of ok, but when closely sniffed it smells like a detergent bar. A total bummer.
Overall, it's a pretty decent non-drying soap. However, the smell totally puts me off. I wouldn't recommend this soap.
5. Lever Ayush Anti Hairfall Bhringaraj Shampoo
Lever Ayush Anti Hairfall Bhringaraj Shampoo contains the goodness of Bhringraj and Bringamalakadi Thailam, a potent herbal oil infusion of Amla and Bhringraj. This shampoo claims to strengthen your hair roots and promote healthy hair.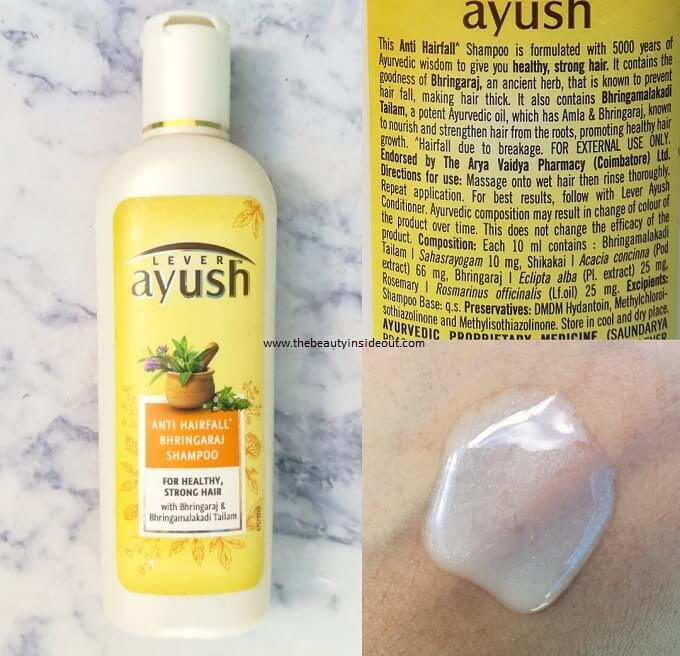 Lever Ayush Anti Hairfall Bhringaraj Shampoo has a typical shampoo texture and consistency – a very smooth, medium consistency shampoo. It has got a synthetic perfume like scent to it but it's quite pleasant and refreshing. It makes my hair smell nice and fresh. The shampoo lathers really well, so you don't need a lot of product. Sometimes I prefer diluting the shampoo in a mug of water before massaging it onto my scalp. The shampoo rinses off easily and I generally don't need double wash. The shampoo is able to remove oils and dirt very well without drying out the scalp. In fact, the shampoo hydrates my hair and leaves it soft and silky smooth. I don't even need a conditioner with this shampoo. It reduces frizz, dryness and split ends. I also felt that this shampoo caused me less hairfall due to breakage.
Overall, Lever Ayush Anti Hairfall Bhringaraj Shampoo is a really good ant-hairfall shampoo that not only cleanses the scalp but also leaves your hair soft and hydrated. This is one of the best affordable shampoos for dry, damaged and frizz prone hair.
This is an anti-dandruff shampoo that contains Neem, an excellent dandruff reducer that also cleans the scalp gently and Rosemary Thailam to provide nourishment for hair growth.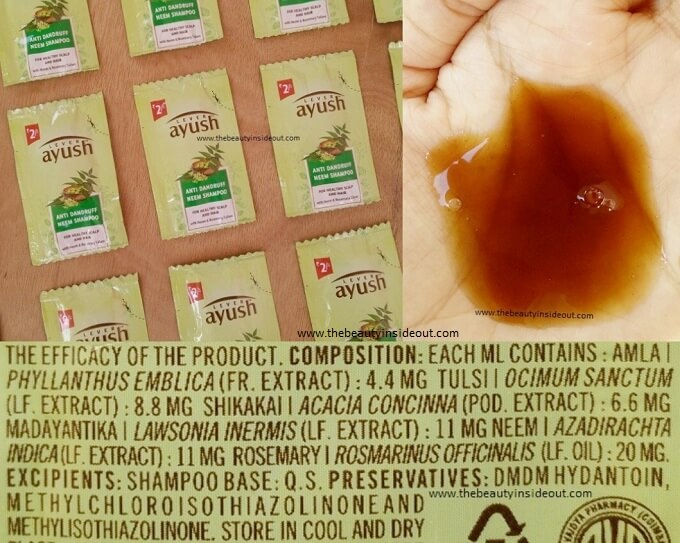 Lever Ayush Anti Dandruff Neem Shampoo is a deep brown honey coloured gel shampoo that has a lingering and refreshing herbal fragrance. Since it's a dandruff shampoo, I directly apply it on my scalp and massage it nicely to bring it to a lather. So that it has sufficient time to work on removing the dandruff. After a minute or two, I rinse off the shampoo. The shampoo gets washed off easily and certainly removes dirt and oils from the scalp. However, it does not make my hair feel as silky smooth as the Bringaraj Shampoo. It hydrates my hair moderately but my ends are left a bit dry. Using a conditioner with this shampoo will help tackle the dryness, though I feel it's an additional process. As for dandruff, it gives average results. The shampoo is not able to eradicate them completely.
Overall, Lever Ayush Anti Dandruff Neem Shampoo is an average anti-dandruff shampoo that gives temporary results. I would still prefer my Head & Shoulders over this for Dandruff issues.
Overview of Lever Ayush Products:
Plus:
Affordable and Easily Available Everywhere.
Endorsed by Arya Vaidya Salai.
Products are gentle and effective.
Do not cause skin irritations.
Cons:
No disclosure of full ingredients. So it's not completely chemical free.
Some may have an aversion to some of its fragrances.
Overall, some of the Lever Ayush Products like the Anti-Hairfall Shampoo and Turmeric Cream are great affordable products for beginners. Though not the best, the quality of Lever Ayush Products is far better than Patanjali Products.
I hope this post was helpful. Do share your thoughts and experience with Lever Ayush Products in the comments section below.