Hey guys! I will be reviewing Faces Canada Ultime Pro Blendfinity Stick Blush Sweet Apricot today. Wedge or tear drop shaped makeup sponges have always been my favourite makeup tools. I don't go for full coverage makeup often; I prefer comfortable sheer coverages. Beauty blenders work far better than brushes for creating such looks. You can easily apply liquid foundations with sponges but applying powder blushes with this is very difficult. Powder blushes need a separate brush for application. I don't like to take out a whole bag of makeup in public washrooms just for a light retouch. I was looking for something that fixes all my issues in one go and that's how I found Faces Canada's Ultime Pro Blendfinity Stick Blush. Here's more on this stick blush.
Product Description:
Faces Ultime Pro Blend Finity Stick Blush is ideal to deliver a natural flushed effect to your cheeks with a perfect blended matte finish. The extra creamy and melting texture makes its application very sensorial. It features a special soft focus powder to deliver an optical blurring effect along with an elegant silky touch. This special blend of pearls provides both an optical blurring effect and a soft sculpting effect to the face. Its highly blendable formula provides medium to high coverage and a soft velvety finish. The unique stick format makes it convenient to carry along and apply anywhere, anytime.
Price: Rs.699 for 10gm
Where to Buy? This blush stick is available at Faces Canada counters of various leading beauty and departmental stores. You may also buy it from online shopping sites like amazon, nykaa etc. Face Canada runs 20-30% discounts on this from time to time both online. If you make offline purchase, you get freebies sometimes.
Faces Canada Ultime Pro Blendfinity Stick Blush Sweet Apricot Review
Packaging: This stick blush comes in a chubby black bullet. The blush comes out as you twist the base. Faces provides a plastic cover on the opening of the bullet. The packaging reminds me of Bobby Brown's stick foundation. The blush stick is extremely sturdy and that's why it is travel-friendly. You can put it anywhere in your purse, it won't get damaged like powder blushes. The blush stick comes packed in a black carboard outer pack. This outer pack has all the ingredients and usage details mentioned.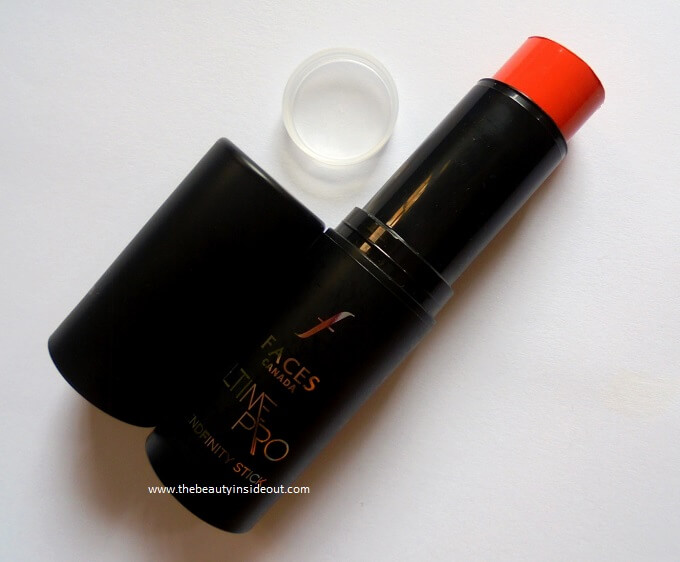 Shade, Texture & Pigmentation: Faces Ultime Pro blush stick comes in three shades. Sweet Apricot is the first shade from the collection. It is a warm peach shade with hints of pink. I have warm-neutral undertone. Sweet Apricot immitates my natural blush tone fabulously. The shade is suggested for light to medium Indian complexions. The shade is muted and wearable.
Faces blush sticks are actually cream blushes in stick form. The shades are very pigmented and blendable. Its creamy texture makes it super easy to blend on the cheeks. Even beginners will find this easy to work with. It settles into a nice demi matte finish. You may build up the colour intensity as per your liking.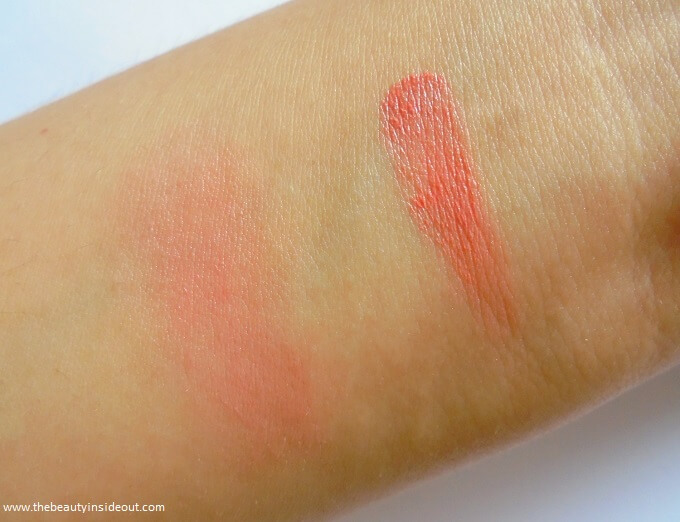 Fragrance: It has a light to medium vanilla fragrance. The smell is quite common among lipsticks. Nykaa's So Matte lipsticks have the same fragrance. I am not a huge fan of the fragrance. The smell does go away after a few minutes so I don't mind it that much.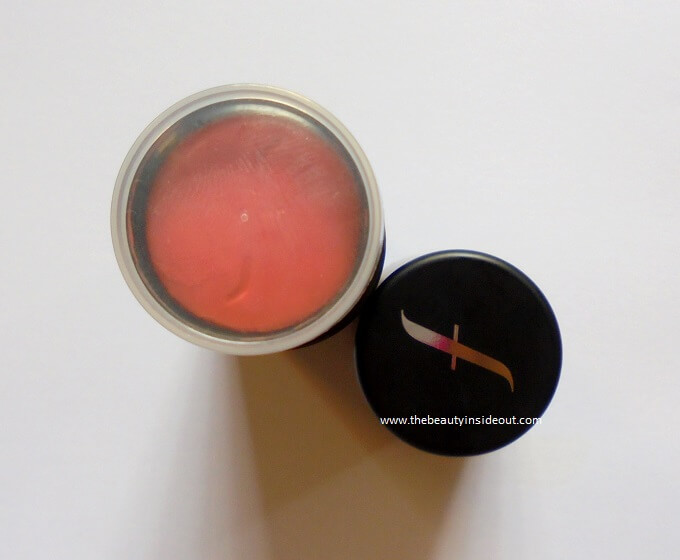 My Experience:
The Blendfinity is my first cream blush and I am very happy that I bought this. It has solved almost all of my problems regarding blush application. I don't have great rapport with blush brushes. I always have issues with colour placement. That leads to uneven blush application in both the cheeks. To equalize both sides I add on more product and the final result becomes a disaster every time. I can use my fingers to apply this cream blush. It gives me lots of control in the colour placement and intensity. I start my blush application with a tiny amount of product. I blend it in and then proceed with intensity building.
The shade is perfect for my skin tone and undertone. I can use this one colour with every lip colour because this peach shade blends to my skin. The formula is creamy and you can easily rub off before it settles. Correcting mistakes is easy with it. It gives a light glow to your skin too. But the creamy feel of the product does not settle into completely matte. I have to dab a little powder to set it. The formula is free from mineral oil and nano ingredients. My acne prone skin did not give any adverse reactions after 5-6 hours of continuous use.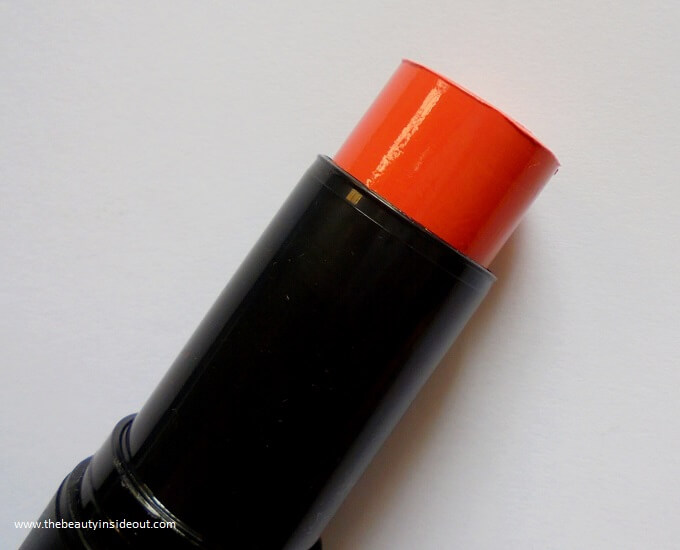 Pros:
Warm peach pink shade.
Gives naturally flushed look.
Pigmentation is good.
Fades evenly; no patchiness.
Can be applied with just fingers.
Does not emphasize pores.
Travel-friendly.
Cons:
The creamy formula might not be liked by oily skin girls.
The product should have been fragrance-free.
Rating: 4.75/5
Would I Recommend?Faces Canada Ultime Pro Blendfinity Stick Blush Sweet Apricot is one of the best cream blushes in budget-friendly category. The shade is just perfect for light to medium skin. Plus the formula is very easy to work with. I would definitely recommend this to everyone including the absolute beginners in makeup.