It's a myth that oily skin types don't need a moisturizer. How much ever your skin is oily, you still need to moisturizer post cleansing. Skipping a moisturizer can signal your skin to produce more oil thereby clogging pores and hence acne outbreaks. You certainly need a moisturizer to maintain the skin's natural balance that was lost due to cleansing. Today I've come up with a review of one such product which is the Aroma Magic Juniper Berry Oil Free Moisturizer for Oily Skin with SPF. It is specially meant for oily and very oily skin types. Dry skin types can use this Aroma Magic Moisturizer as a serum. Let's hop onto the details of the product first.
Product Description: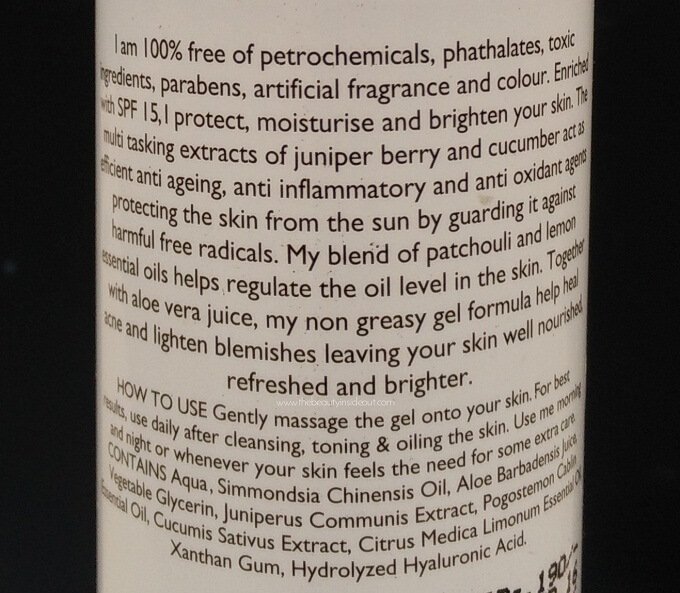 Aroma Magic Oil Free Moisturizer Ingredients:
Aqua, Simmondsia Chinensis Oil, Aloe Barbadensis Juice, Vegetable Glycerin, Juniperus Communis Extract, Pogostemon Cablin Essential Oil, Cucumis Sativus Extract, Citrus Medica Limonum Essential Oil, Xanthan Gum, Hydrolyzed Hyaluronic Acid.
Price: 190 INR for 100 ml. Available in health & glow outlets.
Aroma Magic Juniper Berry Oil Free Moisturizer for Oily Skin Review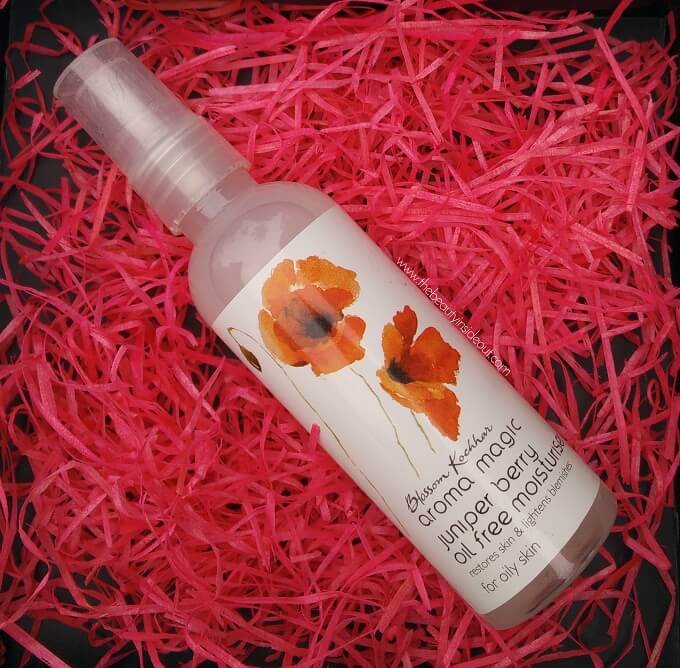 Packaging: As you can see, this Aroma Magic Moisturizer comes in a translucent bottle with a pump dispenser. The pump works with no issues, the bottle is user friendly, travel-friendly, details of the product are clearly printed on the packaging, price & expiry date mentioned, Everything is on point. You can ask for nothing more and it has the perfect packaging one would look for.
Color & Texture: This Aroma Magic Moisturizer has a serum like texture. It's very light, runny and watery. Although it looks semi-white on the bottle, it comes out transparent and vanishes into the skin as nothing.
Fragrance: The fragrance is a little bit bothering for me, but for its lightweight texture I can bear that for a few minutes. It subsides post application so don't worry. I cannot relate the smell to anything that I know. It may be juniper berry but I cannot assure you since I do not know how juniper berry smells like. However, they do mention that they do not add artificial fragrance, so I'm relieved on that front.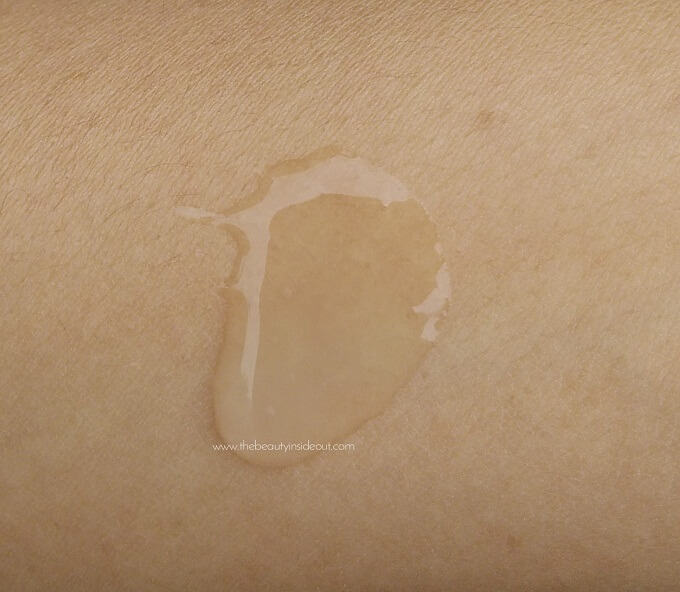 My Experience:
I apply this post cleansing and toning during the day. I take two pumps of the moisturizer on one of my palm, gently pat once between both the palms and dab on my skin while my skin is still damp. It gets soaked in a few seconds and feels ultra lightweight on the skin. It does not provide any extra moisturization or hydration as such but just locks in the moisture that is already there on the skin. That is why I would recommend using it on damp skin. Even the usage instruction suggest using it after cleansing, toning & oiling (means using a serum) .
Once applied, it makes your skin look matte with zero oiliness or dewiness. It also controls oil and keeps my skin oil free and hydrated at the same time for long hours.
What I love the most – this Aroma Magic Moisturizer is enriched with SPF 15. This provides a bit of sun protection. It's great especially for someone who stays indoors and doesn't like to wear sunscreens. This would be a great moisturizer with spf. However it is essential to use a good sunscreen for maximum sun protection. We do have some great Gel based Sunscreen for oily skin in India.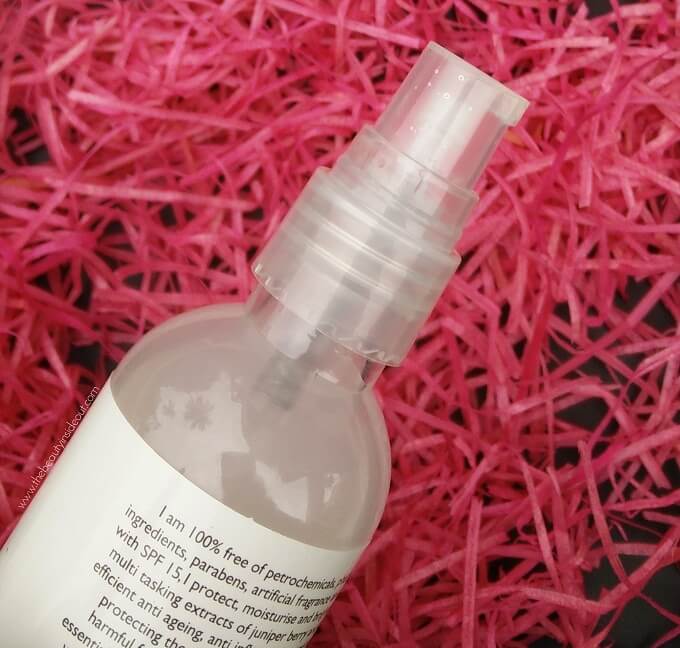 It claims to restore skin & lighten blemishes. I can't say much about it as I don't have blemishes as such, only those one or two occasional acne marks that fades away over time, even if I didn't do anything. But I can say it does brighten up the skin a bit after application.
Overall, I very much liked using this oil free moisturizer from Aroma Magic. I haven't come across such a lightweight moisturizer before and I would highly recommend very oily skin types to try this. If you are someone who had the thought that moisturizers would never suit you, give this a try, I'm sure you will love this!
Pros:
Perfect packaging with pump dispenser.
Reasonably priced.
Water like consistency aids in quick absorption.
Feels very light on the skin.
Locks in moisture into the skin.
Keeps skin matte and provides oil control.
Causes no breakouts.
Best for the summers and oily skin types.
No toxic chemicals ingredients.
Not tested on animals.
Cons:
Fragrance may be bothering for some.
Rating: 4.9/5
That was all about Aroma Magic Juniper Berry oil free moisturizer for oily skin with SPF.
Have you tried this? What is your current moisturizer? Do you have suggestions for any other oil free moisturizer? Share your thoughts in the comments section below.