So I am finally up with the review of the much raved Laneige Water Sleeping Mask. I've had instances of failure with some raved products like this one. So I always try to get the mini sizes before investing on bigger sizes. I hauled the Laneige Water Sleeping Mask & Lip Sleeping Mask from BeautyBarn, a website which sells K-Beauty products at nominal prices. I have been using these products consistently for almost two months now. Today I'll be reviewing the Laneige Water Sleeping Mask and you can expect the Lip Sleeping Mask Review in a couple of days. Read on to know if the product is worth the hype.
Laneige Water Sleeping Mask Review
Product Description:
An overnight, moisture-recharging gel mask that quickly absorbs while you sleep to deeply hydrate skin.
Recharge dehydrated skin overnight. This innovative mask is formulated with highly concentrated Hydro Ionized Mineral Water to deliver intense doses of moisture to stressed, parched skin.
Calming Sleepscent™, infused with orange flower, rose, and sandalwood, relaxes and comforts while apricot and evening primrose extracts brighten and purify fatigued skin.
The result: skin looks and feels radiant, refreshed, and soft. Wake up to soft, glowing skin.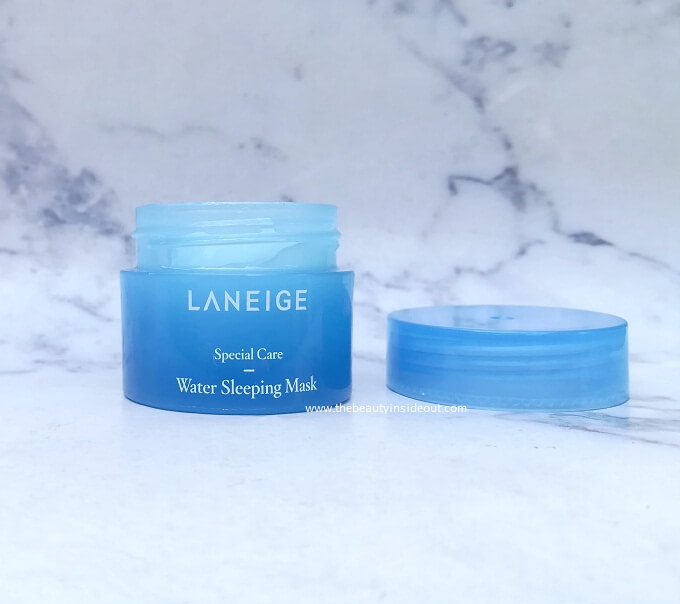 Ingredients: The ingredients of this product is not something that I find fascinating. The ingredient list is pretty long with loads of chemicals which includes phenoxyethanol, silicones, alcohol, perfume and synthetic colors. On the good side, it has Sodium Hyaluronate (which is a deep hydrator and skin soother) and Ascorbyl Glucoside (which promotes brightening).  According to CosDNA, it has only 2 acne triggering ingredients with the least rating of 1. The product as well hasn't broken me out so far.
Packaging: The Laneige Water Sleeping Mask comes in various sizes of 15 ml, 25 ml and 70 ml. The full size product come in a classy frosty glass jar whereas the mini sizes come in travel friendly plastic tubs. Both the packaging has an appealing look. The full size product do come with a spatula.
Fragrance: The Laneige Water Sleeping Mask has a very fresh scent. It smells nice to me, although I've seen people with sensitive noses complain about its intensity. The scent is barely noticeable for about 5 minutes or less. It vanishes soon after without any trace. The scent is supposed to be sleep inducing, which will not be the case for night owls like me!
Texture & Feel: The texture is similar to the Neutrogena Hydro Boost Water Gel. This has light gel texture which turns watery upon contact. It melts on the skin and gives a moist/wet feel which takes about 2 to 5 minutes to dry down. It leaves the skin satin matte and super soft to touch. No extra oiliness or greasiness.
My take on Laneige Water Sleeping Mask:
The product is a sleeping mask which means it goes as the last step of your routine. I've heard some of them using it as an everyday moisturizer, but since the brand has specifically instructed to use twice a week. I did not try it otherwise. Because I thought may be they have ingredients that is not suitable for every day use! Often times, I used it twice a week. Rarely thrice a week but nothing more!
My skin was at a well behaved state when I started using this. Since it was the cooler winters, I had dry cheeks and normal to slightly oily T-zone. This is also the season (I love, no sweaty face) where I experiment layering my skin care products, otherwise I stick to a simple CTM routine as its always hot and humid in the place I live and too much products clogs my pores (and hence acne!)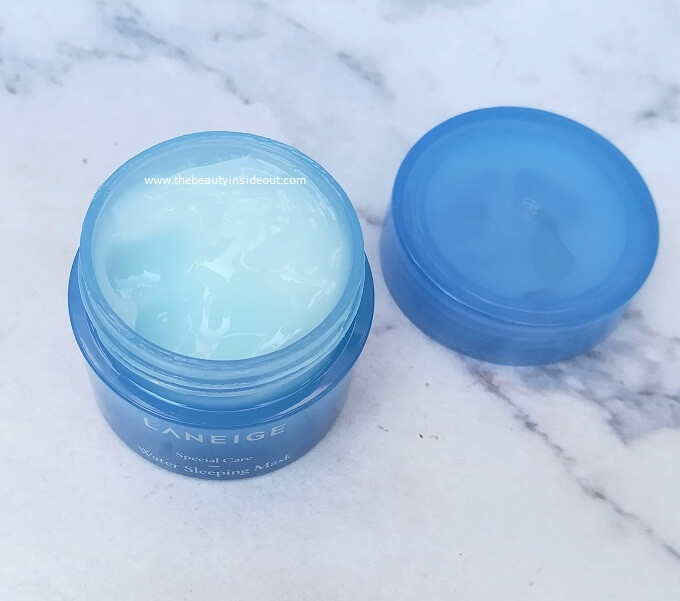 I used the Laneige Water Sleeping Mask as the last step of this Skin Care Routine For Acne Prone Skin that I shared a couple of weeks ago. On the first usage, I felt the sleeping mask kept my skin well hydrated throughout the night. I woke up with a plump healthy looking skin. No dryness or oiliness as well. But at the same time I wasn't really floored with the result on day 1. Was it too hyped or did I expect something dramatic?!
I continued using it and have been still using it. Now I think I have grown fond of it. I am liking the instant cooling sensation and the suppleness it gives the next morning. I love the extra burst of moisture it gives to my skin which my aloe vera gel alone isn't sufficient to do so on dry skin days. The sleeping mask hasn't caused me new breakouts while it hasn't irritated my existing active acne as well. As of now, I haven't noticed any long lasting results of using the sleeping mask. The hydration it provides lasts until I wash my face with a cleanser. But I still believe that keeping the skin well hydrated would surely prevent premature aging. Since this is a product that is used as one of the steps in a multiple step skin care routine, it will go well with most skin types. Ideally the texture is one that will be most liked by oily skin types.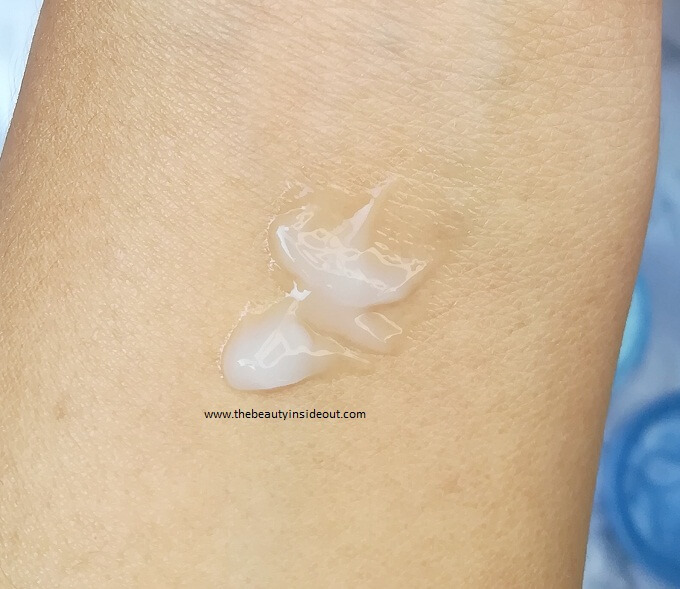 Overall, I have mixed thoughts on the Laneige Water Sleeping Mask. It is certainly a nice addition to one's skin care routine, but it isn't something that is irreplaceable. It is a nice twice a week pampering product. But my skin wouldn't miss out on anything significant if I don't use this product. The price range is steep, even so, I wouldn't mind spending if it was worth the splurge, which isn't the case, sadly! Also the ingredient list is bugging me!
If you would like to get your hands on your first korean sleeping mask, I will suggest to get the mini size and try it out. After all, this is one of the best selling korean skin care products.
Pros:
Available in various sizes.
Amazing lightweight texture.
Hydrates the skin without being oily or greasy.
Cooling sensation feels refreshing on the skin.
Did not break me out.
Cons:
Not cost effective.
No extraordinary results.
Too many fillers like Alcohol, Silicones & Fragrance.
Rating: 3.5/5
I hope you found this review helpful. Do share your experience with the product in the comments section below.