I've been looking for a good ceramide moisturizer to add to my collection, and I've finally found one! It's the Minimalist Ceramides 0.3% + Madecassoside Moisturiser, and I know I'm a little late to the party because it's been out for a while, but what a stunning little product it turned out to be.
Product Description
According to the brand, this moisturizing gel assists in restoring the skin's barrier and minimizing water loss.
This gel contains a concentration of 0.3% of 5 pure Ceramides: Ceramide NP, Ceramide EOP, Ceramide NS, Ceramide AS, and Ceramide AP. And we already know how effective ceramides are in skin healing.
Centella Asiatica contains this active compound called Madecassoside (it's hard to pronounce). It promotes wound healing and skin hydration. It works as an antioxidant as well, along with aiding collagen formation in the skin. It is something sensitive and dry skin would want in their routine. It's an effective skin soother even if it is present in low concentrations. I remember it being present in Innisfree Aloe Vera Gel, which again is an excellent skin-soothing product.
Minimalist Ceramide Moisturizer Ingredients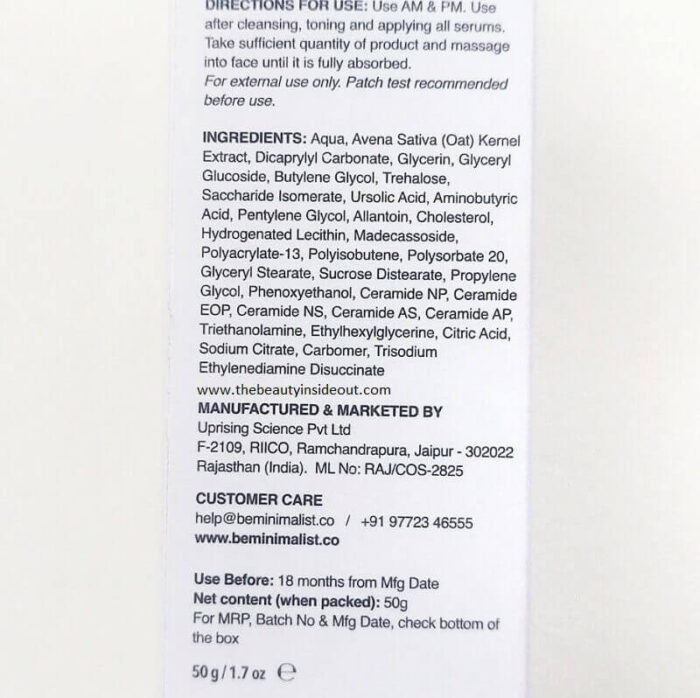 How to use it?
Use it after cleansing, toning, and applying all the serums.
Take a sufficient quantity of moisturizer (not much would be needed) and massage it all over until it gets absorbed completely(just a few seconds).
This can be used both in AM and PM routine as its neither active-based nor contains sunscreen ingredients.
Where to buy? Amazon.in
Minimalist Ceramide Moisturizer Review
Packaging
The Minimalist Ceramide Moisturizer comes packed in a cardboard box. The outside of the cardboard packaging contains all of the necessary information. The real product is packaged in a screw-top tube. But, it is really inconvenient to have to open it, squeeze out the moisturiser, screw it shut, and then apply the moisturiser. And it's the one thing that bothers me about this. It would have been soo much easier to use if it just had a flip cap.
Also, the tube is secured by an aluminium cover or something similar that was difficult to remove, so I had to poke a hole in it to get the product out.
Texture
It has a gel-like consistency that effortlessly spreads over the skin like butter.
Fragrance
It claims to be fragrance-less, so there isn't any added fragrance, but the product itself does have a mild scent that reminds me of Avene skin relief moisturiser but sort of milder then Avene.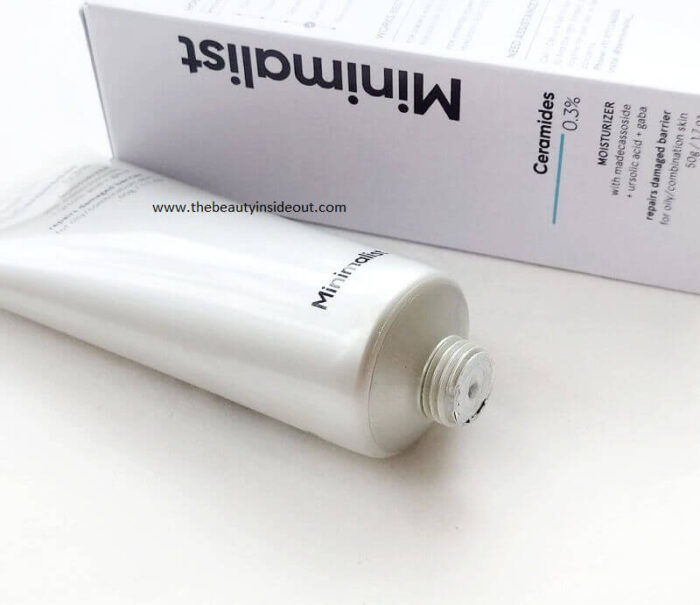 My Experience
How I use this?
Naturally, you should cleanse your skin first before using your toner and serum and then use this moisturiser. However, if you're lazy like me, wash your face first, then simply massage it into somewhat damp skin. I occasionally use rice water toner or an exfoliating toner before massaging the gel in. And it works well on both dry and moist skin.
Do I like it?
I do LIIIKE it.
After using it, my skin is noticeably softer and plumper. So, when I say it made my skin more plum plum, I mean it genuinely makes my skin more plum plum. Until last month, we had terrible summers in Gujarat, and I often skipped my moisturizer (more like my skin routine was non-existent). So this has definitely brought noticeable change to my skin.
It's texture is really light and easy to work with. I enjoy massaging my skin with it. Also, it soaks up real fast and doesn't feel sticky. Just be sure to use a very small amount of the product—about the size of a pea—on your entire face and neck.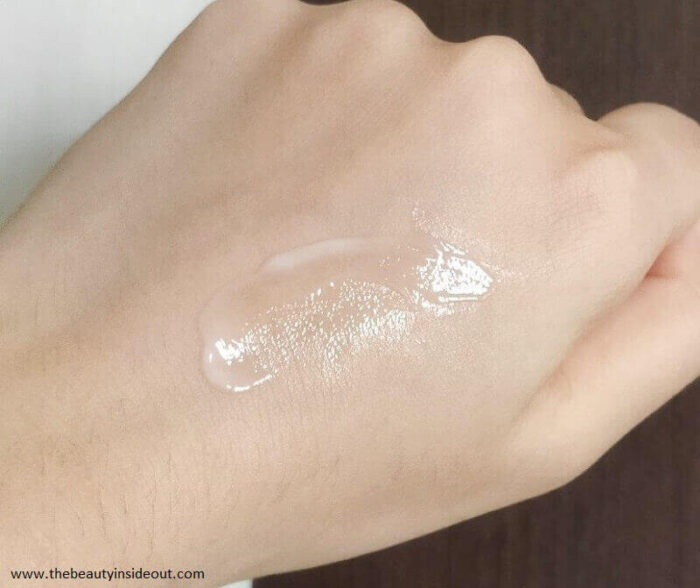 Since my skin is neither damaged nor sensitive I can't comment on barrier repair claim. But it does a fantastic job of moisturising. Of course, it's got ceramides so I'm biased. Since ceramides have been my first love, or probably my second since Salicylic acid is my HG. Ceramides seem to be like excellent all rounder and all you really need to maintain radiant, healthy skin is a good ceramide product. However, given that it only contains 50 ml, I might need to get it once again next month.
Even though they advertise it for oily combo skin and there is a dry skin version with Ceramides 0.3% + Bisabolol, I believe this will work just fine for mildly dry skin. And if you have acne, don't worry, you can use it too; it will do a wonderful job of soothing your skin and won't aggravating your acne.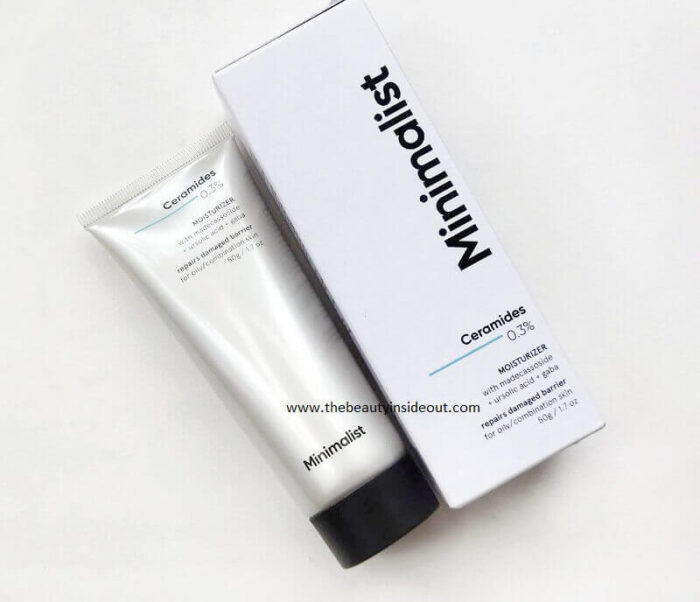 Pros
Extremely good at moisturizing
Makes skin visibly smoother
Adds plumpness to the skin
Cons
Tubes only 50 ml
The packaging
Do I recommend it to you?
Oh, absolutely.
You can use it if you have skin that is prone to acne.
You can use it if you have oily skin, combination or slightly dry skin.
Or you can also use it if you've overdone exfoliating.
That's it from my end, let me know what you'd like me to review next!