I always felt like toner is the unsung hero of skincare. It hydrates and moisturizes, takes care of our skin barrier, and goes deep into the skin because of its very light texture but it is not spoken with the same respect as serums and moisturizers. I mean sure you can create a skincare routine without using toner but it goddamn helps a lot of people who are using it. As 2023 begins, I would like to say that I am finding skincare that works and have some extra oomph. Because there is so much in the market and a person with ADHD, I get overwhelmed and I would like to narrow it down to tried and tested products that I can rely on no matter what. This particular product "I'm From Rice Toner" is making the headlines on the Top 10 brightening toners for quite some time. I always wanted to try this but was taken aback by the price. Recently they launched a mini and it was on a good sale so I got two bottles of these.
What does I'm From Rice Toner do?
I'm From Rice Toner, made with 77.78% Goami Rice Extract, hydrates moisturizes, and brightens dull skin. It contains the best rice grown in Yeoju which is the origin of rice. The immaculate rice called GOA Rice delivers clean and clear skin.
It works by creating a protective layer on the skin and makes skin so smooth that it is glowing from the inside of the skin.
This is an Alcohol-Free, Fragrance-Free, pH-friendly Vegan Product.
I'm From Rice Toner Ingredients: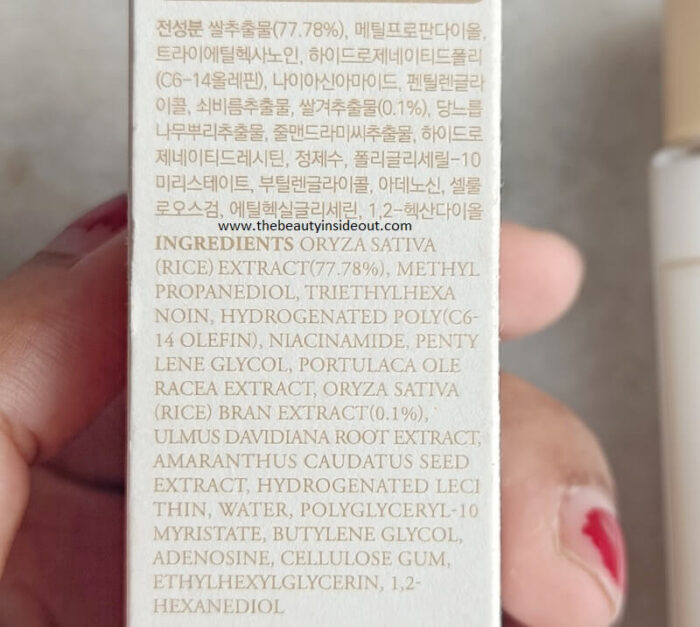 It has 77.84% Goami Rice Extract and 0.1% Rice Bran Extract. It has Niacinamide as the 5th ingredient. The percentage of Niacinamide is not mentioned by the brand.
How to use it?
This is a toner, so use it in the toning step. That is right after cleanser and before your serums and moisturizers.
Shake the bottle before use, since this is a dual-phased product.
Swipe with a cotton pad or tap it with your fingers until absorbed.
Where to buy? Amazon.com
I'm From Rice Toner Review
Packaging: The mini toner comes in a white transparent plastic bottle where I'm From Rice Toner is written. It doesn't look like a luxury skincare product so I am a bit disappointed with the packaging part.
The full size comes in a glass bottle though. Obviously, the mini is travel friendly and the full size is not. The bottle has a pinhole dispenser through which the product comes out. It's fairly easy to use. You just need to shake the bottle and pour the toner onto your palms or cotton pad.
Texture: I'm From Rice Toner has a runny milky texture. It's often compared to the texture of the highly raved Laneige Skin Cream Refiner. It's a tad bit thicker than water. Still, I would say it's a watery toner.
It has a good slippery feel to it and spreads with ease. The toner is very lightweight and doesn't feel like anything even after putting 3-4 layers. It does not feel sticky, doesn't pill, and goes well with all other serums.
Fragrance: I'm From Rice Toner is a Fragrance-Free Toner. It doesn't have any scent to it which is perfect for sensitive skin folks.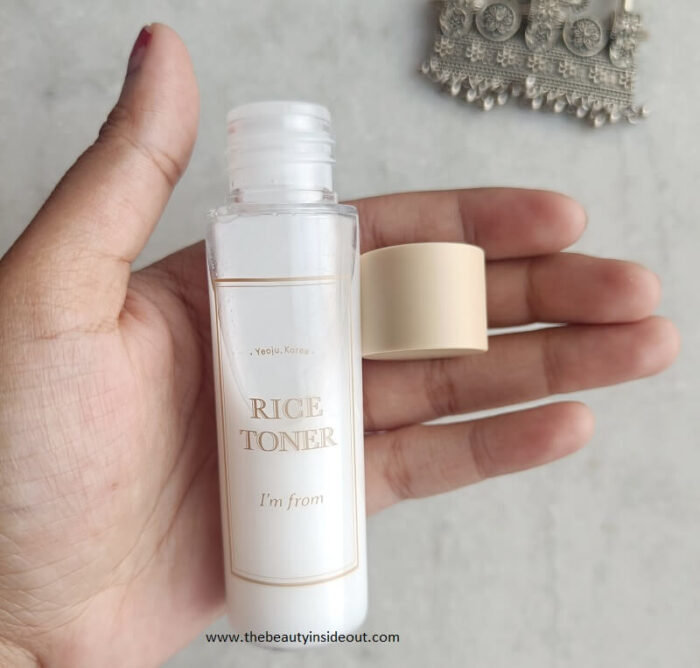 My Experience:
This rice toner from I'm From is popular for a good reason. It readily does the job when it comes to brightening my skin and healing redness from the surface of my skin. Sometimes I like to keep it in the fridge for a cooling and soothing effect after long hours out on a sunny day.
The brightness it gives is temporary and goes away after 2-3 hours of application. I am almost done with one of the mini 30 ml bottles. Looking at it keenly and pinpointing, I can see some of my dark spots lightening.
The toner has Fermented Rice Extracts which may not be good for someone with Fungal Acne and Milia. It doesn't do much in terms of hydration as well. On a scale of 1 to 10, I can say the hydration is on the 6 levels so this is good for some oily acne-prone skin girls who prefer lightweight moisturizers in the summertime. Dry-skin girls can layer it multiple times without an issue. The product didn't do anything for my pores and textured skin. But I can say it did take away the irritation which I am having after using retinol. (I heard many people say it's otherwise – that it stings on irritated skin, however, it wasn't the case for me).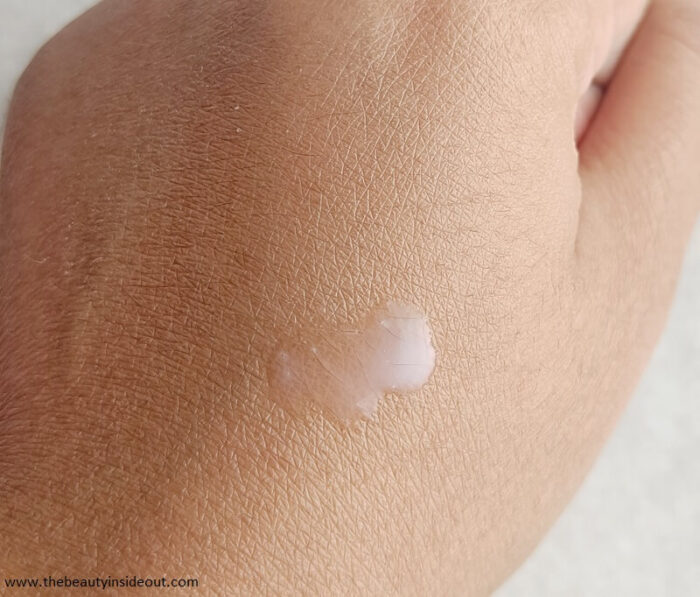 Pros:
Fragrance-Free, Alcohol-Free Toner.
Milky water-like texture absorbs instantly.
Contains Rice Extracts and Niacinamide.
Have brightening properties.
Very lightweight and can be layered multiple times.
Great for oily skin types.
Soothes irritated skin.
Comes in a mini version.
Vegan and Cruelty-Free.
Cons:
Doesn't have many hydration properties.
Expensive and takes way too much time to see results.
Not Fungal Acne friendly.
Doesn't do anything for the pores and textured skin.
Rating: 3.5/5
Would I recommend it? It's a nice toner overall, with a light easy-to-absorb consistency. It's fragrance-free, alcohol-free, has great ingredients, and layers well with other products. However, it's not very result driven. It doesn't do much for hydration and may not suit sensitive skin types. I would recommend this for oily skin types. Try out the mini bottle first before splurging on the full size.
What do you think of this toner? Have you tried any Korean toners?