I consider aloe vera gel a must in any oily skin girl's skincare routine. It's such a simple yet amazing ingredient that is less likely to make you more oily. I've tried a handful of aloe gels but I came across this Innisfree Aloe Revital Soothing Gel just recently. I was impressed with the full ingredient list and price factor of it that I decided to buy it to replace my Kaira Naturals Hyaluron Gel. Read on to know more about the Innisfree Aloe Revital Soothing Gel.
Product Description:
The multi-soothing gel with Jeju chemical-free aloe inner skin to instantly replenish your tired skin with moisture for vitality.
Ingredients: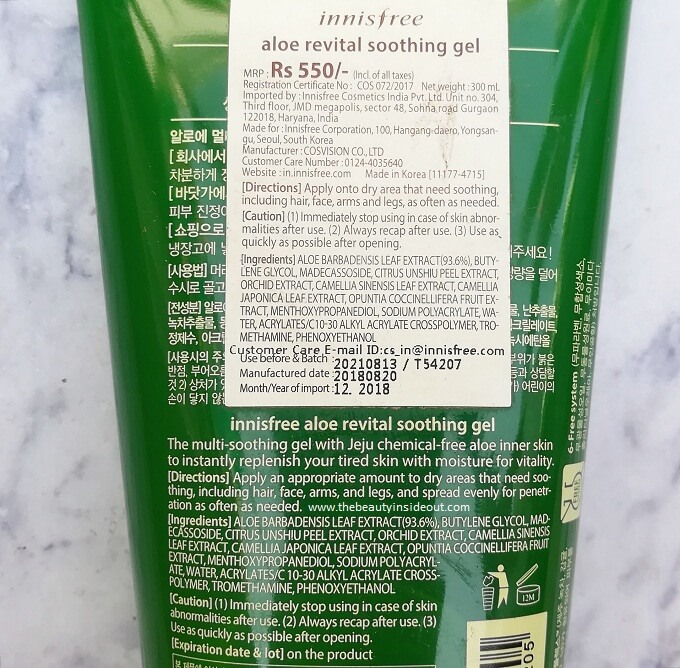 Innisfree Aloe Revital Soothing Gel has 93% of Aloe Vera Leaf Extract standing there as the first ingredient of the product. It also has Madecassoside, a compound of Centella Asiatica, which is wonderful skin calming and anti aging ingredient that is known to be effective in as low as 0.1 percentages. And this product has that as its third ingredient. I actually bought this aloe gel after seeing this combination of ingredients as I've had really good experience with Etude House Soon Jung Cica Balm which majorly comprises of Madecassoside. Apart from that, Innisfree Aloe Revital Soothing Gel has got the anti oxidant rich Green Tea Leaf Extract.
The product is obviously not a natural product (if you may wonder so). It contains phenoxyethanol preservative. FYI, unless you use Aloe from freshly cut aloe leaf, all other aloe gels that you buy have atleast some percentages of synthetic preservative to keep the product preserved. Since Innisfree is a credible brand and the product is listed safe on EWG and Skincarisma, I would say not to think much and just buy it if you have been looking for a good quality aloe gel. Innisfree Aloe Revital Soothing Gel is free of Alcohol, Artificial Colorants, Fragrances, Mineral Oil and Urea.
Price: Rs.550 for 300 ml. Totally worth it. Comes in only one size.
Packaging: Innisfree Aloe Revital Soothing Gel comes in a convenient to use and hygienic tube packaging. I don't really like aloe gels in a tub. But as opposed to what one might think, the 300 ml tube is quite bulky to travel with. You certainly need to decant it in a smaller bottle for travel purposes. I like that the tube has a very small dispenser that not only leads to zero wastage but also makes the product less exposed to air. It is to be mentioned that the packaging has necessary details about the product printed on it in English, as opposed to some korean brands that have everything written in Korean. Except for the size of the tube, I don't have any complaints with the product build.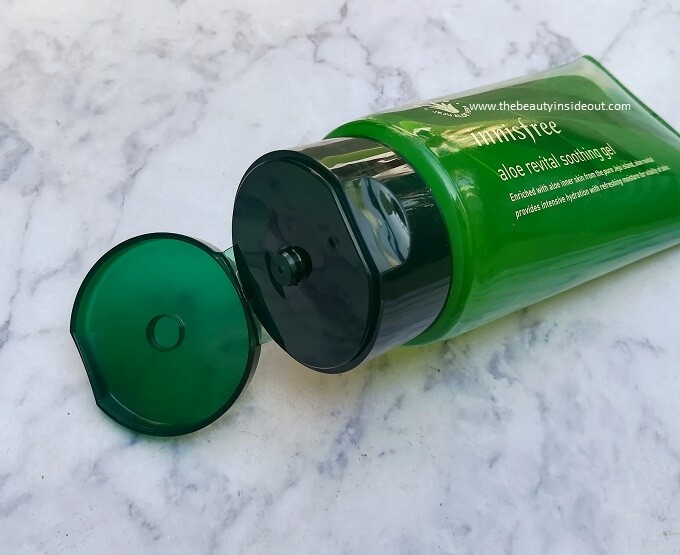 Color & Texture: This is a colorless aloe gel with a medium thick consistency. Its definitely not the flowy types and one can easily control the product. The gel is very smooth and melts into the skin within seconds.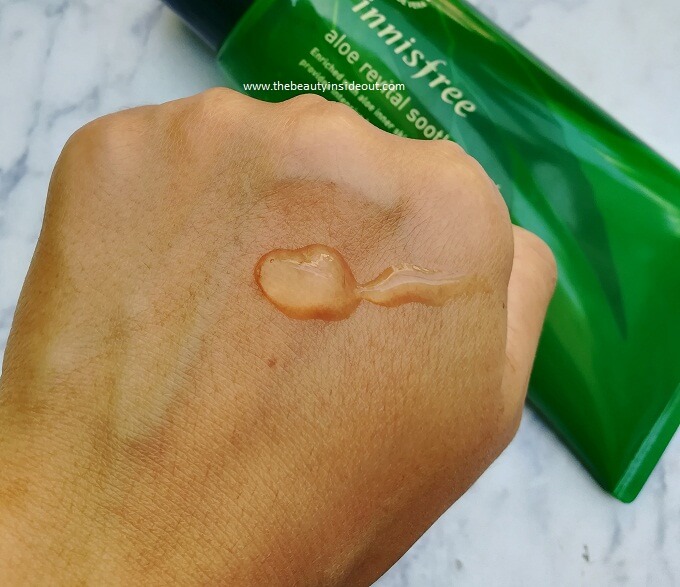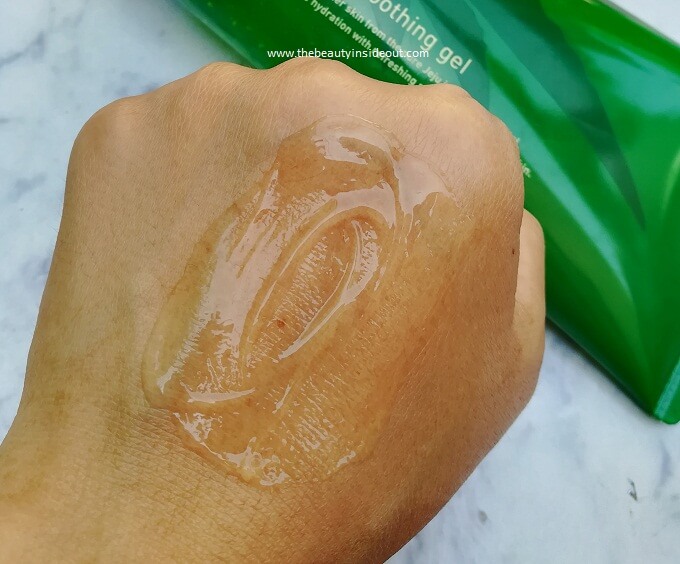 Fragrance: This doesn't have any added fragrance to it and it doesn't smell anything in particular. If you keenly sniff it, you get a very faint cosmetic fragrance which is totally non-bothering. I could relate the no fragrance of this product to the barely there fragrance of the Cosrx Advanced Snail 92 All in One Cream.
Efficacy: This is one of the Best Aloe Gels that I've tried. It sinks into the skin right away. It doesn't sit on top of the skin or form a filmy residue or make the skin taut. It actually hydrates the skin from within while giving a semi matte finish on the outside. It's the perfect gel for oily skin types. In my PM routine, I like to add two drops of Rosehip Seed Oil to the this gel and mix it well to form a light hydrating lotion. This combination works really good to treat acne marks.
When applied as a mask as a thick layer, the gel gives a cooling sensation on the skin making it perfect to use after sun exposure. It calms down and soothes sunburnt and irritated skin. Its also great to use after shaving and waxing. It can also be used as a hair mask or mixed with DIY hair masks.
This is not a miraculous product but is surely a great quality aloe gel that can be used as a daily moisturizer by oily, sensitive and acne prone skin types. Although it can be a bit boring to use for months together as 300 ml is going to last really really long if used only for face.
Pros:
Hygienic tube packaging.
Contains 93% Aloe Vera, Madecassoside & Green Tea Extract.
Heals, Soothes and Calms Skin.
Hydrates the skin from within.
Doesn't leave any filmy residue on the skin.
Free of parabens, alcohol, artificial color & fragrance.
Cost Effective.
Multipurpose – can be used on skin, hair and body.
Cons:
Available in only one size.
Rating: 5/5
Would I recommend? Absolutely. This has to be the best aloe vera gel that I've used. It's specifically great if you want an oil free moisturizer for the summers.