Nivea After Shave Balm Sensitive is a popular product among the beauty community. It's much raved for doubling up as a face primer. So when my husband was looking for an after shave, I swiftly suggested this, so that I could also try it as a primer. So let's see how the Nivea After Shave Balm Sensitive works as an after shave as well as a primer.
Product Description: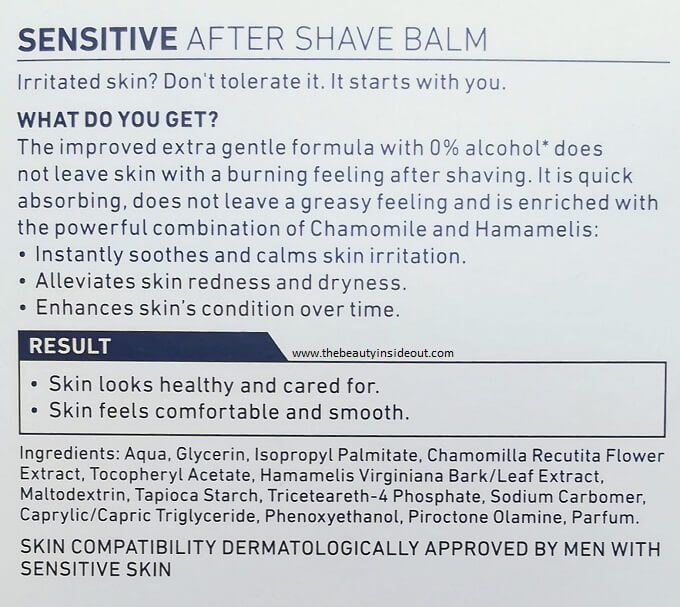 Price: Rs.225 for 100 ml.
My take on Nivea After Shave Balm Sensitive:
Packaging: Out of all the Nivea Products, I'll have to say, this has the most elegant and classy packaging. It comes in a heavily bodied white glass jar. Well, its not travel friendly though. The jar has a small sized opening for the product to come out. The Nivea After Shave Balm Sensitive further comes housed in a carton box with every little detail about the product printed on it.
Fragrance: Being a men's product, the Nivea After Shave Balm Sensitive has a masculine scent to it. It's smells fresh & nice, definitely not the overwhelming types. The fragrance fades away soon after application.
Texture: Nivea After Shave Balm Sensitive has a light lotion consistency that runs on the thinner side. It is smooth and has an easy to work with formula. It vanishes into the skin with a light massage/few pats.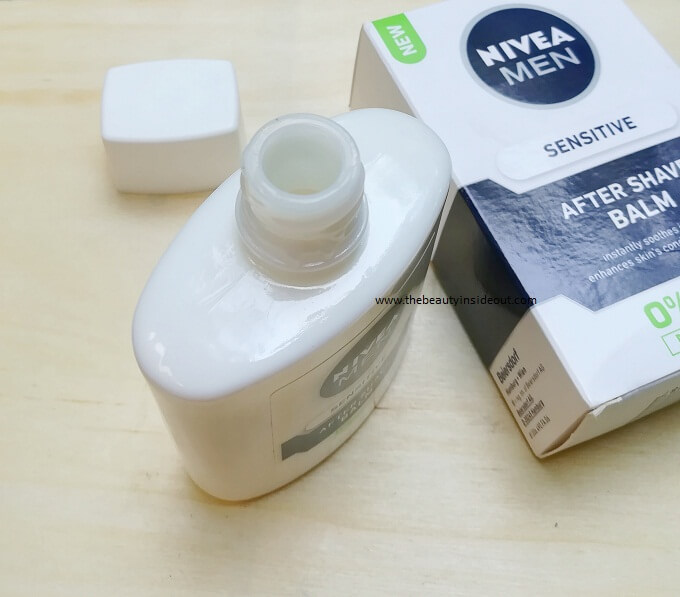 Experience:
As an after shave: The after shave has a cooling sensation on the skin and calms down freshly shaved skin very well. True to its name, it suits sensitive skin as it doesn't tingle or burn the skin like many after shaves. It never irritates the skin even when applied on razor cuts. The after shave is moisturizing on its own, so men who don't use a moisturizer will have an added benefit with this product. It is made without alcohol & parabens which is the biggest plus. This can very well be used by women as an after shave on your arms & legs.
As a primer: The after shave balm is not formulated for this purpose, so it does not work like the usual primers. The After Shave has a slight tacky feel immediately after application. I need to wait for a few minutes for the stickiness to settle down and then proceed to apply my makeup. Makeup goes on smoothly with ease after that. The after shave balm truly helps to keep my makeup intact for long hours. I could clearly see that it extended the wear time when I had worn this. But this after shave balm doesn't blur out pores. So ladies with large pores, this may not be a perfect fit for you and you will have to pick up a silicone based primer for smoothening out the pores. Other than that, I don't see any cons as a primer. It's a value for money for being a makeup primer.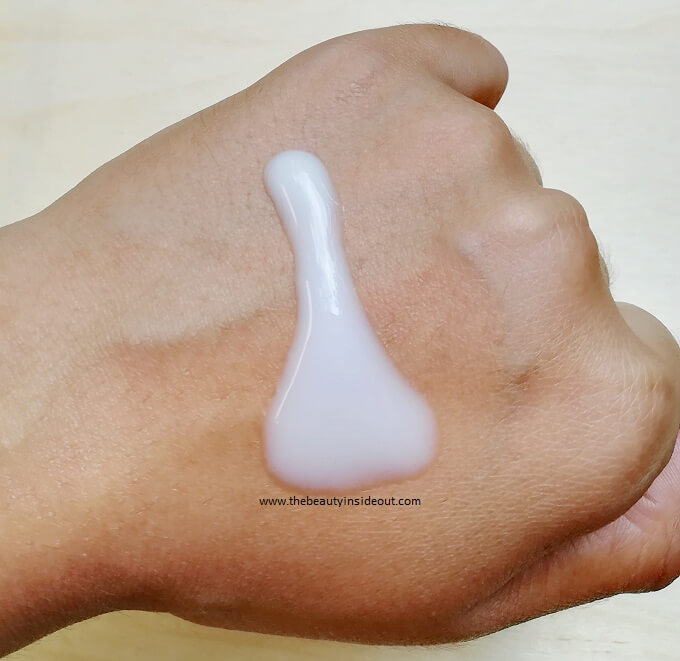 Pros:
Budget Friendly.
Alcohol & Paraben Free.
Light Lotion Consistency.
Calms freshly shaved skin.
No burning sensation.
Doubles up as a primer.
Cons:
Rating: 4.5/5
Would I recommend? Yes, the Nivea After Shave Balm Sensitive is clearly a sensitive skin friendly after shave balm. It calms down shaved skin and wins in that aspect. As a primer, its not the best but still you could make it work. If you are on a tight budget or an occasional user of primer and/or are in for a multipurpose product to share with your man, this is for you.