Kaya Skin Clinic is a professional skin treatment services chain having various centres across the country. Kaya is quite popular, so it's obvious when they have their own skincare and haircare products, we all have high hopes of them. For someone looking to try out their products, I have come up with reviews of a couple of Kaya Skin Clinic Products that I have tried, to help you make an informed purchased. All products have been tried out on my oily to combination skin. Lets gets started.
Kaya Skin Clinic Products Review
1. Kaya Skin Clinic Soothing Cleansing Gel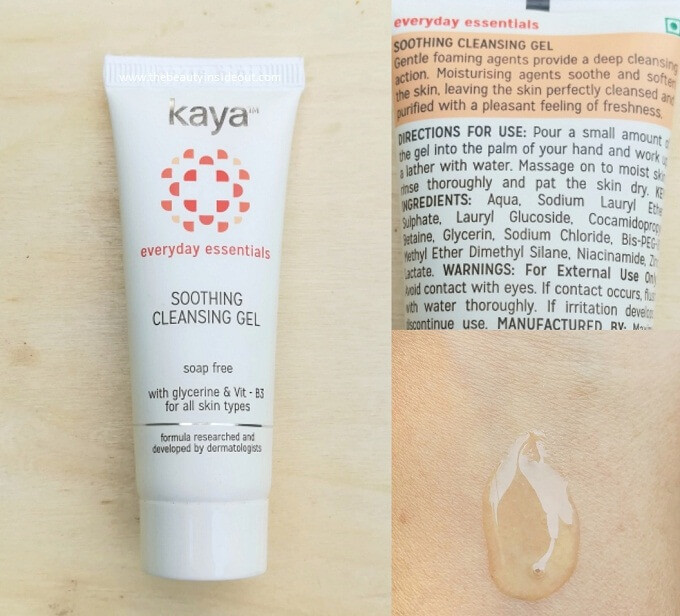 I was on the notion that this product is great to use in a skincare routine that has strong acne treatments; as in this will be a soothing cleanser. Was I wrong?! This is a typical clear gel face wash which foams up heavily with just a tiny drop of it. All praise to the presence of SLES (Duh!). It cleanses the skin thoroughly, leaving it squeaky clean. It even removes makeup nicely. Soothing? It's not. It's slightly drying for my oily skin and Dry Skin Types will find this super drying. Thankfully it doesn't make my skin taut or stretchy and moisturizing post cleansing solves the dryness issue (a common thing!). Among the different cleansing agents this cleanser has, it has two other noticeable ingredients – Niacinamide and Zinc Lactate. Talking about its fragrance, it has a fresh synthetic fragrance in gel form, but once I start lathering, it has those fragranced detergent scent (which does not smell bad actually, but my sensitive nose couldn't miss noticing it). Overall, Kaya Soothing Cleansing Gel is typical gel face wash that does the job of a cleanser really well. It's not sulphate, paraben & fragrance free. The price is reasonable as a little goes a long way.
Price: Rs. 150 for 50 ml.Available on discounts at Nykaa
This is one of my first buys from Kaya Skin Clinic. The claims Alcohol Free and Acne Free is what made me buy this. It's a really good toner that shows significant results with continuous use. This and the Sebamed Cleanser together helped to keep my acne breakouts under control. This is an exfoliating toner with Mandelic Acid (AHA) which promotes skin renewal and also helps to fade away acne marks. Along with it, it also contains Cucumber and Rose Extracts to soothe the skin. I like to use this toner with a cotton pad, although it comes with a spray nozzle that can be directly sprayed on the face. The toner doesn't cause any tingling sensations or reactions at all. It's quite gentle on the skin and works slowly to improve the overall skin texture. This has a bit of synthetic fragrance which may not be liked by all. Overall, I loved this toner for keeping my skin acne free. This is one of the Kaya Skin Clinic Products that I would highly recommend giving it a try.
Price: Rs.320 for 100 ml. Available on discounts at Nykaa
3. Kaya Skin Clinic Daily Pore Minimising Toner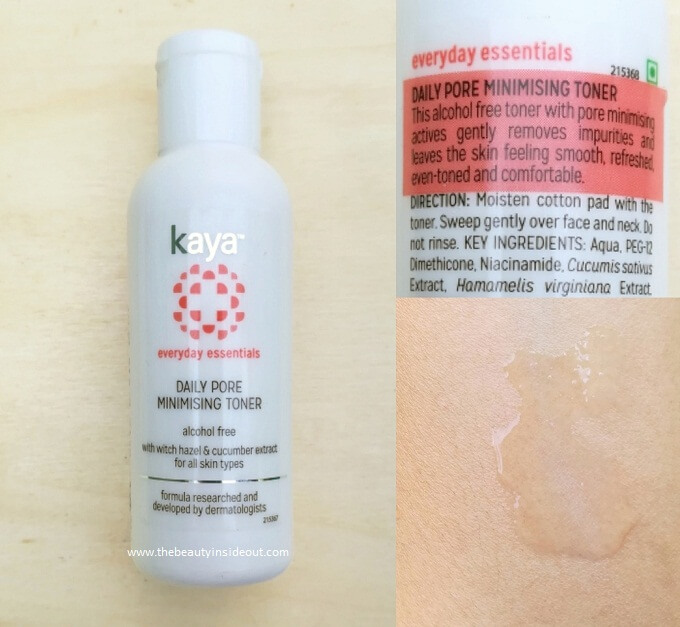 I could barely use this toner for a couple of days. Because it's super strongly scented which gives me a headache. It has a synthetic floral scent which doesn't fade away anytime sooner. The toner has a typical water like look and feel which gets absorbed into the skin instantly. It doesn't make the skin greasy nor does it give any tingling sensation. The toner stays true to its claims of minimising the look of pores almost immediately. I can't comment on its even skin tone claim nor its long term results, since I didn't use it for long. The toner removes any left over residue after cleansing. It's alcohol free, contains Niacinamide, Witch Hazel and Cucumber Extracts which is a good thing.
In all, the toner does what it claims to do, that is, minimizing the pores while gently removing skin impurities. But the scent of this product is too overwhelming, so I wouldn't recommend it to anyone. Particularly sensitive skin types, stay away.
Price: Rs. 440 for 200 ml. Available on discounts at Nykaa
4. Kaya Skin Clinic Daily Use Sunscreen SPF 30
Sunscreens are complicated. I hardly like one out of 20 sunscreens that I try. Mostly because of the white cast or its thick formulation. This again failed to impress me. The Kaya Daily Use Sunscreen has a standard white creamy texture that spreads fairly well. It goes on white but settles down on my fair to medium skintone with no white cast. The brand claims it to be lightweight and non-greasy. It fails at that miserably. It is definitely heavy and since it has a dewy finish, it tends to get greasy easily if the climate is on the humid side. The sunscreen is not moisturizing enough and has a mattified feel but actually makes the skin look dewy. Confused right? It sort of have the feel of Balm. Someone with combination will like this more, than oily or dry skin types. I wouldn't recommend it for sensitive skin types as I did experience skin irritation on days when my skin was sensitive. On other days, it worked fine. The sunscreen has a floral scent to it, like those fairness creams. I don't particularly like the scent, but then it fades away and is not bothering on the skin. The price is on the higher side for the quantity offered. Overall, I didn't like this sunscreen much.
Price: Rs. 770 for 75 ml. Available on discounts at Nykaa
5. Kaya Skin Clinic Purifying Spot Corrector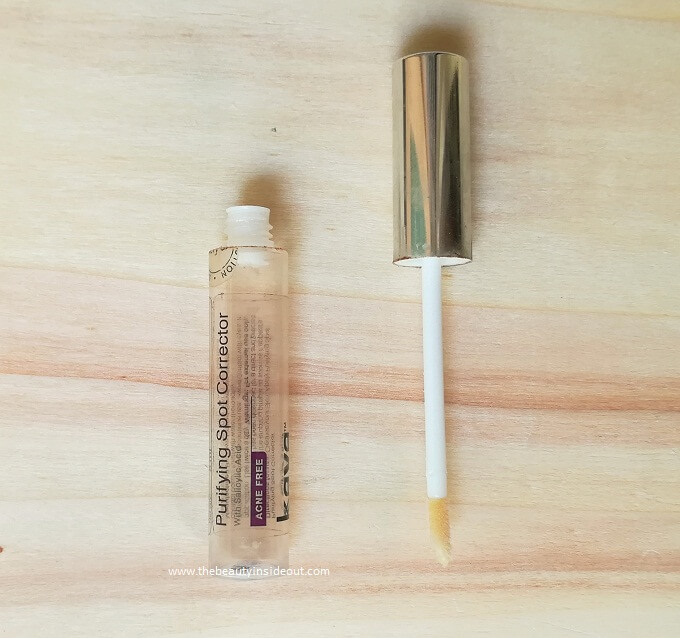 This is a spot treatment product that has to be applied only on the acne. Most correctors go as the last step of a skincare routine, but this has to be used as the first thing after cleansing on a clean skin. Since its water like and has alcohol in it, it gets absorbed soon after application. It contains a strong formulation with Salicylic Acid, Glycolic Acid, Witch Hazel and Zinc Sulphate to dry out the emerging acne. This worked well in zapping out zits and small pimples within two applications. But it suffers big time to treat the huge pimples. It doesn't do much for acne marks. I noticed that the product worked decent during the initial days but then stopped working. I am not sure if the product loses its potency overtime or if my skin got used to it and stopped working.
Talking about the biggest flaw of this product – its packaging. It comes in a convenient and easy to use lip gloss type of wand applicator. But aren't we going to apply it on the bacteria filled pimple directly with the wand and then again dip inside it giving room for contamination?!? Anyways, I suggest using a Q-tip for application. The Spot Corrector has a strong pungent smell which is a bit overwhelming. Overall, for the price we pay, this doesn't work as expected and the packaging is a big flaw.
Price: Rs. 830 for 8 ml. Available on discounts at Nykaa
6. Kaya Derma Naturals 5 Flower Insta Brightening Facial Mask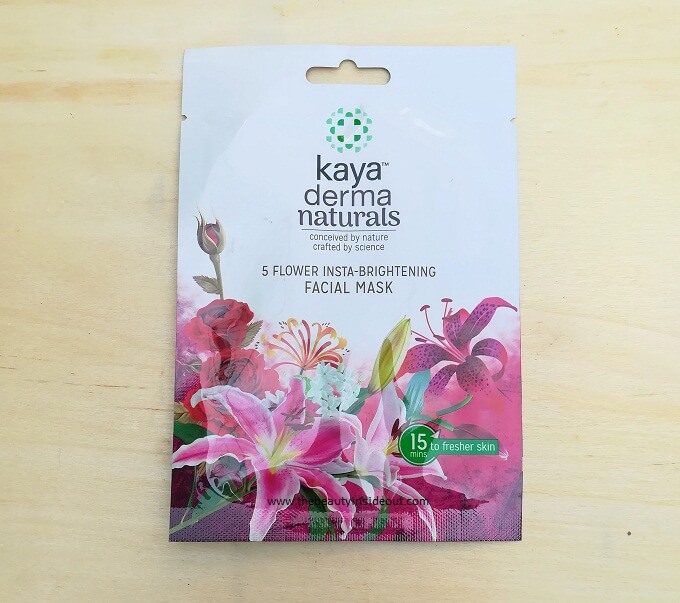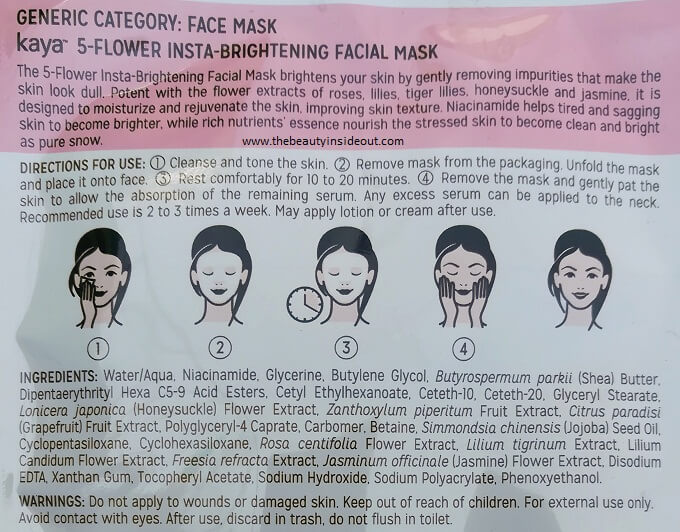 Kaya Skin Clinic was no exception in jumping into the korean sheet mask bandwagon. They launched three sheet masks with the 'Floral' tag. I got just one to test it out. (FYI: The sheet Mask is manufactured in Korea). This sheet mask is the thickest I have used so far. The sheet is super thick. Being thick is not the major con, it is stiff and feels like cotton cloth?! I felt like the sheet didn't hold much serum and it dries up so quickly. The pouch had left over serum though. The serum has a lot of slip and is white emulsion like thickness. I kept the mask on for 20 minutes before removing it. I patted the serum and it got absorbed in less than 10 minutes. The serum is lightweight, mildly hydrating and perfectly for someone with oily skin. I didn't see any brightening effect at all, even temporarily or the next day. That was a big disappointment since this sheet mask was meant for that and it also contained Niacinamide, a potent skin brightening ingredient. Overall, I found this to be an average mask. The serum in it is nice for oily skin as its non sticky and fast absorbing. Other aspects of this, like the sheet material, its after effects, etc were not that great.
Price: Rs. 125 per sheet. Available on discounts at Nykaa
Final Thoughts on Kaya Skin Clinic Products Review
With the rat race in the beauty industry of the fast emerging natural beauty brands and the korean beauty products, Kaya Skin Clinic Products fails to make an impact on me. Particularly in this era where everyone is cautious of the ingredients that goes into their skincare products. Kaya Skin Clinic Products do contain added fragrance, silicones, sulphates, parabens! Also, it isn't clear if the brand tests on animals.
Overall analysing the performance of the products, I didn't have a very good experience with most Kaya Skin Clinic Products. Except for the Kaya Purifying Toner, none has impressed me. But still each person's skin is unique, so what did not work for me may work for you and vice versa. I truly wished their products worked for me, but sadly they didn't. Do let me know if you liked any Kaya Skin Clinic Products or your thoughts on the brand in general in the comments section below.
If you have come until the end, thank you so much for reading, don't forget to check out other brand reviews in this series.