Today I am reviewing Minimalist Granactive Retinoid 2%. Retinols and retinoids are star products in skincare right now. Everyone seems to get their hands with this vitamin A derivative by any means. Some treat this as an anti-aging elixir while some want to treat their sudden dullness with retinol. Beauty gurus and celeb makeup artists also have some good words for retinol and retinoids. With so much information and misinformation around retinol, we often get confused and scared. This Minimalist Granactive Retinoid 2% Review is going to be a great help for those aspiring retinol users who are still shying away from this amazing ingredient.
Product Description:
The next-generation anti-aging formula with 2% Granactive Retinoid is dermatologically tested to offer less irritation & a multi-fold better effect than other retinol and retinoid derivatives. This Anti-aging serum with retinoids reduces all signs of aging such as fine lines and wrinkles, resulting in younger firm skin.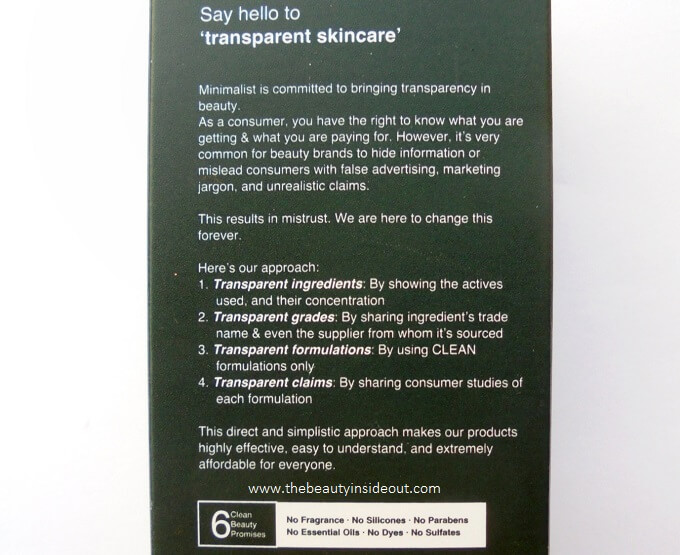 Ingredients: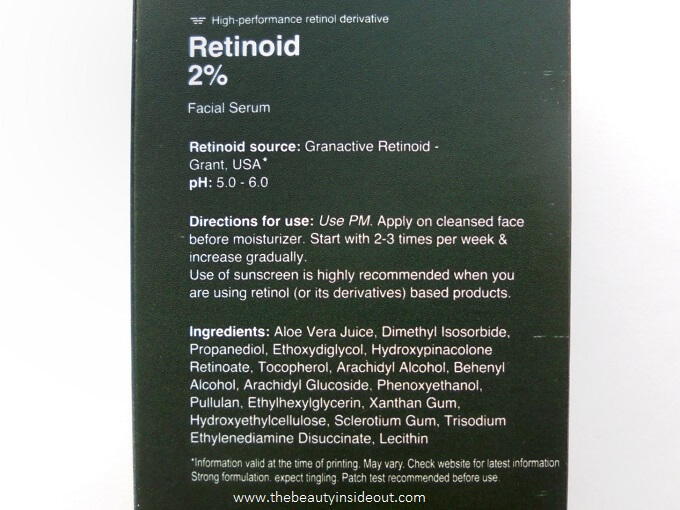 Where to Buy? Minimalist products are available on their own website. I have spotted the entire range of Minimalist skincare at Amazon, Nykaa, and Flipkart.
Minimalist Granactive Retinoid 2% Review
Packaging: This retinoid-based face serum comes in a dark glass bottle. Vitamin A derivative products such as retinol and retinoids might lose their efficacy if kept in clear packaging. Also, you should save your retinols from direct sunlight or excess humidity. The brand has attached a clear plastic dropper in the screw lid of the serum bottle. Sadly, the dropper is not that effective at picking the product because of the thick consistency of the product inside. I use the dropper as my go-to spatula and it picks the desired amount of product in one go. I appreciate Minimalist for providing a complete ingredients list in the bottle's label as well as its black cardboard outer packaging.
Colour & Texture: Minimalist Retinoid Granactive 2% face serum is colorless. Its ingredients are white in color so the serum looks whitish too. The texture is quite dense. I thought it would leave an oily residue. However, the serum was quite light for the skin and got absorbed into my skin within a second. It is an oil-free product. According to the ingredients list, this serum contains Granactive Retinoid in 2% strength in aloe vera gel base. Since retinoid is not a very stable compound, there are some stabilizing ingredients too. But the best part is, all the ingredients are skin-friendly.
Related: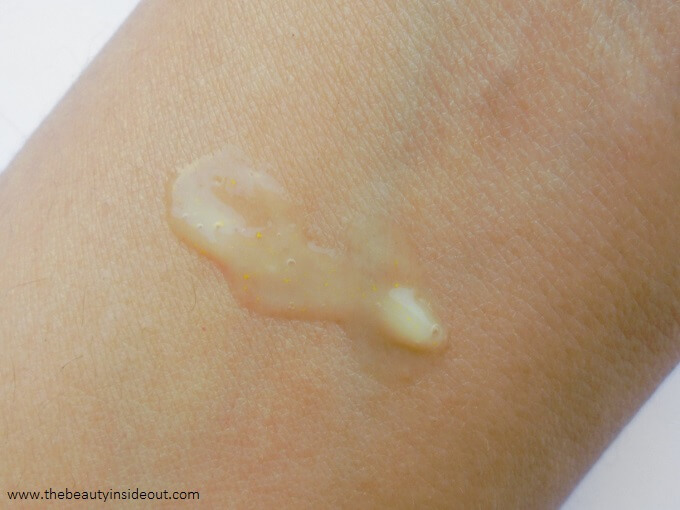 My Experience:
Before getting into my experience on Minimalist Granactive Retinoid 2%, let's clear some clouds around retinol first. Retinol is sourced from vitamin A. Studies have shown that Vitamin A, if used properly, can help with a plethora of skin issues. You can use retinol if you have super oily skin with frequent breakouts. Retinol doesn't help in keeping the face matte like other ingredients, it will teach your skin cells not to secret too much oil. Retinol is also a great ingredient for age-related skin issues including the first appearance of fine lines, sudden dryness, uneven skin tone, and age spots. But, this seemingly fabulous ingredient might cause intolerance in your skin if not used properly. Retinols make your skin more sensitive, so there might be slight burning as you apply it. It makes your skin sun-sensitive so sunscreen is a must for retinol users. You should never use retinol with chemical exfoliants like salicylic acid, glycolic acid, or lactic acid. Retinols are generally a stronger form of skin care-related vitamin A so you can't buy them in India without a prescription. Retinoids are a more skin-friendly and highly tolerable form of vitamin A. You won't need a medical practitioner's guidance for getting one for yourself. Minimalist Granactive Retinoid 2% is a retinoid; not retinol.
I have included Minimalist Granactive Retinoid 2% in my night skincare routine. I wash my face first with a simple face wash. I don't use any ingredient-based face cleansers at night because it may hinder retinol's efficacy. I apply two drops of retinoid serum on slightly damp skin. I just dot and spread the product on my face leaving the eye and lip contour. I let the product absorb for 20-30 seconds and then move on to moisturizer. Again, I use a simple moisturizer without any specific ingredient. The last step of my skincare is a little bit of plant-based squalane facial oil.
I have been using this Minimalist Granactive Retinoid 2% for 7 weeks now. For the first two weeks, I was getting a little itchiness and extreme skin peeling. There was a sudden pimple outbreak as well. I skipped the product for a week. I started to use it regularly from the 4th week onwards. Now, my skin has got familiar with the product. My skin doesn't give any sensation or redness after application. I haven't faced any skin peeling or flakiness as well. I don't have any fine lines. But, this serum has made my skin smooth, even-textured, and controlled the appearance of the enlarged pore to a good extent. Now, I wake up in the morning with fresh and glowing skin. Thanks to this amazing serum, this winter I haven't faced any serious acne issues. My t-zone looks and feels less oily. I am happy to find this highly effective and skin-friendly retinoid serum.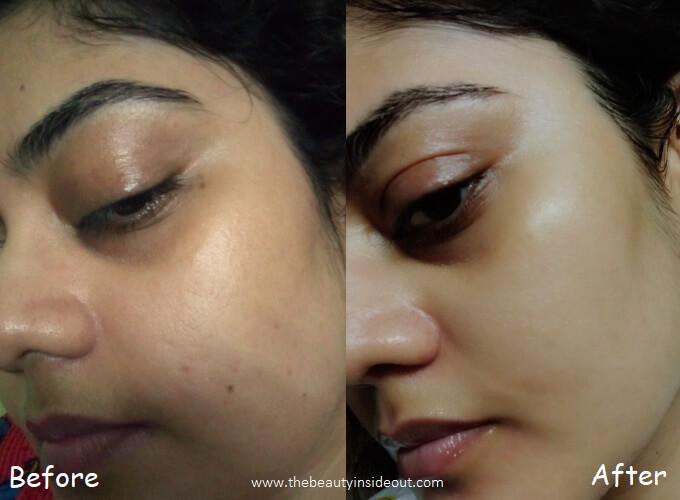 Pros:
Over the counter retinoid for all skin types.
Helps with oily skin, acne, and enlarged pores.
Caters dryness and dullness of mature skin.
Helps in fading old acne marks.
Free from parabens, added colorant, and fragrance producing chemicals.
Cons:
The dispensing dropper is unable to pick the product from the bottle
Rating: 5/5
Would I Recommend? Minimalist Granactive Retinoid 2% is a fuss-free product. It is a simple retinoid serum with an aloe vera gel base. If you can't invest thousands in The Original's retinol serum, this is the best alternative in India right now. The serum worked really well for my skin. I would definitely recommend it to everyone having blackheads, dullness, uneven skin, excess oiliness, and premature aging issues.
Where to buy? Amazon.in