I am up with another review today and it's about Kaya Youth Oxy Infusion Face Wash. Kaya Skin Clinic is a very popular skincare chain offering extremely beneficial ingredient-based skincare products. Kaya products are generally a little above the affordable skincare range. But, Kaya's Youth range offers pocket-friendly skincare. I have heard lots of good things about Kaya and that made me order their new launch Aloe Hydration Face Wash on a popular online shopping site. The online store sent me Kaya Youth Oxy-infusion Face Wash in place of the aloe one. It was on a no-return policy so I started using this foaming face cleanser instead of the aloe-based gel cleanser. Here goes the review for Kaya Youth Face Wash.
Product Description:
Created with the help of over 200 dermatologists from the Kaya Skin Clinic, Kaya Youth Oxy-Infusion Face Wash gently cleanses your skin. Its micro-circulation complex enhances the supply of oxygen to skin cells leaving your skin squeaky clean and glowing.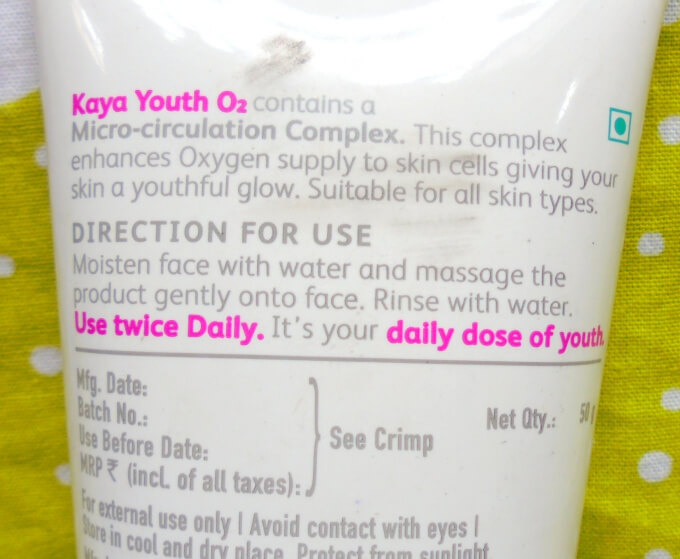 Ingredients: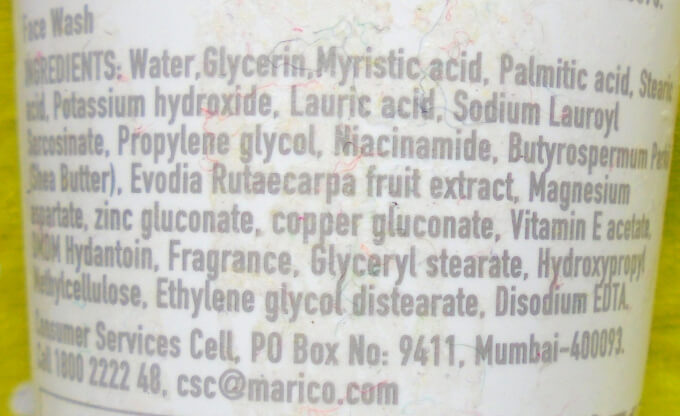 Price: Rs.99 for 50gm
Where to Buy? This face wash is available on various online shopping websites like Amazon, Nykaa, and Flipkart. They give good discounts as well. It is also available at Kaya Skin Clinic and some leading grocery stores. This brand is popular in metro cities. If you live in a suburban area like me, online might be the only way to get your hands on Kaya products.
Kaya Youth Oxy Infusion Face Wash Review
Packaging: This face wash comes in a white opaque squeeze tube. The flip-top cap is also of white color. The packaging is sturdy and travel-friendly. I bought the smaller size; there's one more size(100gm) available for this. The packaging is very simple. The informative details are written in silver and grey. It makes the tube look even simpler.
I have a small thing to share here. There's no doubt that the packaging is good and spill-proof. But, the product level is up to the Kaya logo; almost half the tube. The packaging wastes too much plastic. It could have been more plastic positive.
Color & Texture: Kaya Youth Face Wash look pearly white. Its texture is smooth; there's no scrubbing granule. The density is medium. Foaming face washes are generally denser than this. The wash creates a good amount of lather. Like any other foaming face wash, the wash gets removed from the skin with a few splashes of water. The formula is paraben and sulphate-free.
Fragrance: The wash has a mild floral fragrance. The smell does not stay long though. There's artificial fragrance mentioned in the ingredients list. Definitely, the smell is not natural. The mild nature of the fragrance won't be a cause of bother for sensitive nose people.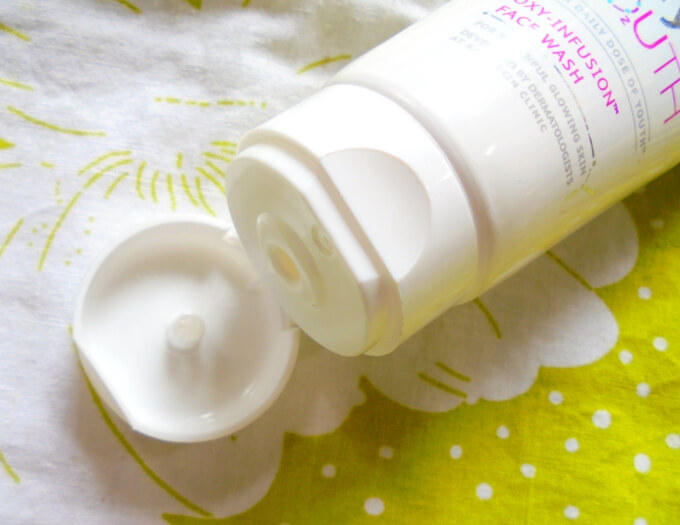 My Experience:
I don't enjoy foaming face washes that much. I am more of a gel wash person. Though my skin has all the issues of oily skin, I don't like the stretchy feel of foaming washes. Foam washes make my skin oily again in a few hours. Coming to this particular face wash, this is a mild foaming face wash. Pocket-friendly foaming face washes contain sulphates to create lather. This one does not have sulphates. Naturally, the wash is more gentle. I only need a pea-size product to cover my face and neck. The lather is rich and creamy. After washing my skin feels dry and stretchy. I have to moisturize my face immediately. Otherwise, my sensitive nose area starts to feel scratchy. I have once used this subsequently for 3 days, my skin felt drier in a few areas. The other places were very oily. I have stopped using it regularly and my skin came back to normal in a few days. I only use this 2 times a week. This way, the skin behaves nice. My mom and brother have very oily skin. They love this wash very much. I feel this wash performs better on less sensitive men's skin.
Pros:
Gentle foaming face wash.
Makes skin feel squeaky clean.
Paraben and sulphate free.
Pocket-friendly.
Good for both men and women.
Cons:
Strictly not for dry skin.
No long-term benefits.
Rating: 2.75/5
Would I Recommend? Kaya Youth Face Wash is just another foaming face wash in the affordable range. It makes you feel squeaky clean and has paraben and sulphate free formula. I would recommend it to those who have very oily skin or are in love with foaming face cleansers. It's a good face wash for oily men's skin.