In the language of science, moisturizers are of two types; occlusive and emollient. Occlusive moisturizers create a moisture barrier over the skin's surface so that the natural moisture balance of the skin remains intact. Natural oils, petroleum jelly are occlusive moisturizers. The emollients, on the other hand, stays on top of the skin and captures moisture from the air to plump up the skin. Honey, Glycerine, Hyaluronic Acid are such moisturizers. Hyaluronic Acid is among the best moisturizing ingredients for our skin because our skin's cellular system responds to it extremely well. Hyaluronic acid works well for all skin types. That's the reason many face serums contain Hyaluronic Acid in high quantity. Today I am going to share my experience on my favorite Hyaluronic Acid-based face moisturizer, Ponds Super Light Gel.
Product Description
Ponds Super Light Gel is a lightweight gel-type moisturizer that provides long-lasting hydration. Infused with moisture-boosting hyaluronic acid, it improves skin's natural moisture-holding capacity, making it soft and bouncy. The non-oily formula keeps oiliness and stickiness at bay, keeping the skin feeling fresh.
Ponds Super Light Gel Ingredients
The star ingredients of the Super Light Gel are
Niacinamide: anti-acne, skin brightening agent.
Hyaluronic Acid: super hydrator locks moisture into the skin.
Vitamin E: antioxidant that fights free radicals.
Glycerin: humectant moisturizes the skin.
Ponds Super Light Gel is Paraben Free, Alcohol-Free, and Sulphate Free.
It claims to be Non-Comedogenic, but as far as COSDNA Analysis, it does have Comedogenic Ingredients.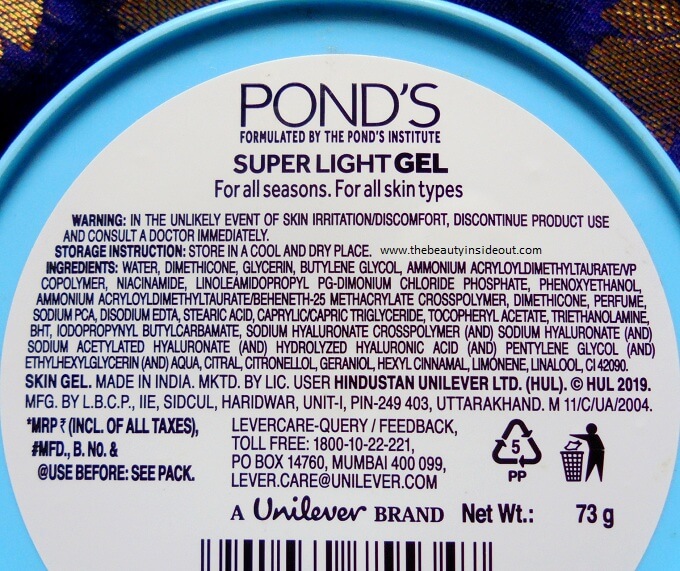 How to use Ponds Super Light Gel?
After cleansing and toning your skin, take a doll up of the moisturizer and gently massage it on the skin in circular motions.
Ponds Super Light Gel Price
73gm – 149 INR
147gm – 299 INR
Where to Buy? This moisturizer is easily available both online and offline. You will find this one in any beauty store, major grocery stores, and departmental shop chains across India. It is also widely available online at various online shopping sites like Amazon and Nykaa. I bought mine from Nykaa.
Ponds Super Light Gel Review:
Packaging: This gel cream comes in a light blue plastic tub. I am not a huge fan of tub packaging because products have a high chance to get contaminated in wide-mouth containers like tubs. However, in tubs, you can use up till the last drop. This gel comes in two sizes. I bought the 73gm one; this is the smaller one. I wanted to try out the product so I didn't go for the big tub. The packaging is compact and travel-friendly. I didn't experience spillage. I didn't open up the inner foil seal at once otherwise the product might create a mess inside the container.
Color & Texture: The Super Light Gel is basically a translucent and colorless gel-creme. The formula is extremely light-weight and quick-absorbing. It provides instant hydration to the skin. Once the gel settles down, it makes the skin look radiant and plump. Its consistency is lighter than regular Aloe Vera Gel. Aloe gel gets completely absorbed but this gel leaves a moist feel behind. The watery texture of the Ponds Gel is very much relatable to the Neutrogena Hydro Boost Water Gel and Laneige Water Sleeping Mask.
Fragrance: The gel is lightly fragrant. It has a light floral fragrance. The smell does not last long; it fades away in a few minutes. Thankfully, this one does not have a heavy fragrance like Pond's Cold Cream.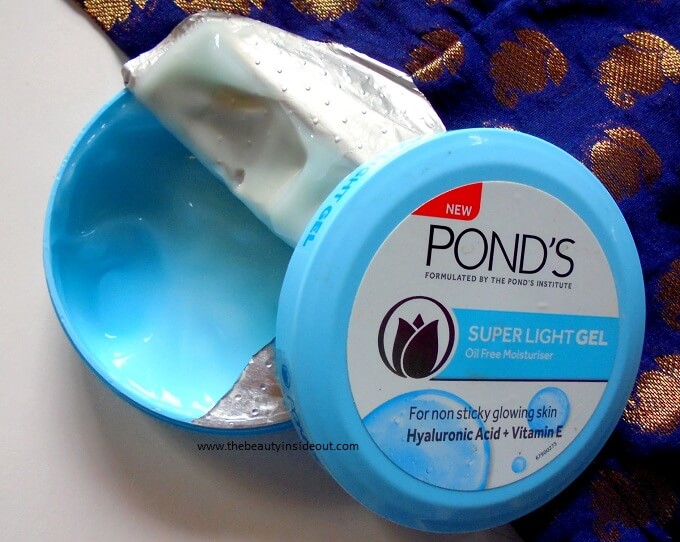 My Experience:
Ever since I started ingredient-based skincare, I have found two hidden gems; Hyaluronic Acid and Salicylic Acid. I have combination skin with acne issues. Non-Comedogenic Moisturizers are a must for me. I generally use hyaluronic acid in toner form such as the Klairs Supple Preparation Facial Toner. I use the Ponds Super Light Gel immediately after cleansing my skin. My skin needs a little more boost of moisture in winter so I top it off with a more heavy moisturizer like Cetaphil Moisturizing Lotion.
In summer, this gel would be enough to keep my skin hydrated. This moisturizer makes the skin instantly nourished. My skin does not feel greasy at all. It also works really well under makeup. Its formula helps the foundation to blend seamlessly. I don't apply primer. This gel-cream contains glycerine so it acts as a go-to dewy primer. I have been using it for 3-4 months continuously. I haven't experienced zits of blocked pores or excess pimple outbreaks in my skin due to this.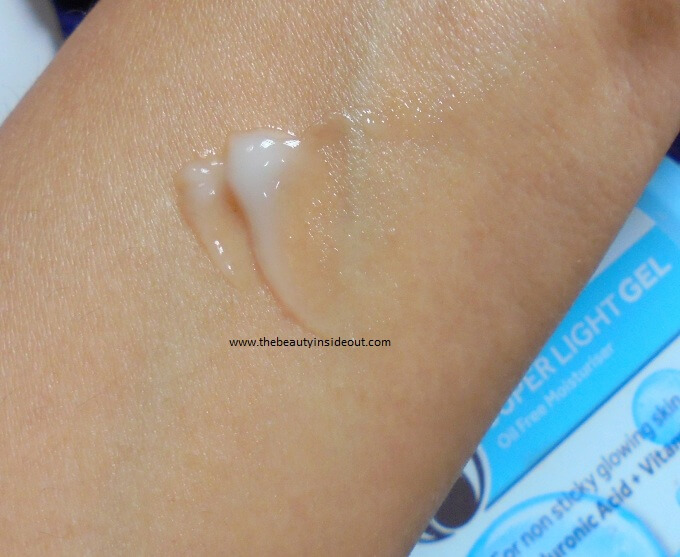 Ponds Super Light Gel Side Effects
I haven't had any side effects from using the Ponds Super Light Gel. It's pretty gentle and soothing on the skin and would suit all skin types.
Ponds Super Light Gel VS Neutrogena Hydro Boost Water Gel
My favorite hyaluronic acid-based product was Neutrogena Hydro Boost. Neutrogena one is slightly out of budget for me so was looking for a cheaper alternative. That's when I found this newly launched Ponda Super Light Gel. It costs just a fraction of the Neutrogena Gel and has a similar texture and efficacy. The Ponds Gel has Niacinamide in addition to Hyaluronic Acid making it slightly better in terms of ingredient benefits. If you are looking for a go-to dupe for the Neutrogena Hydro Boost Gel then the Ponds Super Light Gel fits the bill perfectly.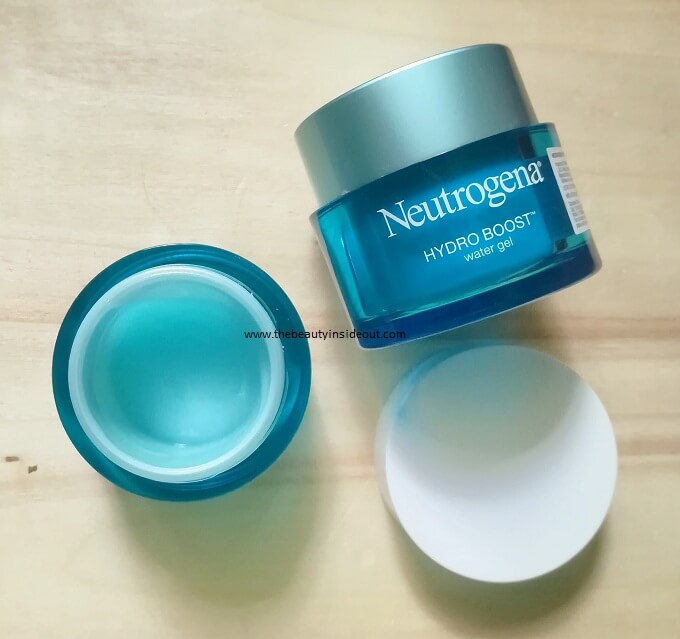 Summarizing the pros and cons of Ponds Super Light Gel
Pros:
Hyaluronic acid and Niacinamide Based light Gel Cream.
Claims to be Non-comedogenic formula.
Provides required nourishment and hydration to oily and combination skin types.
Makes the skin soft and plump.
Instantly removes dullness due to lack of hydration.
Pocket-friendly dupe for Neutrogena Hydro Boost Gel.
Cons:
Apart from the added fragrance, I found no other cons
Rating: 5/5
Would I Recommend? Ponds Super Light Gel is one of the best hyaluronic acid-based face moisturizers for oily skin. I would recommend this non-comedogenic moisturizer to everyone with oily, combination, and pimple-prone skin. Dry skin people too can use it as a toner.