Though my facial skin is of combination type, my body skin is extremely dry. Body moisturizers are my all time companions. I generally buy body lotions in summer but in winter I have to get a body butter to keep my skin moist all day. Body butters used to be a costly skin luxury in India even a few years ago. Now, the situation has been improved a lot as many brands launched their own versions of body butter. Body butters are thick body moisturizing creams that create a protective barrier on top of our skin. It keeps our skin soft and nourished longer than body lotions. Body butters are best suited on dry skin that has no body acne issue. My today's review is about Vaseline Cocoa Glow Moisturizing Cream. This is the body butter version of Vaseline's famous body lotion in the same name. Let's keep reading to find out more on this product.
Product Description:
Vaseline Cocoa Glow Moisturizing Cream is an all purpose moisturizer that provides intense moisturization. Enriched with pure cocoa butter and shea butter this cream makes the skin soft, supple and glowing.
Ingredients:
Price: Rs.230 for 250ml/235gm
Where to Buy? This body cream is easily available both online and offline. You can buy it at any popular departmental store, grocery store and even in top medical stores. If you want awesome discounts then you have to watch the deals in online stores like Nykaa, Amazon, Flipkart.
Vaseline Cocoa Glow Moisturizing Cream Review
Packaging: This body cream comes in a brown screw tub. The tub packaging leads to product contamination due to exposure. So, I always clean my hands before taking out the product. The packaging is sturdy and completely leak proof. I have bought the bigger tub; so my tub looks and feels bulky. Its perfect for home use. The brand also has a travel version of it.
Color & Texture: The body cream is very thick and creamy. Its colour is off-white but it looks almost white. Due to the dense formula, it does not get absorbed in seconds like body lotions. It takes 30-40 seconds of massage for the cream to seep through the skin. At last, you get a non-greasy finish. I have also used Dove Body Butters. This one has a more non-oily finish than Dove though the formula feels very similar on the skin.
Fragrance: It has a light mix of warm vanilla and chocolate smell. The fragrance is exactly same as the Cocoa Glow Body Lotion. The smell does not linger long. If you love lightly fragrant skin products like me, you will find it comfortable.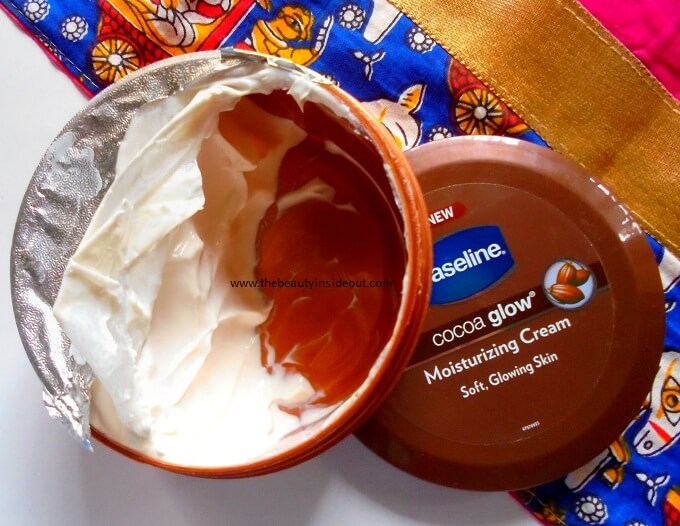 My Experience:
Though my skin gets dry easily in winter, I don't like to reapply body moisturizers time to time. I only apply body moisturizing products immediately after shower. I apply it on slightly damp skin so that the thick body moisturizer can lock the moisture to my skin. This method has helped me to achieve soft and smooth skin. If the moisturizer is not thick enough, my skin feels dry and stretchy after 3-4 hours. So, I only buy the rich body lotions or body creams. I am not a big fan of Vaseline's Cocoa fragrance , still I invested in this particular product because of its rich formula.
The formula feels really nice on the skin. I massage the cream into my skin for 1-2 minutes and within that time, majority of the cream gets absorbed. It doesn't leave oily residue in my clothes like body oils but provides the same amount of nourishment to the skin. I am using it for 2 months now and half the product is still left. Less is more with the product. If you apply more, the excess product will leave a stickiness. I haven't experienced any acne or rash after using this one regularly for 2 months. For me, this is an effective product. I would have loved it more if the formula was free from parabens.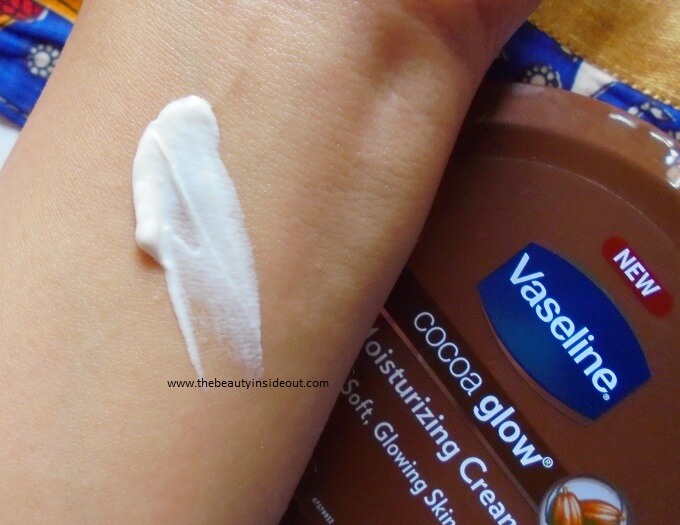 Pros:
Thick and creamy body butter for dry skin.
Keeps skin nourished for the entire day in dry winter.
Makes skin feel soft and radiant.
Does not feel sticky.
Does not have overpowering fragrance.
Easily available and budget-friendly.
Cons:
Contains paraben.
Might not be suitable for people with body acne issue.
Tub packaging.
Rating: 4/5
Would I Recommend? Vaseline's Cocoa Glow Moisturizing Cream is one of the best budget body butters in India. The formula is perfect for rejuvenating dull and dry skin in winter. So, I am going to repurchase this and suggest this to everyone. This is an unisex product so your entire family can enjoy this.