Today I will be sharing my experience on CGG Cosmetics Youth Potion Retinol Serum.The brand name CGG stands for Clean Green Gorgeous. Endorsed by popular model Anusha Dandekar, Cgg mainly focuses on ingredient based skin care. I have persistent acne issue and for my skin the ingredient based products work best. I have already incorporated Salicylic Acid and Hyaluronic Acid in my skin care. This time I was looking for an effective Retinol product for my night skin regimen. Retinol is a Vitamin A derived skin ingredient that helps in oil balancing, scar fading and reversing signs of ageing. I am in my late 20s now and my current skin goal is to set a healthy skin routine to dodge off the premature signs of ageing along with fading my acne spots. That's why I started using this 2.5% Retinol Based Facial Serum. After using this for 6 weeks, here is my view on it.
Product Description:
Cgg Cosmetics Youth Potion Retinol Facial Serum helps in reducing the appearance of wrinkles and improve dark spots. Niacinamide increases the rate of skin exfoliation and moisture barrier repair. It also helps in increasing synthesis of collagen and lipids. Retinol is an effective treatment for acne and acne scars and helps to unclog pores to clear up blemishes, reduce blackheads and minimize pores and prevents future breakouts by preventing dead skin cells from clogging pores. It also repairs elastin and stimulates collagen to fade acne scars. Hyaluronic Acid and Aloe Vera provides intense hydration even to the driest of the skin and helps to keep the skin soft, plumped and supple.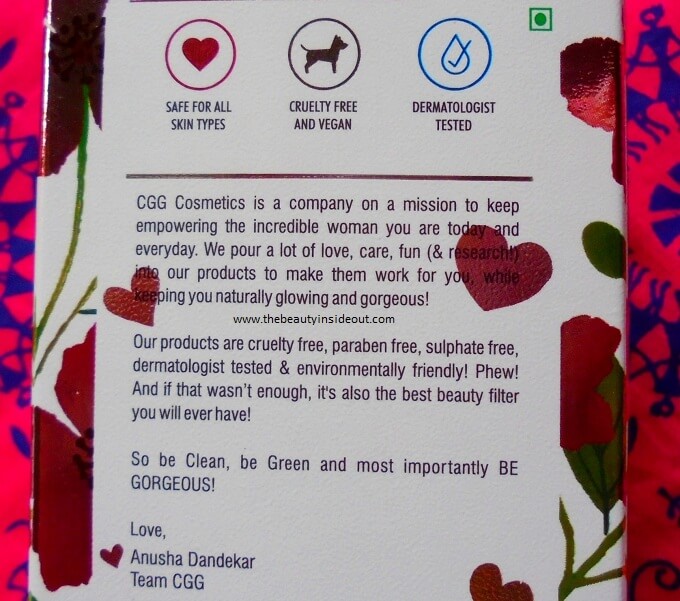 Ingredients: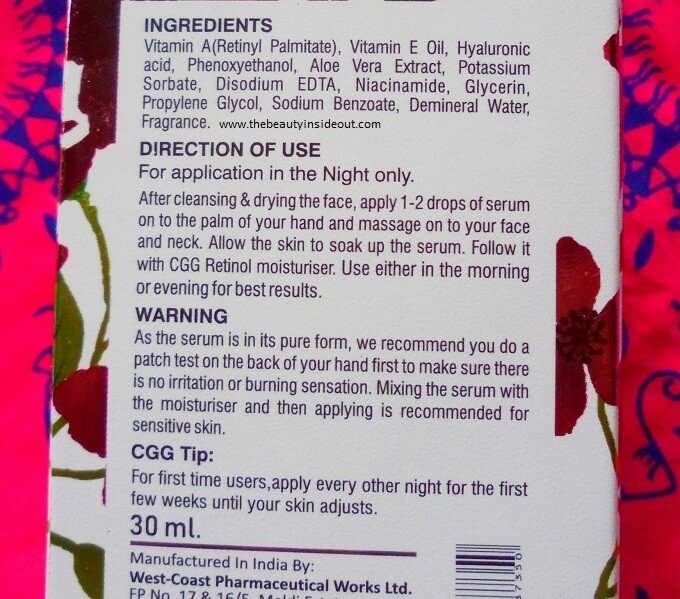 Price: Rs.950 for 30ml
Where to Buy? This serum is available on various online shopping websites like amazon, nykaa etc. Do check out for discounts as you might find a good deal on it during online sales.
CGG Cosmetics Youth Potion Retinol Facial Serum Review
Packaging: This serum comes in a white glass bottle with dropper nozzle applicator. This is the best packaging for facial serums and oils as you can control the amount of product as per the need. Glass also helps to keep the strength of the serum intact. The 30ml bottle is quite small and fits my travel skin care pouch. The brand also provides a cardboard outer carton to secure the glass bottle. The outer pack contains all the informative details. Overall the packaging is satisfactory for the serum.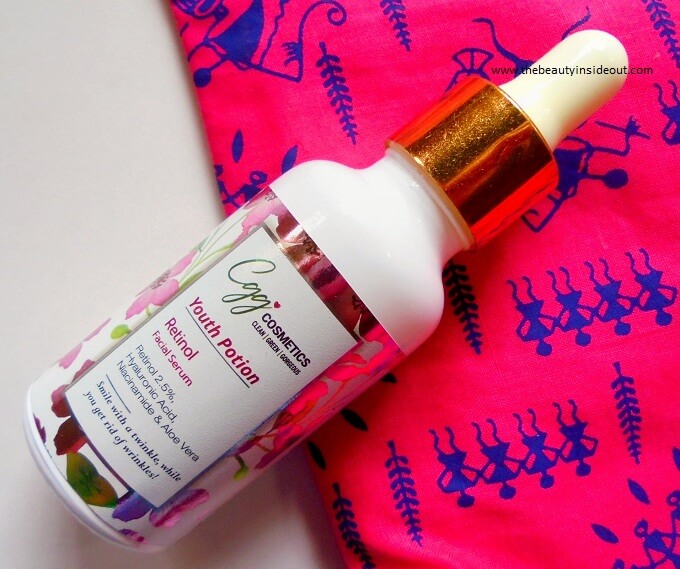 Color & Texture: The serum looks translucent off-white on the nozzle though it is a colourless transparent liquid. Its texture is very light; almost watery. It feels extremely weightless and non-greasy on the skin. It takes not more than 40-50 seconds to get completely absorbed.
Fragrance: It has a light floral fragrance. The fresh fragrance gives a feel-good sensation as soon as I apply it. The faint tress of the smell remains for 10-15 minutes. Though I like the fragrance very much, I would still prefer a fragrance-free serum. Fragrance producing chemicals sometimes cause irritations on my skin.
Related: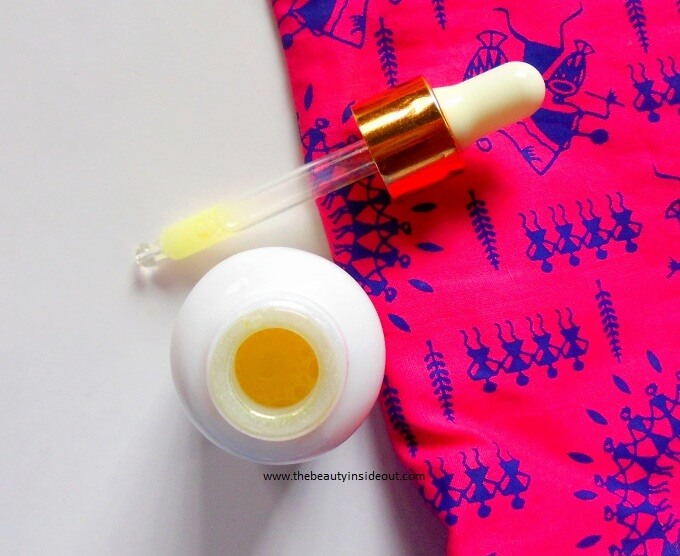 My Experience:
Cgg serum has 2.5% retinol in a base of hyaluronic acid, niacinamide, vitamin e and aloe vera. Niacinamide is another extremely effective ingredient for skin and I am happy that this serum contains this along with retinol. I heard retinol works best when you know how to use it properly. So, I decided to build a basic knowledge base on retinol by reading different dermatologists' opinions. It also helped me to have realistic expectations.
Retinol is powerful so our skin needs to get accustomed to it first; otherwise redness, rashes and other adverse skin conditions might happen. So, for the first 2 weeks I applied it every other night taking 2 drops of serum for the entire face and neck. For the next 3 weeks I applied it 2 consecutive nights leaving the third night. Now I am applying it for 3 nights and one day off. This way I have increased the tolerance of my skin without any sensitivity issue or burning sensation. The first night I applied too much product and it gave me burning sensation on my cheeks. After that I adjusted the amount and the problem got solved. I do not apply it on bare face. I apply a light layer of a Hyaluronic based moisturizing toner and on top of it I apply the serum. Then follow it up with my Cetaphil Moisturizer to balance off the dryness caused by Retinol.
After 3 weeks of usage I noticed slight smoothness on the skin; the skin feels more soft. This serum has helped in blurring out the appearance of pores to some extent. Retinol helps in surfacing the deep rooted pimples. After using this serum continuously, I had exactly 2 purge pimples so far; no other breakouts other than that. Salicylic acid reduces the effectiveness of retinol so I now use retinol at night and salicylic acid based Neutrogena Oil Free Acne Wash in the morning. This is my first retinol based skin product and so far it is working well.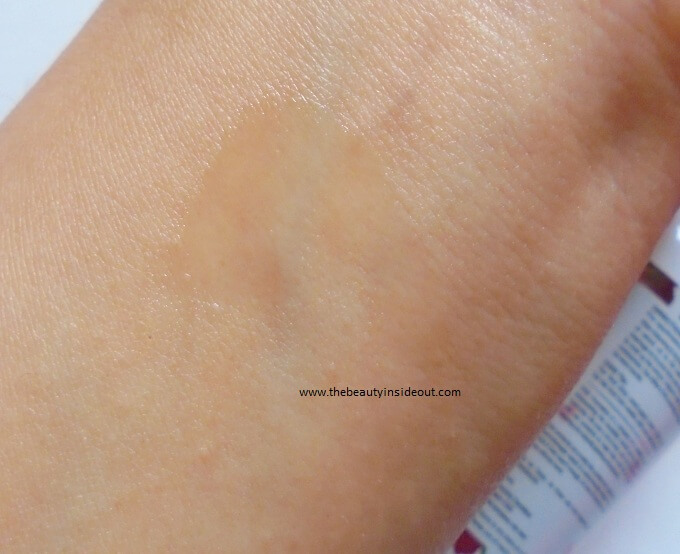 Pros:
Lightweight anti-ageing serum for all skin types.
Contains three potent ingredients: retinol, hyaluronic acid and niacinamide.
Reduces greasiness of skin.
Gives smoother and softer skin.
Makes the pores look less visible with continuous use.
Reduces dullness, fades acne marks and brings glow to the skin.
Cruelty-free, vegan, paraben free and environment friendly formulation.
Available on great discounts.
Cons:
Contains added fragrance.
Rating: 4.75/5
Would I Recommend? I would highly recommend this serum to those who are looking for a Retinol based face serum to kick start their anti-ageing skin care. If you are already familiar with Retinol based skin products then also you will find it useful. My skin has been loving this serum so I am definitely going to repurchase this when this current bottle gets over.