Eyeliner is that boy in your life you know you can't live without but has several problems when it comes to perfection. You know I am kidding! Anyway, eyeliner and kajal are most likely the first makeup product for any girl. Do you need anything other than a good eyeliner and lipstick on an everyday basis? Not really. Being a college student I go for affordable makeup products which will also give me a good reliable result. So when my trusted brand Lakme came up with this eyeliner I grabbed it without any thought. The 9 to 5 range has served me well in past years so let's see what happens to this product. So today I am going to review the Lakme 9 to 5 Eyeliner and if you are interested please keep reading till the end.
Product Description:
This deep black eyeliner from Lakme is enriched with colour rich pigment and does not fade easily. The new unique formula dries quickly into a waterproof matte for an effortless look.
Ingredients: Not Mentioned.
Price: 275 INR for 3.5ml
Where to buy? Nykaa.com, Amazon.in and various offline stores
Lakme 9 to 5 Eyeliner Review:
Packaging: The Lakme 9 to 5 Eyeliner comes in a triangular tube which has a golden lid and a rose gold bottom. The packaging is great for travelling as it takes as little space as possible and doesn't have a chance to break or spill. The tube is so small and looks good in your vanity.
Colour and Texture: The eyeliner is jet black in colour and the texture is very liquidy. It is so runny that the product can go out of hand when applying if not taken care of. So when applying, my advice to the readers, is that to rub off any excess product from the wand for better results.
Fragrance: The Lakme 9 to 5 Eyeliner has a mild scent which I believe all the products from 9 to 5 range have. The Eyeliner does sting or burn my eyes, so it's safe to say that it suits sensitive eyes and contact lens wearers.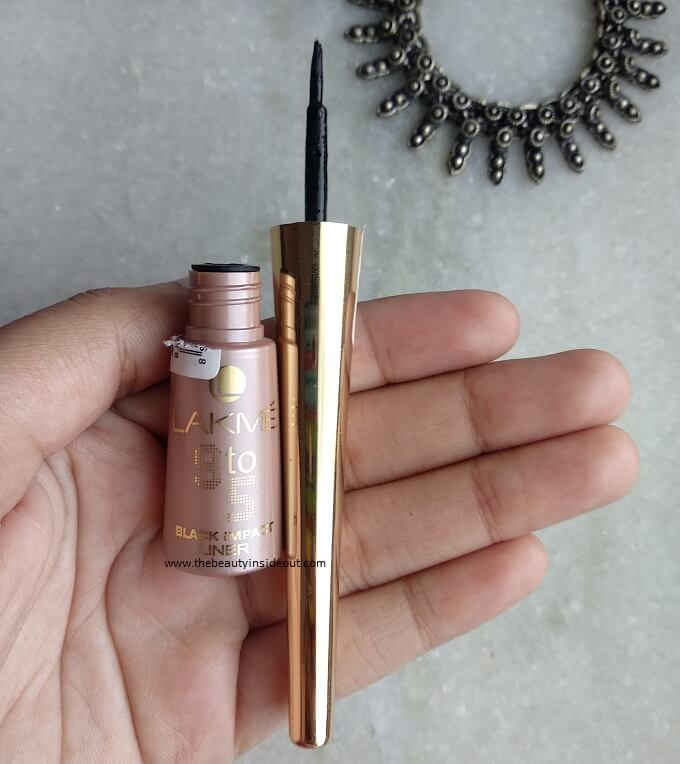 My Experience:
This eyeliner from Lakme has a very thin and delicate applicator wand. The tip of the wand is not pointy at all. You need to be very careful with the wand otherwise the winged eyeliner can go wrong. The eyeliner being watery takes a good amount of time to dry down. So one has to be careful until it completely dries otherwise it smudges and transfers on the eye lids. It is not ideal for those with hooded eyes like me as I had to keep my eyes closed for a transfer-proof finish.
To be honest, Lakme 9 to 5 eyeliner doesn't justify any of its claims. It is not waterproof and comes off with water very easily. I have quite an oily lid so the product gets everywhere for me after a couple of hours. The lasting power is not that great as well. The only good point I can say is that this can comes off very easily and you don't need any kind of makeup remover or soap.
Related: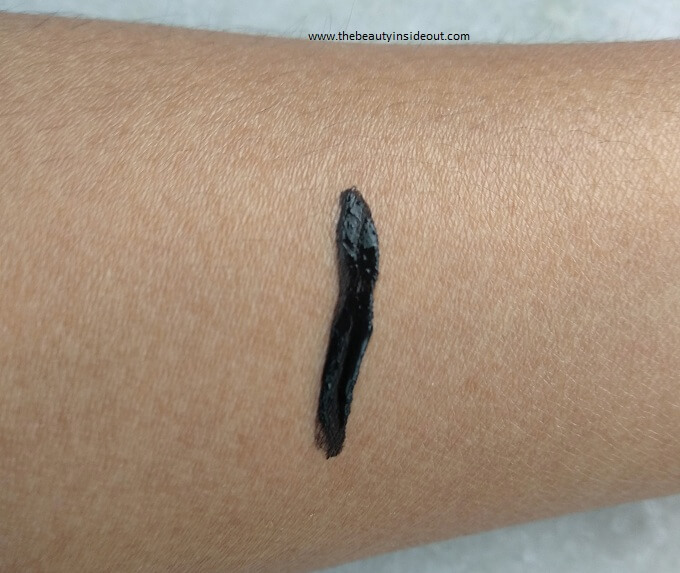 Pros:
Availability.
Affordable.
Jet black in colour.
Doesn't need any makeup remover.
Don't have any bad smell.
Cons:
The wand doesn't have any strong pointy tip.
Fades away unevenly and looks patchy.
Not waterproof.
Not beginner friendly for creating winged eyeliner.
Very runny hence gets everywhere.
Doesn't dry down quickly.
Rating: 1/5
Would I Recommend/ Repurchase? Coming from a reputed brand, I expected this to be a good product. But I'm disappointed. I wouldn't recommend this product to anyone.