It's a no brainer that you need to have a good quality hair cleanser to maintain healthy scalp. Clean hair and scalp not only increase your aesthetic quotient, it is also a matter of hygiene. Gunk filled scalp is the best residing place for various harmful bodies like bacteria and fungi. These often cause havoc on our skin, hair and overall health. Severe dandruff, itchiness, hair fall, scaly scalp, acne outbreaks are just a few examples of fungal infestation in our scalp. The increased level of pollution in environment adds up to this and cause dust and grime accumulation in hair and scalp. Using a clarifying shampoo once every few weeks is a great way to get back at scalp infections and it should be a must for people from every age group.
The job of a clarifying shampoo is to provide extreme cleaning. That's why most commercially available clarifying shampoo contain harsh chemicals like sulphates. Though you will get an immediate effect from these, you can't rely on them for their side effects. Sulphates have a tendency to accumulate in our body and that might cause fatal damages in the long run. Homemade DIY hair rinses are the best way to do a thorough scalp clean up. These are 100% chemical free and do the job efficiently and effectively. They are easy on your pocket as well! Today I am going to share a simple DIY Clarifying Shampoo with Chana Besan, Baking Soda and Rice Water. Let's read on to find out more!
What does this DIY Clarifying Shampoo do?
This homemade chemical free hair wash comes with multiple benefits.
Deep Cleanses Scalp and Hair: This hair wash is a perfect substitute for sulphate based clarifying shampoos. Unlike sulphate shampoos, it does not dry out the scalp yet cleanses impurities like excess oil and accumulated grime.
Gets Rid of Product Build-up: Styling products, hair conditioners etc. often leave a stubborn residue on scalp that we call build-up. Those who follow no-poo routine also face this issue. This clarifying hair wash gets rid of even the most stubborn product build-up over regular use.
Cures Itchiness of Scalp and Dandruff: This hair wash not only clarifies hair and scalp, it also fights with common scalp problems caused by bacteria and fungus.
Brings Volume and Lustre: This 100% soap-free clarifying shampoo makes the limp hair voluminous and bouncy again. It also adds a subtle lustre to your hair.
Ingredients: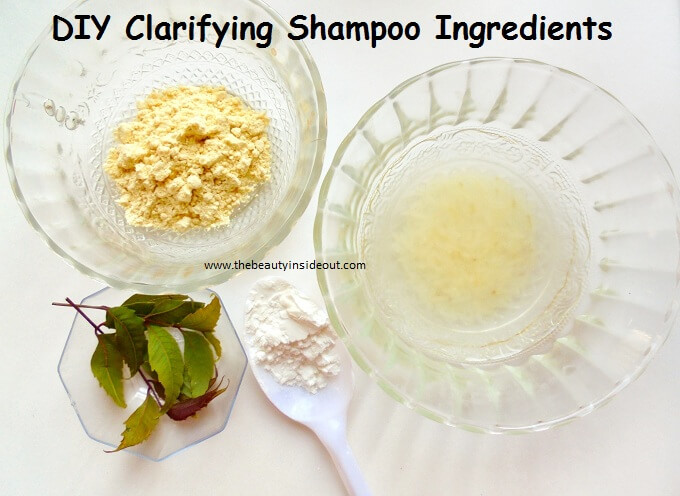 Gram flour or Besan: Use finely ground bengal gram or chana dal powder. This is an easily available kitchen ingredient. You can buy it in ready to use powder form. You can also prepare it at home using the dal.
Baking soda: Baking soda is a power ingredient but its effectiveness reduces with exposure to air. Make sure you are keeping the soda in an airtight container.
Rice Water: Always use fresh rice water for maximum benefits. You may also prepare it 2-3 days earlier but not more than this. Take 2 parts of water and soak 1 cup rice in it for overnight. Stain the water in a airtight bottle. Use immediately or refrigerate for later.
Neem Leaves: You may use fresh Neem leaves and twigs in your DIY but fresh Neem leaves are not accessible to everyone. In that case, use store-bought Neem powder or make your own Neem powder from sun-dried neem leaves.
Ingredient Benefits:
This simple homemade shampoo is extremely mild and non-damaging on hair. Each of its ingredients come with their own benefits. Combination of these potent ingredients make this a must for every hair routine.
Gram Flour: Just like Multani Mitti, gram flour is an excellent oil-control ingredient for skin. That's the reason it is added to Facial Ubtans for oily skin. Our scalp skin is very delicate and gram flour is the best ingredient to clean it with.
Baking Soda: When our scalp gets oily it loses its pH balance and becomes vulnerable to microbial outbreaks. Baking soda helps in balancing the pH level of the scalp and gets rid of excess sebum.
Rice Water: Gram flour and baking soda gets rid of oil from the scalp and hair. Rice water restores the natural moisture of the scalp and brings a healthy shine to your mane. The starch content from rice grains act as a natural conditioner. It makes the hair look shiny without weighing down the hair like silicone conditioners.
Neem: Neem is known for its powerful anti-inflammatory and protective properties. The leaves of neem contain essential oil of neem in high quantity. Neem oil kills the germs in the scalp and soothes the itchiness in scalp and reduces dandruff.
How to Make the DIY Clarifying Shampoo?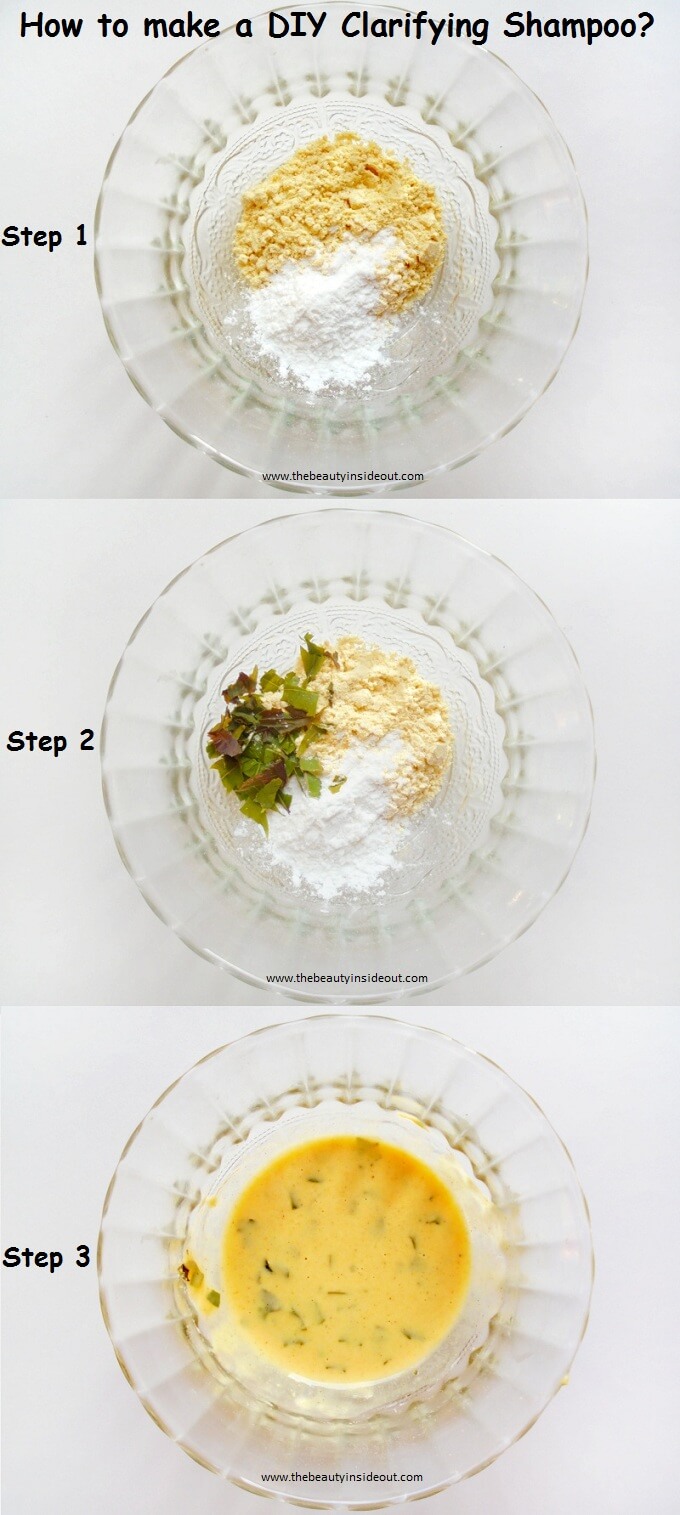 Take 4-6 tablespoon besan or gram flour in a bowl. Add ½ tablespoon baking soda to it and mix well. Adjust the quantity as per your hair's length. You may also sieve flour and baking soda for mixing.
Crush or paste 6-8 fresh neem leaves and add to it. If you are using neen powder, 1-2 tablespoon would be enough.
Now add rice water little by little and keep mixing. The dry ingredients should not get lumpy. When the mix reaches to pouring consistency, it is ready to be used.
How to Use or Apply the DIY Clarifying Shampoo?
You can use this DIY Shampoo in two ways.
As a Regular Shampoo: If you want to replace your everyday shampoo with this then apply it on damp hair just like any other shampoo. Massage the scalp and hair gently for a minute and rinse off. Repeat the entire process once again for a squeaky clean hair.
As Hair Pack + Shampoo: This is the best way to get the maximal benefits from this all natural hair wash. For this, you need to di ide the shampoo in two equal halves. Apply one half of the hair wash on your dry scalp and hair just like applying henna pack. Wait for 15-20 minutes and wash off with water. Now use the remaining portion to rinse your hair once again for deep cleansing hair and scalp.
Bonus Tips:
If you find baking soda harsh for your hair then replace it with 2 tablespoon apple cider vinegar or lemon juice. The effect will remain unchanged.
If you don't have rice water at hand, use green tea brew in same amount.
Those who are suffering from hair fall might add 1 tablespoon amla and 1 tablespoon bhringraj powder to the hair wash. This tip works for premature greying of hair as well.