Reds and pinks are my favourite lip colour choices for festive makeup. I love pink based bold reds and hot pink shades. Statement lips and muted eyes are my all time favourite makeup looks. When it comes to bold lips, I prefer a proper matte finish rather than the cream ones. I feel matte texture gives a more vibrant look to the lip colour while the shiny finish brings a darker vibe to it. Today I am going to present a comparative view of 3 of my most loved Nykaa Matte to Last Liquid Lipstick. I own three shades; Kufri, Kudi and Mishti. The first shade is from Nykaa's third shade extension in Matte To Last range while the later two are from their first collection. Accordingly, the shades have slight variety in texture and performance. If you are looking for a bright bold red or pink, keep reading!
Product Description:
Inspired by our rich cultural heritage Nykaa Matte To Last Liquid Lipstick is a lightweight & non-drying all day matte formula.
Price: Rs.239 for 1.2ml & Rs.549 for 4.5ml
Where to Buy? These liquid lipsticks are exclusively available at nykaa's online and offline stores. The full versions are come at percentage discounts on sale but the mini versions sell at MRP only.
Nykaa Matte To Last Liquid Lipstick Kufri, Mishti & Kudi Review
Packaging: Nykaa Matte to Last Lipstick comes in two sizes. The full size has black bullet style packaging with small transparent windows in each side. The mini size has a sleek transparent packaging. Both the packs have screw open system with applicator wand attached to the lid. Big one has tilted doe-foot applicator but the mini version's applicator is smaller and stiffer.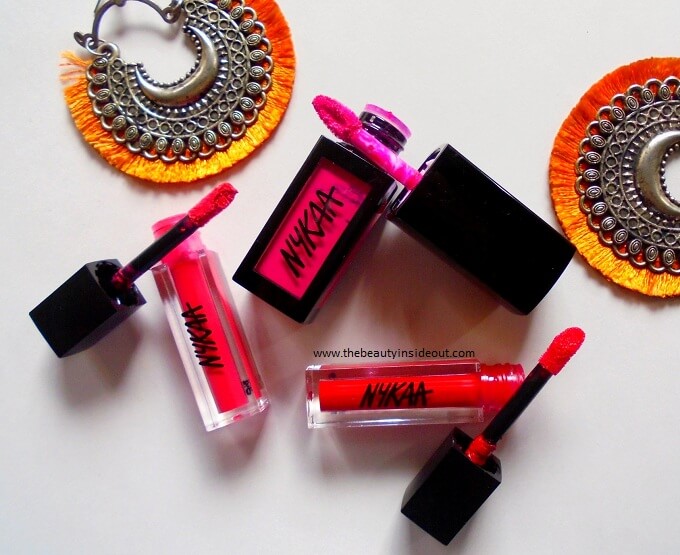 Kufri vs. Mishti vs. Kudi
Shade: All the three shades Kufri, Mishti and Kudi are quite colourful and vibrant. Kufri is a hot pink with warm undertones. The shade is not exactly a neon but have a bright vibe to it. Mishti is a pink toned red shade. Kudi is a cool toned fuchsia. It is even more vibrant than Kufri and imparts a slightly purple tone on the lips. This is the deepest fuchsia shade I have ever come across. Mishti, on the other hand, is a pink based red shade. It is not a classic scarlet red or cherry red. This blue toned red shade looks true red on lighter complexions and clings more on the pink side on deeper complexions.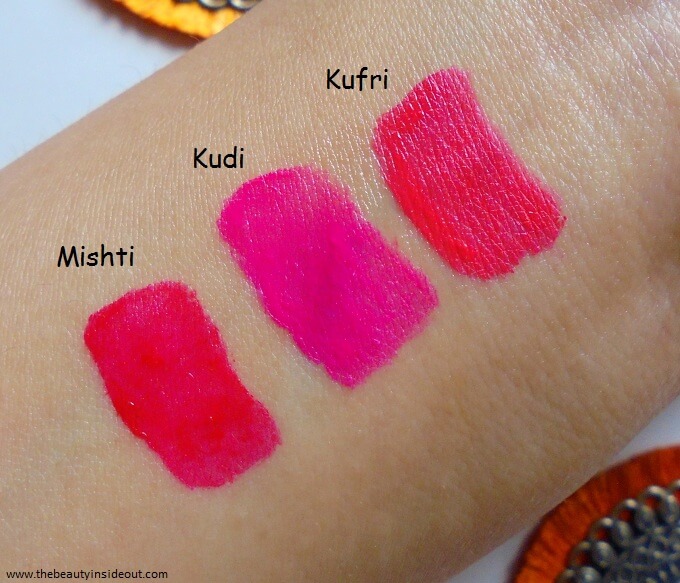 Texture & Pigmentation: There are variation in texture across Nykaa Matte to Last lip range. Some shades are thick and creamy while some are thin and less pigmented. All three shades are extremely pigmented. Mishti has thick and creamy texture. It is one of the best pigmented shades from this collection. Kufri has a nice formula as well. It is moderately thick and creamy. It looks slightly patchy at first if you take a very closed look in broad daylight. Thankfully, the patchiness goes off when it dries. Kudi is also a great shade in terms of pigmentation but its formula is thinner than the other two. So, it looks a little patchy on day time but the patchiness vanishes completely under artificial lighting.
Fragrance: All the shades have same vanilla mixed with floral fragrance. The fragrance does not stay long and goes off when the lip colour sets matte.
My Experience:
I don't wear bright lip colours on a daily basis. So, none of my lipsticks gets over within its expiry. I find it quite wasteful since makeup is not at all cheap. I love the concept of mini makeup products. When Nykaa launched their mini lipsticks, I rushed for the Mishti shade. I even went ahead and requested Nykaa to include more shades in their mini liquid lip colour range. You know what, all my requested shades got launched in mini!
Related:
Coming to the three lip colours of my collection, I wanted a bold red and exactly two pinks. I wanted a warm bold pink and a purple based blue toned pink. Nykaa's Mishti, Kufri and Kudi fit my bill perfectly. These shades look awesome across skin tones so everyone can flaunt them. The formula is light and comfortable on the lips. These are not crumbly or drying like many matte lip colours. All three shades look awesome on pictures. Though some of the shades look patchy on daylight, they look even and flawless in pictures both daylight and artificial lights. These stay 5-6 hours on my lips. They survive drinks and light snacks. They might get rubbed off from the inner part of the lips if you are not cautious while having heavy meals. The formula is transfer-proof. I haven't noticed any colour bleeding issue even in sweaty summer time.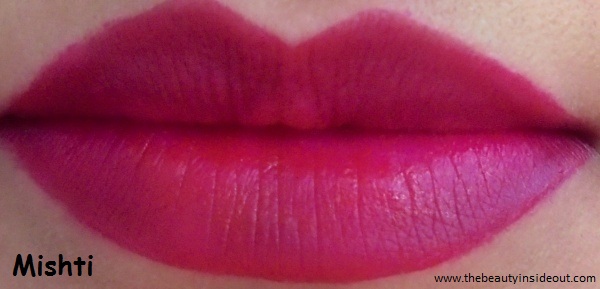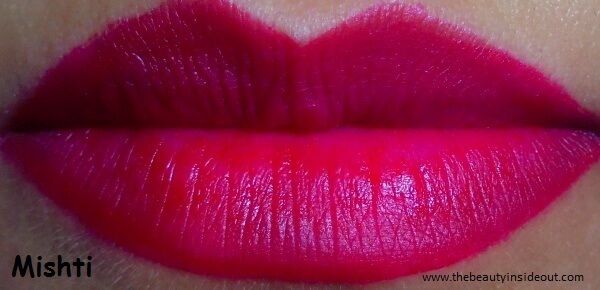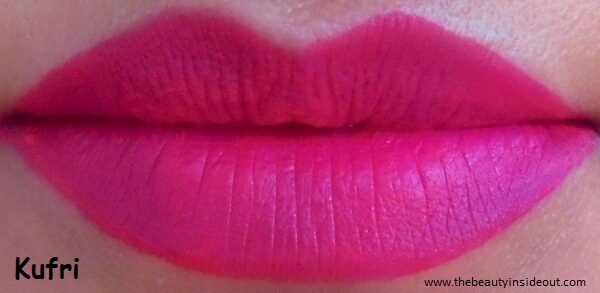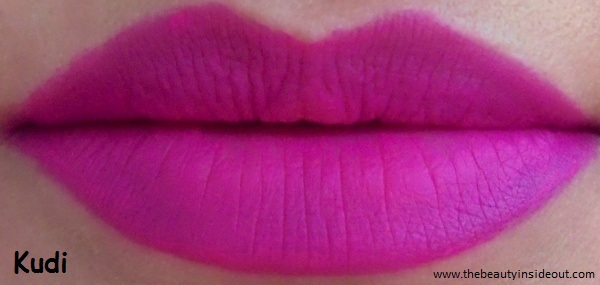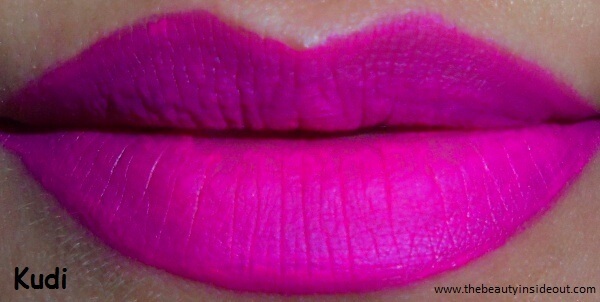 Pros:
Vibrant and pigmented lip colours.
Non-dry comfy finish.
Looks awesome in pictures.
Stays for 5-6 hours without fading.
Wearable under flash photos.
Transfer-proof formula.
Cons:
Kudi shade looks a little patchy in direct sunlight.
Formula and quantity wise price feels a bit hiked.
Takes a minute to settle into matte.
Rating: 4/5
Would I Recommend? All the three shades of the Nykaa Matte To Last Liquid Lipstick are good in terms of pigmentation, staying power and comfort. If you are looking for bold reds and pinks then you may try these. If you want to invest in just one shade from this range, then try Mishti or Kufri.