When it comes to mild and moisturizing bath and body care products, my vote always goes to Dove. I have had good relationship with their hair care range and also their body wash and body lotion range. Last winter they launched two pocket-friendly body creams; Dove Rich Nourishment Cream and Dove Deep Moisturisation Cream. Today I will be talking about the latter. Winter is almost at its end. My skin will need light moisturizers so I was looking for a light body lotions. In spite of being a 'body cream', this one has lighter formula so I bought this one in a recent online sale. Here's what I feel about this body cream.
Product Description:
Dove Deep Moisturisation Cream is a light, non-greasy body cream with a warm, luxurious scent. It leaves your skin deeply nourished, beautifully fragranced and silky soft. Enriched with unique nutriduo complex, this everyday Dove moisturising cream works in two ways. Combining natural skin nutrients and essential oil goodness, the dual-action formula nourishes the deeper layers of your skin, whilst preventing moisture loss from the surface.
Ingredients: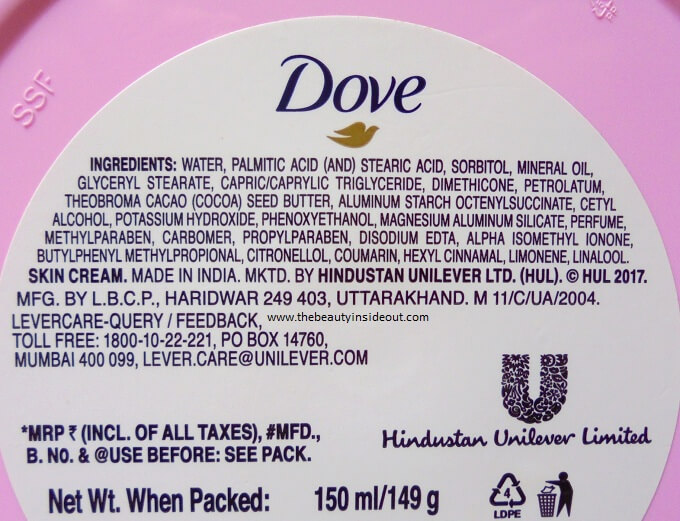 Price: Rs.199 for 150ml/149gm
Where to Buy? This body cream is easily available across the country. You can buy it at local beauty stores, departmental stores or even in grocery stores that stock basic skin care items. If you want to buy it at good discount, you need to get it from online stores like Nykaa, Amazon or Flipkart.
Dove Deep Moisturisation Cream Review
Packaging: This face and body cream comes in a wide-mouth plastic tub. he body of the tub is pastel pink and its screw lid is of white colour. The packaging is extremely sturdy and leak-proof. However, the tub packaging often cause the product to degrade fast. There is a metal foil seal. This seal needs to torn to get to the product for the first use. I have bought the 150ml; this is the smaller size. It also comes in a big pack containing  250ml product.
Color & Texture: It is a white colour cream with moderate thickness. It is not a dense or oily formula. It gents into the skin quickly and the skin feels non-greasy. The moisturization level is perfect for humid summer though it might feel a bit lacking for dry skin in winter.
Fragrance: This cream has a light floral fragrance. The soapy fresh fragrance is a bit similar to Dove original soap. The fragrance does not stay more than 30-40 minutes on bare skin. A faint whiff of fragrance remains on my body and clothes.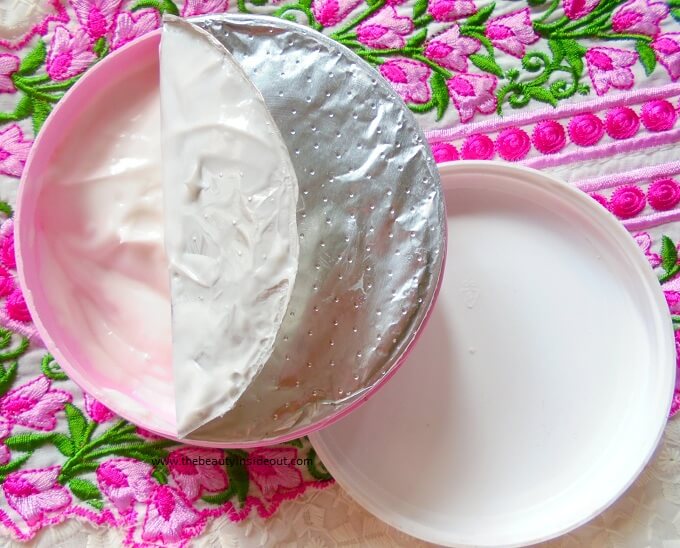 My Experience:
I have dry body skin. That's why body moisturizers are my absolute need. I like to try out different body lotions and creams. I use light lotions in summer keeping the heavy body butters for winter. This Deep Moisturisation cream is an excellent summer body butter. Body butters are generally thicker but this one has a comfortable light formula. It gets into the skin quickly; I don't need to wait for it dry. It makes the skin soft and supple for summer time. It does not cause excess sweat.
Related:
I have also tried Deep Moisturisation's other variant, Rich nourishment. The rich one has way more thick formula. So, I use that one in winter only. This one is not suitable for my skin type in winter. Since this one does not leave any creamy residue, I needed 3 reapplications in a moderately dry winter day. So, I won't recommend it for winter time. I like fresh soapy floral fragrances. This one smells exactly like that. So, I am planning to buy the bugger tub of this cream when this small one gets over.
Pros:
Light and non-greasy body butter.
Fresh floral fragrance.
Suitable for all skin types in summer and oily skin in winter.
Keeps skin moisturized and soft for whole day.
Gets absorbed quickly.
Pocket-friendly and available at good discount.
Cons:
Might not be enough to counter winter dryness.
Tub packaging.
Not paraben free.
Rating: 4.5/5
Would I Recommend? If you want a fragrant body butter for fresh and moisturized skin in summer, this is the product you need to try. Considering the price, the quality and quantity is great. So, I will be recommending it to all.