Apart from the roots, the other parts of our hair is made up of non-living components like protein etc. As the hair grows out, it faces environmental damages, damages caused by cleansing shampoos and heat-styling tools. As a result our hair strands lose their nutrients and becomes frail, damaged, crinkly and unruly.  Hair smoothening treatments done at salons are chemical based procedures to infuse proteins and other nutrients to the hair strands. Though this popular treatment provides an instant smoothness to the hair, they cause more harm than benefit in the long run. The smoothening creams cause lots of harmful chemicals and rigorous smoothening process damages our hair from within. Also, these expensive treatments make you dependent on them. Its like a vicious cycle where you feel the urge of frequent retouches within 6-8 months your last salon smoothening session. Salon smoothening comes with its own issues like extreme hair fall and breakage-prone hair. Here I am going to share a 100% damage-free hair smoothening routine with just 4 easily available ingredients. This cost effective home treatment will give you stronger and healthier hair with desired smoothening effects. Plus, this treatment is perfect for both straight and curly hair.
Why should You Try this DIY Hair Smoothening Treatment?
This DIY Hair Smoothening Treatment comes with a handful of benefits. It not only smoothens and repairs the hair but also makes the hair healthy. If you are someone who has naturally dry hair like me or suffering from heat damage or chemical damage then this pack will certainly help you. The result will be even more stunning if you ditch the heat stylers and invest into healthy lifestyle instead. Here are some benefits of this treatment.
Relief from Dryness: This hair mask supplies a boost of nourishment to the hair. The
Stronger Hair: The protein and fatty acids present in this pack strenghtens the hair. It helps to heal the brittleness problem and hair fall due to breakage.
Added Lustre: The awesome ingredients of this pack makes hair look shiny and reduces dullness.
Less Frizziness: This pack makes hair more manageable by reducing frizziness. Detangling will be easy peasy when you use this pack regularly.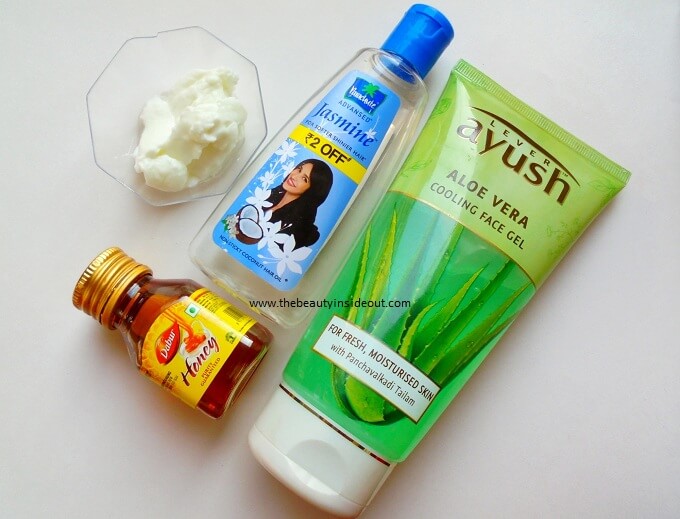 Ingredients:
Curd: Plain sour curd is best for this pack. Use fresh curd for maximum benefits. You can also use yogurts but stay away from diet ones. Diet yogurts contain minimum fat which is not quite suitable for smoothening.
Honey: Pure unadulterated honey works best for this pack. I don't have access to this so I use an food grade processed honey.
Coconut Oil: Any natural oil is fine for this mask. You can use any mineral oil and chemical free oil as per your liking. My hair is accustomed to coconut oil so I use it for most of my DIY Hair Masks.
Aloe Vera: Freshly extracted from aloe vera leaf gel is ideal for this treatment mask. It is a tine consuming task so I use store-bought aloe vera gel containing at least 90% aloe extract.
Ingredient Benefits:
Curd: Curd is an extraordinary ingredient for dry and frizzy hair. It contains protein, and healthy fat that moisturizes and replenishes the hair. Being high on vitamin D and B3 it soothes the microbial infections and dandruff.
Honey: Honey is like a nourishing elixir for the hair. It provides strength to the hair follicles, stimulates hair growth and conditions dry hair.
Coconut Oil: If you want healthy hair, you need coconut oil in your life. Coconut oil is rich in fatty acids that moisturizes hair. It coats the hair shafts to prevent damage and tames the unruly hair. Regular use of virgin coconut oil also helps in preventing hair thinning.
Aloe Vera: Aloe Vera is considered as the 'magic plant' for its numerous benefits in treating various skin and hair issues. Aloe vera gel hydrates, protects the dry shafts of hair and its constituent vitamins and minerals bring back the liveliness of the hair.
How to Make the DIY Hair Smoothening  Treatment Pack?
Here are the steps of making the pack for your at home hair smoothening treatment. I am listing the amount for medium length hair.
1.Take 4-5 tablespoon curd in a non-metallic container. Add 2 tablespoon honey to it.
Take 2 tablespoon coconut oil and 1 tablespoon aloe vera gel.
Mix well to get smooth paste and your pack will be ready to use.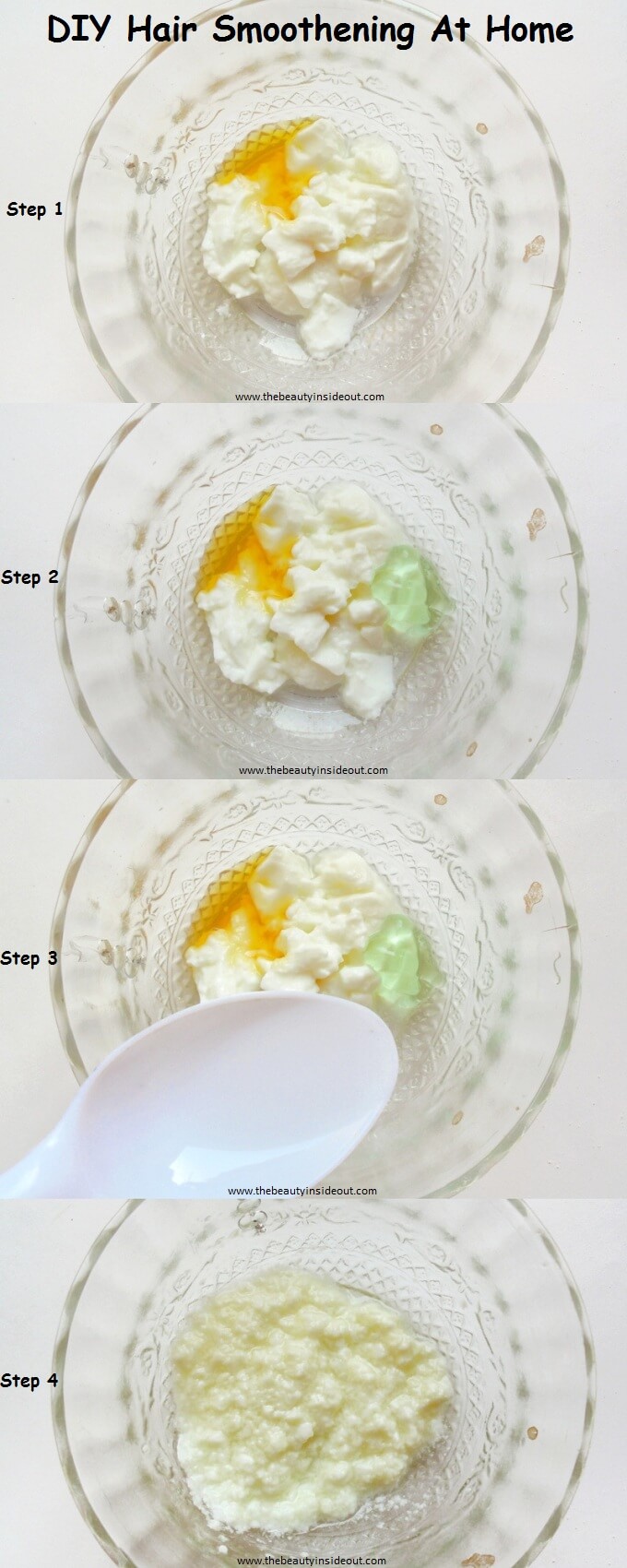 Steps of DIY Hair Smoothening:
Wash your hair a day before applying the smoothening pack. Clean scalp and hair will provide better results.
Detangle the hair. Take freshly prepared hair pack and apply it along the length of the hair. The hair should not be moist.
Make sure to coat each and every strand with the mask. You can section out the hair for ease of application.
Apply the remaining mask on the scalp.
Keep the hair straight. Do not wear it in a bun as we do while applying henna.
Let the nutrients get soaked in the hair for 45 minutes and then wash it off.
Use a mild herbal cleanser for washing the hair. Use aloe vera gel mixed with a little almond or olive oil as leave in conditioner.
Once your hair dries 70-80%, detangle and comb repeatedly for 5 minutes in case of straight hair. For curly or wavy hair this step is not needed. But, you should crunch your hair immediately after putting the leave in conditioner. This is the best way to get smooth and defined curls.
What to Expect?
Since this is not a chemical based salon smoothening treatment or keratin treatment, the first use might not yield the salon-perfect results. You should experience some smoothness in the hair. The hair will be more manageable. If you continue this treatment once in two weeks for at least 6-8 times while maintaining a basic hair wash-hair oil routine, the results will certainly be noticeable. The results will definitely be more long-lasting if you limit heat-styling.
Bonus Tips:
If you suffer from smelly scalp, add a few drops of your favourite essential oil to the mask. The hair will smell awesome through the day.
If you have dandruff issues, add a teaspoon of ginger juice to the mask.
If you don't have curd at hand, use mayonnaise instead. The result will be equally good.