We all have that one brand that doesn't disappoint us with its products. Whenever certain products doesn't suit us and causes problems in our skin, we tend to have the mind set to return to our tried and tested holy grail brand. In my case, for skin care it's definitely Neutrogena. Be it face wash, scrub, moisturizer or sunscreen Neutrogena haven't let me disappoint. Today I am going share my experience with the Neutrogena Deep Clean Blackhead Eliminating Daily Scrub. Let's get started with the details of the product first.
Product Description:
Neutrogena Deep Clean Blackhead Eliminating Daily Scrub with its double action formula gently scrubs away blackheads and prevents new ones from appearing. It removes dirt and oil from within and unclogs pores. By cleansing the skin from deep within, it gives you skin that feels and looks refreshed. The skin smoothing micro-beads exfoliate your skin without drying.
Suitable for all skin types.
Dermatologically tested .
The Salicylic Acid present in the scrub is known for being highly effective against acne over regular use you will see visibly clean and rejuvenated skin.
Ingredients:

Price: Rs.121 for 40 gms, Rs.280 for 100 gms.
Shelf life: 3 years
My take on Neutrogena Deep Clean Blackhead Eliminating Daily Scrub:
Packaging: The scrub comes in a see-through plastic tube with flip cap. It is completely weightless and easy to carry around anywhere. The flip cap is tight enough and helps to get the product out of the tube without any mess. The tube has various details about the product mentioned on its back side which includes full ingredient list, usage directions and expiry date.
Texture & Colour:  Neutrogena Deep Clean Blackhead Eliminating Daily Scrub is an off white gel based scrub with tiny orange colored microbeads in it which are quite gentle on the skin. The scrub has a semi-runny consistency and foams up mildly upon scrubbing.
Fragrance: I can't recollect any adjective to explain the fragrance but it's kind of sweet smelling not bothering as it wanes after wash.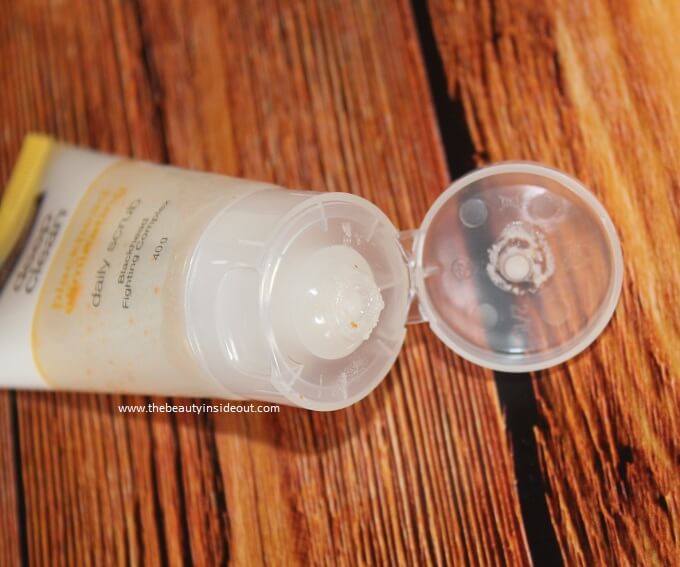 My Experience: First of all, since the scrub has very soft granule particles, it is not at all abrasive on the skin. That's the biggest plus of this product; unlike other physical scrubs that have coarser particles. The scrub is very much gentle, very much effective in exfoliating and can be very well used on daily basis as claimed. The scrub can be used by all skin types, even on pimple prone face, such is the texture of this.
Coming to the Blackhead Eliminating part; in one usage this product doesn't bring miracle on skin. But with continuous usage you can definitely see a difference in whitehead and blackhead removal, although it doesn't not completely help to remove stubborn ones. Steaming the face or wiping the face with a warm towel before using this scrub gives much better results of eliminating blackheads.
The scrub doesn't dry out the skin and it does the job of exfoliating and cleaning the face efficiently. As it lathers up well, it also serves the purpose of face wash giving a refreshed feel.
Another plus of this product; It contains Salicylic acid which is a peeling agent and also used in treatment of acne. However it is not suggested to use scrubs on active acne areas. The scrub never caused me any new breakouts.
In short, skin feels soft, squeaky clean, refreshing with the use of this mild gentle scrub. And with regular usage one can keep formation of new blackheads at bay.
Pros :
Gentle and mild scrub.
Travel friendly packaging.
Can be used on all skin types.
Not abrasive.
Foams well.
Can be used as daily scrub.
Dermatologically tested.
Deep cleans skin and gives squeaky clean feel.
Doesn't dry out the skin.
Cons:
Quite pricey.
Might not work on stubborn blackheads.
Rating: 4/5
Would I recommend? Yes I would without any second thoughts! It's definitely a good gentle exfoliator which helps to clean, remove the dead skin layer.
Where to buy? Amazon