I live in New York for about 8 months in a year, and in my first year there, the extreme cold weather became an enemy for my skin; especially my lips. After trying on several lip balms to fix my chapped lips, finally 6 months ago, I got my hands on the Clinique Pep Start Pout Restoring Night Mask. I haven't tried or used any other lip balm since.
Product Description:
The Clinique Pep Start Pout Restoring Night Mask is a Moisture-intense mask for softer, smoother lips.This nighttime (or anytime) mask gives lips intense hydration, leaving them smooth, soft and plumped with moisture. The perfect prep for lipstick, you can apply alone or when lips need an extra boost. It is Allergy Tested, 100% Fragrance Free, Oil-Free & Dermatologist Tested.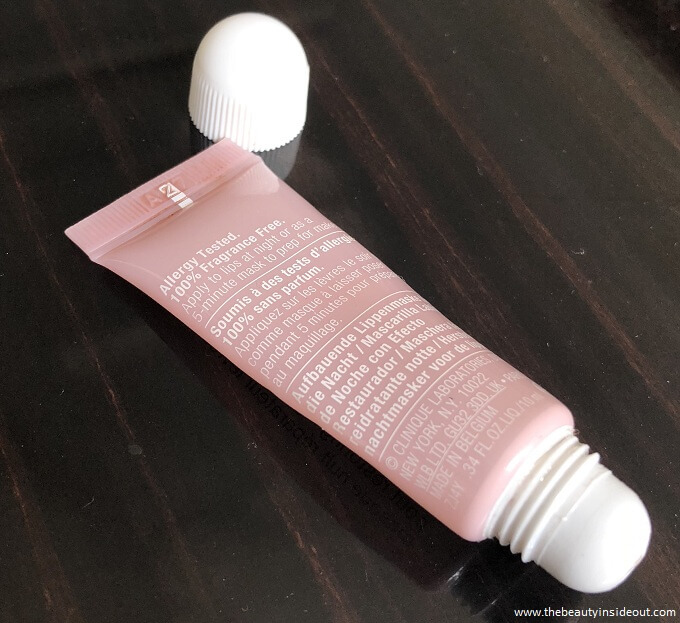 Ingredients:
Petrolatum , Polybutene , Polyglyceryl-2 Triisostearate , Hydrogenated Polyisobutene , Tocopheryl Acetate , Pvp/Hexadecene Copolymer , Silica , Hydrogenated Castor Oil , Ppg-51/Smdi Copolymer , Caprylic/Capric/Myristic/Stearic Triglyceride , Ceramide Ng , Astrocaryum Murumuru Seed Butter , Sea Whip Extract , Butyrospermum Parkii (Shea Butter) , Cholesterol , Caprylyl Glycol , Caprylic/Capric Triglyceride , C12-16 Alcohols , Ethylene/Propylene/Styrene Copolymer , Tetrahexyldecyl Ascorbate , Palmitic Acid , Hydrogenated Lecithin , Butylene/Ethylene/Styrene Copolymer
How to use the Clinique Pep Start Pout Restoring Night Mask?
Apply to lips at night or as a 5-minute mask to prep for makeup.
Price: $17.50 for 10 ml
My take on Clinique Pep Start Pout Restoring Night Mask:



The product is good to look at, especially for pink-lovers (like myself). The packaging is simple and chic, similar to that of most Clinique products. The tube is semi-opaque and baby pink, and has a white, easily removal cap. Even after 6 months of my continuous use, the cap hasn't become dirty. Given its 2-3 inch size, it is extremely travel friendly. I usually throw it in my mini overcrowded makeup bag or a small sleeve of my purse, and it fits perfectly.
The Clinique Pep Start Pout Restoring Night Mask has a subtle transparent gloss. Due to its heavy consistency (as it is a mask), you can feel it sitting on your lips even after the first few seconds of applying it. I, personally, liked this heavy consistency because it stays on my lips for longer and doesn't budge easily overnight. Applying less than a pea-size of this product works sufficiently. Given its consistency, some part of the product always remains on my lips in the morning as well – which is why, every morning my lips do feel less chapped and definitely moisturized. For people who aren't fans of thick consistency – I assume that you will get used to it after using it 2-3 times, and after seeing the results, you wouldn't want to put the product away.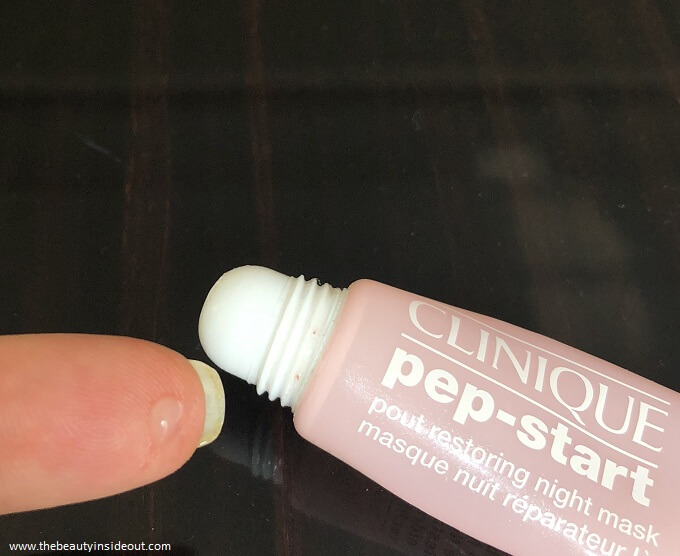 When I initially bought this product, I was hesitant and unsure about the pricing – paying such a huge price for a tube this small, which (I thought) would last me only a month seemed unreasonable to me. The biggest surprise was when I had already used it for 3 months (minimum 4 days a week), and there was still more left in the tube. 3 more months later, I haven't yet finished this tube. The only minor drawback is that because the tube is semi-opaque, I cannot see how much product is left and so I'm never sure of when I'm going to need to buy a new one.
On some days when I need extra hydration, I put it during the day and night, both. It looks like a subtle gloss on days you don't feel like/want to wear makeup. If you do want to use it under lipstick, I'd recommend keeping it on for 15 mins before applying the lipstick and removing some off for better application of the lipstick.
Results; My lips are definitely less cracked and my lipsticks slide on to my lips much more smoothly now. A definite sign of this is that when I run lipliner all over my lips, they don't feel overly dry anymore, like they used to. I saw an improvement of my lips in the first week – however, as is true for any product, continuous and consistent use shows even better results. After a month, easy makeup application and softer lips become reality. If you need much more hydration, you could use it during the day and night, both. Additionally, it is worth trying because it comes from a well-known beauty house.
Pros:
Travel friendly.
No fragrance, No Pthalates.
Long lasting.
Trusted skincare/beauty brand.
Heavy consistency (depends on person's preference).
Heals chapped and dry lips.
Cons:
Rating: 4.8/5
Would I recommend? Definitely. For anyone concerned about their dry lips, this product is a must try and definitely worth the price.