Today's review is going to be about the Nivea Aloe Hydration Body Lotion which was launched just a few months back, somewhere around late February. Since it was the onset of summers and I was already looking in for some good summer body lotions infused with aloe vera extracts, I got drawn towards this lotion the moment I saw it. I have been a huge fan of skincare products by Nivea, especially their body lotions, body washes, and lip balms for years now and they are actually very hydrating and nourishing. I was using the Nivea Express Hydration Body Lotion during winters and it worked really well for me since I have a normal skin type. Body lotions from Nivea have never disappointed me and hence, I decided to pick up the aloe one for summers for the same reason.
When you talk about summers and think of skin care, Aloe Vera is one such thing that tops your list for sure. Aloe Vera makes for a perfect hydrating ingredient in any skincare product. The Nivea Aloe Hydration Body Lotion has the goodness of aloe vera that helps in keeping your skin healthy and soft, as the brand says. Let's just start with the review to know more about it.
Product Description: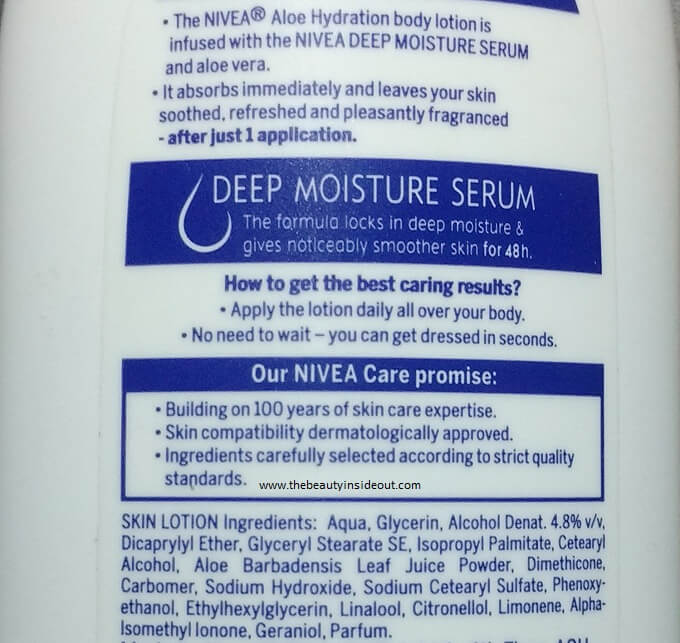 Refer above (in image) for the ingredient list of Nivea Aloe Hydration Body Lotion
Price: Available in three sizes-
75ml- Rs. 80
200ml- Rs. 210
400ml- Rs. 365
You can find it at discounted prices easily on various online stores.
My take on Nivea Aloe Hydration Body Lotion:
Packaging: All Nivea body lotions have a similar kind of packaging, they come in similar-looking bottles, however, the color of the body may vary depending on the variant. Nivea Aloe Hydration body lotion comes in a simple white plastic bottle with a blue flip-open cap and a Nivea logo in the center. The packaging is sturdy and the lotion does not leak from the bottle, thus making it travel-friendly and convenient to use. It comes in three sizes, I bought the 200ml one.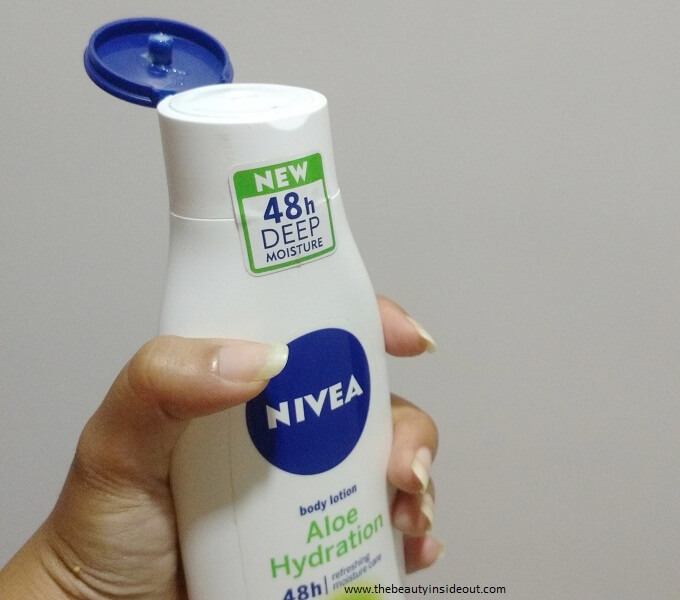 Texture: The lotion is milky white in color. The consistency is not too thick nor too runny, but more towards the thinner side. It is very lightweight and non-oily, something that will work best for normal to oily skin types in summers.
Fragrance: The lotion does not smell like aloe vera but is definitely refreshing. It has a nice summery fragrance which is a blend of both fruity and floral fragrances. The scent is pleasant and not overpowering at all.
My Experience: I have a normal skin type and this lotion works just perfectly for me in summers. I apply it over my hands and legs and neck sometimes. It is light in weight, spreads effortlessly, and gets completely absorbed into my skin immediately. It has a little gel-like consistency and is not too runny. It does not leave any greasy finish after application and hydrates the skin well. It did not irritate my skin as well. SPF is just the thing that I wish was present in it. The fragrance is subtle and fades away in a few hours, however, my skin remains hydrated for a good period of time and I do not feel the need to re-apply it.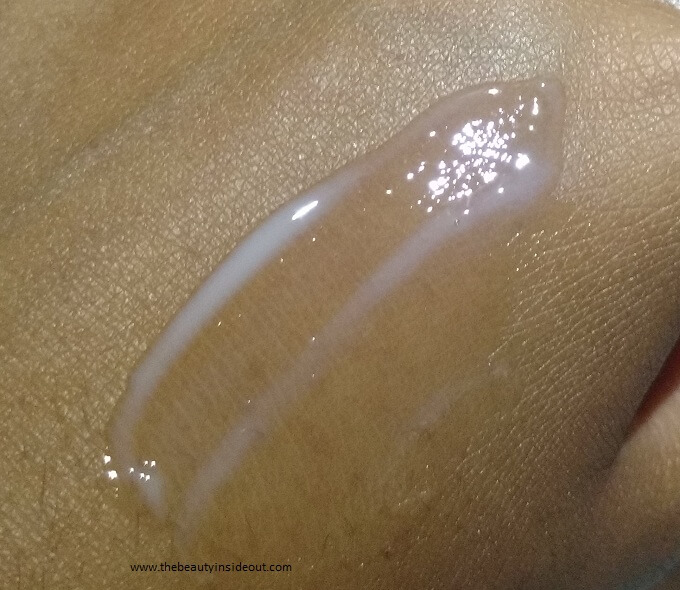 Pros:
Non-oily, non-sticky and lightweight
Affordable
Good packaging
Perfect for summers
Refreshing fragrance
Blends in really well
Travel-friendly
Hydrating and moisturizing
Easy availability
Contains aloe vera
Gets absorbed quickly
No parabens found in the ingredient list (I'm not sure if it is actually paraben-free)
Cons:
No SPF
48-hr hydration claim isn't true
Might not work for people with dry and extra dry skin (Nivea has other variants for them btw)
Contains alcohol
Rating: 4.8/5
Would I Recommend? Yes, I highly recommend the Nivea Aloe Hydration Body Lotion for both summers and monsoon. It is super light, glides on and blends in the skin really well. It has a pleasant and subtle fragrance that lingers around for some time. It is absolutely non-oily or non-sticky and nourishes and hydrates the skin perfectly. If you are looking for a lotion that is lightweight and non-oily, yet hydrating enough for summers, then this is a must-try!