I am one of the kind who switches products for every season. I consider having combination skin as a blessing which helps me to do so and satisfies the skin care junkie in me to try out different products. It's also because I easily get bored of beauty products. This Neutrogena Deep Clean Facial Cleanser is one of my HG face wash for winters when my skin tends to be dry mostly. You might have already seen many people raving about this product, but still let me share my thoughts on this product.
Product Description:
Cleans so deeply and thoroughly that improves the look and feel of skin.
Suited for Normal to Oily skin.
A penetrating and thorough cleanser that improves complexion.
Ingredients:
Water, Sodium C14 Olefin Sulfonate, Cocamidopropyl Betaine, Sodium c12 15 Pareth 15 Sulfonate, Salicylic Acid, Linoleamidopropyl PG Dimonium Chloride Phosphate, Disodium EDTA, Propylene Glycol, FD&C yellow 5, FD&C Red 40, Fragrance.
Price: Rs.103 for 50 ml, Rs.374 for 200 ml.
Shelf Life: 3 years.
My take on Neutrogena Deep Clean Facial Cleanser:
Packaging: The Neutrogena Deep Clean Facial Cleanser comes in a transparent plastic bottle with a flip cap. With this see-through packaging, it is easier to know the quantity. The flip cap works good staying intact even while taken during traveling.
Colour & Texture: The cleanser comes in a light golden brown colour, more like transparent and has a gel consistency. It has a slightly runny gel based consistency which doesn't lather much.
Fragrance: It doesn't have any fruity or floral fragrance. It has a synthetic fragrance but it's very mild and wanes once washed off and it's not bothersome at all .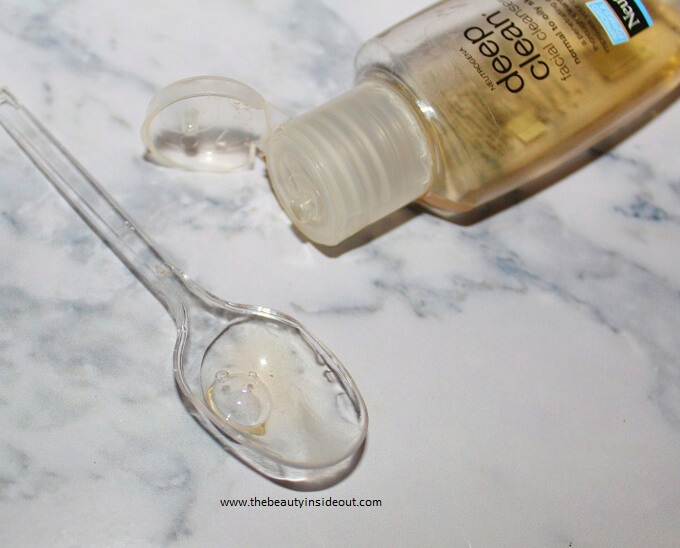 My Experience: In all these years of my experience of trying out various skin care products, I strongly assure Neutrogena is one of the brand's which definitely live up to their claims and doesn't let us down.
This deep facial cleanser worked perfectly for me on all seasons, but I am particular about using only this product during dry winters. All other face cleansers in my stash leaves my skin stretchy and a lot more dry during winters. Hence for the last two winters I have been sticking to only this product. This doesn't lather much but however leaves the skin clean without stripping off natural oils from skin.
Despite minimal lather, it doesn't mean we require more product to clean off. Small quantity would definitely give you a cleaner skin. Although I may sound like this suits dry skin, but in real it suits all skin types, cleaning dirt and giving a refreshed feel with regular use.
One more good thing about this is that it doesn't lead to acne breakouts on my skin. It even helped me keep my pimples at bay with the presence of Salicylic acid. On other note, I personally don't think this product helps with improving complexion as claimed by the brand.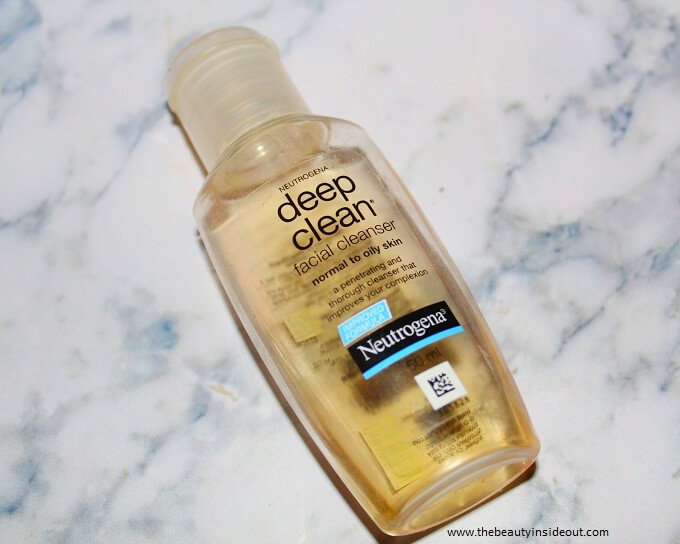 In short, the Neutrogena Deep Clean Facial Cleanser is a very good cleanser, suitable for all skin types doing the job of a face wash very well. And it's decently priced as well.
Pros:
Good Packaging.
Suitable for all skin types.
Doesn't strip off oils.
Mild cleanser.
Smaller version itself would last longer.
Salicylic acid is a good anti-acne ingredient.
Cons:
Honestly, I have nothing to say !
Rating: 4.9/5
Would I recommend? Definitely for those looking for cleansers which doesn't strip off all naturals oil from the skin.