It took me a while to draft this review mainly because I wanted to check its true efficacy, especially since it had a brightening claim. Now that I'm over with this luxurious tub of pearly cream, I'm ready to jot down my thoughts on this. Stay hooked to know more about the Blue Nectar Brightening & Radiance Sandalwood Cream.
Product Description: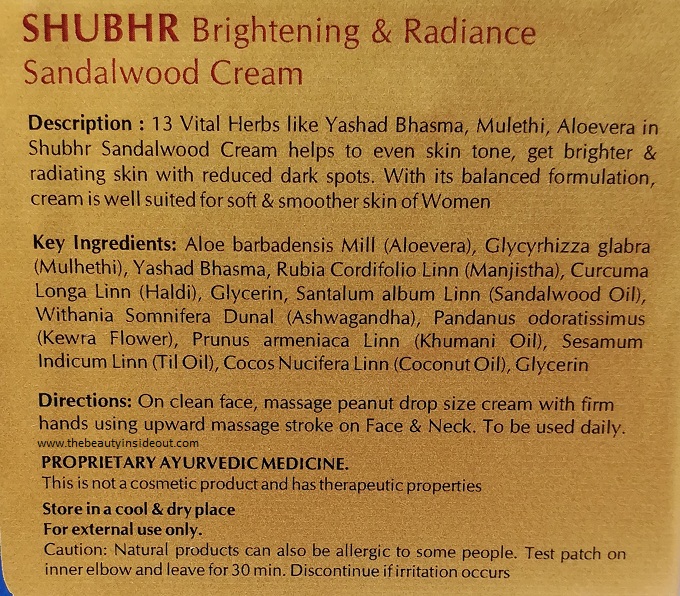 Where to buy? Amazon.in
My take on Blue Nectar Brightening & Radiance Sandalwood Cream:
Packaging: As you can see from the images, the product comes in a semi-transparent, hard glass jar with a gleaming golden cap. The inside of the jar is protected with an inner plastic lid. The golden labellings on the jar and the thick blue outer card box adds a luxury touch to the whole packaging. But considering that the jar is made of glass and is a bit bulky, it is not very travel friendly. On the other hand, glass packagings are recyclable, so that is a plus for being environment friendly. For many of us, tubs have the hygiene issues of 'dipping the finger inside the tub'. It would have been perfect if they would have provided a small spatula to go with it. The outer packaging also comes furnished with various details about the product.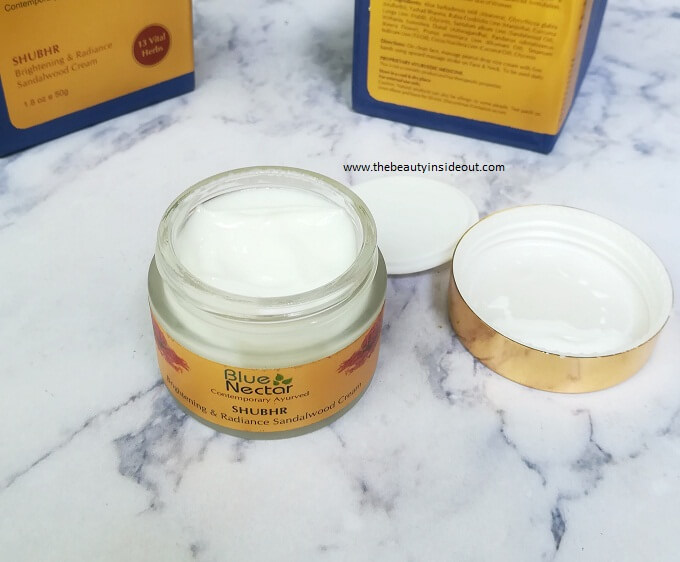 Color & Fragrance: It's a white colored face cream with a strong ayurvedic scent. The scent has high notes of sandalwood oil which might be a bother for sensitive noses. The fragrance slowly fades away as time goes by, so it's not a major problem for me.
Texture & Consistency: It's amazing for my oily skin. The texture is gel cream which is very lightweight and vanishes into the skin within seconds of application. The consistency is also perfect, its neither too runny nor too thick. You require only a little of the product each time.
Efficacy: To begin with, this is not those fairness creams or day creams that gives a "whitened effect" immediately upon application. It is sort of a treatment cream that when used regularly gives a lot of skin benefits. I have finished the 50gm tub in about 2 months time and I completely loved using it. The formula is perfect for oily skin ladies like me. The gel cream completely sinks into the skin without leaving any oily or greasy residue. It's super light and No chip chip feeling or whatsoever. Just a nice smooth healthy looking skin nourished with balanced moisture and hydration. This cream is neither like those drying day creams which makes your skin taut nor those rich creams that makes you look oily like a disco ball.
I had used this face cream in both my AM and PM routine after cleansing with the counterpart Blue Nectar Honey Face Cleanser and I believe that is what gave me great results. At first I started noticing my skin to be more plumped up and radiant. And after about 3 weeks of using this cream, I noticed a good difference in my skin tone. The cream had visibly brightened up my overall skin and faded away the acne marks to a great extent, making me feel truly happy about this product.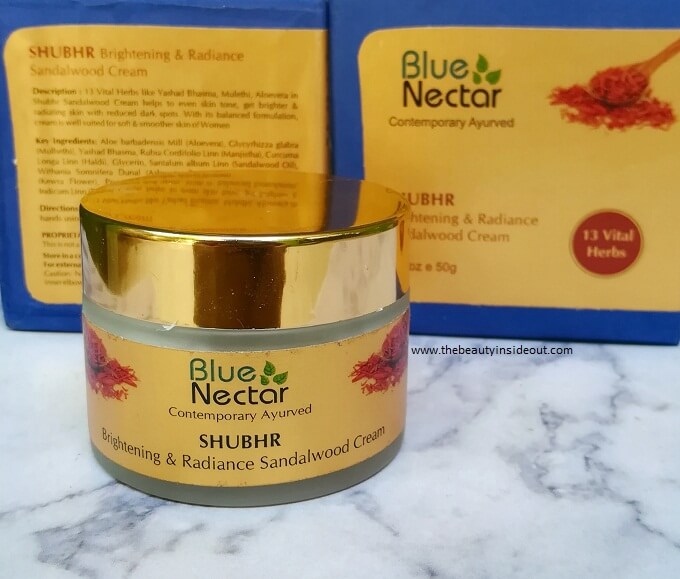 I do agree that the price is on the higher side, but the product is really good. Also, the cream contains sandalwood oil, which itself is an expensive ingredient. It is also loaded with other vital herbs which provide us a lot of skin benefits. So I think it's worth investing in this and it's mostly available on discount everywhere.
Pros:
Loaded with 13 Vital Herbs.
Great texture and consistency.
Perfect for oily skin types.
Non-greasy, fast absorbing, lightweight cream.
Keeps skin hydrated and moisturized for long.
Gives a radiant, smoother and softer skin.
Brightens up the skin with continuous usage.
Helps with fading of acne marks considerably.
Cons:
Glass packaging is not very travel friendly.
Fragrance may be a turn off for some.
Price is on the higher side.
Takes some time to show results.
Missing full ingredient list.
Rating: 4.7/5
Would I recommend? Yes. Although the brightening effect was slow(note that this is an ayurvedic cream), it has the perfect lightweight formula for oily skin ladies which can be used day in and day out. It also contains so many good ingredients for the skin and when used continuously, it also improved my skin texture and tone. I would highly recommend giving a try.
Disclaimer: Product sent by brand for consideration.  Nevertheless, my opinions and reviews remains honest and unbiased.