Here comes the official end of summer at last, though not really 😛 I am gonna share with you my HG Face Wash for Summers. I do switch my products as per the season out there and choose which works best for that season. In that way, though there are some controversial stuffs about this brand, I am happy that few of their products worked amazingly well on me. Keep reading to know further about the product I am going to talk about – Patanjali Neem Tulsi Face Wash.
Product Description:
Patanjali Neem Tulsi Face Wash is a soap free herbal formulation. Its gentle cleansing action controls moisture and natural balance of skin. Neem and Tulsi kill germs while Honey and Aloe Vera moisturizer and rejuvenate the skin tissues to make complexion fresh smooth and beautiful. It also helps to prevent pimples.
Ingredients: Aloe Vera ,Neem ,Tulsi
Base material: Aqua ,Gel base, Sugandit Dravya ,Diazolidinyl Urea, IPBC, Vitamin E.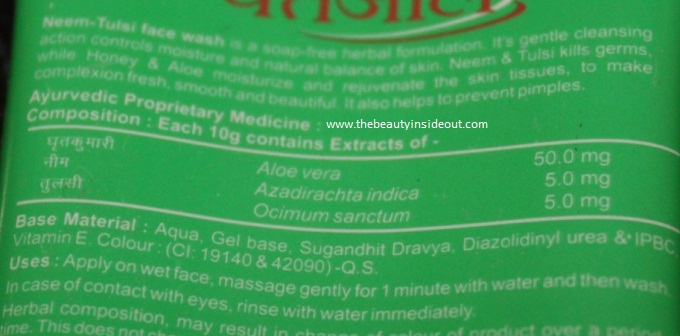 Price: Rs.45 for 60g
Shelf life: 18 months
My take on Patanjali Neem Tulsi Face Wash:
Packaging: Patanjali Neem Tulsi Face Wash comes in a tube packaging with a flip cap. The tube is sturdy and comfortable for travel purpose as well. But since the tube is opaque, you cannot actually see how much product is left inside the tube.
Colour: The face wash comes in a very light fluorescent green colour, similar to the VLCC Ayurveda Neem Face Wash.
Texture: It has a gel consistency. It is a slightly thick gel which foams up well.
Fragrance: It has a moderately strong fragrance, more of herbal but I can't relate to anything in particular. It's not bothersome as it wanes once it's washed off.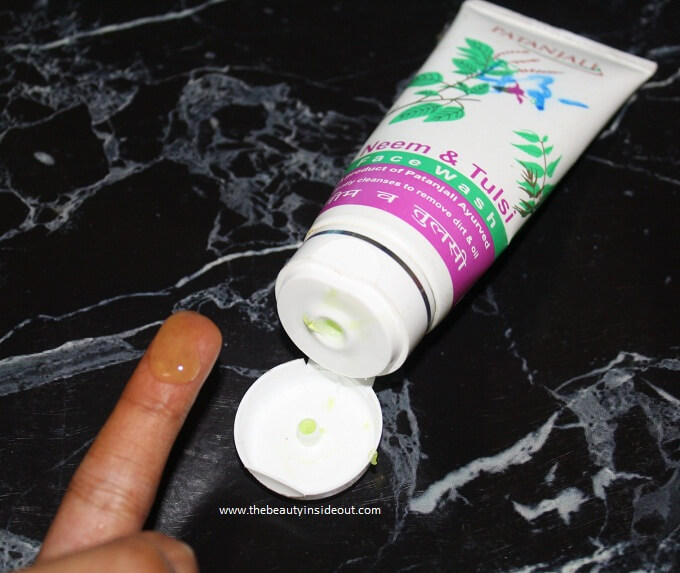 My experience: Actually when I started writing this review, I knew I am going to sing heaps of praises for this product. Why? Because this is my second tube and this almost saved me from breaking out when I was out of my hometown for a work trip. I don't really know if this was the only reason, but still I majorly owe to this product as I was constantly junking and not eating clean and also not following any skin care ritual.
One can feel squeaky clean skin with the Patanjali Neem Tulsi Face Wash. As well, it gives instant freshness and brightness; Not the white cast kind of brightness which whitening face washes give, but more of a glow and freshness after a squeaky clean.
The only major con would be, if you have bought this one with the hope of using all natural, herbal face wash then you might be disappointed on seeing the ingredients list. If you consider this face wash like other normal chemical face washes out there in the market, then you would be super satisfied as this face wash not only does it job of cleansing, it is also available at a super affordable price tag that can save you a lot of money.
Pros:
Perfect gel based for oily skin.
Travel friendly packaging.
Pocket friendly price tag.
Lathers well and washes off easily.
Leaves the skin squeaky clean.
True to its claim of preventing pimples (atleast that was for me).
Cons:
No full ingredient list is printed.
Rating: 4.5/5
Would I recommend? Yes absolutely, infact this is my second tube and it's worth giving a try.