Today I'll be reviewing the Biotique Bio Morning Nectar Ultra Soothing Face Lotion SPF 30 UVA/UVB. I have already used the non-SPF variant of this lotion before in winters and I really loved it. I had already finished up that bottle and thought of trying other creams and lotions by Biotique. The moment I saw the 'SPF' variant of the Bio Morning Nectar Lotion, I knew I had to buy it.
Biotique has become my go-to brand lately. Whenever I think of buying natural products, the brand that pops up my mind first is Biotique. I have also been using its Bio Papaya Scrub, Bio Sandalwood Sunscreen, and the Bio Green Apple shampoo for quite a long time now and I just love them so much. I absolutely adore the fact that all Biotique Products are 100% natural and free from any preservatives and parabens with no animal testing done on them. Let's find out more about this lotion.
Product Description:
Nectar is the sweet fluid that flowering plants produce each day, used to sustain ageless beauty from the beginning of time. Its nourishing and moisturizing properties help heal skin and promote healthy cell renewal.
This nourishing and brightening lotion is blended with Pure Honey, Wheatgerm and Seaweed.
Replaces natural oils and replenishes lost moisture.
Softens and brightens skin for a noticeably fairer complexion.
Protects skin with SPF 30 UVA / UVB sunscreen.
How to use:
Apply evenly over cleansed face and neck, before sun exposure, each morning. Wear alone or under makeup.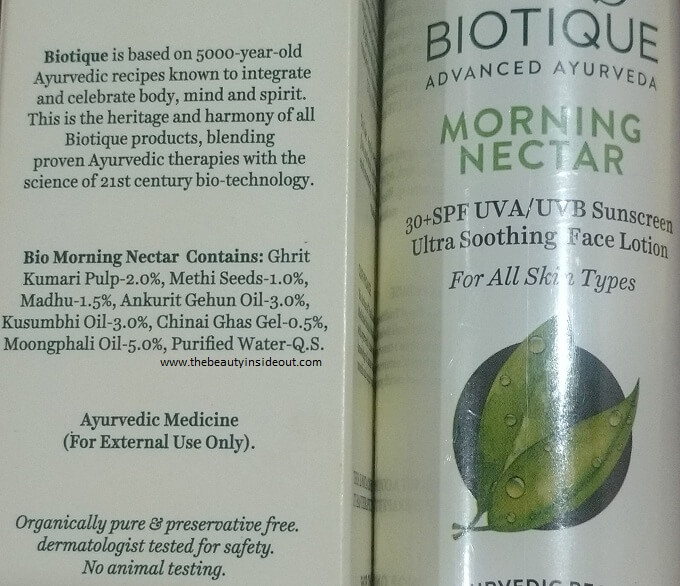 Price: Rs. 199 for 120 ml, available both online and offline
My take on

Biotique Bio Morning Nectar Ultra Soothing Face Lotion SPF 30 UVA/UVB:
Packaging: The packaging of all the Biotique products is very basic, nothing fancy! The lotion comes in a sturdy white cylindrical plastic bottle with a green screw-on cap, enclosed in a cardboard box which contains all the details of the product including the ingredient list. When you open the cap you will find a tiny hole in the center which dispenses the product. Sometimes you even might have to squeeze the bottle or jerk it downwards to take out the desired amount of lotion from it. The lotion does not leak and the cap is tight enough, thus making it travel-friendly. However, I feel a pump packaging would have been more convenient to use.
Texture: The lotion is white in color and medium in consistency, neither too thick nor too runny. For summers, it would work well for people with dry to extra dry skin type but can be a bit oily for people with combination and oily skin type.
Fragrance: I just love the fragrance of this lotion, it has a sweet herbal scent which is not overpowering at all and fades away in some time. However, few people might not like the scent of it.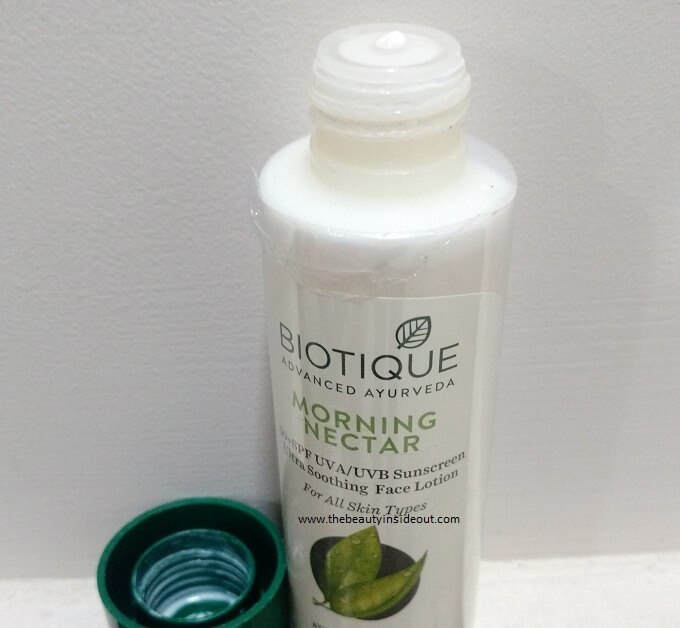 My Experience: As I said, I have already used this lotion before and this is my second bottle, one with the SPF. Both the lotions are the same in texture and fragrance except for the fact that the latter one has a 30+SPF in it. Since summers are already here so just sunscreen does not suffice, and this lotion is great to wear under your sunscreen if you stay outside in the sun for a longer time. The other people who stay indoors for major part of their day with less exposure to the direct sun can wear it even without sunscreen since it already has SPF.
I have a normal to combination skin type and I found it a little greasy when I applied it to my face. So I use it as a body lotion and apply it on my neck, arms and legs and it doesn't feel heavy on these body parts and gets absorbed and blends in quickly. However, in winters the lotion works great on the face as well without making it oily or greasy. Only a tiny amount of the lotion is required and it spreads very easily on the skin covering a lot of area. It is not suitable for combination to oily skin types in summers since it might make your face look a bit greasy. But if you are dry skinned then you will love using this product throughout the year. It does not stand true to its brightening claim, I did not observe any improved complexion with its regular usage. However, the lotion keeps the skin well-hydrated for a long time but its fragrance fades away in some time.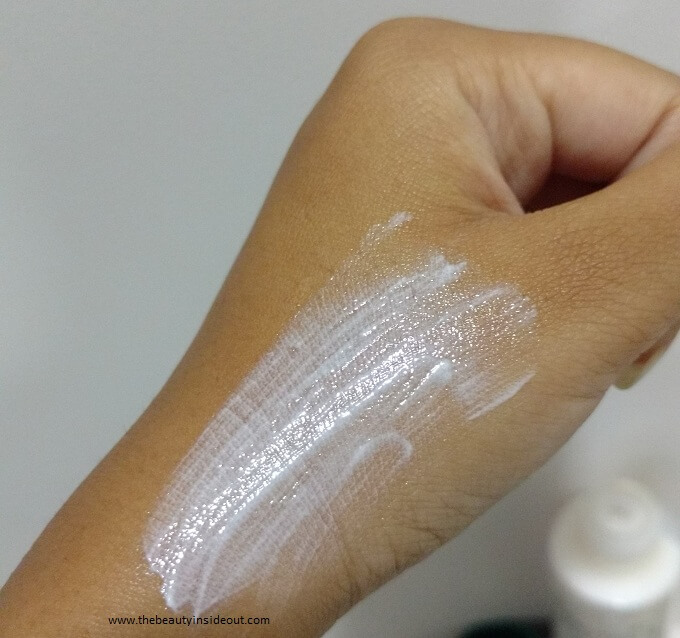 Pros:
Has SPF in it.
Moisturizing and nourishing.
Perfect for dry-skinned beauties.
Affordable and easily available.
Made with 100% natural extracts, as the brand says.
Free from chemicals and preservatives.
Travel-friendly packaging.
Gets absorbed quickly and does not leave any white cast.
Nice fragrance.
Cons:
Not suitable for oily skin type.
Packaging can be improved, a pump dispenser would be more convenient.
Rating: 4/5
Would I recommend? The Biotique Bio Morning Nectar Ultra Soothing Face Lotion SPF 30 UVA/UVB is a nice herbal lotion with SPF that hydrates, moisturizes, and nourishes skin well. It is free from any harsh chemicals and preservatives and is completely natural. If you have a dry skin and are looking for an affordable and a good 2-in-1 moisturizer having SPF, then this one is a must-try! I would definitely recommend it to the women with dry to normal skin.