The end of the season sale is here and Nykaa is offering amazing offers on many of the brands. I recently purchased a lot of stuff from Nykaa at some really cool prices. I was looking for a natural and paraben-free Multani Mitti face pack since long for the benefits it holds. I found this one from VLCC at a great discount and immediately added the VLCC Ayurveda Multani Mitti Face Pack to my cart.
Multani Mitti or Fuller's Earth is one of the most effective and magical clays that helps you keep most of your skin concerns at bay. It undoubtedly makes for a perfect mask if you want to get a glowing, flawless, and oil-free skin. VLCC is one such brand that has been known for its amazing products made from natural ingredients. It recently launched its Ayurveda range of skincare and hair care products which are free from parabens. VLCC has come up with a Fuller's Earth Face Pack in its Ayurveda range and I would be reviewing this product today.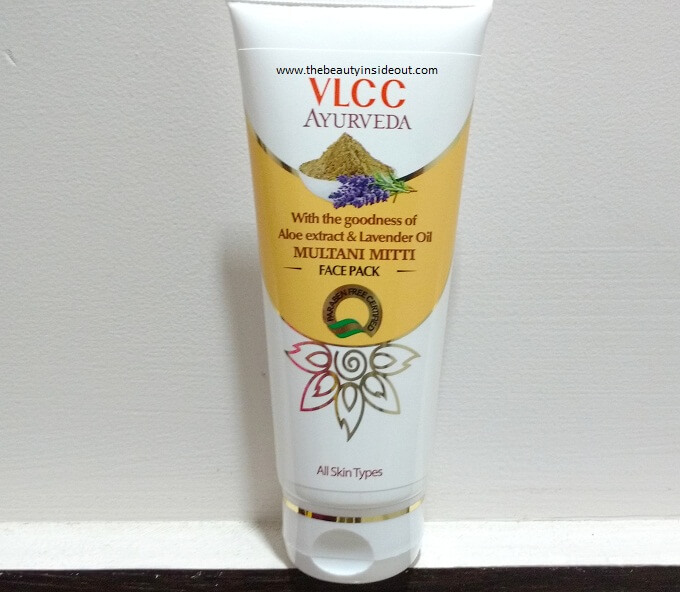 Product Description:
VLCC Ayurveda Multani Mitti Face Pack is a true miracle of Nature + Science. This face pack deep cleanses the skin, fights acne & pimples, evens out skin tone & brightens the complexion. Unlike other face packs, this face pack does not cause dryness.
How to use:
Take appropriate amount of face pack on your fingertips and apply evenly to the face and neck avoiding eye area. Allow it to dry for 10 to 15 minutes. Wash off with water with massaging action. Use twice a week for best results.
Key Ingredients:
Multani Mitti: Helps tighten the skin, removes deep impurities, cools and soothes the skin.
Aloe Extract: Helps generate new skin cells, hydrates and calms the skin.
Lavender Oil: An essential oil that helps disinfect the skin, enhance blood circulation.
Rose Oil: Excellent emollient properties for moisturizing dry skin, it also offers antiseptic and astringent properties to treat acne skin.
Allantoin: Helps skin to lock in moisture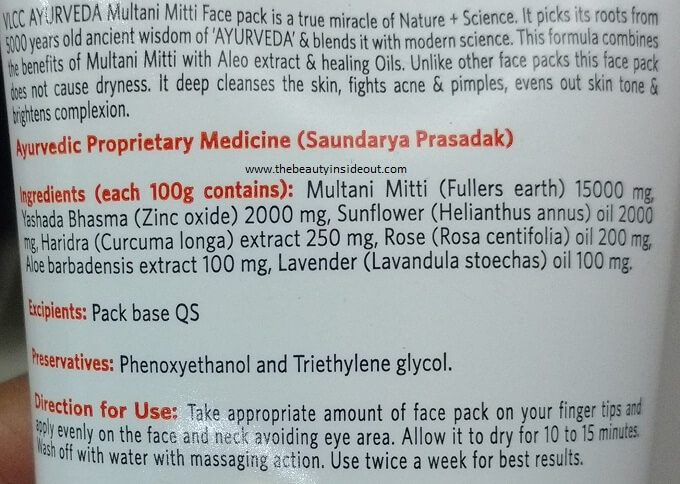 Price: Rs.120 for 100 g (I bought it at Rs.84 from a sale at Nykaa which is super affordable) It is easily available online. You might find it a little difficult to find it at all offline stores. It is available only at select stores.
My take on the VLCC Ayurveda Multani Mitti Face Pack:



Packaging: The face pack comes in a simple white tube packaging which has a flip-open cap and an image of multani mitti and lavender at the front. The cap shuts the tube nicely, thus making it travel-friendly, sturdy, and spill-proof. For the price it is being offered, the quantity is good (and I bought it at Rs.84 from the sale, what more can I ask for :p). The ingredient list, product description, and all other important details are mentioned at the back of the tube.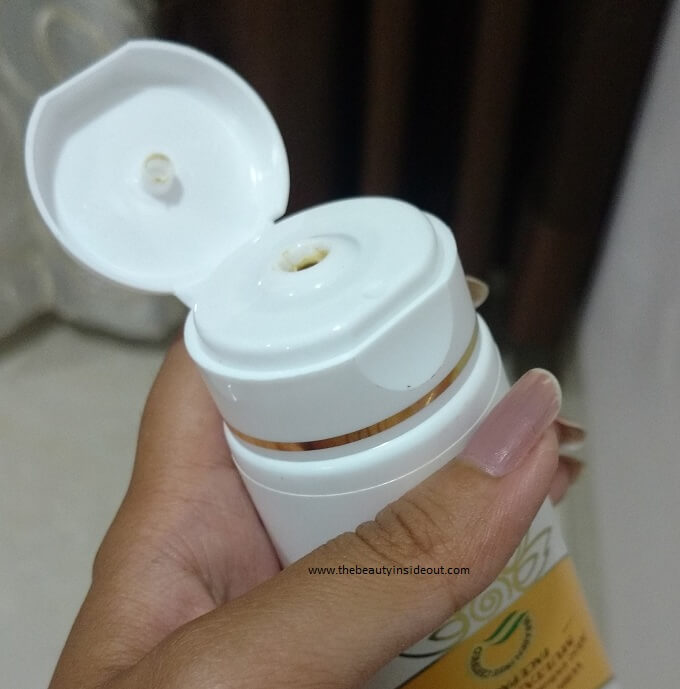 Texture: The color, texture, and consistency of the face pack is exactly like plain multani mitti. It is pale yellowish in color and has a thick creamy consistency. It also consists of tiny granules in it. The face pack is smooth in texture and spreads easily and evenly on the skin. Only a little quantity is required to cover both your face and neck. It is suitable for all skin types.
Fragrance: The face pack smells nowhere close to multani mitti. It has a strong herbal fragrance, somewhat close to rose oil. If anyone of you has used the classic Ayur herbals multipurpose cream, then you would relate with the fragrance. It smells somewhat like that, I felt so. The fragrance is not bad, but a little strong.
My experience: My skin had become really dull in the past few weeks. I applied the pack on my face and neck as per the directions mentioned on it after exfoliating my face with a scrub. I am happy with the fact that it is ready-to-use and consists of all good natural ingredients in it. I kept it for about 15-20 minutes and washed it off with cold water in a circular massaging motion. It got washed off very easily and I did not need to keep rubbing it to take it off. Post washing it, I pat my face and neck dry with a towel and followed it with a toner and moisturiser. I could actually feel the difference on my skin. It looked fresh, wasn't oily (I have a combination skin type), gave a matte look, and felt non-drying at the same time. I went closer to the mirror to see the results closely and I was surprised to see that my blackheads and whiteheads on and around my nose were coming out effortlessly, maybe because I exfoliated my face before. My face was also looking radiant and the pack deeply cleansed it. It is a very soothing face pack that refreshed my skin and gave it a nice glow that stayed on for a long time. I just felt that the fragrance was a bit too strong for me. I am definitely going to buy this again for sure.
Pros:
Paraben-free and Ayurvedic.
Travel-friendly.
Very affordable.
Non-drying.
Cleanses well.
Ready-to-use.
Contains aloe vera, lavender, allantoin, and rose oil.
Imparts long-lasting glow to the skin.
Spreads evenly.
Helps remove blackheads.
Absorbs excess oil.
Cons:
Fragrance is a bit strong.
Rating: 4.8/5
Would I Recommend? I absolutely loved the product and would definitely recommend this to all of you. It would work well on all skin types and would impart a natural and healthy-looking glow to your face. Girls with oily skin type should definitely use it since it absorbs excess oil from the skin, making it oil-free. It is also non-drying and helps in removing blackheads and whiteheads. However, people with sensitive or extra sensitive skin can do a patch test before and also see if they are okay with the strong fragrance. Overall, it's an amazing pack and I'm impressed with the results. It is packed with natural ingredients, is affordable, and stands true to its claim.