Thanks to various social media platforms, awareness about the ill effects of using toxic chemicals in personal care products have become more prevalent. But not all chemicals are bad, infact our human body by itself is made of chemical compounds. What I mean is that there are some which do more harm than good like the EDTA, Aluminum, Phthalates, Parabens, Silicones and so. That is why we need to keep a close check of the ingredient list of the products that we use. Anyways, we also have a good news that not only international brands but our own Indian Brands are also coming up with safe skincare/haircare products. I recently came across this safe brand which I'm happy to introduce to you all. It's The Moms Co, a Made in India Toxin Free Personal Care Brand.
The Moms Co is a natural brand whose products are made with natural ingredients and essential oils. Most natural brands do not disclose their complete ingredient list and some hide the preservative used under inactives. The Moms Co stands out in this aspect of being completely transparent about the ingredients used in their products. You could clearly see them printed on the packaging. If you closely look at the name of the ingredients, for a moment you must be thinking that it contains lots of chemicals. But in actual, it's just the chemical name of the ingredients derived from natural ingredients. For example: Cocobetaine and Sodium Cocoamphoacetate, although sounding chemical-ish, they are natural, plant based foaming agents derived from coconuts which are milder and safer than harsh SLS.
Apart from that, The Moms Co is Australian Certified Made Safe, Against Animal Testing, Allergy Tested and Dermatologists OK Tested.
I received two products from the Haircare range of The Moms Co a month ago. I have tried and tested both the Shampoo and Conditioner multiple times and now I'm ready to share my thoughts on the performance of these two products. Let's get started.
The Moms Co Natural Protein Shampoo & Conditioner Review
A little about The Moms Co Hair Detox Regime: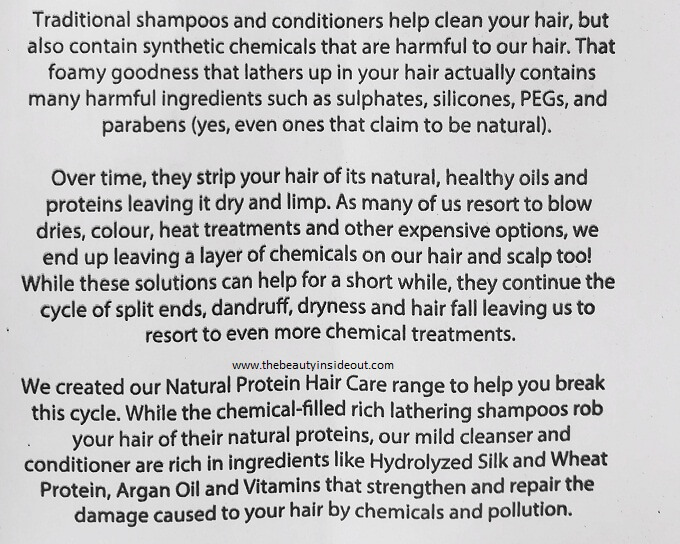 Product Description, How to use & Ingredients: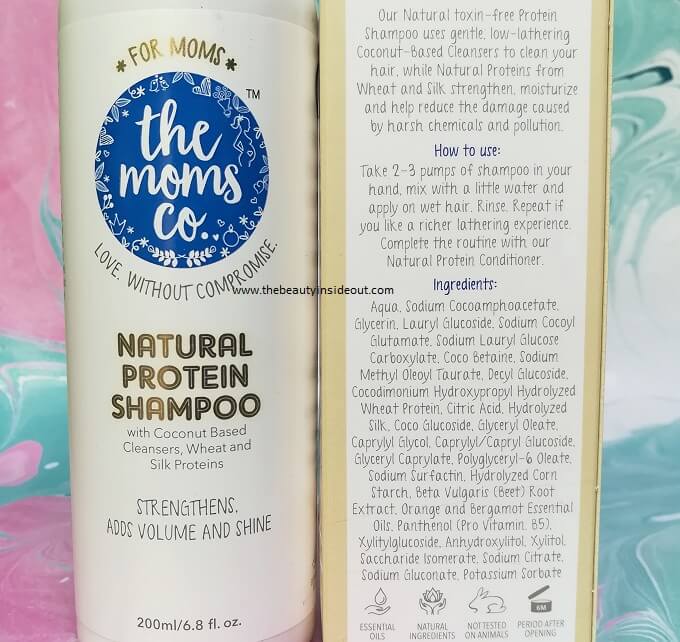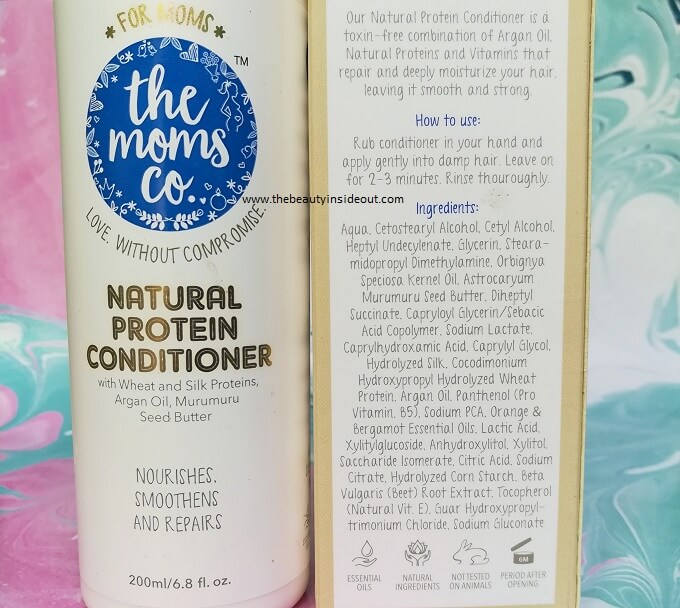 Price: Rs.429 for 200ml each.
Packaging: The packaging of all The Moms Co products are exactly similar with its elegant, classic look. They come in long white plastic bottles with a convenient to use pump dispenser attached to the top. The pump has a lock mechanism (turning clockwise locks the bottle and anti clockwise unlocks the dispenser). This make the bottle travel friendly, even though it looks slightly big(its not that big) to keep in a travel pouch. But hey, it's a 200 ml bottle.
I find the whole packaging to be flawless. It's user friendly, has all details about the product, comes in an outer card box with an info paper and above all the pump works properly till the end. There is nothing else one can find to complain about its packaging.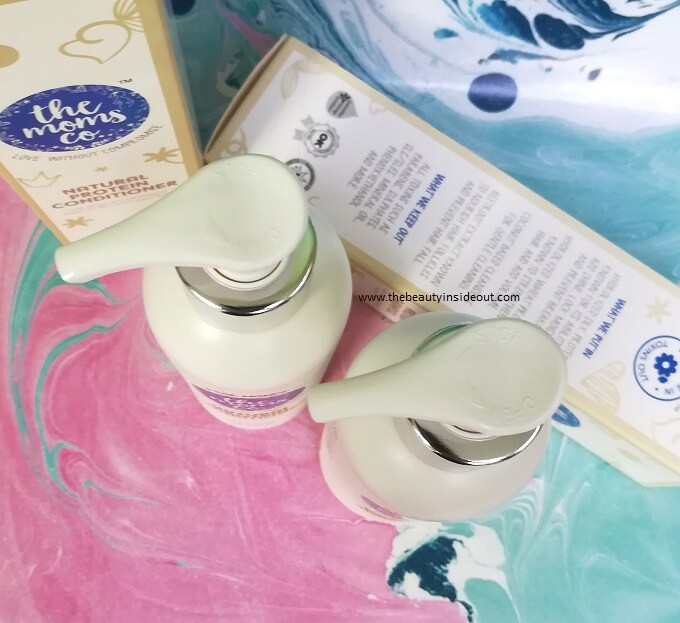 What to expect from The Moms Co Natural Protein Shampoo?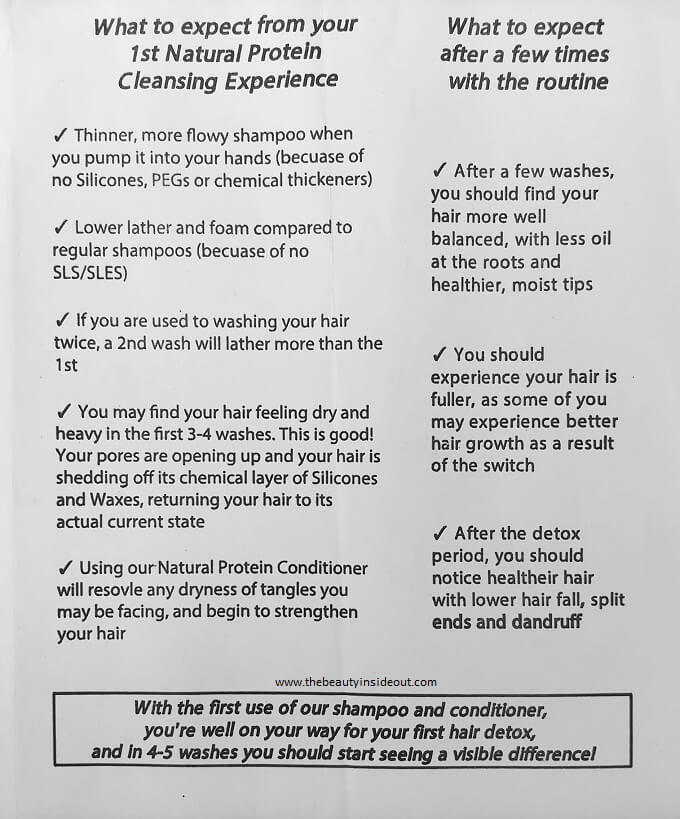 My experience: The Moms Co Natural Protein Shampoo works exactly how the brand have stated above. It takes a few washes to see actual results of lesser hairfall and healthier mane. Frankly, that's how most natural Shampoos work. They take time. But I'm glad that The Moms Co have clearly put forth this information for us without making false claims of providing smoother shinier hair instantly in the first wash. Sulphate Free Beginners need to be prepared for the Detox period. Myself being used to sulphate free shampoos, it took less than 4 washes for a step towards healthier hair.
The Moms Co Natural Protein Shampoo is a liquidy, almost colourless gel. It has a pleasant fragrance. Although it has notes of floral essential oils, the scent is mild which leaves my hair smelling nice post washing.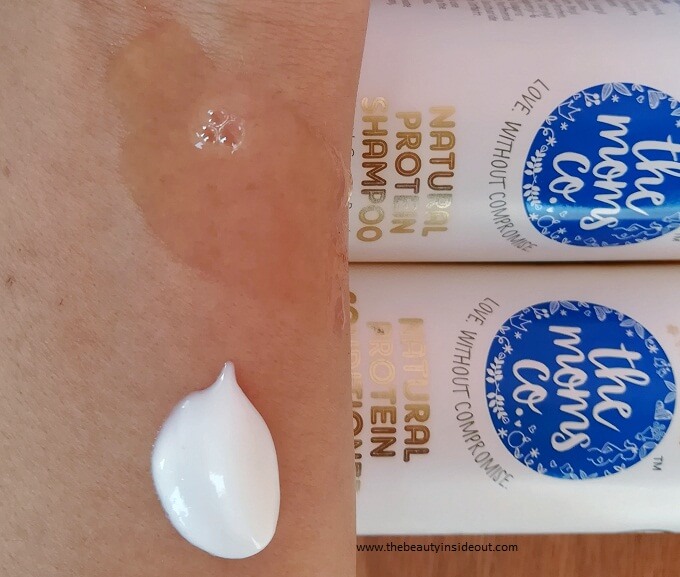 1st wash: I had oiled my waist length hair the previous night. I had to double wash and required about 8-10 pumps of the shampoo for each wash. Note that the shampoo is in a runny consistency and each pump gives just a little above half a teaspoon of shampoo. The lathering was low for the first wash and a little better for the second. With two washes the shampoo was able to remove all the oiliness completely. Rinsing the shampoo was quite easy as it did not have any slipperiness. I did not use the conditioner this time and post air drying my hair naturally, I found my shaft and hair lengths to be normal, neither dry nor moisturized, neither silky smooth nor flaky. It was in a decent condition with slight volume. I somehow expected it to be very very drying which wasn't, atleast on the lengths. My ends were dry and tangled and I did see hair strands falling while taming them. I used a serum to add moisture and keep my ends manageable.
2nd wash: It was after 2 days of my first wash. I hadn't oiled my hair and I washed only once with about 5 pumps of the shampoo. This time it lathered more, not very foamy but gave me a cleaned effect. After rinsing I did notice tangling at the ends and I decided to use the conditioner that came along. The conditioner has a silky smooth gel cream formula like most commercial conditioners. It felt like silicone conditioners when I applied it. I left it on my ends for 4 or 5 minutes and then rinsed it thoroughly with generous water. The conditioner detangled my hair very well and my hair felt softer and smoother this time. My hair volume was a bit low though. I also noticed a little more hair strands than when I hadn't used the conditioner.
3rd wash: It was again after another 2 days. Yes I kept a record of it. Didn't oil my hair. Required about 5 pumps, lathered even more better and followed the usual routine of rinsing and experienced the same effect as the 2nd wash, with lesser fallen hair strands after using the conditioner.
4th wash: It was after 4 days. I had oiled my hair this time and I still required double wash and about 5 pumps of the shampoo to clean my scalp and hair off the oils. I used the conditioner, rinsed and dried. This time, I noticed very less fallen hair strands.
Further washes till now, I continue to use 5 pumps, double wash if I had oiled and use 2 pumps of conditioner for the ends. The shampoo has definitely detoxified my hair and made it look a lot more healthier and stronger than before. Now my hair feels naturally soft, smooth and voluminous. The shampoo was able to keep my hair fresh and voluminous for a maximum of 3 days after which my hair looks weighed down either with the natural oils in my shaft or with the dirt that has accumulated. So I schedule to wash my hair every 3 or 4 days.
The only part that it doesn't show much result is its shine claim. It doesn't impart much of shine (like those reflecting shine), unless I use the conditioner on my lengths but that would weigh down my hair and I would have to let go off the volume. So instead, I just run through few drops of a lightweight serum for the shine after my hair dries.
Another miniscule con, the shampoo is about to get over even before I could reach atleast half of the conditioner. Note that I required only two pumps of the conditioner for each use whereas the shampoo being liquidy gets over pretty quickly. Anyways, I am still putting the conditioner to good use for my dry ends as well as a shaving cream. It aids in giving me a cut-free shaving experience and gives me a smoother skin on my body.
The conditioner would of great help to tame extremely dry, frizz prone, thick, curly hair types more, than flat thin straight hair types like mine.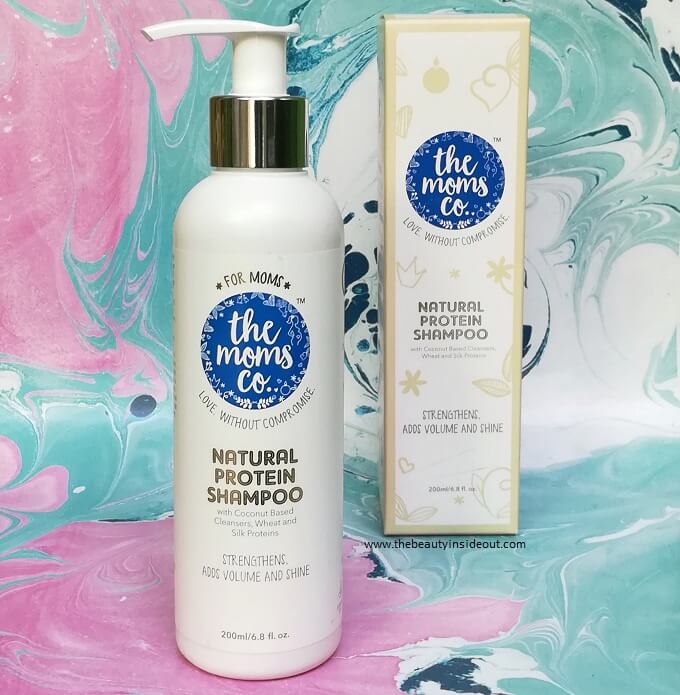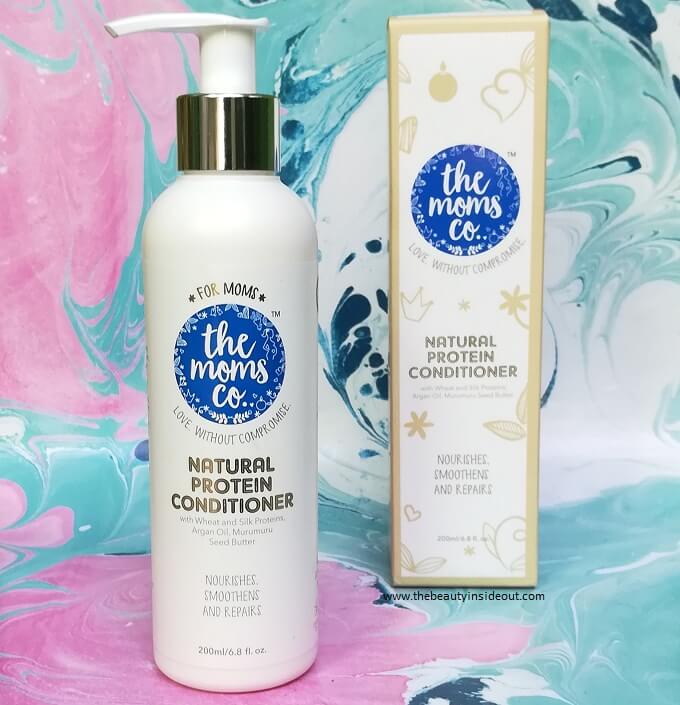 Concluding, I am really content with the performance of The Moms Co Natural Protein Shampoo & Conditioner. Certainly they are safe, effective and gentle on the scalp and hair with no harmful chemicals in it. I would highly recommend giving them a try. The adaptation period was also faster compared to other natural shampoos that I have tried. Do give it a try and let us know your experience in the comments section below.