Although pimple patches are not very well known in our Indian Beauty Industry, it is a very common product in the Korean Beauty World. Cosrx Acne Pimple Master Patch is my first pimple Patch and I was very pretty excited when I stumbled upon it. I got them about a year ago when I hauled on Daisy Skin Fix, an Indian website that stocks up Korean Beauty Products. I have finished this complete sheet of patches and here I am with my thoughts on this popular acne patch.
Product Description:
Price: Rs.250 in various Indian K Beauty Sites
My take on Cosrx Acne Pimple Master Patch:
Packaging: Cosrx Acne Pimple Master Patch comes in a neatly packed, sealed zip lock, aluminum pouch. Inside the pouch, there is a single sheet with 24 acne patches of varying sizes adhered to it. The pouch has various details about the patches such as the patch material used, usage directions, but most of the details are in Korean language, so I couldn't understand them.
Texture & Feel: The patches are round shaped and off white in color, they are almost translucent. They have an adhesive on one side that helps to stick the patch on the skin. The patch sits comfortably and you will not feel that you have glued something onto the skin. I could only notice a glistening reflection when I come under direct sunlight. Otherwise it is not very noticeable and one can easily wear during outings as well as under makeup.
Fragrance: There is absolutely no fragrance.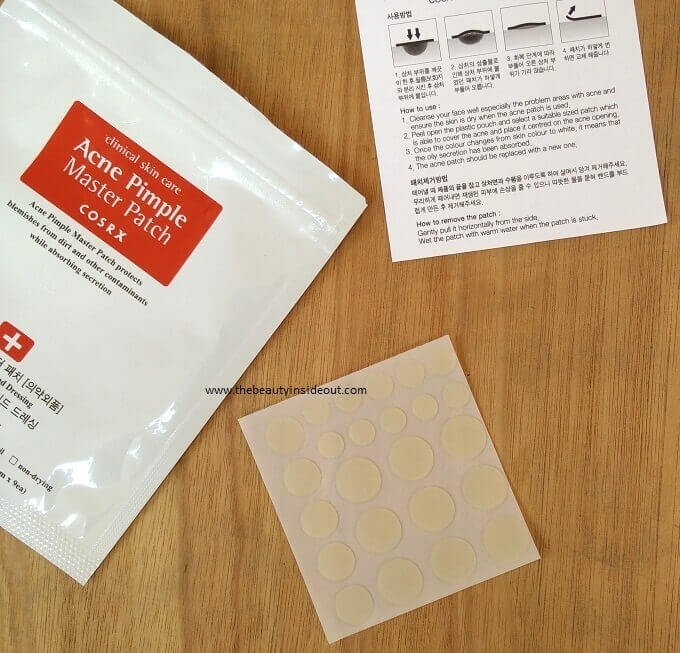 My experience: I have used these patches various times and I find them really useful, especially if you are prone to breakouts and pimples, these will come handy.
Effects are highly noticeable for tiny/small pimples with heads. The patches make them disappear with almost no scarring in less than 4 days. The patch should be left 24/7 and can be replaced whenever necessary. I mostly replace it every 12 hours, in every morning and night CTM.
These patches would not show much results for painful, huge non pus filled cystic acne. They just help to calm the red angry acne and keep our hands away from pricking. Despite that, they do fasten the healing process compared to when not using them.
Three things that made me fall in love with these patches.
These patches do make a difference in the healing process and scarring is zero to minimal.
They actually hide(make them almost invisible) my red pimples under their translucent patch.
I do not have the urge to prick or keep touching the pimple when I have this on.
In a nut shell, this has been my most recent favorite acne product. I like the concept of patches and above all, I'm happy with the results of using this.
Pros:
Clean and user friendly packaging.
Ease of use.
No fragrance.
Speeds up healing of pimples.
Zero to minimal scarring.
Price is also reasonable.
Cons:
Takes time to work on huge pimples.
Rating: 4.8/5
Would I recommend? Yes. The Cosrx Acne Pimple Master Patch is very much handy and effective than those over the counter topical acne medications. I would highly recommend getting these as they are super great!