For a couple of years, I was an ardent user of oil-free moisturizers. Any product in my vanity was gel based. All I had was an oil factory. I mean, my skin was very oily that was prone to breakouts with every second product. So I was very particular in choosing lightweight, oil-free products. If I had come across this product then, I would have picked this Salicylic Acid Moisturizer in the beat of a second. I got this L'Oreal Crystal Gel Cream for free from the Smytten App (an app that lets anyone try beauty product samples for free trial points – you should definitely check this app for some great deals). I've been using it for some time now and here are my thoughts on it.
What is the use of L'Oreal Revitalift Crystal Gel Cream?
L'Oreal Revitalift Crystal Gel Cream is an oil-free, gel-based Salicylic acid moisturizer that regulates excess oil production, minimizes the appearance of pores, dries out pimples, and refines skin texture for crystal clear skin. Its lightweight ultra-fresh formulation deeply hydrates the skin and is the perfect solution for oily skin.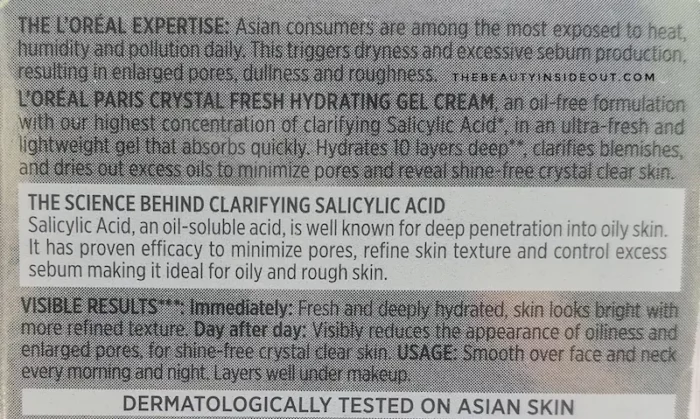 The Crystal Fresh Hydrating Gel Cream is a part of the widely popular L'Oréal Revitalift Crystal Micro Essence Range.
L'Oreal Revitalift Crystal Gel Cream Ingredients:

As you can deduce from the ingredient list, this is a glycerin-based gel with Salicylic Acid, Hyaluronic Acid, and Vitamin E. It doesn't have many great ingredients, to be honest.
The L'Oreal Crystal Gel Cream has Alcohol Denat as the third ingredient, which aids in faster absorption of the product – something that's good for oily skin and bad for dry skin. I am not a fan of it though.
It has added fragrance and fragrance ingredients like Citral, Limonene and, Linalool which can sensitize some people.
How to use it?
According to the packaging, smooth over the face and neck every morning and evening. Layers well over makeup.
This is a salicylic acid moisturizer, so it can be drying at times. It's best to use this with a hydrating toner underneath.
L'Oreal Revitalift Crystal Fresh Hydrating Gel Cream Review
Packaging: The posh glass jar is sure to attract one. It's simple and classy with its silver lid. The double outer packaging, though a wastage, screams luxury with its color combination. You get every little detail about the product on its packaging. The glass jar though tough and strong is not a very travel-friendly option.
Texture: It has a typical gel texture. The gel is slightly thick, so you don't need a lot of product, just a pea size is more than enough for the face. It's a clear gel that doesn't leave any cast, absorbs quickly, and gives a matte finish.
Fragrance: The L'Oreal Crystal Gel Cream has a strong scent to it. It has prominent notes of alcohol and if you are an avid skincare user, you could easily say that it has high amounts of Denatured Alcohol. There is a floral note as well. There are tons of added fragrance ingredients in the product.
In any case, the fragrance is a bit off-putting to me. It stays on for some time and can be bothersome, especially for those who are sensitive to fragrances.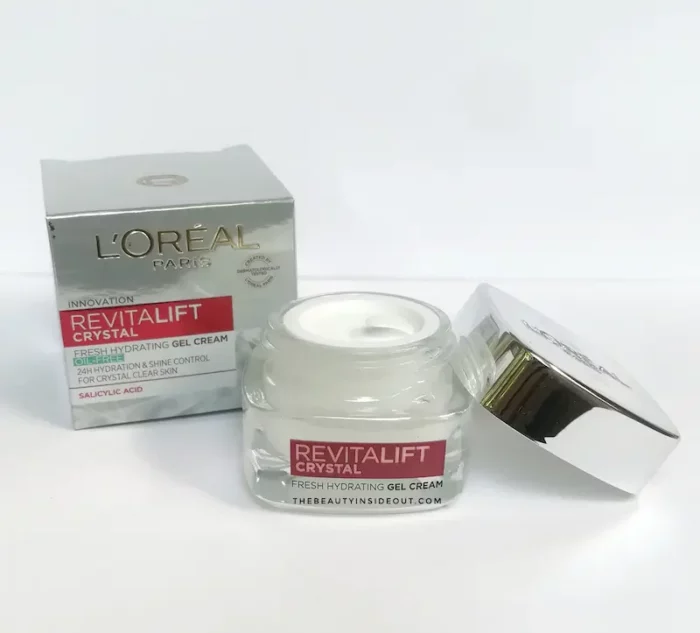 My Experience:
My skin type has changed a lot, now that I'm in my early thirties. I have a combination skin that leans towards dry during the winter and oily during the summer. My skin is acne prone. It's quite resilient to most skincare products but breaks out due to junk food, improper sleep, and lifestyle changes.
So I have been using this product for about two weeks now. It's a fast-absorbing clear gel that gives a true matte finish. I use this as my daytime moisturizer, after cleansing and on top of my hydrating toner and following it up with gel based sunscreen. Using just this product alone dries out my skin. Layering with other products works quite well. I'm sure oily and very oily skin types will love this mattifying moisturizer. It provides decent hydration, nothing over the top like "10 layers deep", but enough for those oily skin folks. It's absolutely oil-free, non-sticky, and non-greasy.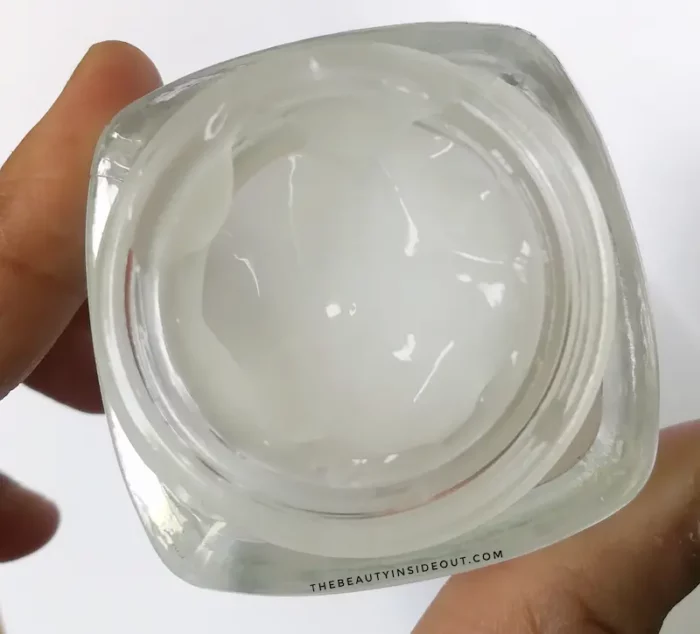 This is marketed as a salicylic acid moisturizer, but the brand doesn't mention the percentage of salicylic acid in it. Considering that they say to use it twice every day, it must be in lower concentrations to be safely used without any side effects. Salicylic Acid has exfoliating properties but this product was gentle enough that I didn't experience any irritation whatsoever.
I like that this gel doesn't make my skin dull upon application like many moisturizers. Rather it subtly brightens up the skin. Consistent usage did help in preventing breakouts. It reduced whiteheads and the size of big pimples significantly. I could notice my skin to be a bit brighter, smoother, and clearer. This doesn't do much for blackheads.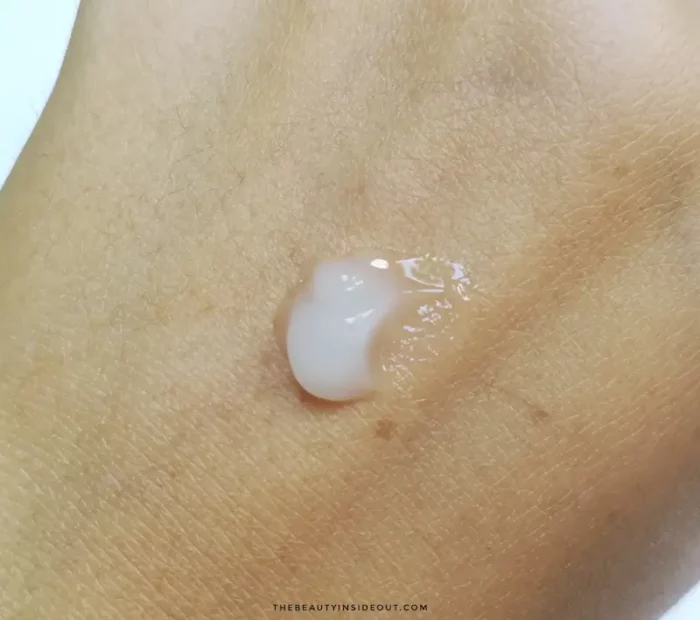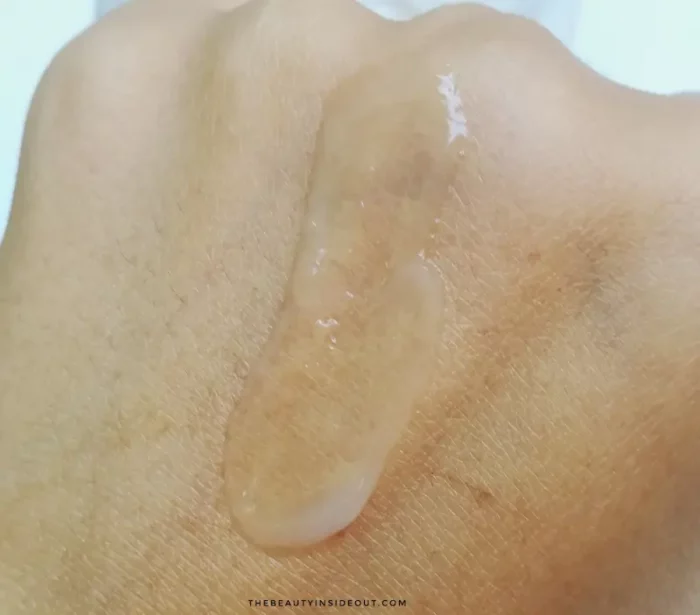 Baring the fragrance and ingredient list, I liked this moisturizer. It's a nice oil-free, water-based Salicylic acid moisturizer that's perfect for oily skin and the summer.
Pros:
Lightweight oil-free moisturizer.
Non-sticky, non-greasy gel texture.
Absorbs quickly giving a matte finish.
Perfect for oily and very oily skin types.
Paraben-free and synthetic dye free.
Non-comedogenic.
Prevents and heals acne.
Brightens skin with regular use.
Refines skin texture giving smoother skin.
Cons:
It's not very hydrating.
Strong fragrance.
Contains not-so-many great ingredients.
A bit expensive for a gel moisturizer.
Rating: 3.8/5
Would I recommend it? I wouldn't recommend getting it at the original price, but if you are getting it at a great deal, you can give it a shot – provided you don't mind the fragrance and not-so-great ingredient list.
What do you think of this Salicylic Acid Moisturizer? Would you try it?