The Pioneer skincare brand, Pond's, from Hindustan Unilever Ltd, is one of the most sought-after cosmetics brands in India for its ease of availability and affordability. Keeping up with the market trends, the brand always comes up with competitive products. For example, The Ponds Hyaluronic Acid Super Light Gel Moisturizer is considered an excellent dupe for the widely raved Neutrogena Hydro Boost Gel at a fraction of the price. Now it's time for the launch of a new sunscreen range that includes sunscreen in a serum form. FYI, Ponds has released a non-oily sunscreen and various day creams with SPF in the past.
Let's have a look at the new Ponds Serum Boost Sunscreen Range.
The range consists of 4 products
1. Pond's Serum Boost Sunscreen SPF 55 PA++ Lightweight Cream
This is said to be lightweight cream that offers 98 % UV protection, reduces sun damage, and fades tan and dark patches. This is a hybrid sunscreen with both mineral and chemical UV Filters.
Looking at the ingredient list, it contains 6 UV filters with a mix of both old-school and new-generation filters.
Octinoxate(UVB)
Tinosorb S (Both UVA and UVB)
Uvinul A Plus (UVA, Photostable)
Ethylhexyl Salicylate(UVB)
Phenylbenzimidazole Sulfonic Acid(UVB)
Titanium Dioxide (mineral/inorganic filter)
For the good-for-the-skin ingredients – it has Niacinamide, Vitamin C (Sodium Ascorbyl Phosphate), Glycerin, and Hyaluronic Acid (Sodium Hyaluronate) which all have their own skin benefits.
The Ponds sunscreen has the usual fragrance ingredients -Parfum, Limonene, Linalool, and Citronella that most Ponds Products have. This product has PA++ which offers moderate protection and has PPD between 2 and 4 which may not offer enough protection for the hot summers.
Retails for INR 275 for 50 gm
2. Pond's Serum Boost Sunscreen SPF 50 PA+++ Invisible Gel
This is a chemical sunscreen that offers 97% UV protection. It's an ultra-lightweight, sweat resistant, 2 in 1 invisible gel that's suitable for all skin types.
This Ponds Invisible Sunscreen Gel has 5 promising chemical UV filters,
Octinoxate(UVB)
Tinosorb S (Both UVA and UVB)
Uvinul A Plus (UVA, Photostable)
Ethylhexyl Salicylate(UVB)
Uvinul T 150 (UVB, highly photostable)
And the usual fragrance ingredients and the Niacinamide, Vitamin C, etc. The sunscreen offers PA+++ UVA protection so its PPD must be between 8 and 16 which is good enough for sun protection.
Retails for INR 549 for 100gm
3. Pond's Serum Boost Sunscreen SPF 35 PA+++ Lightweight Cream
This again a Niacinamide Vitamin C-infused sunscreen in a lightweight cream formula. It's said to be non-oily with no white cast. The sunscreen has SPF 35 and PA+++, unlike the SPF 55+ lightweight cream which has PA++.
We are yet to get our hands on the ingredient list. We'll keep you updated if this is a chemical or mineral sunscreen and its price.
4. Pond's Serum Sunscreen SPF 50 PA++
Lastly, we have a Serum Sunscreen. Ever since the launch of Celebrity Beauty Brand Deepika Padukone's 82°E Patchouli Glow Sunscreen, Serum Sunscreens has made it to the headlines. Honestly, sunscreen in a serum form can be a little hard to make work efficiently in providing protection. We usually use serums in tiny amounts, like a couple of drops, and we don't think a couple of drops of sunscreen serum will be efficient to offer the best protection. Anyways, we are yet to see the texture of this new Ponds Serum Sunscreen and more details about this product. We'll keep you updated on this as well. So keep subscribed to the blog.
Overall, we think it's a pretty interesting range with some nice new-generation filters. It isn't widely available for sale yet. We'll get a hold of the product as soon as we can and share a review with you all. Do you want us to try out the product for you? Let us know.
Updated with the review:
Ponds Serum Boost Sunscreen Review SPF 50
Packaging: Like most sunscreens, this Ponds Serum Boost Sunscreen is packed in a plastic tube with a flip-cap top. It's user-friendly and travel-friendly. The back side of the tube is furnished with all the needed information about the product. The golden orange tube had premium look online, but in real life, it's dull and lackluster.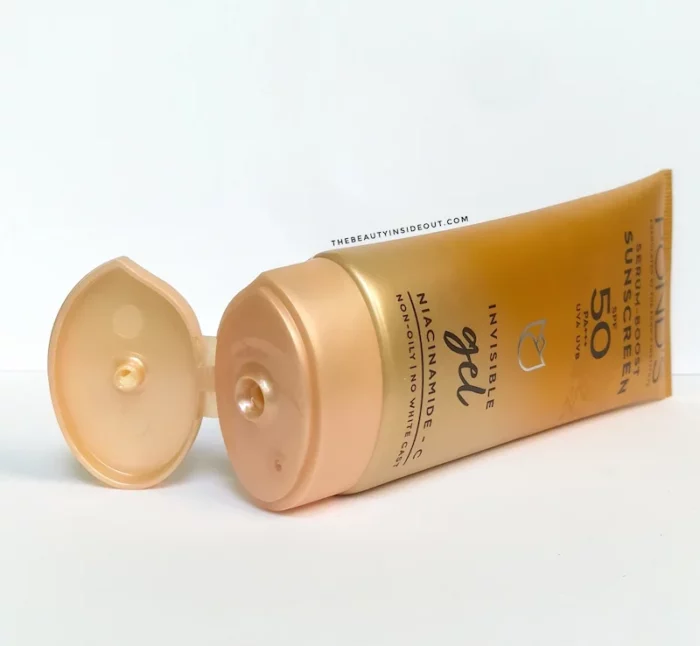 Color & Texture: This has a thick gel texture with a pale yellow tinge to it. The gel is bouncy and cloudy which reminds me of the Klairs Vitamin E Mask.
Fragrance: It has a synthetic floral fragrance, like many Pond's products. The scent has moderate intensity and fades away as time passes. Someone who is into fragrance-free skincare might not like its scent.
Ponds Serum Boost Sunscreen Ingredients: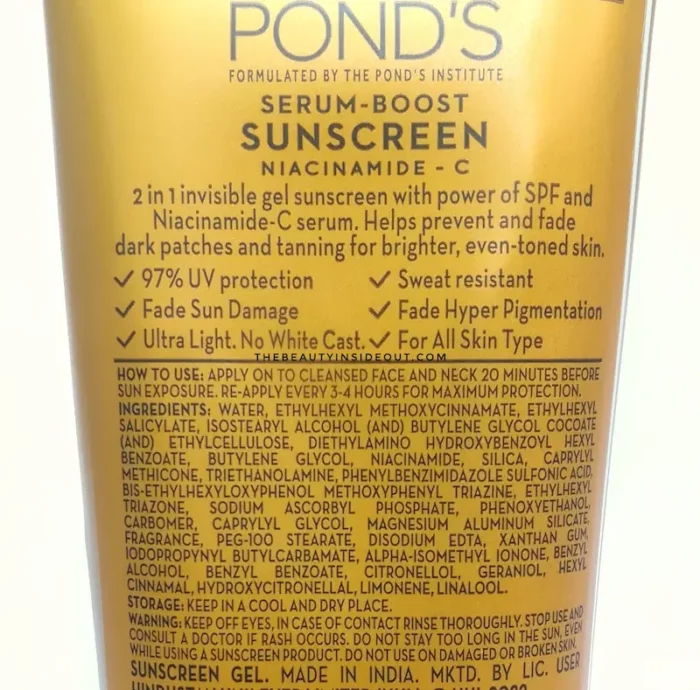 The Ponds Serum Boost Sunscreen Invisible Gel is a chemical sunscreen with 5 chemical UV Filters.
Octinoxate(UVB)
Tinosorb S (Both UVA and UVB)
Uvinul A Plus (UVA, Photostable)
Ethylhexyl Salicylate(UVB)
Uvinul T 150 (UVB, highly photostable)
Other Goodies:
Niacinamide: The brand has stated on its Instagram page that the Ponds Serum Boost Sunscreen Invisible Gel has 3% Niacinamide to fade dark spots and acne marks.
Sodium Ascorbyl Phosphate: a stable form of Vitamin C to give an even glow to the skin.
My Experience:
This is a new launch and it's been only a week since I've been testing this serum boost sunscreen. This is kind of my first impression and I would like to share my initial take on it so that you could either make an informed purchase or save your money.
First things first, I have combination skin and currently, it's very sunny and hot in my place. It's a season when I prefer to use lightweight gel-based sunscreens. That's the reason why I went for this invisible gel variant.
How do I apply?
I take a big coin-sized quantity of sunscreen that covers the full face. Since it's a thick gel, it comes out as a thick blob and that works for me. You can also take two finger lengths if one prefers that.
White cast?
The gel goes on thick on the skin and blends into an "invisible" finish (that is no white cast) if I apply it in sections. If I apply it one go, it leaves a bit of whiteness that subsides in a few seconds.
Finish?
I absolutely hate the finish of this sunscreen. I don't mind a dewy finish sunscreen, but this is super greasy and heavy on my skin. It just sits there on the top of the skin uncomfortably and the shine gives a very dull look.
My T-zone area, especially my forehead starts to become super oily soon. My dry cheek was able to survive. So I think this might work for dry skin. But I would highly suggest oily skin types stay away from this sunscreen. I used this by setting it with a powder so as to reduce the oiliness.
Does it sting?
Yes, I had mild stinging if I apply too much sunscreen near the eye contours.
Is it sweatproof and waterproof?
The sunscreen is silicone-based and film-forming. And as I said, it sits there on top of the skin. So I do think it's sweat-proof and water-resistant. I also needed to double cleanse to get rid of the sunscreen completely.
Protection?
I had to travel and stay out in the peak hours whilst using this sunscreen. So testing its protection was fairly easy. The sunscreen offers SPF 50 PA+++ protection. I can say that I didn't face any tanning or burning. I did feel protected from the harsh UV rays. Keep in mind to reapply after every 2 hours and you are good to go.
Texture Shots: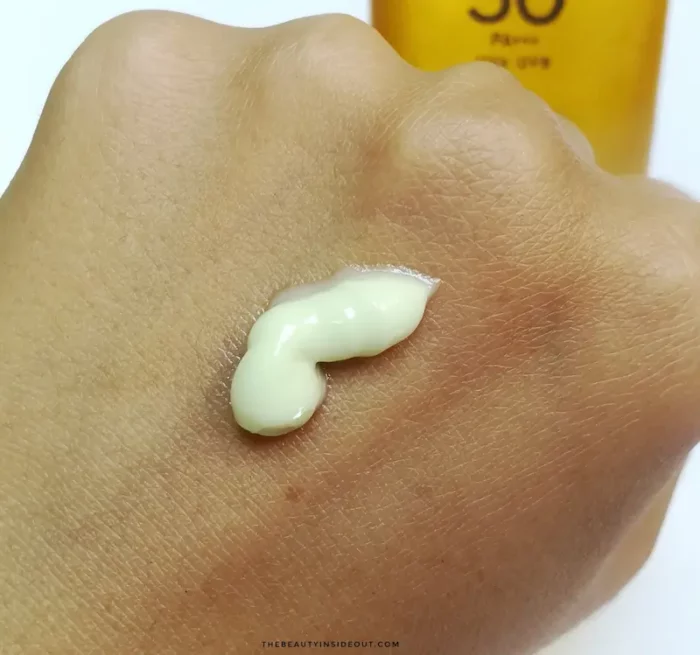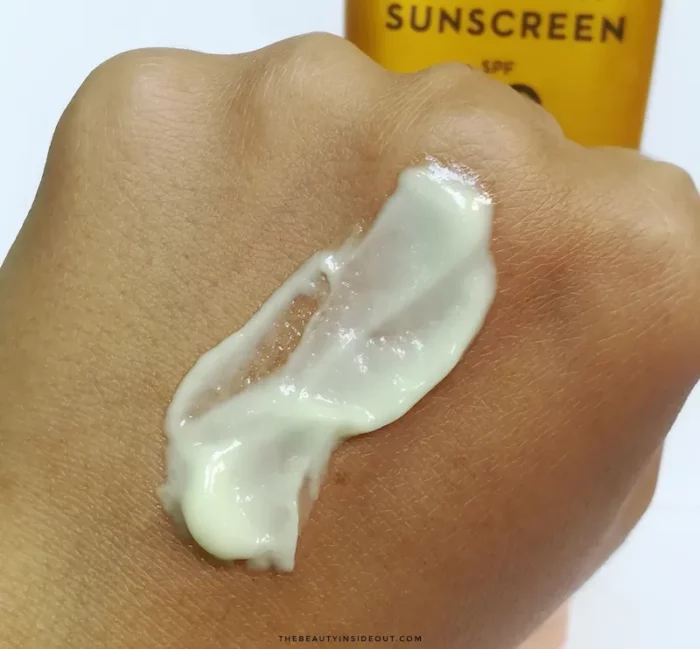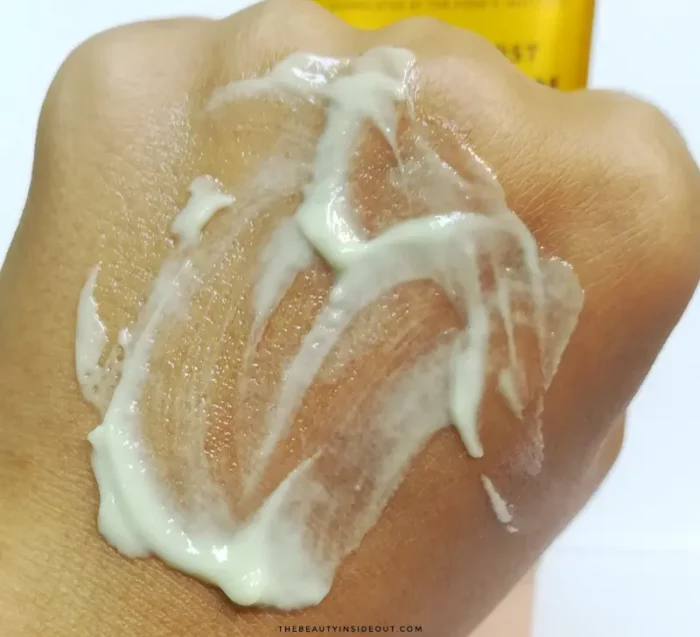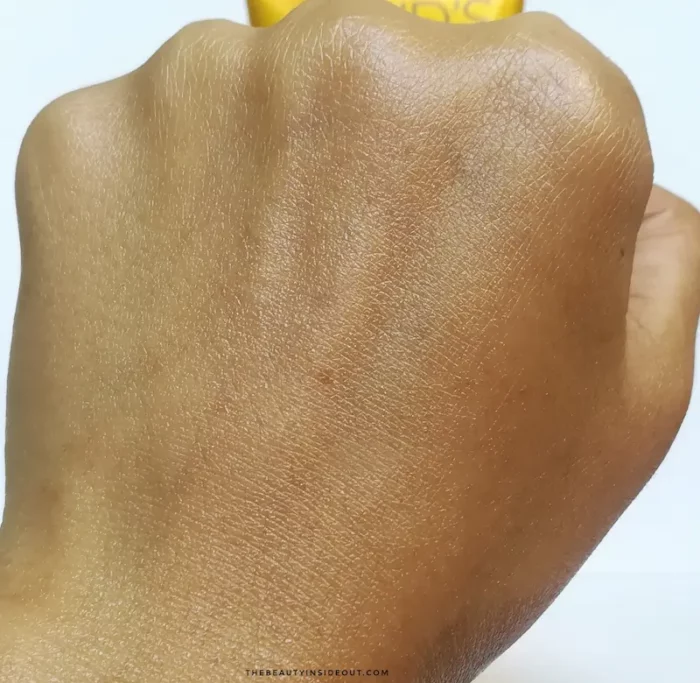 Pros:
Has 5 chemical UV filters for UVA UVB protection.
Contains 3% Niacinamide to help with dark spots.
Doesn't leave a white cast.
Good protection.
Available in 100 ml pack.
Cons:
Definitely not lightweight as claimed – very heavy and greasy.
Not for oily skin types.
Can sting the eyes.
Rating: 2.5/5
Would I recommend it? No, I didn't like this newly launched Ponds Serum Boost Sunscreen. It's a heavy sunscreen that's not for the summer and oily skin.