Ponds is one of the drugstore brands that's loved by most teenagers. The ease of availability on the shelves of your favorite supermarket and the affordable price range of their products makes it a go for beginners in skincare. In my skincare journey, I've tried tons of products including those from Ponds. This Ponds Bright Beauty Serum Cream is one of the latest launches. And being an ardent skincare lover, I decided to try it. If you are wondering if it's a good product, read on to know my experience with it.
Product Description:
Infused with Pro Vitamin B3 and Glycerin, Ponds Bright Beauty Serum Cream has an anti-spot formula to give you a spotless glow in 7 days.
It is targeted to
Even out skin tone.
Reduce dark circles.
Lighten dark spots from within.
Ponds Bright Beauty Serum Cream Ingredients: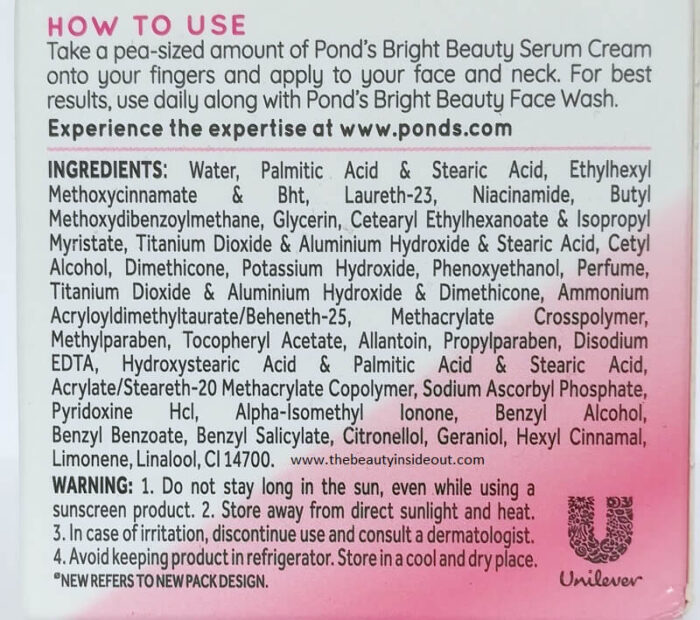 How to use it?
Take a pea-sized amount of the cream onto your fingers and apply it to your face and neck.
Where to buy it? Amazon.in
Ponds Bright Beauty Serum Cream Review
Packaging: The serum cream comes in a small tub that's made of plastic. It has a screw lid cover that's pink in color. While the outer carton in which the product came looks sophisticated with few detailing in the design, the tub itself looks bland with nothing specifically on it. It just has the product name that's printed on a sticker. If I remove that sticker, I can barely tell it's a Ponds product.
I don't want to go into the hygienic factor of "dipping the fingers into the tub for each use". It is what it is. A simple, basic packaging that tells you it's an affordable product. Thankfully, they do have the expiry mentioned on the tub, along with the batch number for reference. And Ponds didn't fail to let us know the full ingredient list (it's mentioned on the outer carton).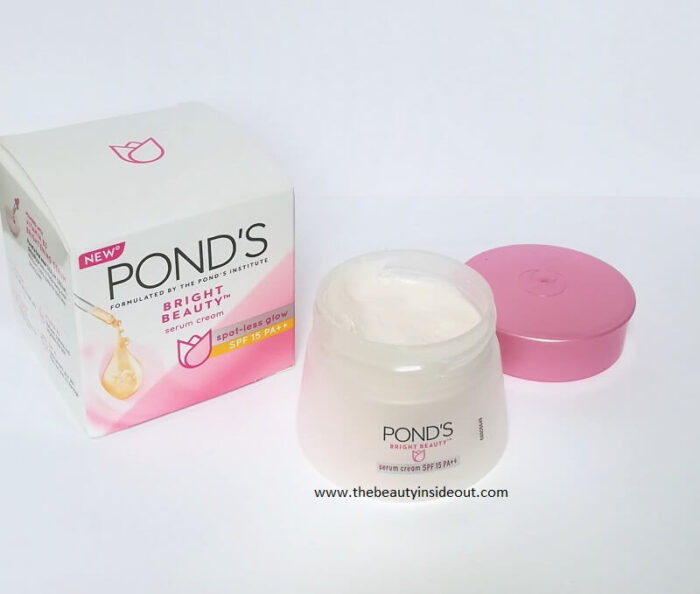 Color & Texture: Ponds have definitely used the term " Serum Cream" as a marketing gimmick, just like Garnier did for their Vitamin C Serum Cream. The texture of the Ponds Bright Beauty Serum Cream is nothing like a serum or a serum-based cream.
It has got a thick, creamy texture. It looks like a mousse but it isn't one. The serum cream looks almost white, but if you look closely it has a mild pink tint to it. The consistency is super thick, typically like the "old-school" fairness creams.
Fragrance: I'm happy in this aspect. The fragrance is floral and it's very subtle. It lasts for a few seconds while applied. It vanishes into nothing once it's on my skin. It's great that it's neither a fragrance-free product nor a heavily scented product. It's nice and pleasant.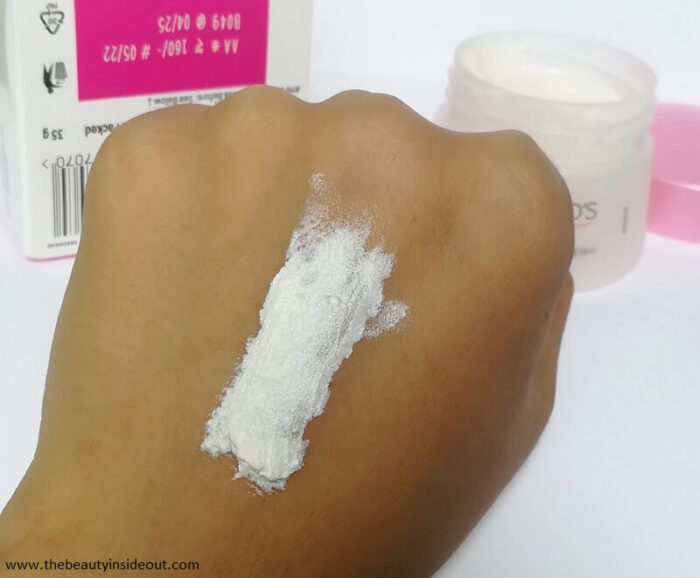 My Experience:
It's been ages since I've tried such thick beauty creams and this product took me back to the good olden days. The formulation is the same as I can remember. I believe they have just revamped the packaging of their old Ponds White Beauty Cream. I checked the ingredient list of both creams. They are 98% similar. The Ponds Bright Beauty Serum Cream has Vitamin C (Sodium Ascorbyl Phosphate) which is the only addition I could notice. Both have Niacinamide high up in the ingredient list, meaning they are in higher concentration. If you wondering, Niacinamide is an excellent ingredient for brightening the skin.
Moving on to its performance, I've used this serum cream for about 2 weeks. My experience with it was average. I usually use a pea-sized product for my entire face. I apply it section-wise, instead of rubbing it all over the face. It's not easy to blend if you apply it in one go. The cream is thick and dries down quickly. So I apply little by little. Otherwise, it can leave a streaky and chalky finish.
The Bright Beauty Cream does not provide any moisture at all. It mattifies the skin. Someone with oily skin will like this. Even then, I'd suggest using them after applying a hydrating toner or a gel-based moisturizer underneath. It's basically a day cream that you can apply after your skincare routine.
On my fair to medium skin tone, the beauty cream instantly brightened my skin. My skin looked even-toned and polished. The brightness doesn't last long. In 2 to 3 hours, the cream adjusts to my skin tone and my skin has a natural-looking finish. It might leave a prominent white cast on deeper skin tones.
There are no adverse side effects from using the serum cream. It doesn't work well on hot humid days. It makes me sweat more, especially on top of my lips.
The Ponds Serum Cream claims to reduce dullness (yes it did temporarily), brighten (it did, again, temporarily), protect from sun damage (has a few UV filters that are good), and reduce the appearance of dark spots (this, it doesn't). Despite having an SPF 15, I highly recommend using a broad spectrum sunscreen as this alone wouldn't suffice.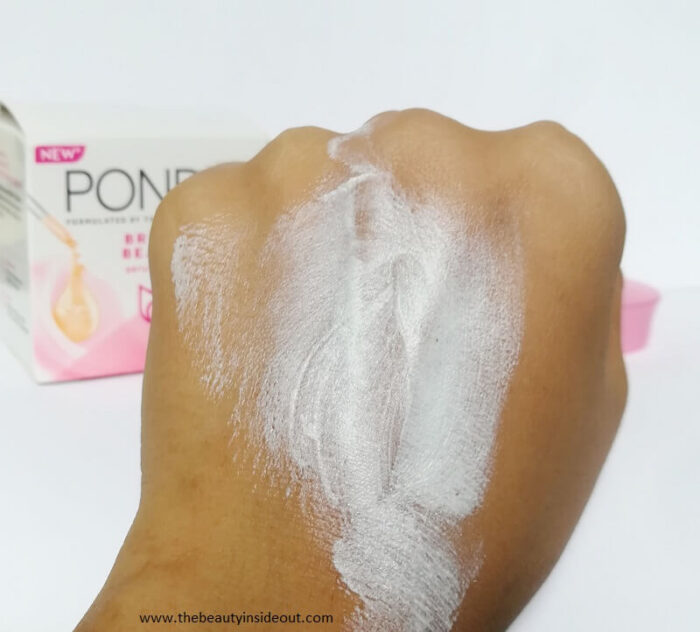 It's unbelievable that in 2022, Ponds still makes such basic beauty creams that serve no real purpose. If you had asked me a decade ago, I would have said "it's a good beginner-friendly, budget-friendly cream for college goers". But the skincare market has evolved and we got tons of good quality products to pick from.
This Bright Beauty Serum Cream typically gives a "white skin" look with zero moisturization. You could easily for a moisturizer+compact or a BB cream for a nice polished look.
Pros:
Enriched with Vitamin B3, Glycerin, and Vitamin C.
Gives an instant brightening effect.
Comes with SPF 15.
Easily available.
Little goes a long way.
Cons:
Gives a white cast on deeper skin tones.
Very mattifying that almost dries out the skin.
Slightly difficult to blend.
Makes me sweat more.
Rating: 2.5/5
Would I recommend it? Not really. It's an average day cream. You can better get a BB cream or tinted moisturizer instead of this Ponds Serum Cream.
What do you think of this cream? Have you tried it?