The Indian market has been blooming with active-based skincare products. Every brand has at least one range of active-based skincare. It can be overwhelming for a beginner. Without informed usage instructions, it can definitely backfire. Many people end up with over-exfoliation and sensitized skin. A soothing ingredient such as Niacinamide can even nuke one's face off if they are not careful. After using a whole lot of them and not understanding the hype around big percentages I wanted to come down to a non-irritating product. It is proven that Niacinamide can be as effective in 4% as in a 10% serum minus the irritation. So when this highly raved product from an Indian Pharmacy came under my radar I knew I had to try it. Are you interested to know my experience with Niamax D Gel? Keep reading.
Product Description:
Niamax D Gel is mainly used to help you prevent the occurrence of pigmentation and acne marks. It contains 4% Niacinamide which is soothing to the skin and is ideal for sensitive skin, oily skin, and acne-prone skin.
Niamax D Gel Ingredients: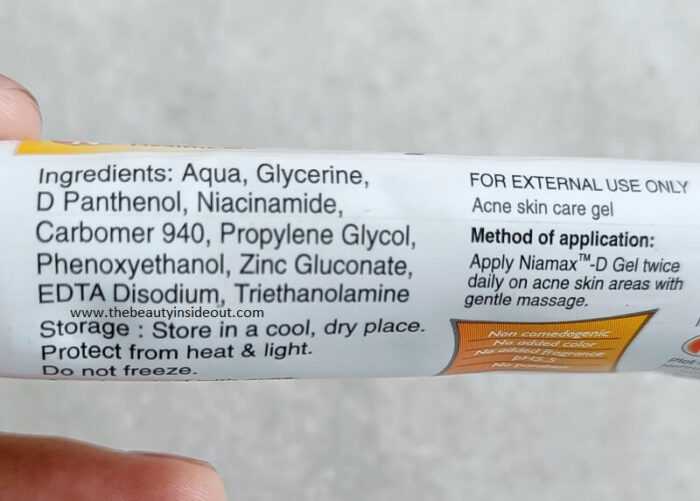 There is no mention of the Niacinamide Percentage on the tube. But apparently, Niamax D Gel has 4% Niacinamide.
Price: Rs.275 for 20 gm.
Niamax D Gel Review
Packaging: Niamax D Gel comes in a small 30 ml tube. It 100% looks like a pharmaceutical medicine. You have to squeeze out the product. The ingredient list is mentioned at the back of the tube along with usage instructions. The tube came housed in an outer cover that had the same details as the tube.
If you compare it to other Niacinamide Serums on the market, it is a bit pricey for the quantity. But then it comes with a whole range of other soothing ingredients like Panthenol, Zinc Gluconate, etc.
Texture: The product is gel based and it is not difficult to spread at all. If you put it on damp skin then it is more effective and you can see it getting absorbed better on the skin. Dry-skin people may have to use a good hydrating toner when using this product – because this alone doesn't provide any major hydration to the skin.
Fragrance: It does have a strange chemical scent. The scent is subtle and goes away after 30 seconds of application, so I don't mind. Niamax D Gel is free of artificial fragrance which I like very much.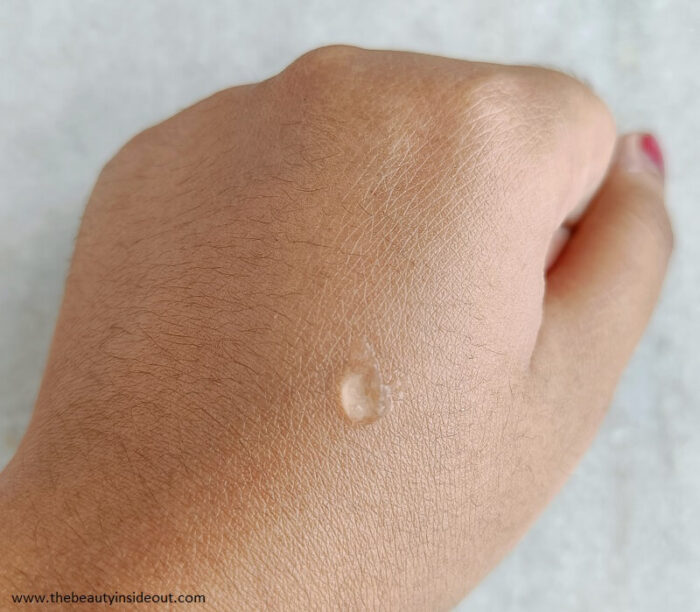 My Experience:
Niamax D Gel is great for someone who is looking for a very gentle but effective Niacinamide in their routine. Someone who has a broken moisture barrier but looking for that extra boost in terms of brightening. It is pH balanced and great for eczema-prone skin.
I recently got very sensitive skin due to using The Ordinary Peeling Solution. This product literally saved my life. It toned down the redness and itchy skin and gave me a nice glow on top of it. The product is gel-based so I sometimes keep it in the fridge for that extra pleasant experience. It has a very short and smooth Ingredients list which I believe is great for extra sensitive skin.
One more thing I love about this product – it's so lightweight and easy to use. It doesn't have any ingredient that is photosensitive, so I could use it both in the night and morning time routine, even when I had to rush to the door for work. It's such a fuss-free product. It gives me the most brightening effect when I use it under my Beauty Of Joseon Sunscreen, which is a moisturizing sunscreen.
The only con I see worth mentioning is that the product is slow in terms of fading pigmentation. You may have to use the full tube even then my PIH wasn't completely gone. I used three tubes before noticing any major changes on my skin and I don't even have that many acne marks, to begin with.
If you are looking for stronger stuff then you can try out any of the stronger Niacinamide Products such as the Minimalist 10% Niacinamide Serum or The Ordinary 10% Niacinamide Serum. Both are excellent for pigmentation and acne. Needless to say, Niamax D Gel is great for beginners who want to incorporate Niacinamide into their skincare routine.
Pros :
Have Panthenol and Niacinamide which helps to repair the moisture barrier.
Have a gel-like formulation that is great for any kind of skin type.
Fragrance-free.
Can be used with any other actives without hesitation.
Good for beginners.
Helps to calm down red itchy skin.
Can be used in both Am and pm routines.
pH balanced.
Cons:
Comes in a very small tube.
Expensive if you are looking for a normal niacinamide product.
Takes a little too much time for PIH and Pigmentation.
Not readily available offline in most cities.
Rating: 4/5
Would I recommend it? I would recommend this product for beginners. It helps with brightening and fading acne marks slightly without causing any irritations. You can start with this product to develop tolerance to your skin and then move on to stronger strengths for better results
What do you think of this product? Have you tried it?