My search for the perfect sunscreen doesn't seem to end. Some make my skin dry and some make it oily and dull. Some don't have enough protection, some don't reapply well enough. The price, oh my god! Don't even start about it. Why does every 50 ml of sunscreen cost so much? Forget about the sunscreen controversy for poor protection and SPF values. I almost gave up my search for that one true love holy grail sunscreen after many brands quietly pulled out their sunscreens from the shelf for false SPF. Lately, I've been trying out some decent pharmacy sunscreens too. In the midst of all chaos, there are two Korean sunscreens that gained the trust of sunscreen users and surged back to popularity. One is this Isntree Sunscreen and the other is the Beauty Of Joseon Sunscreen (I've reviewed this already). So in this post, let's see what the Isntree sunscreen has got in stores.
Product Claims:
Formulated with Centella Asiatica and 8 types of Hyaluronic Acid, the Isntree Hyaluronic Acid Watery Sun Gel, is a lightweight, moisturizing sunscreen. It's actually a proper chemical sunscreen with 6 chemical UV filters offering broad spectrum protection with SPF 50+ PA++++. The Isntree Sunscreen is a fragrance-free sunscreen that minimizes skin irritations caused by UV rays.
Isntree Sunscreen Ingredients:
Water, Butylene Glycol, Ethylhexyl Salicylate, Homosalate, Dibutyl Adipate, Niacinamide, Bis-Ethylhexyloxyphenol Methoxyphenyl Triazine, Cyclopentasiloxane, Methylene Bis-Benzotriazolyl Tetramethylbutylphenol, Polysilicone-15, Diethylamino Hydroxybenzoyl Hexyl Benzoate, 1,2-Hexanediol, Pentylene Glycol, Pinus Pinaster Bark Extract, Ceramide NP, Centella Asiatica Extract, Glycerin, Portulaca Oleracea Extract, Houttuynia Cordata Extract, Olea Europaea (Olive) Fruit Oil, Ficus Carica (Fig) Fruit Extract, Sodium Hyaluronate, Ceteth-10, Hydrogenated Lecithin, Decyl Glucoside, Propanediol, Tocopherol, Astaxanthin, Hyaluronic Acid, Sodium Hyaluronate Crosspolymer, Ascorbyl Propyl Hyaluronate, Hydrolyzed Hyaluronic Acid, Hydroxypropyltrimonium Hyaluronate, Acrylates/C10-30 Alkyl Acrylate Crosspolymer, Sodium Acetylated Hyaluronate, Hydrolyzed Sodium Hyaluronate, Adenosine, Xanthan Gum, Cetyl PEG/PPG-10/1 Dimethicone, Tromethamine, Carbomer, Propylene Glycol, Ethylhexylglycerin.
Ingredient Analysis:
Isntree Sunscreen is made up of 6 strong chemical UV Filters
Octisalate (UVB)
Homosalate (UVB)
Tinosorb S (UVA & UVB)
Tinosorb M (UVA & UVB)
Parsol SLX (UVB),
Uvinul A Plus (UVA).
The sunscreen is free from OMC, Oxybenzone, and Benzophenone-3. These are sunscreen filters that are potentially harmful to us.
Apart from this, it has tons of antioxidants and other great ingredients that include
Niacinamide: a skin strengthening and brightening ingredient that's also great for oil control and acne.
Hyaluronic Acid: a humectant that prevents transepidermal water loss and locks in moisture for plump and supple skin.
Centella Asiatica Extract: an antioxidant and skin-soothing ingredient to calm down the skin from irritations.
Ceramides: strengthen and repair barrier skin function, and also aids in skin soothing.
Astaxanthin: a potent antioxidant that improves skin health and also makes it smooth.
Houttuynia Cordata Extract: has antioxidant and antibacterial properties to soothe and reduce acne and acne breakouts.
Glycerin: a vital skin hydrating ingredient.
Tocopherol: vitamin E which has antioxidant benefits.
How to use it?
On cleansed skin, take a generous amount of sunscreen and blend it until absorbed. Make sure to cover every nook and corner of the face and other exposed areas for optimum protection.
Isntree Sunscreen Review
Packaging
If you've been a follower of the brand, you've might have known that the brand recently revamped its packaging design. Honestly, the earlier version was more aesthetically pleasing. The new design is kind of dull and boring.
The 50 ml sunscreen is packed in a white plastic tube with blue labeling. It has a screw-type cap that opens up to a narrow nozzle dispenser. The dispenser makes it easier to squeeze the product onto your finger especially if you are into the 3-finger rule application. Despite its minimalistic look, it's pretty sturdy and small and doesn't occupy much space in your bag or vanity.
The back side of the tube has a few things written in Korean. I wish they mentioned the Ingredient list on the back side of the tube. You can find it only on the outer carton box that it came with. I threw it away so I couldn't get to see the exact ingredient list again, aside from the one mentioned on their official website.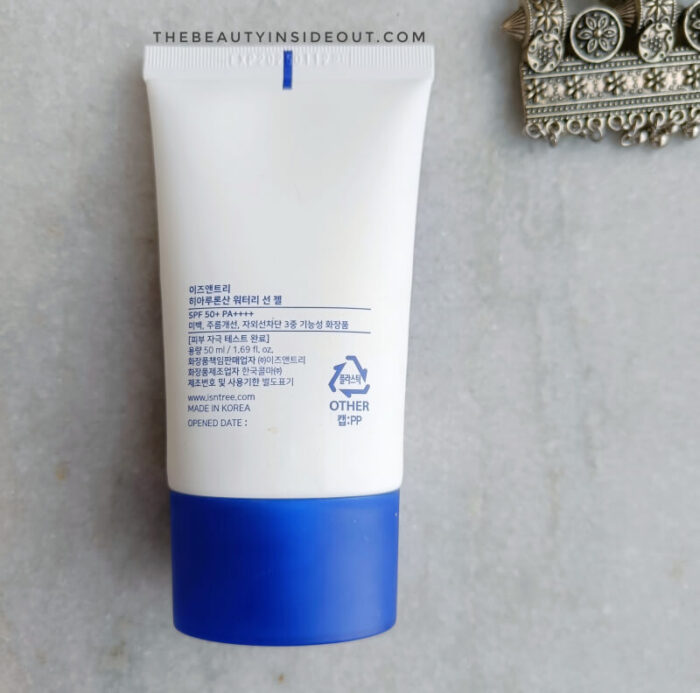 The other major problem I have with this sunscreen. I mean any sunscreen – it's high time brands come up with bigger tubes. A 50 ml sunscreen gets used up pretty fast and I keep on accumulating plastic waste that's not so good for the environment even if it's recyclable.
Texture
For all, it says it's a watery sun gel, it's actually a thin milky white lotion. It's very smooth and emollient though, so it spreads and blends effortlessly.
It absorbs quickly, but it can feel quite oily on oily skin types. But then this is a sunscreen meant for dry skin types. Other skin types surely need to set it with a powder, unless you like a shiny finish.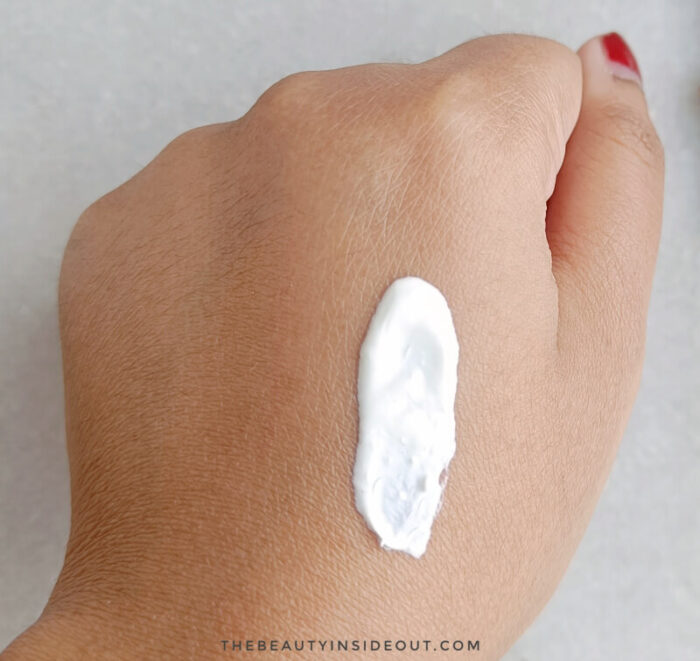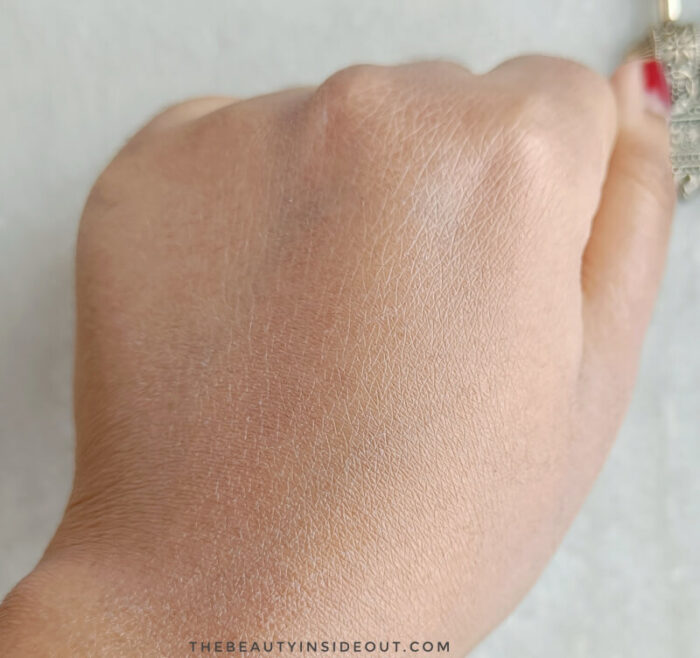 Fragrance
Isntree Sunscreen is a fragrance-free sunscreen with no added synthetic fragrance or essential oils. This is a very good aspect, especially for those who are sensitive to fragrance. It's alcohol-free too, so you don't even get that alcoholic scent that some sunscreens have (hinting at the Biore Sunscreen).
Realistically speaking, it does have a faint scent if you keenly smell it – that probably comes from the ingredients used in it since the sunscreen doesn't have any masking fragrance ingredients in it.
My Experience:
This cult favorite sunscreen ticks all the necessary boxes for me. It has a nice blendable texture; it's lightweight, doesn't leave any white cast, doesn't pill, reapplication is a breeze, and goes well with makeup and other skincare products. Most importantly it has 6 strong UV filters that you can blindly trust for its sun protection. It's been tested by the Korea Institute of Dermatological Sciences and verified to have SPF 53.5 and PFA 19.4 PA++++. Above all, it's got many antioxidants and skin-soothing and repairing ingredients that are great for overall skin health. Simply put, it's surely a sunscreen that's worth giving a shot, especially for those with combination and dry skin types.
Coming to the other things, the sunscreen has a very dewy finish that was a little too shiny for me. Remember I have dry skin but live in the tropical. So the weather is kind of hot and humid throughout. Despite giving a greasy look, it doesn't feel greasy or sticky. Nonetheless, wearing this sunscreen is very comfortable, just that it makes you look dewy. I like to use this moisturizing sunscreen as a standalone product right after cleansing. It's very nourishing on its own so I don't prefer using other products with it.
The sunscreen is not waterproof or water-resistant as one might think. So you might need to reapply multiple times if you are going to be swimming with it. It didn't sting my eyes though.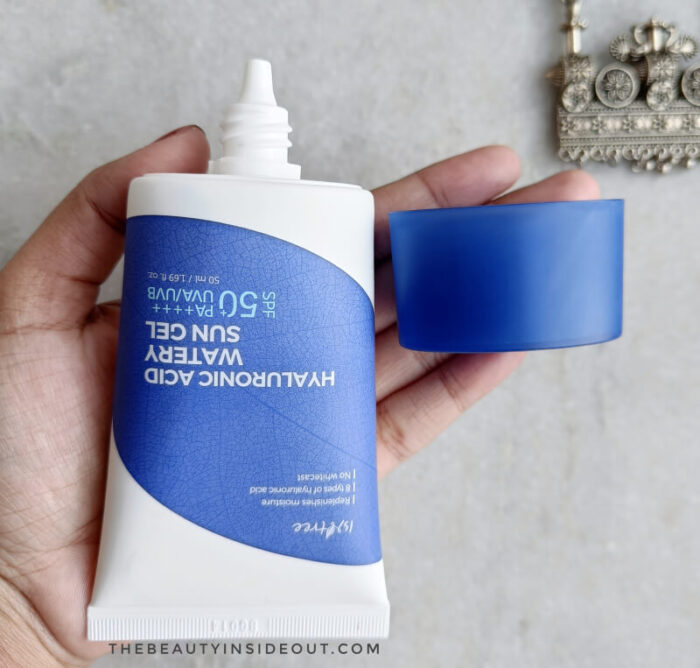 The sunscreen has silicone (Dimethicone to be exact) somewhere at the bottom of the ingredient list. So it does form a light film on the skin for protection but at the same time, it doesn't feel like a heavy silicone sunscreen. The skin feel of this sunscreen is really great especially if you live in colder regions. The sunscreen hasn't broken me out. But it is said to contain ingredients that are not Fungal Acne Safe. So you might have to look out if there are ingredients that you are allergic to.
Overall, it's a great moisturizing sunscreen that supplies abundant moisture to the skin while also providing solid sun protection. It's excellent for dry dehydrated skin types.
Pros :
Have 6 sunscreen filters and lab-proven results for sun protection
Have hyaluronic acid for hydration and moisturization.
Doesn't have any white cast.
Works well under makeup and skincare.
Reapplication can be done within a second.
Very lightweight on the skin.
Cons:
Can be quite greasy for oily to very oily skin.
Doesn't hydrate the skin.
Can be expensive.
Rating: 4.5/5
Isntree Sunscreen VS Beauty Of Joseon Sunscreen
Having tried both the sunscreens, I personally like the Beauty Of Joseon Sunscreen more. Both have many similarities and differences.
Isntree Hyaluronic Acid Watery Sun Gel
Beauty Of Joseon Sunscreen
Moisturizing with a dewy finish that looks a bit greasy.
Moisturizing with a dewy finish that settles to a natural glowy look.
Contains 6 chemical UV Filters- Octisalate, Homosalate, Tinosorb S, Tinosorb M, Parsol SLX,
Uvinul A Plus.
Contains 4 chemical UV filters – Uvinul A Plus, Uvinul T 150, Tinosorb M, and Uvasorb HEB.
Fragrance-Free and Alcohol-Free
Fragrance-Free and Alcohol-Free
Tested by the Korea Institute of Dermatological Sciences and verified to have SPF 53.5±6.3 and PFA 19.40±3.51 PA++++
Independently tested in Korea and Spain and proven to offer SPF 52.5±5.8 UVA PF 16.1±2.4 P++++
Not waterproof and sweatproof
Not waterproof and sweatproof
Rich in antioxidants and other soothing ingredients
Comparatively fewer ingredients, but still contains skin-soothing ingredients.
Lightweight milky lotion-like texture leaves no white cast.
Lightweight, thin creamy texture leaves no white cast.
Best suited for dry to very dry skin types.
Best suited for normal, combination, and dry skin types.
These are my personal take on both the sunscreen. These are still some of the Best Asian Sunscreens that one needs to try, especially if you like dewy finish sunscreen and have dry skin.
What do you think of this sunscreen? Share your thoughts.