I have always wanted to try out the much-hyped Biore UV Aqua Rich Watery Essence Sunscreen. But the price stopped me from getting this. When I saw the sample size being available on Smytten Trials, I immediately added it to the cart. Anyways, read on to know my experience with the Biore Sunscreen.
Product Description:
Biore UV Aqua Rich Watery Essence power-packed duo of water-based sunscreens that combines UV protection with light to the touch texture powered by the world's first micro defense technology.
Biore Sunscreen Ingredients: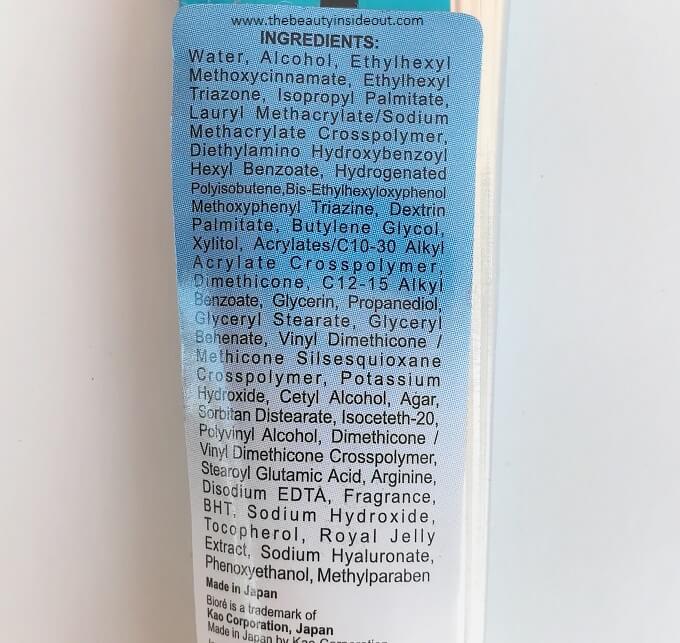 Sunscreen Filters: Octinoxate, Uvinul T 150, Uvinul A Plus, Bemotrizinol
Price: Rs.1270 for 50gm.
Biore UV Aqua Rich Watery Essence Sunscreen Review
Packaging: The packaging of the Biore UV Sunscreen is very basic. A sea blue plastic tube with a screw lid. Nothing fancy but serves its purpose perfectly. The full ingredient list and various other details are clearly printed on the tube.
Color & Texture: It's an off-white, watery, gel-cream sunscreen. Its texture is dreamy; it blends and vanishes into the skin within seconds.
Fragrance: It has a strong alcohol fragrance that hits your nose instantly. But then it vanes away in a couple of minutes and isn't noticeable throughout the day.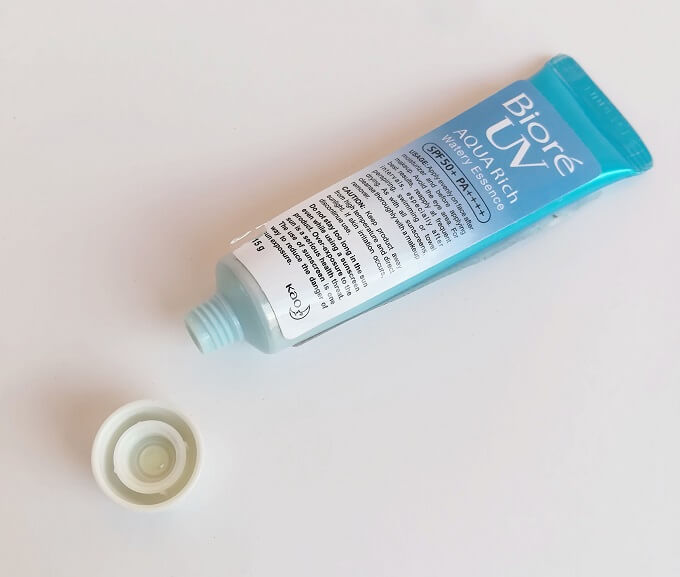 My Experience:
I'm impressed with the sunscreen. Firstly, it's a chemical sunscreen with a good set of new generation filters. It has a high SPF 50 PA++++ which offers both UVA and UVB protection in a unique encapsulated micro defense formulation. And there is no doubt it provides very good sun protection. It also claims to have a micro UV cut capsule technology that enables the sunscreen to spread uniformly even on uneven, textured skin.
Secondly, it has the most amazing water-like sensational texture of all sunscreens. It blends so seamlessly. You hardly need a minute to apply this sunscreen. It is refreshingly light and non-sticky on the skin. Despite its dewy-looking finish, it's not greasy and comfortable on the skin. On my combination skin, it does not feel dry. However, I do use a hydrating toner underneath.
This sunscreen is like those lightweight, gel-cream moisturizers. It mildly hydrates my skin in spite of having alcohol as its second ingredient. If you have dry skin, I suggest using a good moisturizer beforehand. Sensitive skin types may have to stay away from this sunscreen.
The Biore UV Sunscreen has a couple of silicones in it, but it isn't like most silicone sunscreens that sit on top of the skin. It leaves absolutely no white cast at all, how much ever I use. It doesn't give flashbacks on photographs but gives a nice glow to the skin. The sunscreen hasn't pilled on me, but then I don't use too many products in my routine, to begin with. The sunscreen works well under makeup giving a smooth base. It is easy to remove with soap.
Overall, it's a very good sunscreen. BUT, it is an expensive sunscreen. It's not feasible for me to spend more than 1000 bucks for a 50 ml quantity of sunscreen that will hardly last a month.
Pros:
Light watery gel-cream texture.
Spreads easily and covers the skin to micro-levels.
Lightweight non-sticky sunscreen.
Non-comedogenic.
Infused with Hyaluronic Acid & Royal Jelly Extracts.
Zero white casts.
Waterproof.
Provides very good protection against UV rays.
Cons:
Expensive.
Contains fragrance and alcohol.
Rating: 4/5
Would I recommend it? I do recommend it if you have the means to buy it frequently. It is definitely one of the best sunscreens for oily acne-prone skin types.
What do you think of the Biore Sunscreen? Share your thoughts.