Ancient Living is an eco-conscious lifestyle brand. The products under this brand are made from organic plant derivatives and hand-picked to create something special just for you. It is an Indian brand, based in Hyderabad. The brand has a range of products available on their site from hair care shampoo bars, organic hair oils, and packs, to skincare facial oils, lip care, soaps, and massager. They also sell organic baby care products, diffusers, and essential oils, handcrafted artisan toys, and wooden board games. Today we'll review their popular Ancient Living Organic Kasturi Turmeric.
Product Description: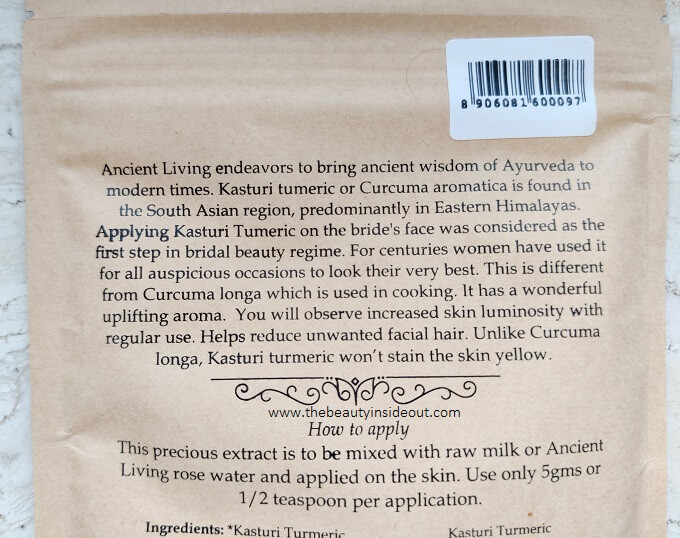 The Kasthuri Turmeric comes in two different sizes of 50 grams and 100 grams. This organic turmeric is different from cooking turmeric and won't stain your skin yellow.
Ingredients:
Organic Kasturi Turmeric
How to use: When you use this for a face pack, take only two pinches of turmeric and mix it with rose water or milk.
Where to buy it? You can get this product from the Ancient Living website or even on Amazon and Nykaa. All three sites usually run a discount on this product.
Ancient Living Organic Kasturi Turmeric Powder
Packaging: The organic turmeric comes in a small brown package. You can cut it open and store it in a jar or seal it with a rubber band after each use.
Color & Texture: The turmeric powder is a nice shade of sunny yellow, but do not worry, it will not stain your skin. After you mix it with a liquid, it will be smooth and easy to apply.
Fragrance: The turmeric powder has a pleasant aroma. It does not smell like the turmeric you use to cook food, rather it smells like a sweet flower and it is not too overbearing.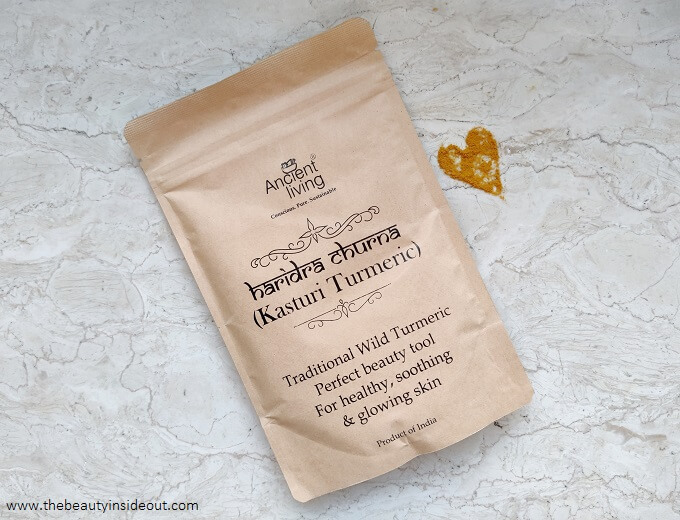 My Experience:
I have had a long struggle with acne, at one point, my cheeks were completely red because of active acne and also acne scars. Ancient Living Kasturi Turmeric was a gift from a dear friend who truly believed that it would work and to be honest, it did work! The difference was significant and could be observed within two weeks of regular application.
Kasturi Turmeric as Spot Treatment:
For me, I first started with a patch test and would highly recommend the same. Take a pinch of turmeric and mix it well with rose water. Only apply this to two or three active acne or scars on Day 1 and wash your face after five or ten minutes with only water. It might burn very little because it is a new product on your skin but please note – if it burns too much then I suggest mixing it with other products mentioned below or discontinuing using it. However, if like my experience, it does not burn at all, you should definitely incorporate this in your skincare routine. Continue the first week of skincare by mixing a pinch or two of turmeric with rose water or milk and applying it to your face.
You can apply it as a spot treatment in the mornings or afternoons if you're working or studying from home and you can put it on as a mask and wash it off at night before you sleep. You do not need to wash it off with a face wash or cleanser. Only wash it off with water.
Kasturi Turmeric as Face Mask:
Another blend for occasional face packs is mixing a pinch of turmeric with Multani clay or Chandan and rose water and applying the pack on your face till it's dry and rinsing it off with cold water. This will also give your skin a healthy glow and help dry your skin a little if you have oily skin. I have combination skin so this face pack definitely works for me and is a part of my weekend skincare routine. Right now, my acne has subsided with the help of proper medication prescribed by doctors and a skincare routine. For the occasional acnes which pop up, I like to use Ancient Living Turmeric as a spot treatment instead of other drugstore products.
Kasturi Turmeric For Hair Removal:
Kasthuri Turmeric is also known for hair removal and reducing unwanted facial hair – I never documented my facial hair journey so won't comment on this, however, I made sure to never apply the face pack on my eyebrows to avoid any damage to their shape, please do not apply it on your eyebrows or any other part of your body without care.
Pros:
Cruelty-free
Organic
Does not leave a stain
Aromatic
Easy to mix
Decent price
Cons:
Honestly, cannot think of any!
Rating: 5/5
Would I recommend it? I like to have organic products as a part of my skincare routine, I trust them to be good for my skin and everything about Ancient Living Kasthuri Turmeric has been great for me and I hope it is for you too!
Guest Author: Saloni